A well planned wedding is important to make your event a memorable moment of life. Couples who don't hire the best event management company kolkata often face stress during the wedding event. Bengali weddings are a traditional affair that involves many beautiful rituals. All these vibrant rituals make the wedding a treat to the eyes. But to celebrate such a fairy tale wedding, you must do proper planning beforehand. Proper wedding planning will ensure your wedding is everything you dreamed of. There are a few things you should take into account when planning your traditional Bengali wedding. The first thing is to book an appointment with a budget wedding planner in Kolkata. Read this article to know the best ideas for your Bengali wedding planning.
1. Invitations Card
Once the wedding date is confirm, you have to send invitations to the guests for the special event. Bengali wedding cards are quite traditional and creative in design. You should choose a card design that goes with the theme of your wedding.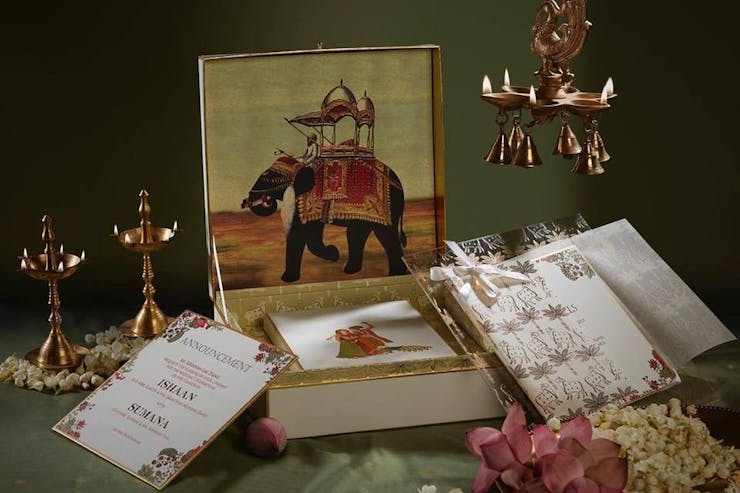 Recommended: 11 Modern & Traditional Haldi Ceremony Theme Ideas
2. Gold Jewelry
Another important element in a Bengali traditional wedding is the gorgeous gold ornaments. From aashirbad to the wedding reception day a bride is donned in graceful gold jewelry. Hence, you must make a list of all traditional bridal gold jewelry to buy before the wedding day arrives. Tiara, Nolok, choker, and Chur are some important jewelry of for a Bengali bride.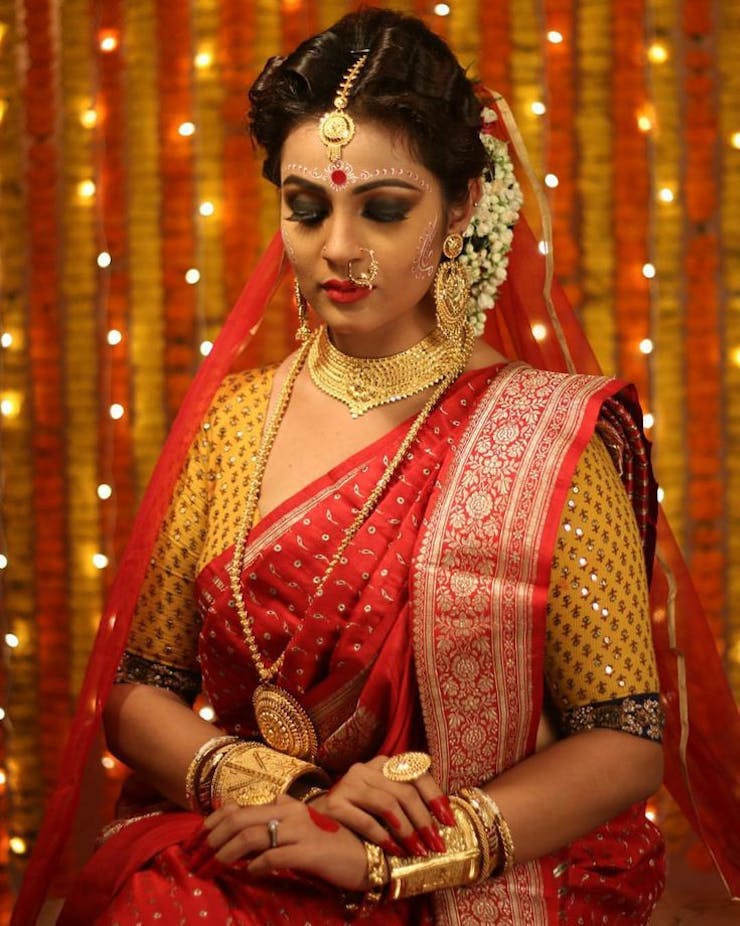 See More: 15 Destination Wedding Venues In Kolkata To Check
3. Gifts For Couple
Bengali wedding rituals like Aashirbaad, GaeHolud, and Boubhat are celebrated by giving gifts to both bride and groom. A lavish silk saree, gold jewelry, wristwatch gift hampers, and sweets are some of the best gift items for the Bengali bride and groom.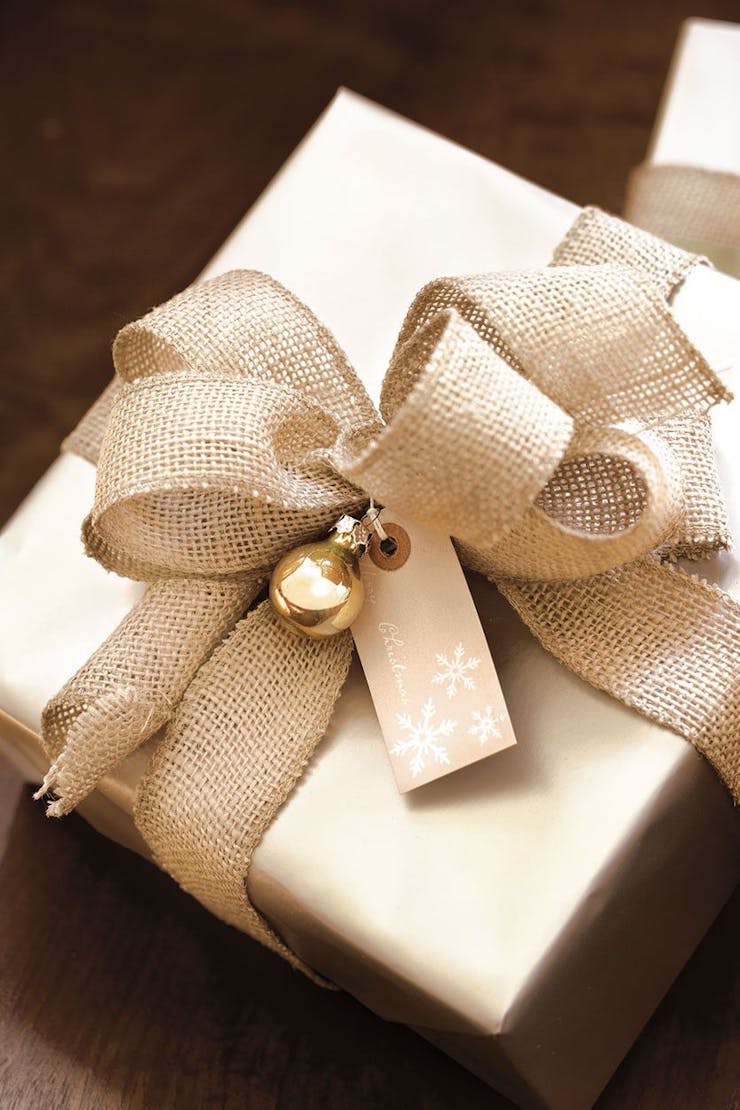 4. Sankha Pola
A Bengali wedding will stay incomplete without the age-old ritual called Shakha Porano. This beautiful set of conch shell bangle and the red coral bangle is an integral symbol of married women. So, if you're planning a Bengali wedding, then make sure to include these bangles in your shopping list.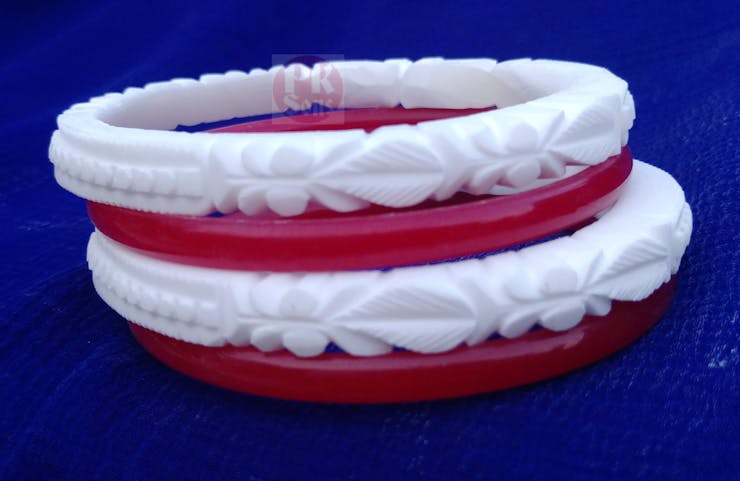 5. Adhibas Tatva
The ritual of exchanging wedding gifts between two families is known as Adhibas Tatva. The bengali wedding tatta list for bride and groom includes gift items like ethnic clothes, makeup kits, sweets, fruits, fish, or snacks. This is an important ritual that makes the relationship strong and beautiful.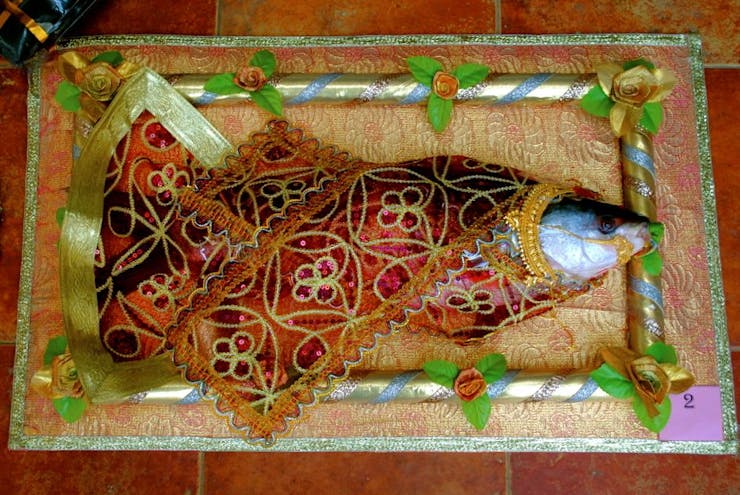 6. Banarasi Saree
Talking about a Bengali wedding and not mentioning the Banarasi saree will be a huge mistake. A bride donned in a gorgeous Bengali wedding saree looks like an eternal beauty. Starting right from the engagement till the Boubhat, this wedding outfit will accompany the bride. Such an important element should never be missed.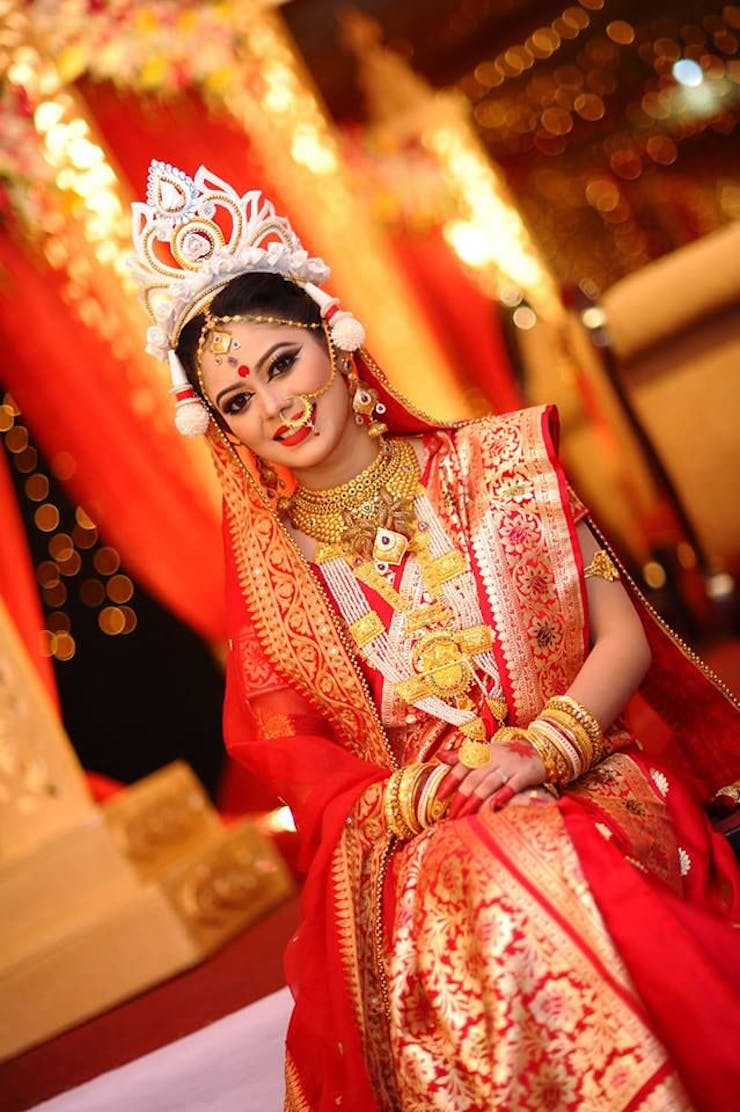 7. Haldi Ceremony Dress
Gae Holud is the most significant Bengali wedding traditions that take place before the wedding. A bride is dressed in a yellow cotton saree. While the groom wears an ethnic dhoti. Make sure to include these ethnic wear along with the turmeric, and ritual items.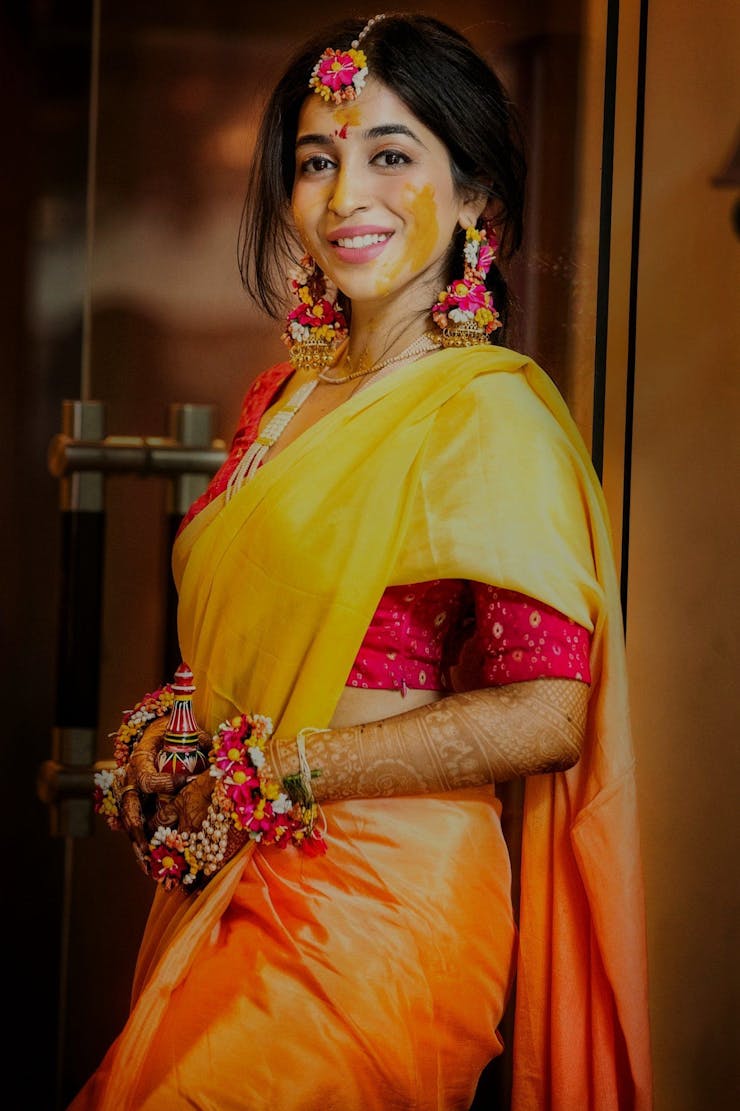 8. Groom & Bridal Topor
Both the bride and groom wear traditional headgear in a conical shape. This elaborate headgear is called topor and mukut. While planning your wedding you must include this accessory in your shopping list. You can choose the headgear according to the color and design of your wedding outfit.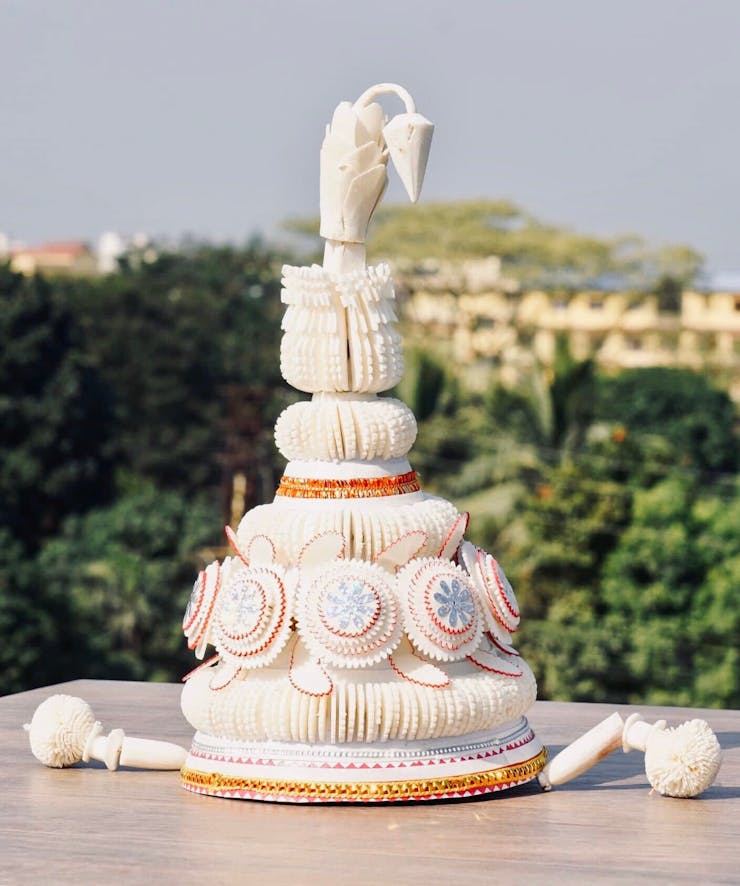 9. Groom Outfit
A Bengali groom dress for wedding includes a cotton or silk kurta which is worn with an ethnic dhoti. If you are celebrating a traditional wedding then you should buy this traditional piece of wedding outfit. You can also choose a groom's outfit according to your wedding theme.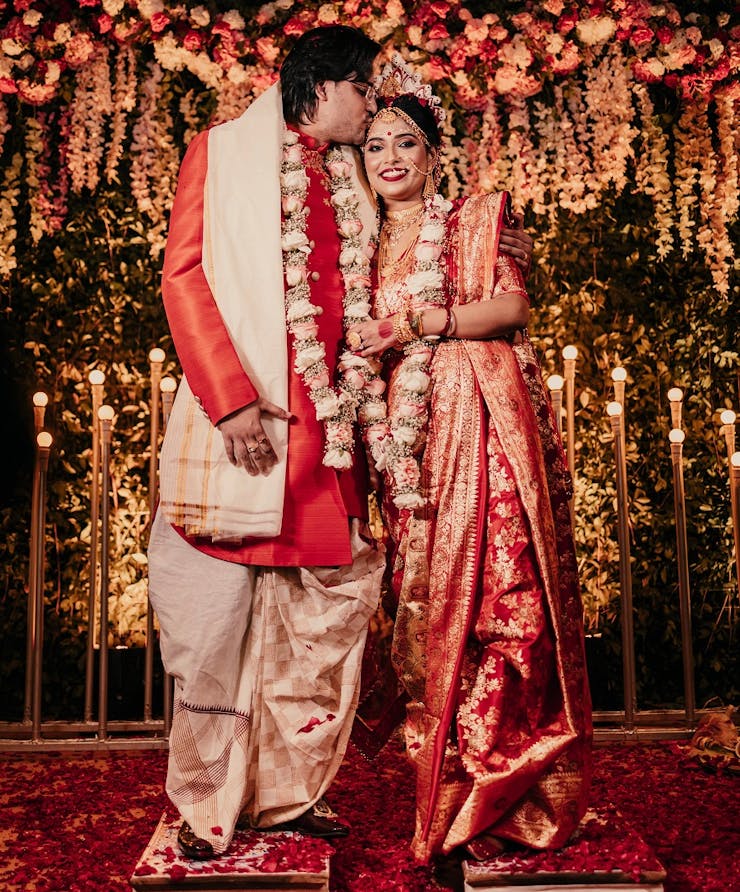 10. Floral Garland
The exchange of floral garland between the groom and the bride is known as MalaBodol. This beautiful custom will remain incomplete without gorgeous floral garlands. You can choose a red rose varmala or a tube rose varmala to perform this age-old tradition.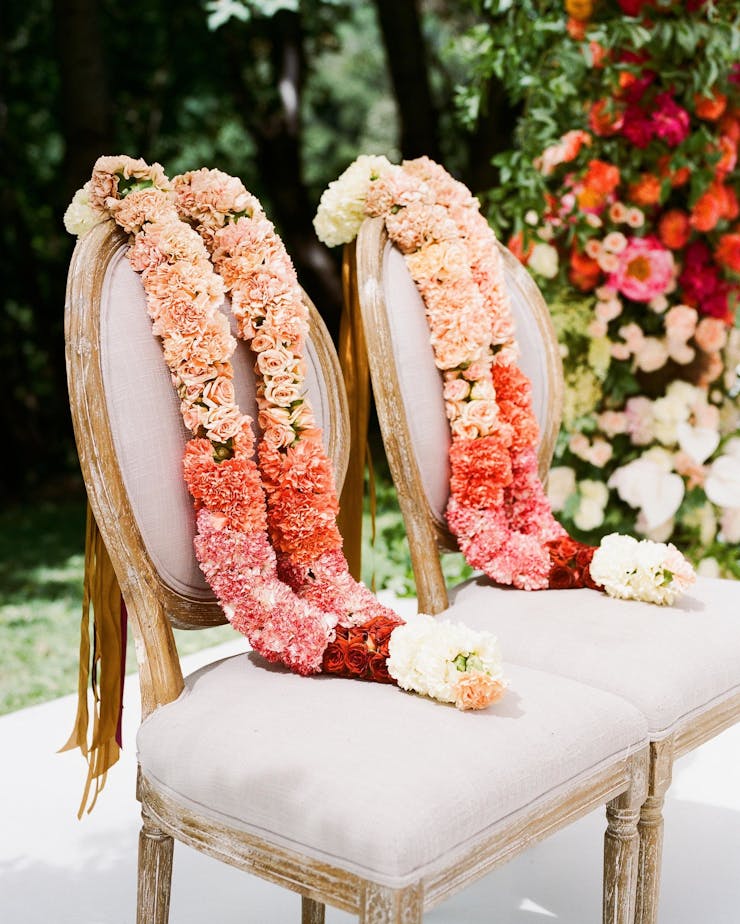 11. Wedding Decoration
Conventional Bengali wedding decorations can make your celebration like a fairy tale. Make sure to consult with a professional wedding planner to decide on a romantic wedding theme. Nice wedding decor can add a magical vibe to your wedding venue.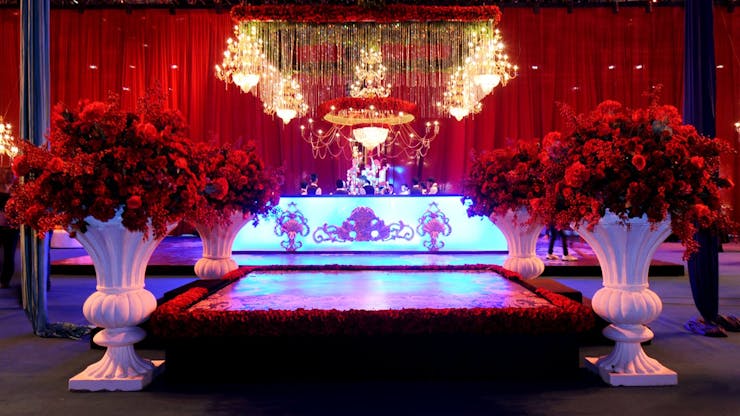 12. Food Menu
The most important thing to include in your bengali wedding planning check list is delicious food. A mouth-watering feast can make your wedding day a memorable one. You can serve Bengali delicacies like a fish cutlet, reshmi kabab, chicken resale, mutton kosha, ilish paturi and rosogolla.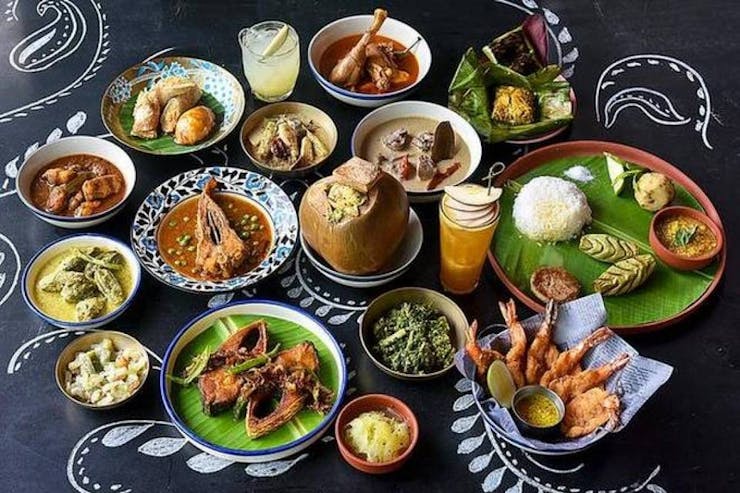 13. Car Decoration
The time of bidding farewell to everyone is a bittersweet moment for the bride. Hence, you should make sure to decorate your wedding car in such a way that can provide happiness to your bride. There are many ways to decorate a wedding car such as floral wedding car decoration or balloon theme wedding car.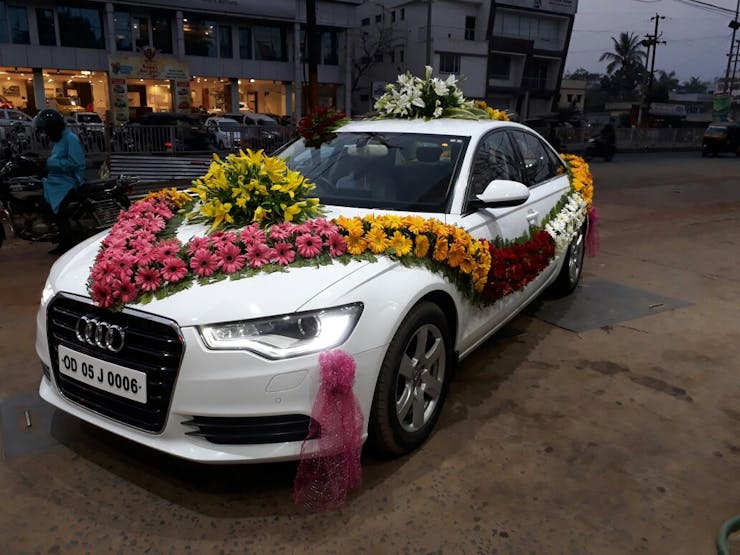 14. Lajjabastra
Lajjabastra is another important element that you must add to your bengali wedding shopping list. It is a piece of traditional saree given by the groom to the bride after the sindoor daan ceremony. This saree serves the purpose of a veil to cover the bride's head. So make sure to select a gorgeous wedding saree for the bride.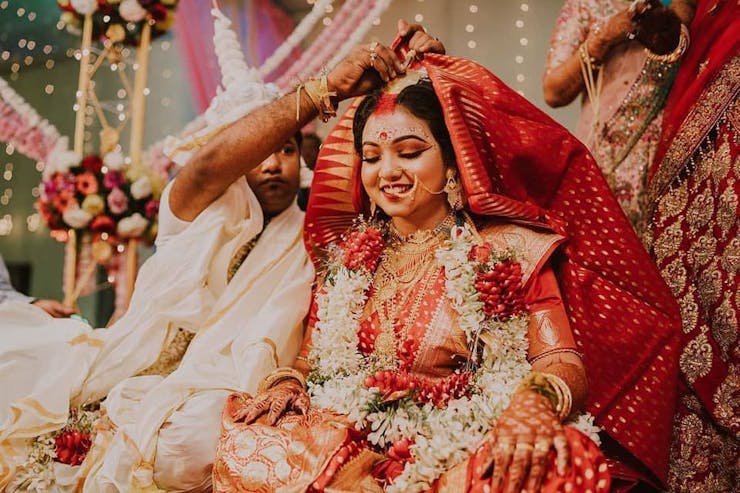 15. Ritual Items
A Bengali wedding has many wedding rituals that is performed using puja items. Make a list of ritualistic materials like betel leaf, copper plate, brass pitcher, dhan dubbo, flowers, incense sticks, sandalwood paste, Gaachkouto, and many more items to get before the wedding day arrives.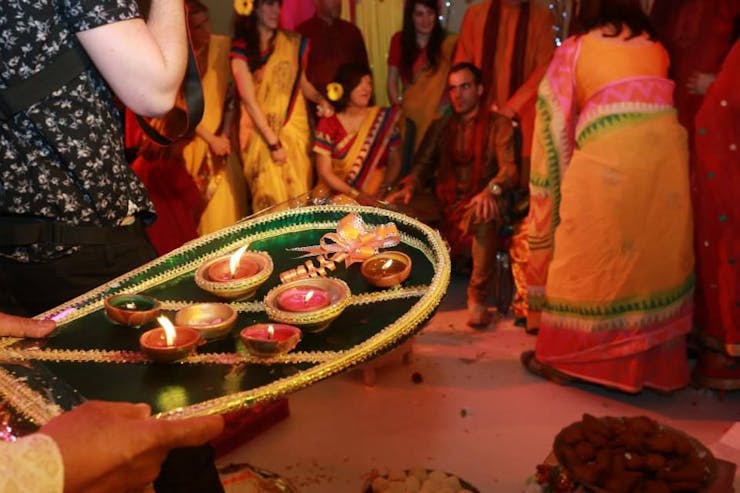 16. Wedding Games
A Bengali wedding is all about cultural beauty and a lot of fun. Including wedding games and romantic wedding bengali song can make your special day an unforgettable event. Make a list of incredible games like sweet tooth completion, fish the ring to play on your special day.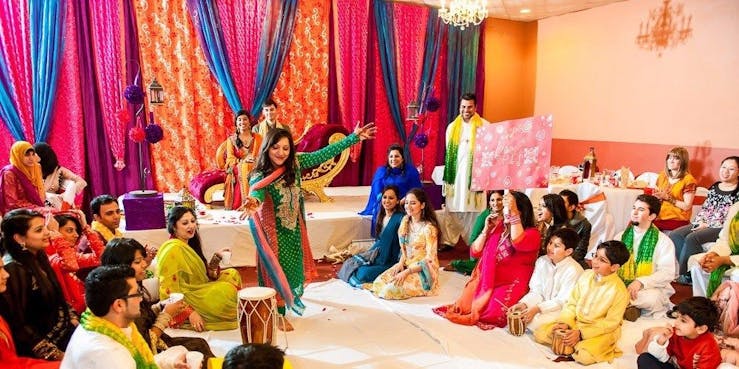 Also Check: Interesting Wedding Game Ideas For Guests To Twist Your D-day
17. Bridal Accessories
Ending this list with the most important wedding elements for Bengali brides. Visit the best wedding market in the city to buy bridal accessories. Gaachkouto, Alta, traditional bun pins, and the makeup kit are some bridal accessories you should shop before your wedding day.