Indian weddings are blissful and lively. The rituals performed at an Indian wedding are more interesting and delightful to watch. One such important ritual is the farewell ceremony when the gorgeous bride leaves for her new home. In the olden days, brides used to go to her in-laws' house in a palanquin. On the other hand, the groom used to ride a mare to reach home.      
But things have completely changed in modern India. Nowadays, brides and grooms bid farewell together by sitting in a beautifully decorated car. Thus, wedding car decoration has become a popular trend now. Whether you need a simple flower bouquet or an elaborate decoration on your wedding car, you can easily get the best-decorated car by hiring a wedding event planner in Kolkata. Have a look at the collection of 13 stunning wedding car decoration ideas to make your bride's bidai ceremony memorable.
1. Colorful Floral Wedding Car Decoration
Begin a colorful married life with a multi-color wedding car decor. You can choose various sizes of flowers from small to big to make your wedding car gorgeous. This elaborate decoration on your entire car will not only provide a pretty appearance to your car but also add a beautiful charm to your farewell ceremony.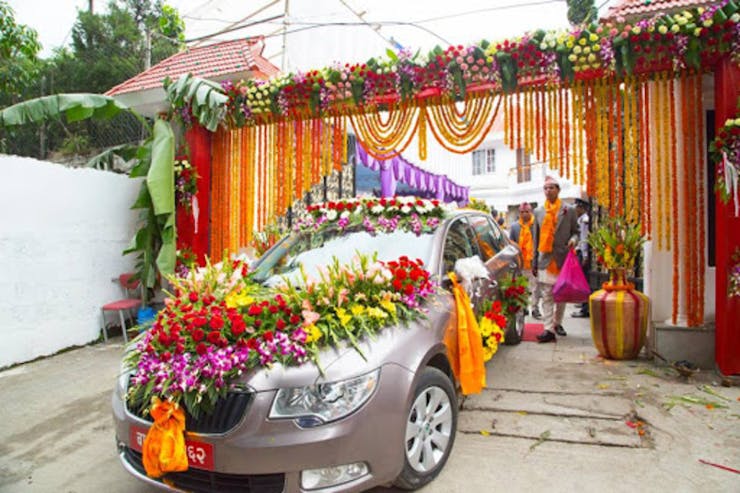 Recommended: 15+ Exceptionally Beautiful Wedding Mandap Decoration Ideas 2022
2. Elegant Bow Style Wedding Car Decoration
The combination of a purple ribbon bow with a fresh flower bouquet provides a divine look to your wedding car. Ribbon decoration always adds a festive feel. Using a satin ribbon can help you to achieve a classic look. This elegant wedding car decoration in kolkata is done with a rose bouquet and a huge bow is a very simple and most demanding car flower decoration.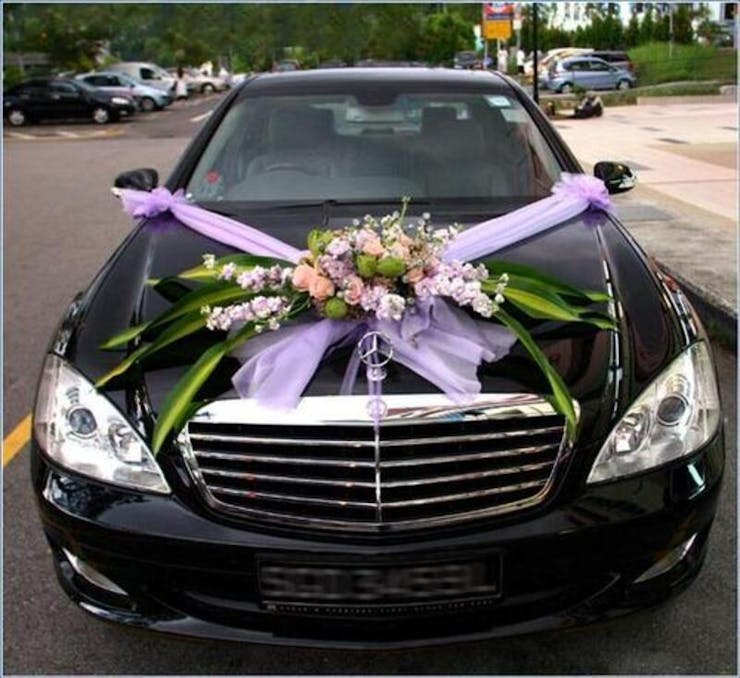 Must Read: 7 Beautiful Stage Decoration Ideas For Haldi Ceremony
3. Simple Wedding Car Decoration With Net & Roses
Another beautiful example of style in simplicity is this simple car decoration. If you want to choose an easier way to spruce up your wedding car appearance, then ask your wedding planner to decorate it with a one-sided net & flower bouquet, and make car flower decoration simple. To make the decoration more graceful, you can also decorate your car window using the same décor items.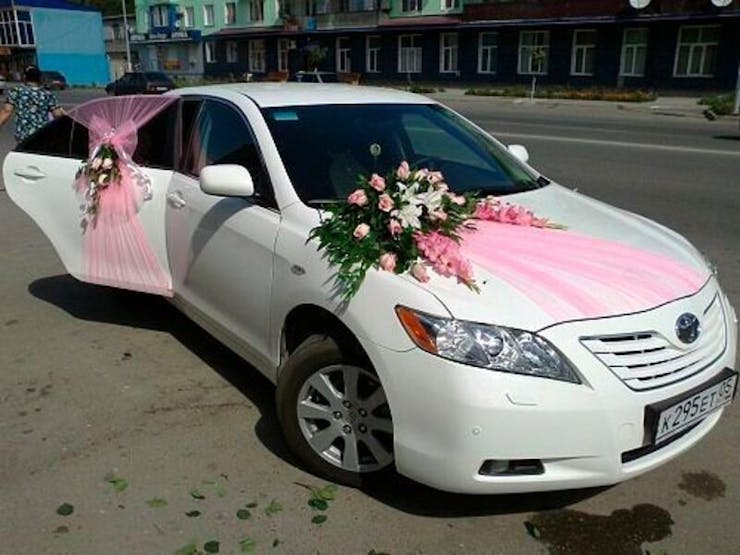 Also Read: 13 Trending Simple Mehendi Decoration Ideas [2022]
4. Bengali Wedding Car Decoration With Balloons And Net
If you want to keep all the things minimal, but unique and beautiful, then you will definitely love this bengali wedding car decoration idea by bengali wedding planner kolkata . Using balloons with net decoration ideas provides your car with an adorable look that your sweetheart will surely love. Make sure to use contrasting colors like pink and white or red and yellow with a similar color net fabric to make it more elegant.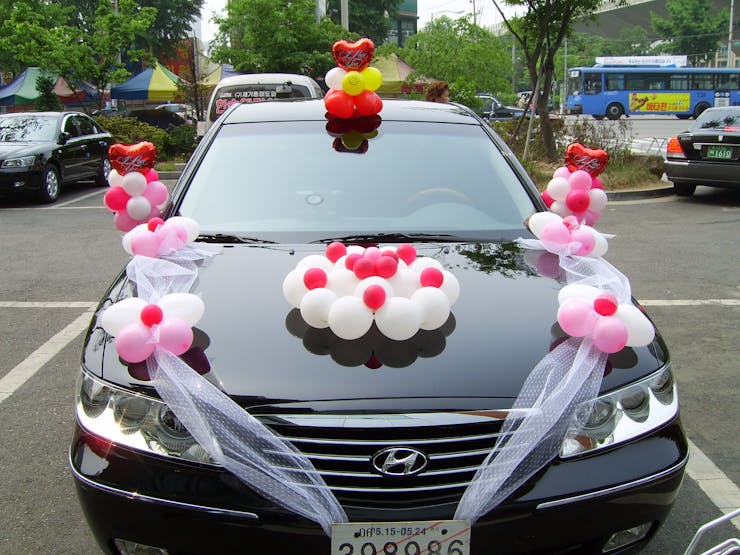 5. Ravishing Floral Roof-Line Wedding Car Decoration
This is one of the finest car decoration for wedding that are attention-seeker. This aesthetic roof-line floral design is the most preferred one in India. Simply place a clustered bouquet in the front of your wedding car and decorate the rooftop with floral garlands. Along with that, add a wavy pattern of the net fabric to make it more beautiful.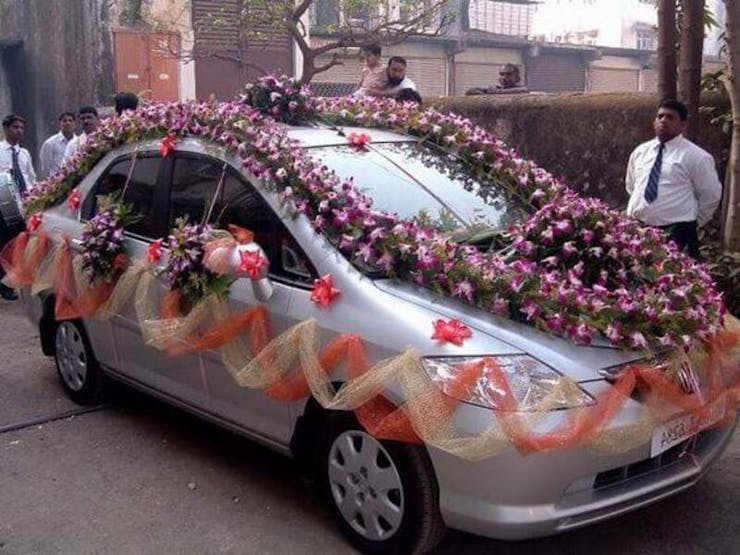 6. Multi Flower Vintage Wedding Car Decoration
If you're going to use a vintage car for the farewell ceremony, then make sure to use various multi-color flowers to add a classic and royal look to your wedding car. To make it a most elegant wedding car for groom, you can decorate the vintage car's bumper, trunk, and side tyre with clustered flower bouquets.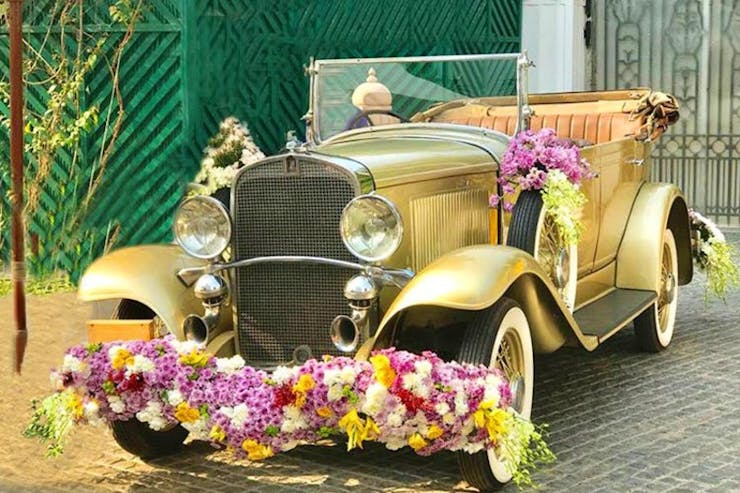 7. Elegant Heart Shaped Wedding Car Decoration
You can never go wrong with wedding car decoration with flowers. All you have to do is update your wedding planner about this garland design. Ask him to decorate the front corner and rooftop of your car using appealing flower garland and make sure to express your love with an eye-catchy floral heart by placing it on the front side of your car.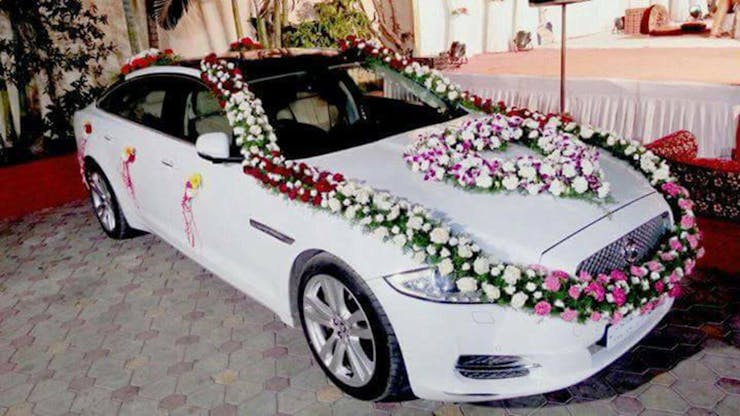 8. All Red Theme Wedding Car Decoration
The Red Rose is the symbol of love. Express your feelings with red roses car decoration for wedding. Decorate your entire car using red roses to add a unique twist to your wedding car look. This romantic wedding car decoration deserves a special place on this list.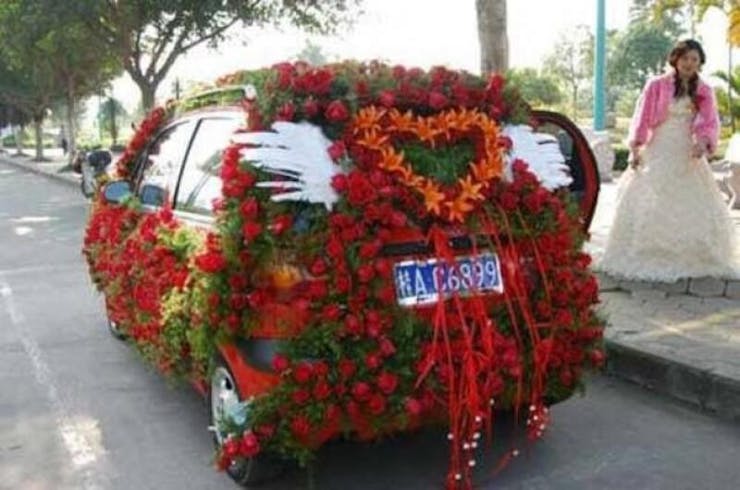 9. Wedding Car Decoration With Cute Soft Toys & Flowers
If you want to add a fun element to your wedding car floral decoration then you can pick some adorable props like soft toys, love birds, or couple dolls to impress everyone and especially your bride with this exceptional bengali wedding car decoration.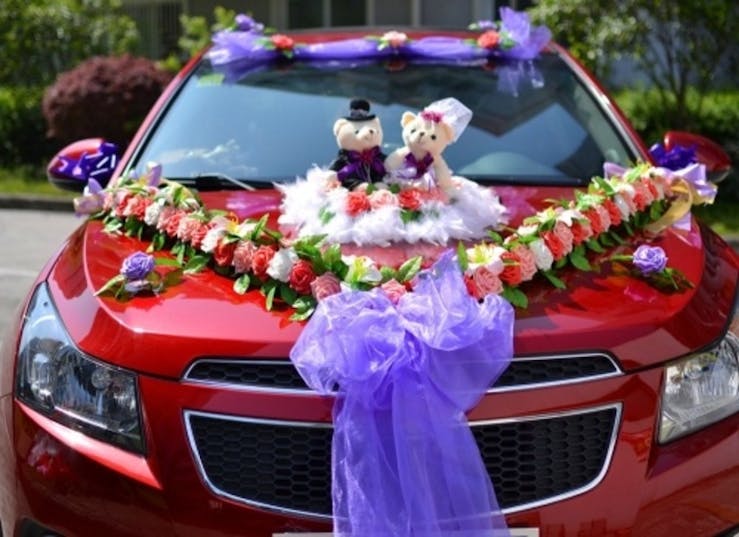 10. Floral Rainbow Wedding Car Decoration
Have you ever thought of giving an artistic touch to your wedding car decoration in Kolkata? If yes, then opt for this delightful and creative rainbow decoration done with seven different types of flowers. This can be a great idea to reveal your artistic side to your life partner.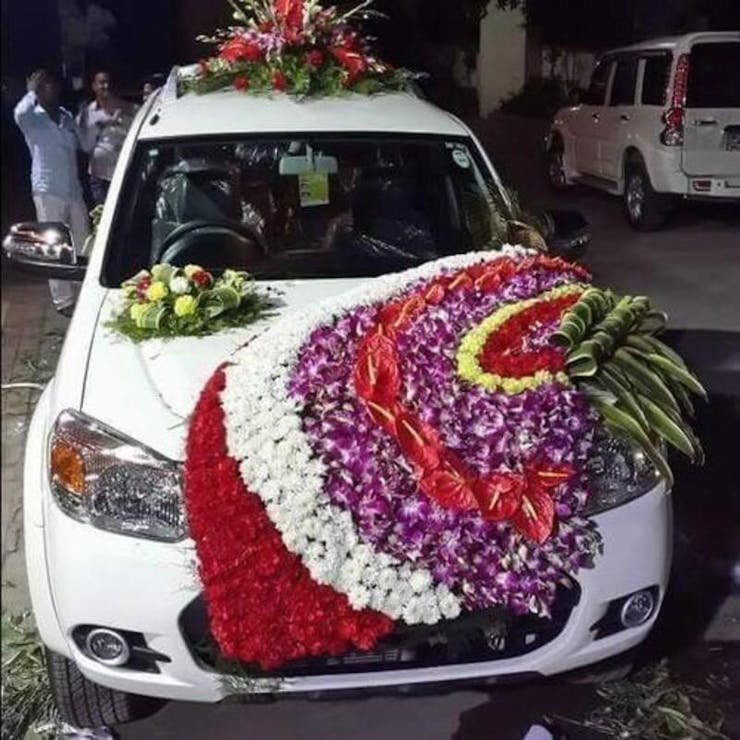 11. Simplistic Balloon Themed Wedding Car Decoration
Are you looking for a simple car flower decoration? This is a perfect wedding car decoration in Kolkata for the minimal guy & girl. Inflate your love with this lovely cluster of blush pink and cherry blossom balloons on your car to tell everyone a fairy tale goodbye.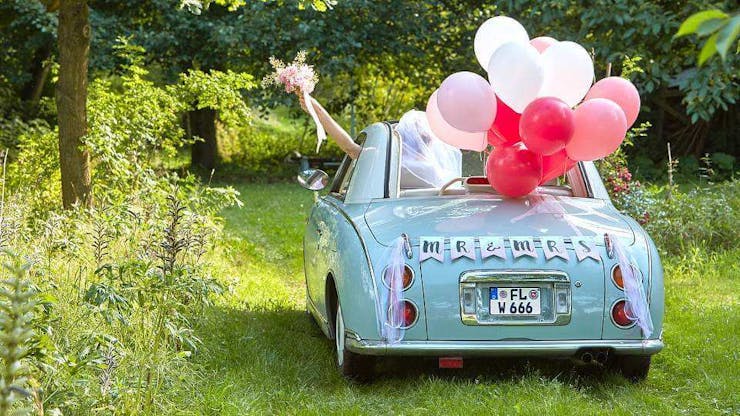 12. Wedding Car Decoration With Printed Just Married Tag
This is a trending bengali wedding car decoration that adds a personalized look. Use a just married car will white roses to provide your car décor a dreamy and eye-catchy look.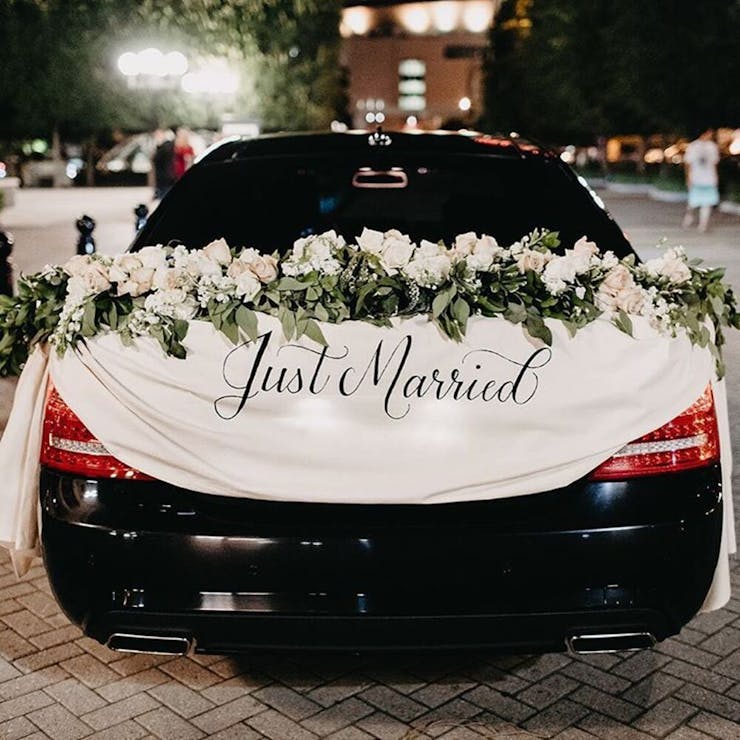 13. Indian Style Floral Net Wedding Car Decoration
If you don't mind using floral decor in abundance, then this wedding car decoration with flowers is an ideal pick for you. Although, this net pattern is the most common and traditional wedding decor in Indian weddings. But, you can add a personal twist by replacing the traditional marigold with a rose or another flower of your choice.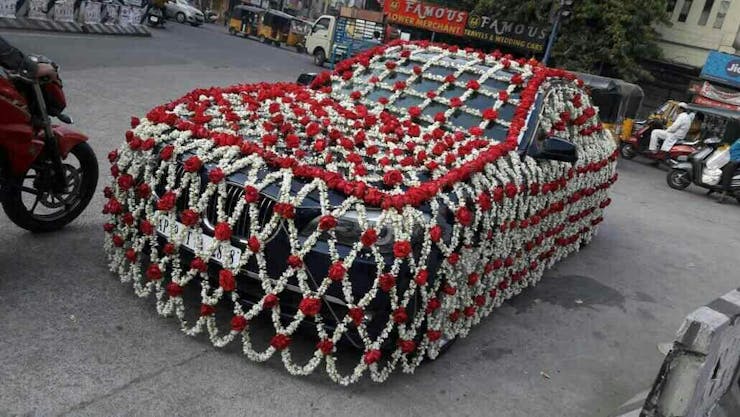 Did you find your ideal wedding car decoration to celebrate a grand farewell? Apart from wedding car decoration in Kolkata, you also need stunning stage decoration, lighting, sounds, a delicious menu, and much more to plan a memorable wedding. We are the best event planner in Kolkata that has planned plenty of grand events. Let us handle your special day to make it the most exciting and sweetest memory of your life.