Indian wedding celebrations often last many days. The haldi ceremony is one of the most significant parts of the wedding. The wedding festivities usually begin on the haldi day.
For this reason, you must come up with some haldi decoration ideas in advance. Pictures from the Haldi ceremony often end up in the family album, so it's crucial to consider the design.
This blog post shows various ways to decorate your home and yard using Haldi. Some concepts are more suited to larger spaces, while others are suited to a modest backyard or patio. In addition, we have some easy and inexpensive haldi thali decoration ideas that you will like. Look at this!
Front Door Haldi Arrangement:
Initial impressions often stick in people's minds. The entrance to your Haldi ceremony location is a great opportunity to wow your guests with beauty and sophistication. A plain front door and Haldi function stage decoration can be an attractive focal point, immediately setting the event's tone.
How beautiful the haldi decorating for an entryway can be with just a few drapes and some flowers. To get the desired effect, set up pillars covered in yellow fabric and construct a canopy out of flowers or white fabric. The luxury will be amplified with a yellow carpet for the main event venue. It is another of the haldi thali decoration ideas. What, you don't think so!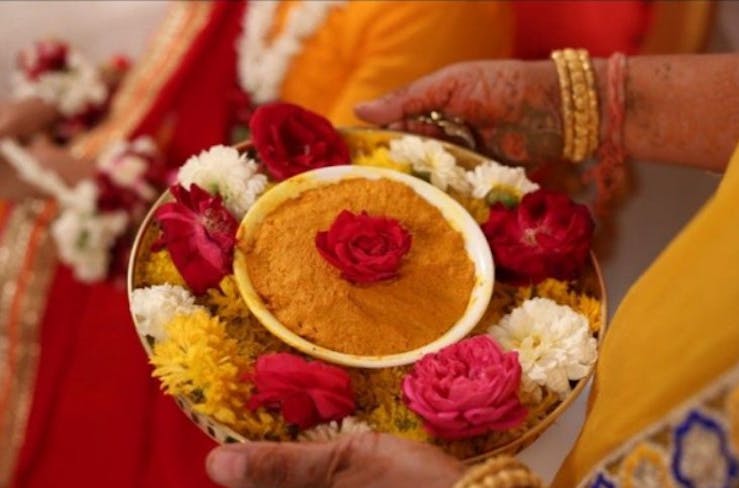 DIY Haldi Basket Decoration On A Budget: 
Choose a common item for haldi thali decoration ideas that serves the goal of a haldi adornment but is reasonable. The illustration above depicts baskets that would be ideal for this purpose.
Paint some cheap jute baskets found in local marketplaces with a bright yellow color. Place them alongside more floral arrangements and tall vases, and fill them with marigold petals or flowers. A photo op spot that your guests will appreciate.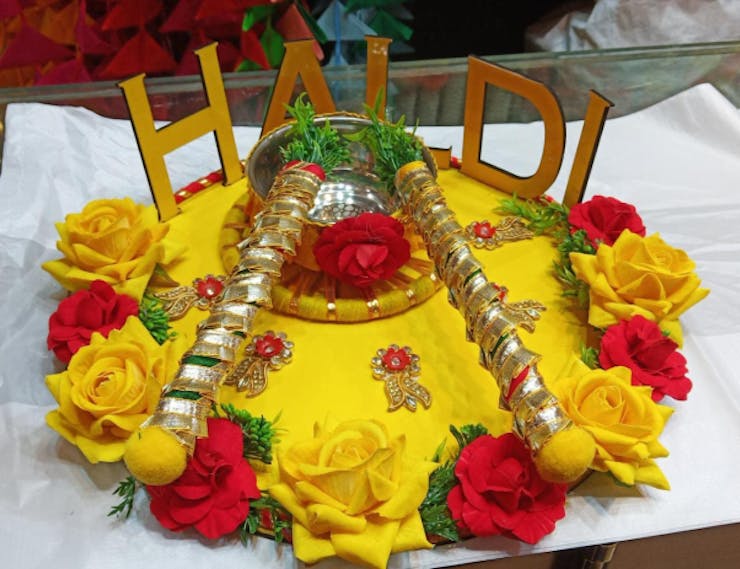 Haldi In Inexpensive Earthenware Pots:
Put in some earthen pots to decorate the ceremony area. They will provide a touch of classic beauty to the scene while also serving as eye-catching low-budget haldi ceremony decorations.
Earthenware, such as clay pots, was once ubiquitous in Indian homes. Because a wedding marks the beginning of a new family and a new house, these matkas are appropriate for use in the haldi ceremony.
An excellent illustration of one practical application is shown above. Please put them in displays with the mouths facing outward. One of the best and simplest haldi decoration ideas is to use marigold garlands and let them spill out of the pots.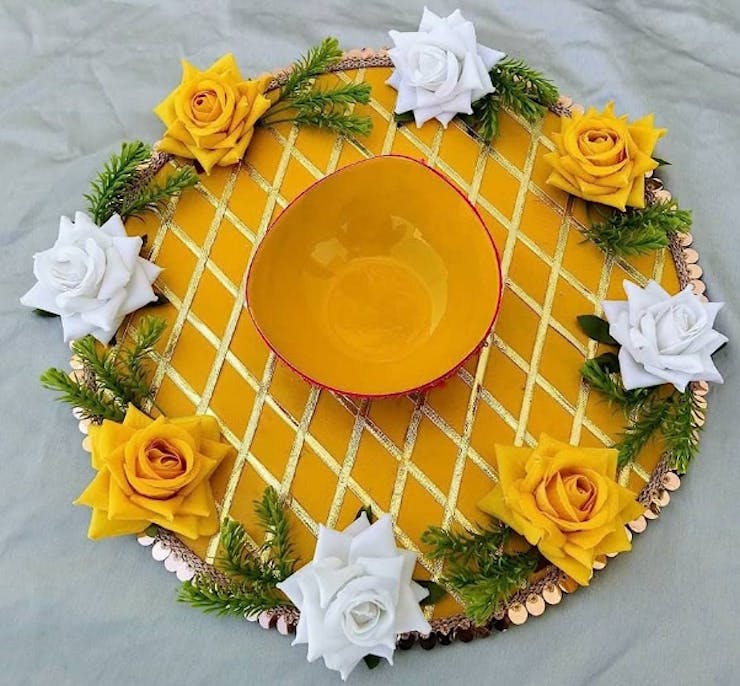 Must Read: Trending Bengali Bride Haldi Dress Ideas
Easy And Inexpensive Haldi Swing Decoration:
Guests will have more fun if the Haldi decorations are more lighthearted. Everyone from the couple to their guests and the best wedding planner in Kolkata photographers taking pictures at the wedding will enjoy the whimsical addition of a swing to the decor.
The picture above shows that the swing can be simple. A basic one strung from the limb of an old tree will do. Add some floral accents to the walls and a bright yellow tablecloth to the chairs, and you're all set. You Can also put some plates for haldi plate decoration ideas.
Recommended: Innovative Mehndi Plate Decoration Ideas At Home
Decoration Concept For An Inverted Dome Haldi:
Thinking practically about the cleanup required after a haldi ceremony at home is a good idea. However, it is prudent to implement measures that minimize the likelihood of chaos breaking out.
The previous image depicts an inverted dome, the ideal sitting arrangement for a mess-free haldi décor. A large inverted dome can be rented, and a stool placed within; the remainder of the area can be decorated with marigolds. It's modern and hip and looks amazing in your Haldi pictures. Include it with your haldi thali decoration to wow your guests.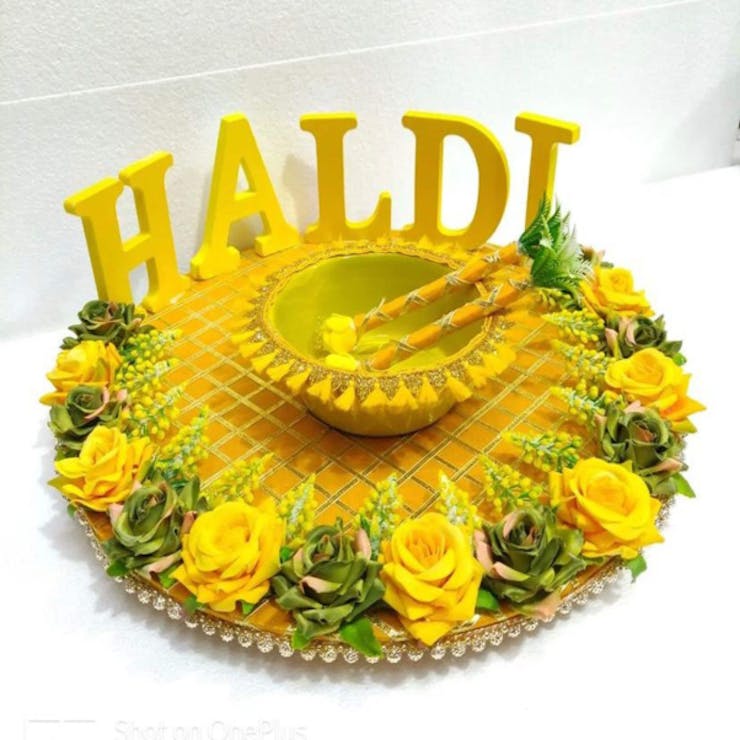 Drapes and Haldi: A Quick and Easy Home Decoration:
 This is one of the most fantastic Haldi decoration ideas, and it won't break the bank, too! Order some yellow drapes or purchase some transparent curtains. You can erect it like a tent, as shown in the accompanying illustration.
This haldi decoration is ideal for sprucing up a small space in your yard or patio. You could even have it in your own home if you wanted to. Haldi thali decoration at home gives a haldi ceremony another look. This pattern would look great anywhere in your home or business, wouldn't you agree!?
A White Finish to the Haldi Arrangement:
If you're not a fan of the color yellow, you might find some of the more elaborate haldi décor ideas a bit much. And if you can relate and find yourself in that group, consider using a lot of white in your design to soften the effect. Haldi tray decoration ideas are also the top most beautiful.
The following image is a lovely illustration of using white as the primary color with only accents of yellow for your Haldi decorations. Please use tuberose blooms by stringing them into garlands in an asymmetrical yet fashionable pattern. This arrangement is aesthetically beautiful and makes for stunning images when you have been covered with bright yellow paste. Here discuss how to decorate thali at home for Haldi Ceremony.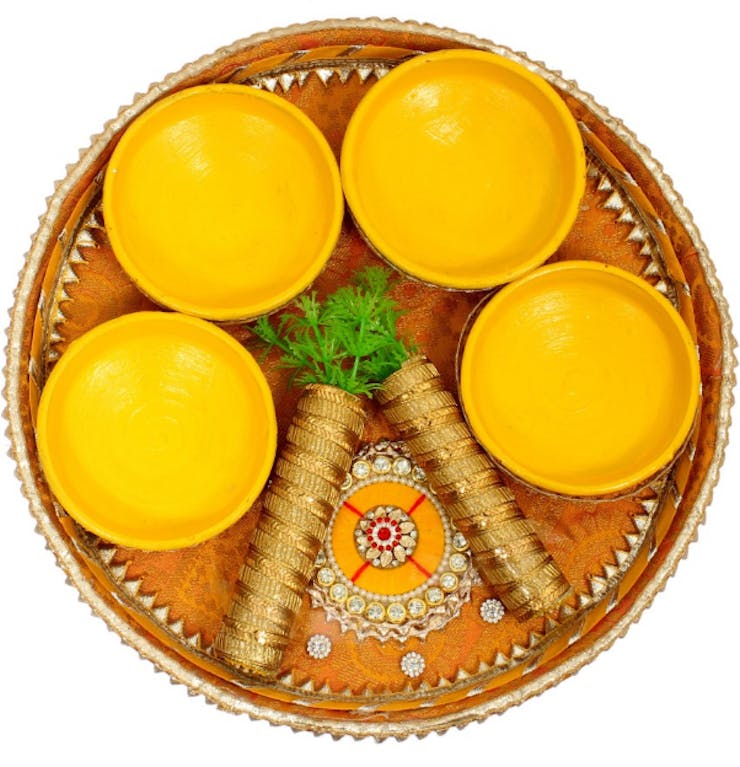 Decoration with Haldi and Marigolds:
Decorations for the Haldi festival can be made quickly and cheaply with marigolds. Marigolds, in particular, are great complements to Haldi adornment since they are yellow and symbolize inner power, enthusiasm, and brightness. It is a haldi thali decoration with flower Ideas.
Use the image above as an example and drape a white cloth over a few chairs. Marigold garlands strung in neat rows would make a lovely backdrop. Put some greenery around (pots here and there) and hang some foliage from the ceiling. Add some candle holders or lanterns, and you'll be ready. You'll get many praises for this easy Haldi design.
Conclusion:
One of the most talked-about parts of your wedding will be the haldi ceremony. On this special day, every detail matters, from the festivities to the images. The preceding blog post addressed several options for haldi thali decoration ideas at home. We tried to provide a range of possibilities, from more classic to more outré styles, that may work with various budgets.
Faqs
1. What do you do to honor Haldi?
Family members take turns putting a little bit of Haldi on the Bride and Groom and greeting them while also cleaning them simultaneously.
2. When is Haldi finished?
The Haldi ceremony occurs in the morning, one or two days before the wedding. Both the girl and the groom take part. 
3. What else could you call a Haldi ceremony? 
In different parts of India, the haldi ceremony is also called pithi, tel baan, gaye holud, ubtan, or mandha." Most Punjabi weddings call the ceremony "haldi," while most South Indian weddings call it "pithi."
4. Can girls who aren't married use Haldi?
Tradition says that only married women can participate in the Haldi process and put turmeric paste on the bride or groom.