In Indian weddings, all the excitement begins from the Haldi ceremony. It is not only an important ritual of Indian cultural wedding but also a new beginning of an exciting journey of the new couple. It is a kind of pre-wedding ceremony in India and that's why people treat it as an important day on the morning of the Haldi ceremony, all the family and relatives of the Bride and Groom gather on the Haldi mandap and then apply turmeric paste on the face and body of Bride and Groom. In India, turmeric is considered an auspicious ingredient, and applying Haldi is a kind of blessing ritual.
People have started giving much importance to Haldi ceremony stage decoration by hiring low budget haldi ceremony decoration wedding decorators. There is no way to skip a haldi stage decoration if you want to plan a picture-perfect wedding. That's why couples hire the best event planner to make their haldi stage decoration unique and picturesque. Through this article, we the wedding event planner in kolkata have shared with you some of the best haldi decoration stage ideas. So, if you are also looking for a dazzling Haldi function theme ideas, then scroll down and keep reading this blog.
1. The Marigold Theme Haldi Stage Decoration
Let's begin with the traditional type of Haldi stage decoration by providing it with a new look. Yes, the flower stage decoration is a part of an Indian traditional wedding. You can simply begin with a Marigold flower garland and to enhance the beauty of the stage, you can use the same color of lights, cushions, pandals, chairs, and even clothes to make it a bright and vibrant theme. This is a very simple stage decoration that you can afford at a low cost.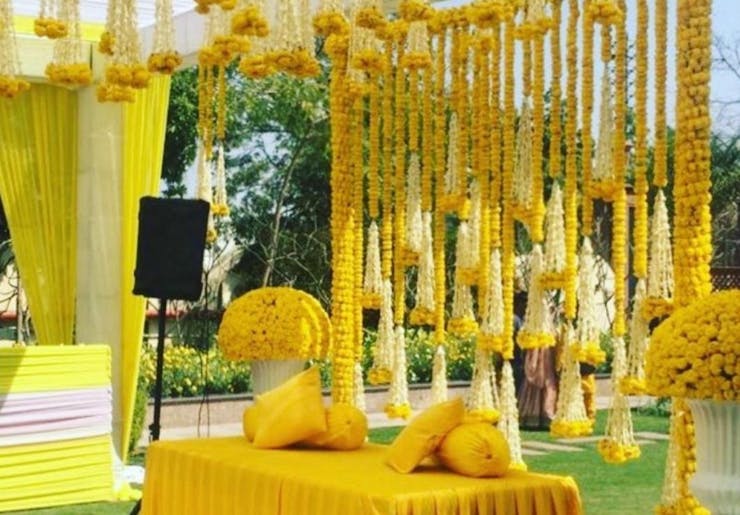 2. Yellow And White Haldi Stage Decoration
A combination of white and yellow always works well and it can also provide a stunning look to your haldi stage decoration at home. These contrasting colors will provide everyone a feel of an auspicious and serene environment. To bring this touch, you can decorate the entire mandap with sunflowers and white tulips or lilies.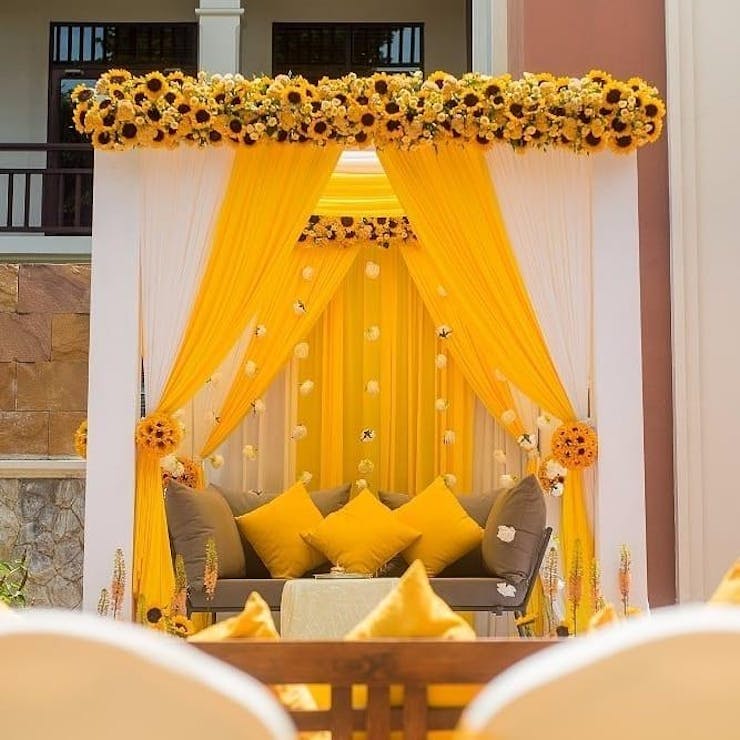 3. Eye-Catching Photo Booths Haldi Stage Decoration
If you want to create an amazing and fun-filling environment in your Haldi function stage decoration then you add floral photo booths on the walls, entrance gate which will allow your guests to have a gala time and it will also give you some perfect clicks to create beautiful memories which everyone will be able to cherish and smile in future.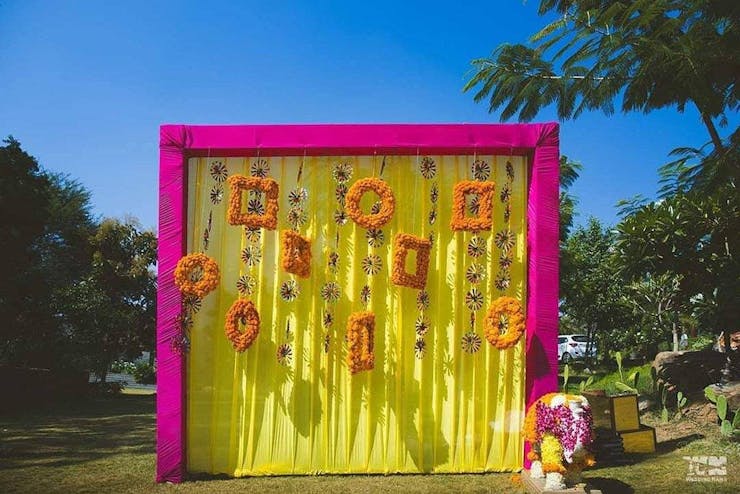 4. Haldi Stage Decoration With A Classic Swing In An Open Garden
Swings are always connected to our childhood memories. But you can also implement the swing idea for your Haldi mandap decoration. An outdoor swing decorated with pink or red roses in the midst of your garden area will perform as a fantastic theme. Moreover, it is a very budget-friendly setup. This outdoor setup will provide you with much space and incorporate happy vibes with the fragrance of fresh flowers. The garden area will provide fresh air to breathe in and this magical setup will definitely turn out to be a dreamy one.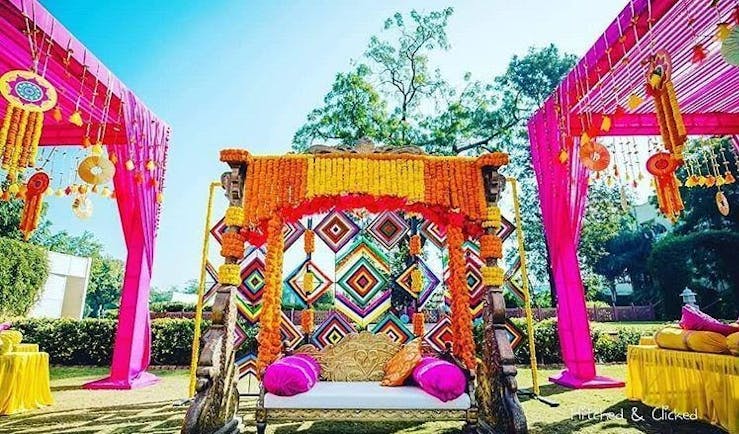 5. Colorful Kites Haldi Stage Decoration
All Indians have a special attachment to kites. Flying kites is not just for fun, it's our emotions. Kites are considered as an aesthetic element, but have you thought of considering them a decorative element also? Believe it or not but the colorful kites can rock your simple haldi stage decoration. You can choose some vibrant color combo like pink and yellow or pink and sky-blue. To bring some more advancement to this lively theme, you can use canopies or hanging materials made or wool or stones. This amazing setup will leave your guest surprised and speechless.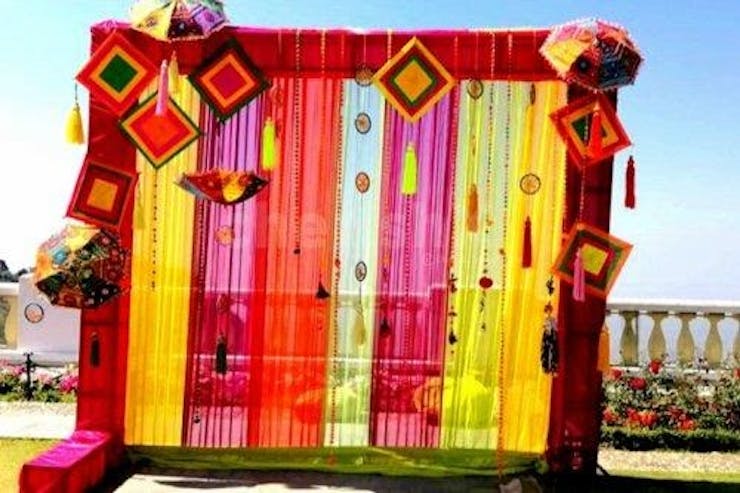 6. DIY Decorative Mandaps Haldi Stage Decoration
If you want to create a picture-perfect moment and bring that wow element to your low budget haldi ceremony decoration, you can fancy hangings made of a DIY element. This kind of haldi mandap decoration is trending these days. People love the artistic feel and when you introduce these artistic materials in your pre-wedding celebrations, people can't resist praising the beauty of the theme. To give these decors a classy appearance you can use woolen props, floral DIY curtains, or colorful props. These kinds of materials can not only beautify your ceremony space but also add an extraordinary touch that pleases everyone with its single sight.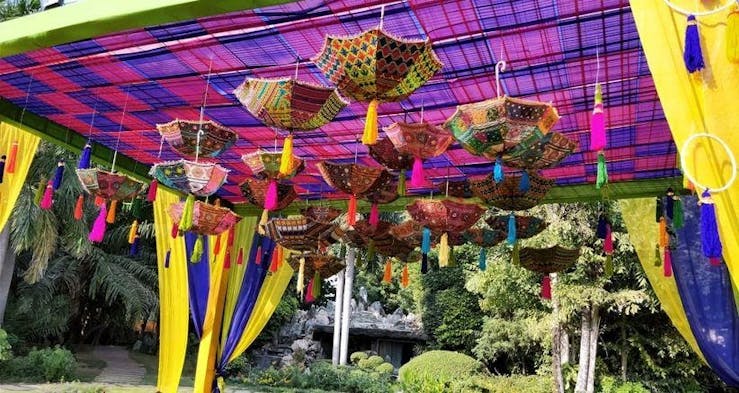 7. Haldi Stage Decoration With The Vibrant Dupattas
Another beautiful element to make your low budget haldi ceremony decoration more elegant is the colorful drapes or desi dupattas. It is the most common and haldi function decoration. In recent years, the usage of these colorful silk fabric drapes in a wedding venue and other events has grown rapidly. The wedding decorators decorate the event area with traditional or fancy fabrics as per the taste of the host. These bright and colorful fabrics look beautiful in the daylight. To achieve the best décor at your Haldi ceremony area you can put together the neon and eclectic color drapes. You can also do haldi decoration using the phulkari dupattas to provide a traditional appearance.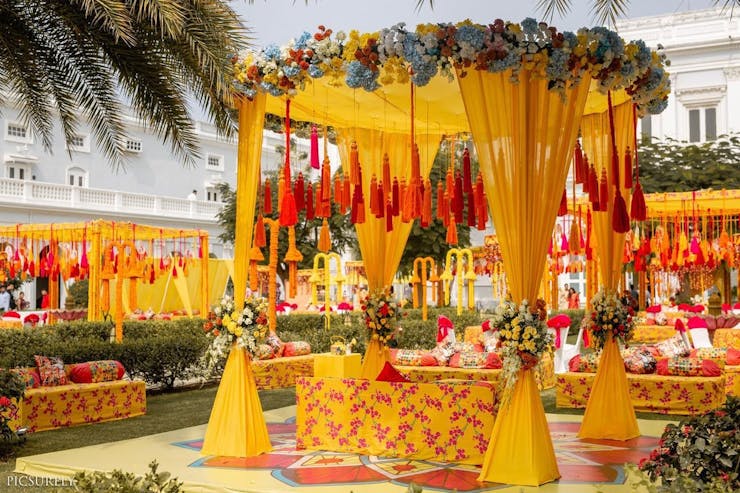 Few more interesting Haldi ceremony décor ideas:
Hanging Origami Theme: 
The handmade origami can add charm to your pre-wedding décor. It is available on a light budget and also creates a fun-filling environment for your guests.
Classic Outdoor Décor:
If you have a larger outdoor space you can create a floral canopy to decorate the Haldi stage using a few thematic colors such as yellow and white, red and magenta, or Blue and pink.
So, these were some of the truly amazing ideas for achieving the best look for a Haldi ceremony stage decoration. Haldi ceremony has a special significance in Indian weddings. Thus, we the best wedding planner in kolkata understand the importance of this auspicious day in the life of a new couple. We have tried our best to provide you with the best ideas to make your special day a memorable and happy one. Which idea did you find the perfect one to make your Haldi ceremony most beautiful?