Mehendi Ceremony is one of the most exciting and fun-filled evenings before an Indian wedding. It is a part of pre wedding functions. . To perform this ritual, all the family and friends sit around the bride and delicate henna designs are made on the palms and feet of a bride-to-be. To enjoy every moment of this nostalgic evening you can perform some special experiments with the Mehendi decoration theme.
Most of the time people get confused and start thinking about what kind of décor would look best for the Mehendi ceremony? It's true that in recent years people not only plan for a better wedding but they also take all the pre wedding functions seriously. So, here are some of the coolest and trending Mehendi decoration ideas form the best wedding planner in kolkata to make your wedding a fairy tale one.
1. The Colorful Floral Arch:
If you want to attain the best and beautiful view of Mehendi décor then you can begin the decoration area from the seating area, where the Mehendi ritual will take place. Because seating area is the most important place of a mehendi event. You can create a floral arch using various colors of flowers if you have a big space in your outdoor area. A stylish sofa or a circular bed covered with this beautiful floral arch will act as a stunning simple Mehendi decoration at home.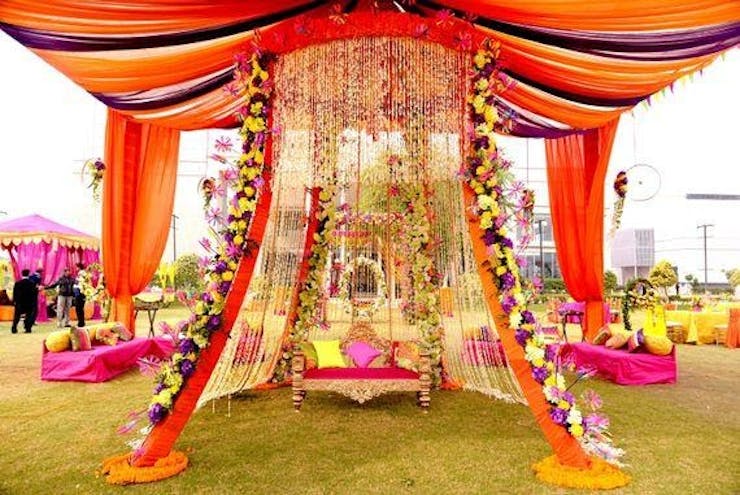 Recommended: 7 Beautiful Stage Decoration Ideas For Haldi Ceremony
2. The Coolest Mehendi – Beach Mehendi Theme:
These days everyone is just crazy about a perfect destination wedding. But what if you plan a fun-filled Mehendi ceremony at a seashore or beach? It can be the best part of your Mehendi ceremony celebration and also prove to be a nice vacation for your guest. You can decorate the beach area using your favorite flowers or seashells to welcome your guest. The stunning view of an open sky, blue ocean, and soft breeze will be the best bridal shoot.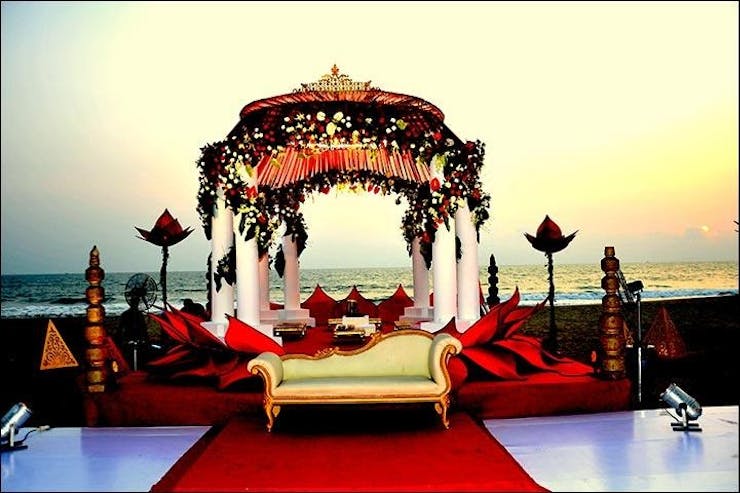 Also Read: 10 Questions to Ask When Hiring a Wedding Planner - EventsGyani
3. The Creative DIY Mehendi Décor:
The DIY Mehendi decoration theme is the most budget-friendly Mehendi ceremony decoration. By applying this kind of theme you can show your creative side to everyone. You can simply begin the decoration by hanging colorful origami all around the Mehendi venue. On you can also stick a paper fan in two contrasting colors either on the swing of the bride or on the entrance gate.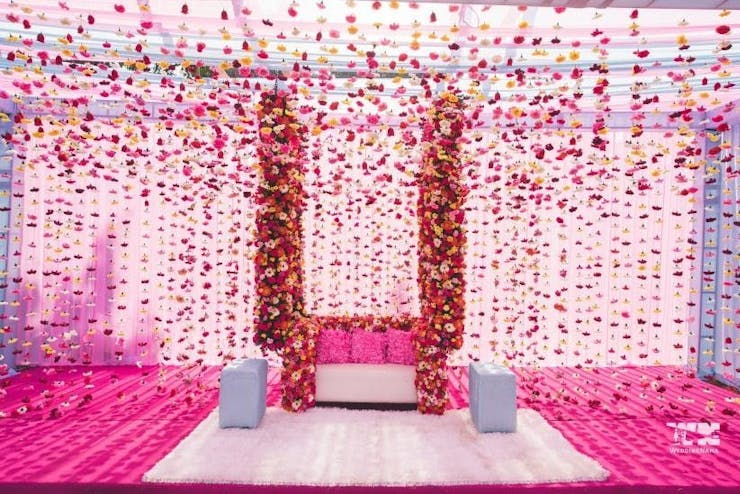 4. The Stunning And Twinkling Floral Canopy:
If you are looking for a budget-friendly Mehendi décor theme to celebrate a memorable Mehendi ceremony in an indoor space then we have got a perfect solution for your need. If you can't afford a larger outer space, you can also make this beautiful event at your home inner – space. Swing with an amazing floral canopy. To make it more pretty you can add small twinkling LED lights to it.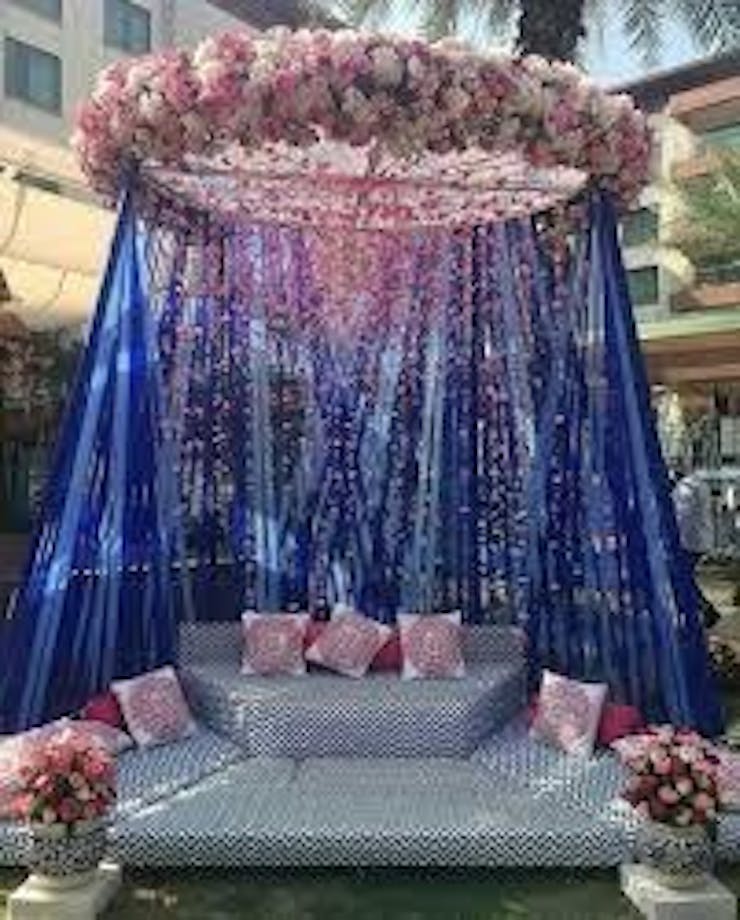 5. The Traditional Baithak Style Mehendi Theme:
It is one of the most popular and oldest Mehendi theme ideas. To bring a traditional vibe to the Mehendi ceremony, you can decorate the entire baithak with marigold flowers. Lay down colorful mattresses, cushions, and carpets to provide it with a humble and fancy look.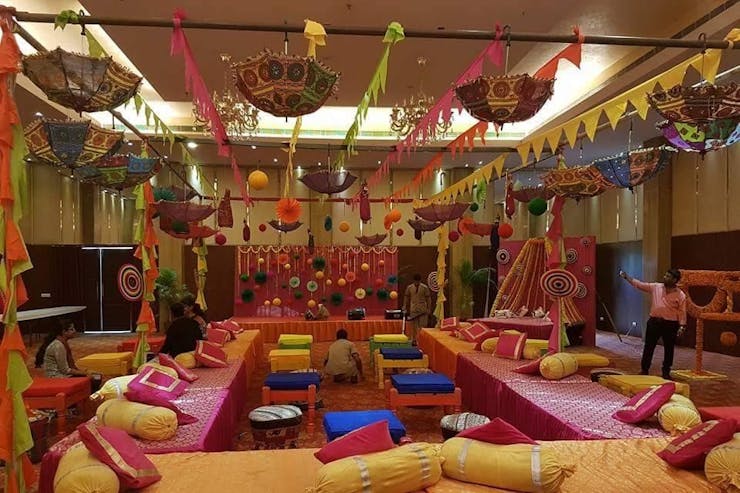 6. The Poolside Mehendi Theme:
You can also keep your Mehendi ceremony at the poolside to offer your guest some relaxation and a chill vibe. It would be a great fun moment for everyone to chill and celebrate the pre-wedding event. You can also arrange colorful poolside tents for your guest. Adding paper lanterns of vibrant color makes it a glamorous spot in the night. To provide the venue a more vibrant look you can decorate the poolside area by installing huge flamingo statues or decorating the trees with layers of pom-poms.
7. The Lively Puppet Show Theme:
Have you seen the Rajasthani Kathputli? Introducing these beautiful and colorful puppets in your Mehendi venue will not only provide it a special look but also amaze your guests with its beauty. Kathputlis is a part of the Rajasthani tradition, but these gorgeous décor items have become the latest trend in the Indian wedding theme.
8. The Classic Floral Jhoola In The Garden:
Another popular Mehendi function decoration includes a stylish and beautiful swing decorated with roses or orchids. You can keep the swing in your garden area. The swing can also be decorated using colorful drapes. Moreover, you can get perfect insta-worthy clicks from your Mehendi ceremony.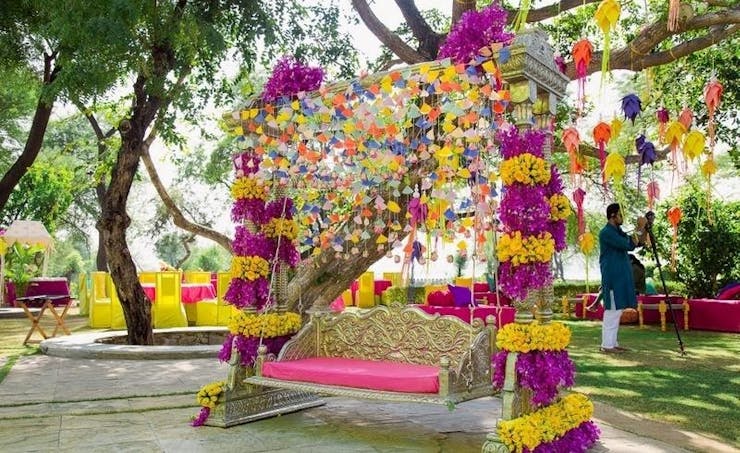 9. The Folkloric Touch Of Marigold:
Marigolds are the most commonly used flower in Indian cultural occasions and weddings. Without this flower, an Indian celebration remains incomplete. You can also decorate your entire Mehendi venue by using a string of orange and yellow marigold garlands. It brings the joyous vibes of a wedding and is also easily available.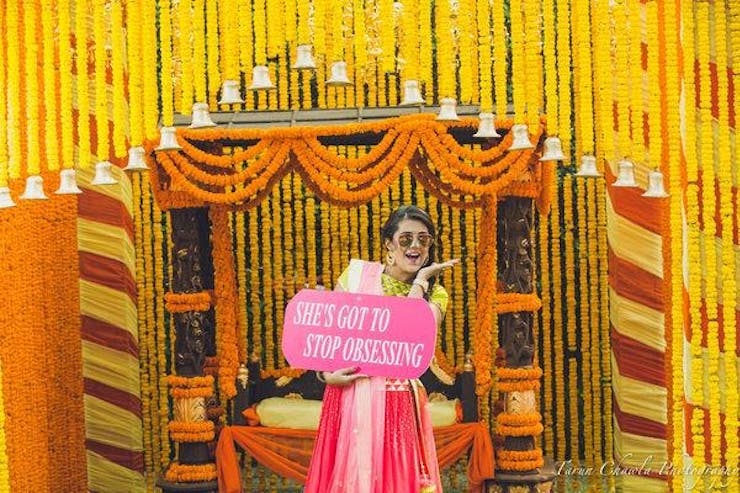 10. The Fairy Tale Décor:
It is one of the most beautiful Mehendi decoration theme ideas. If you want that princess-like feeling and a dreamy Mehendi ceremony then decorating the venue ceiling with colorful ribbons, hanging flowers, and a canopy of a fairy light can be a marvelous choice. You can try colors such as baby pink or bohemian to bring a magical experience and surprise your guests.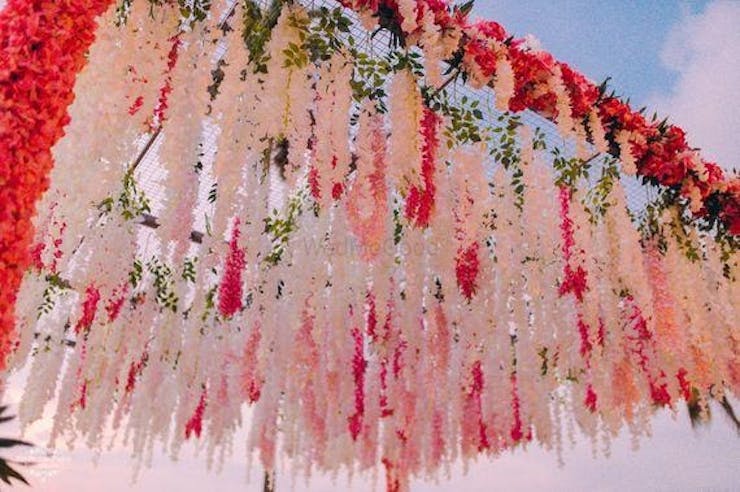 11. The Adorning And Chirpy Bangle Décor:
If you are looking for some simple ideas for simple Mehendi decoration at home then the colorful Bangles décor can remind everyone of this beautiful and simplistic event forever your Mehendi celebrations become more gorgeous with these colorful hanging bangles.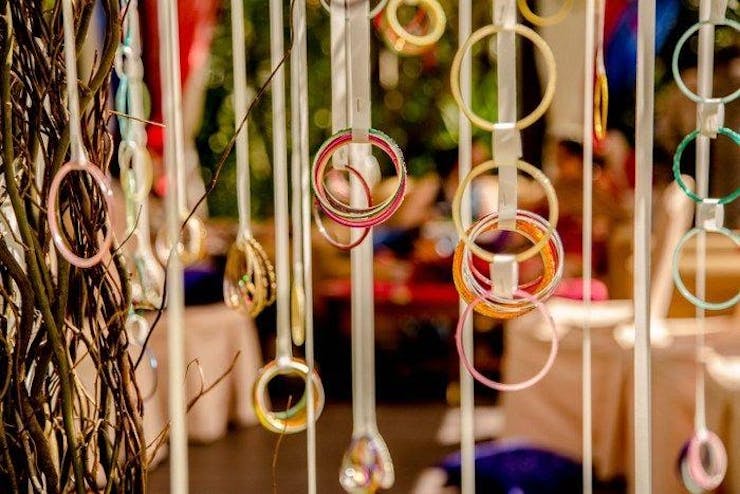 12. The Charming Hanging Tussles:
Now, this is going to be a very lovely theme for a Mehendi event. Decorating the backside wall of the seating area with bright color tassels is going to win many hearts with its splendid view.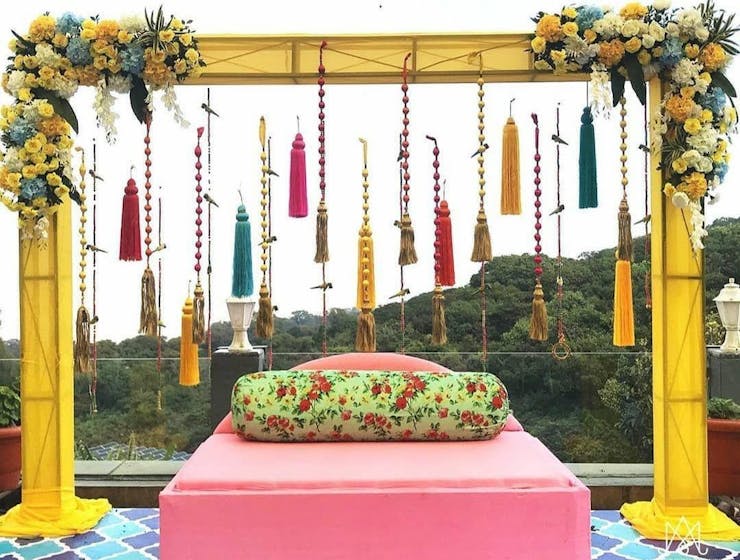 13. The Floral Cycle Décor For The Would Be Bride:
Do you love to recycle and use the old things by providing them a greater look? Ok, so that means this unique idea of using an old cycle is specially made for you. Don't worry, you don't need to use the old ones. All you have to do is paint an old cycle with vibrant color and decorate it with flowers and colorful ribbons. This is a great idea for a Haldi or Mehendi ceremony in your outdoors.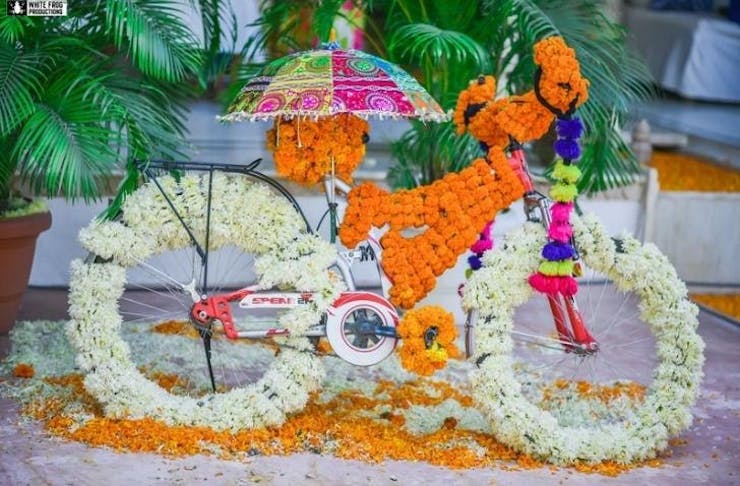 Final Words
A wedding celebration is the most beautiful part of life. Friends and families get together stepping out in beautiful dresses and accessories to celebrate the new journey of a couple. To provide non-stop fun, memorable moments you need to plan such events with full attention. These are the tip trending Mehendi décor ideas of 2022. Hopefully, you have found the idea you were looking for.