As your ultimate wedding guide, it is our most important and joyful responsibility to ensure that each and every detail of your dream wedding is flawless. We are here to provide you with the best and simple mandap decoration ideas to make your wedding the most special experience of your life. We have earlier shared with you the best bridal mehndi design, and haldi stage decor ideas for your wedding.
So, today, being the best event management company kolkata we bring your attention to the most precious part of your wedding, the Mandap. The auspicious Saat Pheras, the most exquisite moment of unity exchanged between two lovers, is witnessed in this sacred spot. 
The perfect setup and simple mandap decoration ideas can help to enhance the elegance of this special occasion and photographs of course. So, to ensure that you have the most dreamy Pheras, we provide you with the 16 most hypnotic wedding mandap decoration ideas!
Must Read: 10 Questions to Ask When Hiring a Wedding Planner - EventsGyani
1. Decorative Ceiling, Floral Chandelier, and Fairylights in Royal Red Wedding Mandap Decoration
Isn't it one of the most heavenly wedding mandap decoration ideas?  When we saw this beautiful wedding mandap decor, that's exactly what came to mind. The royal red curtains draped with golden fairy lights look stunning against the bamboo structure of the mandap building. For all the couples made in heaven, exchanging vows under those lovely falling floral garlands would be a dream come true!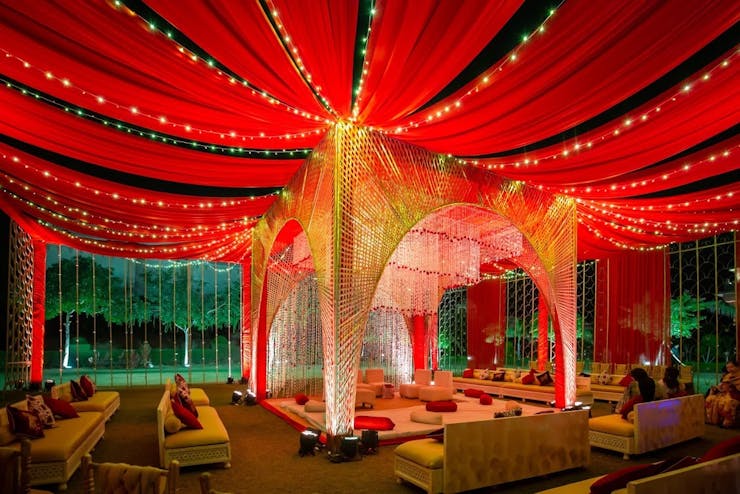 Recommended: Beautiful And Simple Wedding Stage Backdrop Ideas
2. Wedding Mandap Decoration With Colourful Drapes For An Outdoor Wedding
Are you looking for simple mandap decoration ideas? This is the perfect for simplistic couples like you! The usage of colourful curtains in an outdoor setting for mandap decoration is fantastic. The vibrant colours complement the cheerful bride and groom and do justice to all the celebrations!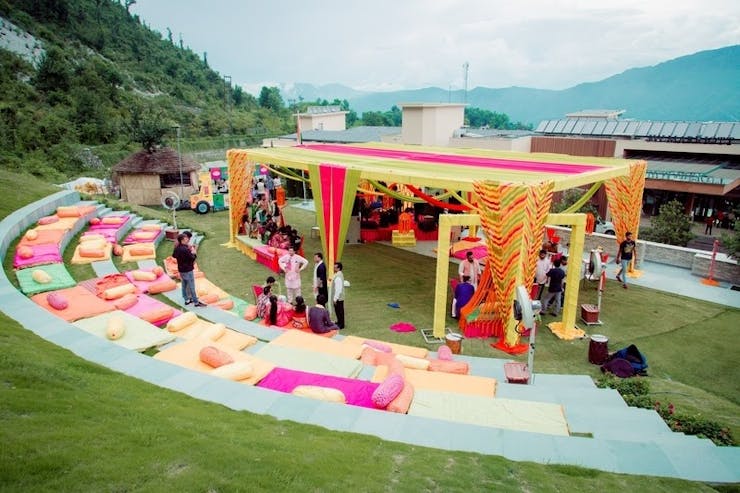 3. Wedding Mandap Decoration With Flowers And Drapes
Flowers are a must-have for your dream wedding mandap. Flowers and drapes are a traditional way to decorate the mandap for your wedding day. You may add some leaves here and there to provide a touch of freshness! Also, keep in mind that the colour palettes must match the overall theme.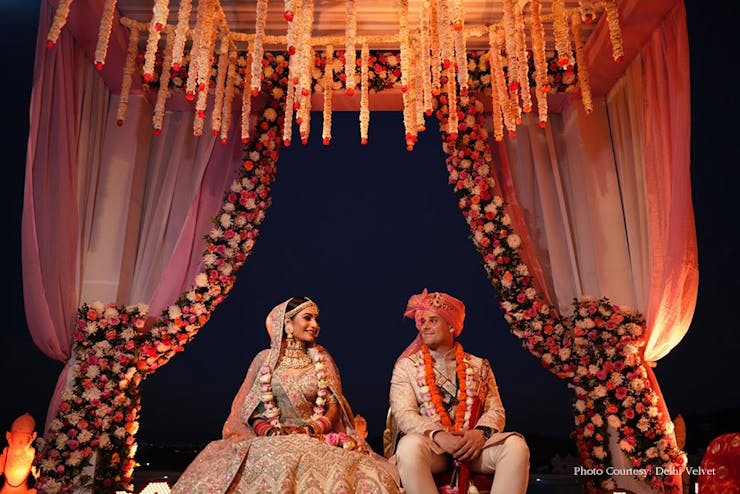 4. Elegant Outdoor Wedding Mandap Decoration With Drapes And Multicolour Roses
This marriage stage decoration with a covering of drapes and multicolour roses is a superb inspiration if you have a large garden space to arrange your wedding. This elegant and simple mandap decoration ideas is sure to leave your wedding guests spell bound over its beauty.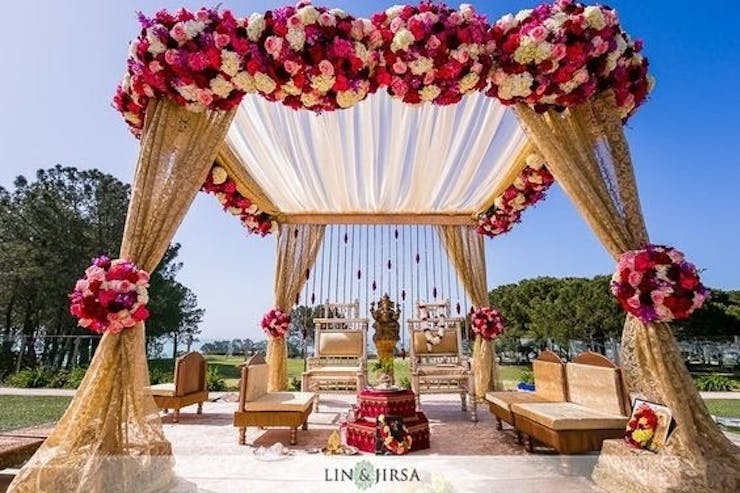 5. A Dreamy Wedding Mandap Decoration
Won't you agree that this is one of the best dreamy Indian wedding stage decoration ideas for your Pheras? Decorated with classic bright marigolds, this is a dreamy set-up perfect for a destination wedding.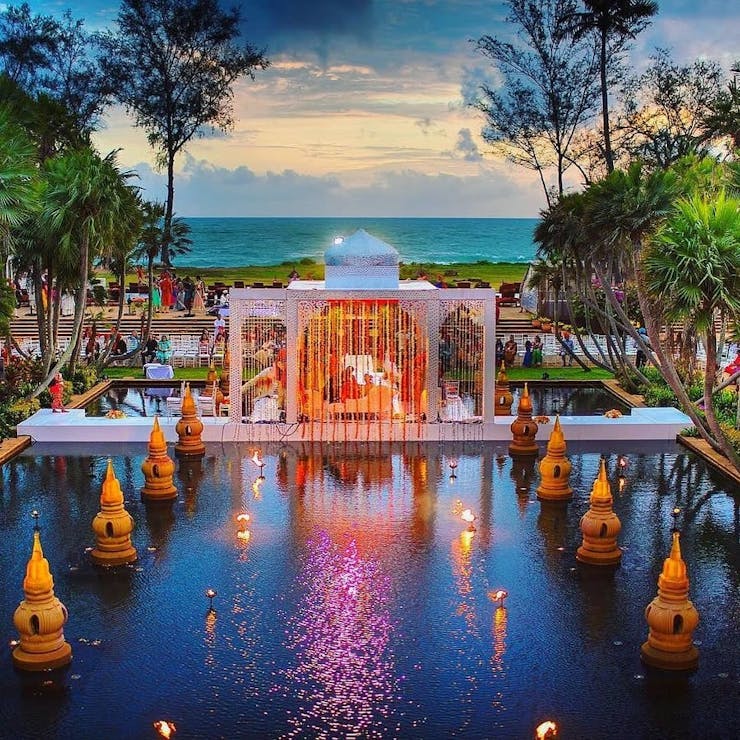 6.  Wedding Mandap Decoration With Floral Ornaments Dangling
Here come another mandap decoration ideas with pink and white delicate floral arrangements hanging from the ceiling. Perfect for you if love the combination of pink and white with a floral touch.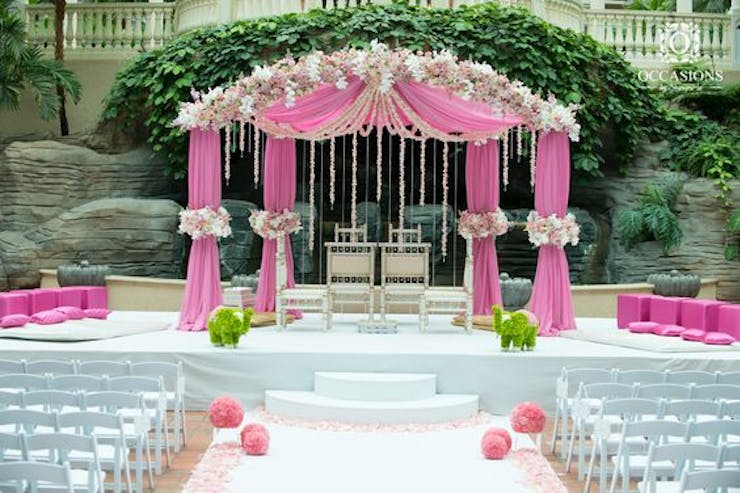 7. Wedding Mandap Decoration With Floating Red Roses And Acrylic Framework
If you have imagined a luxurious celebration that complements the grandeur of any royal hotel then these decorations for the wedding stage is for you. The golden peacocks adorned the apparently unending aisle at your spectacular event. We especially like how the vibrant flowers inspired a clear acrylic wedding stage with amazing floating florals.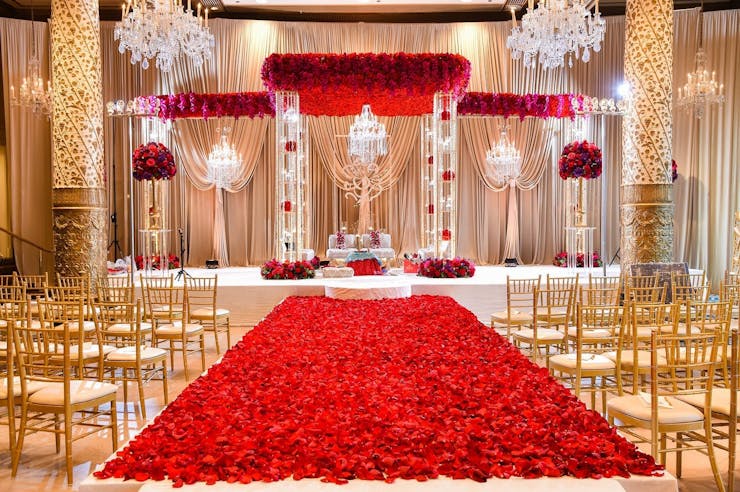 8. Elegant White And Peachy Wedding Mandap Decoration
Peachy drapes, a white-draped ceiling, light-coloured flowers, and a chandelier in the middle! This beautiful wedding mandap decoration is one of my personal favourites!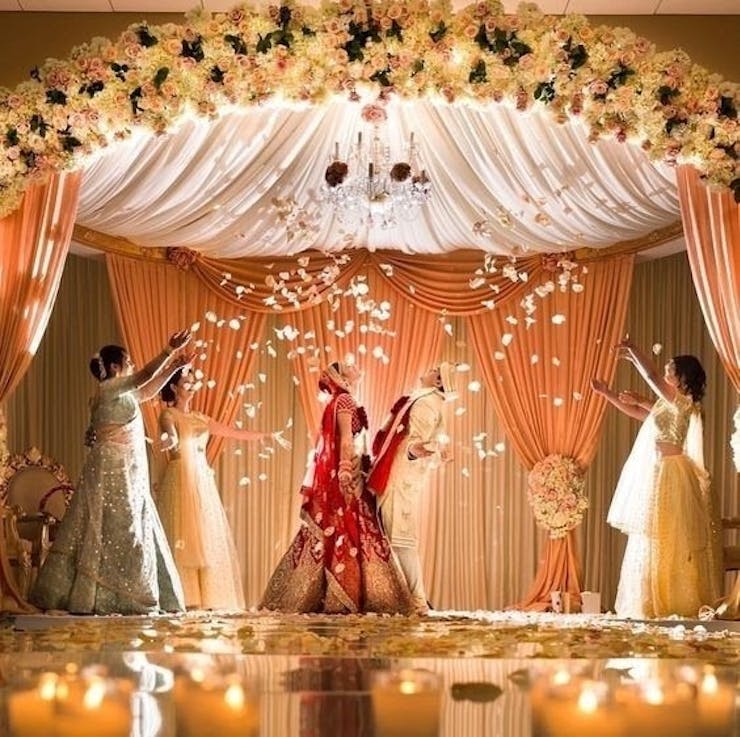 9. Wedding Mandap Decoration With Golden Bells And Gorgeous Kaleeras
A classic theme wedding stage decoration idea for someone who loves big fat Indian weddings. Any couple would look heavenly in these gorgeous and vibrant wedding mandap decor.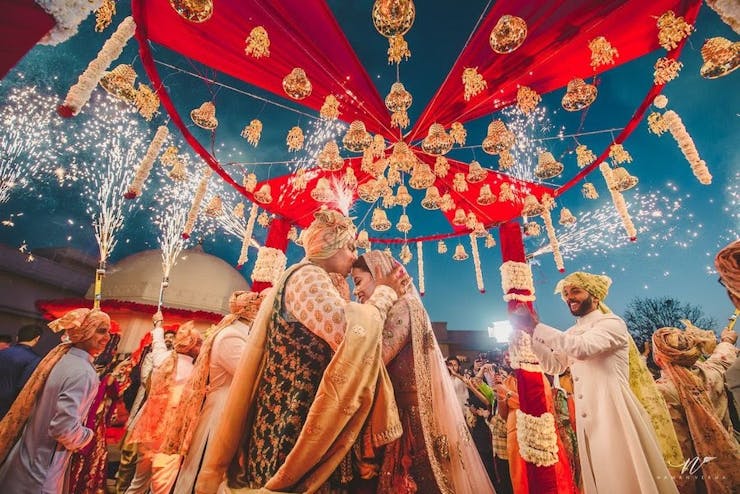 10. Simple Wedding Mandap Decoration
A stylish and trendy look for your wedding mandap! The white solid structure with a minimal design gives it a very modern touch. The blue curtains add a splash of colour to the monotonous all-white decor. Finally, the flower bouquets in yellow, white, and orange are the cherry on top!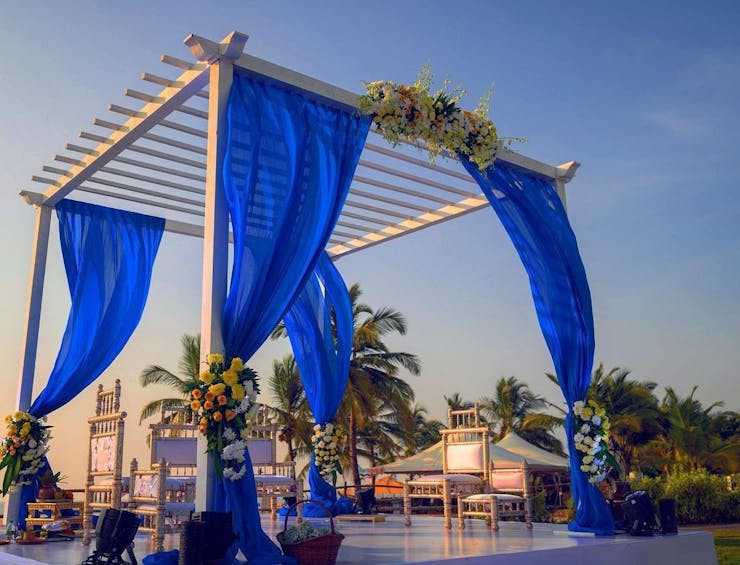 11. Enchanting Pink Theme Wedding Mandap Decoration
Weddings on the beach are undoubtedly romantic! You can create a romantic ambience for your wedding by creating a pink elegant mandap with a covered ceiling. It has a pink crown just on the floral ceiling, which adds to the fun. Bright yellow, pink, green, peach and white are all fantastic colour combinations for this theme. Further, can we just take a moment to appreciate how stunning the setup is at sunset through all those sparkling crystal curtains?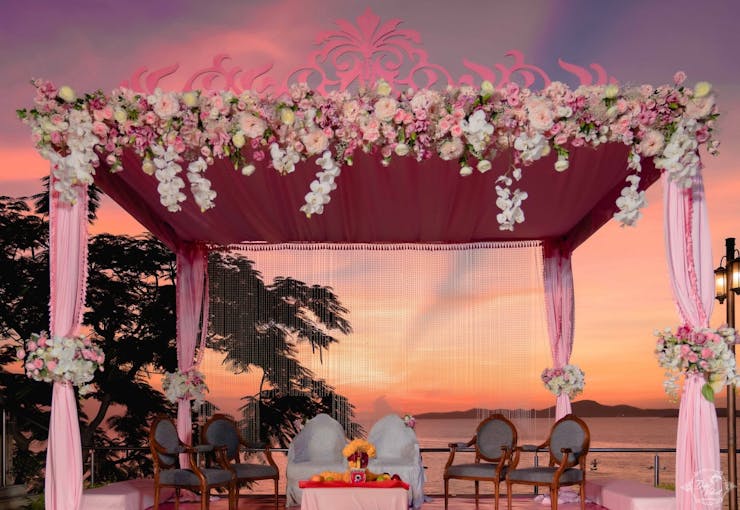 12. Wedding Mandap Decoration With Shimmering Crystal & Luxurious White Orchids
It's a show-stopping masterpiece, covered in strands of dazzling crystals and miles of luxurious white orchids.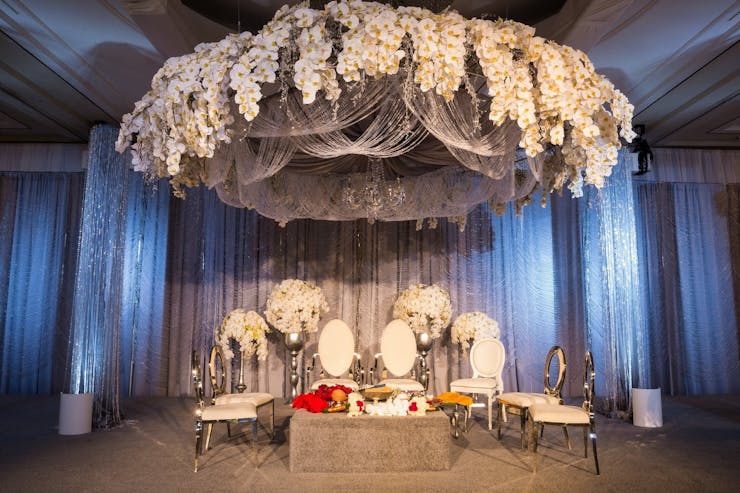 13. Wedding Mandap Decoration With Royal Red And Golden Detailing
With a royal and romantic atmosphere, this traditional Southeast Asian marriage ceremony mesmerises. We will adore it if you decorate the wedding stage combines delicate purple lights inside the golden pillars to give a gemstone glow.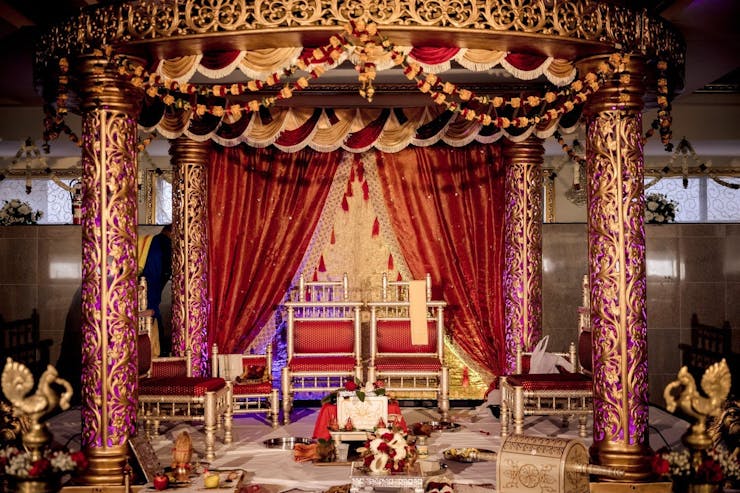 14. Pastel Curtains & Vibrant Multicolor Flowers: Modern And Simple Wedding Mandap Decoration
If you apply some vibrant colours to a traditional and basic mandap décor, it can be taken to a whole new level. This photograph of a wedding mandap decoration offers an otherwise monotone pastel theme that pops when you add a mix of multicoloured flowers.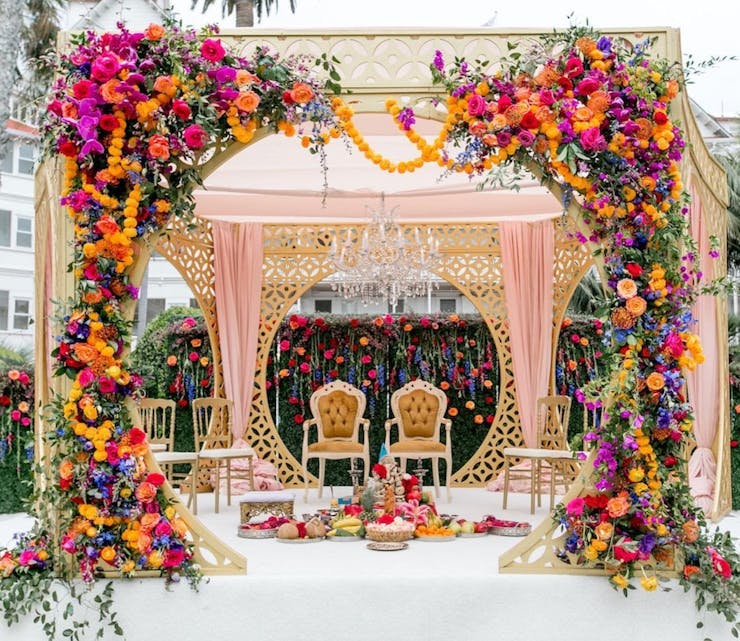 15. A Floral Wall And Pink Spherical Ceiling In A Traditional Wedding Mandap Decoration
In the present era, a dome-shaped mandap roof is back in fashion. The wedding mandap shown here is one of the most beautiful South Indian wedding mandap ideas. The colours rani pink, yellow, white and orange are a perfect match for each other. The marigold and white tiny thread flower wall is a work of art. Similarly, all of the seating areas are bright pink.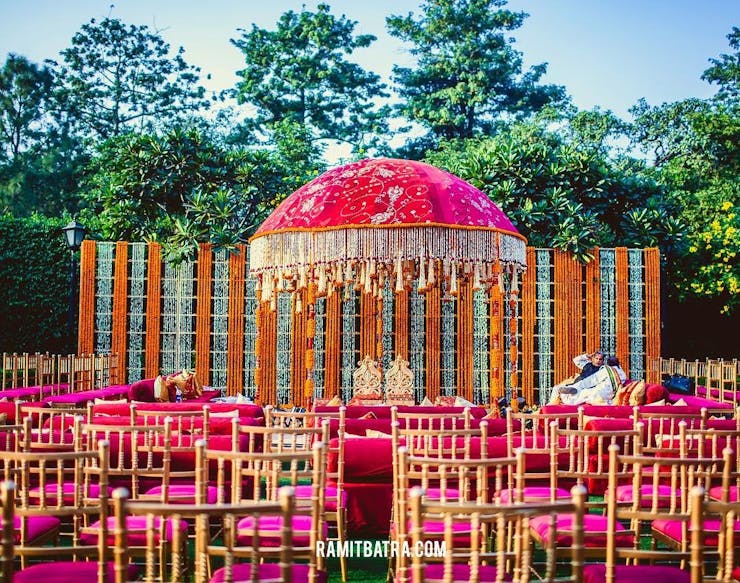 16. Wedding Mandap Decoration With Beautiful Yellow Curtains
A gorgeous dreamy wedding spot with greenery, an open sky, and a fountain can be found here. The bright yellow curtains, which contrast the backdrop colour scheme, let the mandap pop out in every context.  The entire design is balanced by features like rustic grass and multi-coloured florals on the pillars.