Indian wedding decoration is upgrading with changing times. Whether it's a grand wedding of Ambani's or a small budget wedding, everyone wants a perfect wedding decor. Wedding stage decoration is an important part of event planning. Because all the candid wedding photography and fun events happen basically on a wedding stage. Wedding stage decoration sets the mood of a grand event and makes your wedding appear like a B-town wedding. You can hire a professional wedding planner in Kolkata to plan your dream wedding that will leave a lasting impression on your guests' minds. And to make your dream successful, you need to find an inspirational stage backdrop that perfectly matches your wedding theme.
Keep reading this blog to find out some striking Indian wedding backdrop ideas.
1. Royal Wedding Stage Decor
The colour gold always represents Royalty. A wedding stage with a golden backdrop and a luxurious wedding sofa always stands as a grand wedding backdrop design. The velvet sitting and the artificial floral decor creates a royal vibe. This royal wedding stage creates the perfect grace and elegance of a grand wedding. Ask your wedding decorator to use the perfect lighting to create a mesmerizing effect on the wedding stage.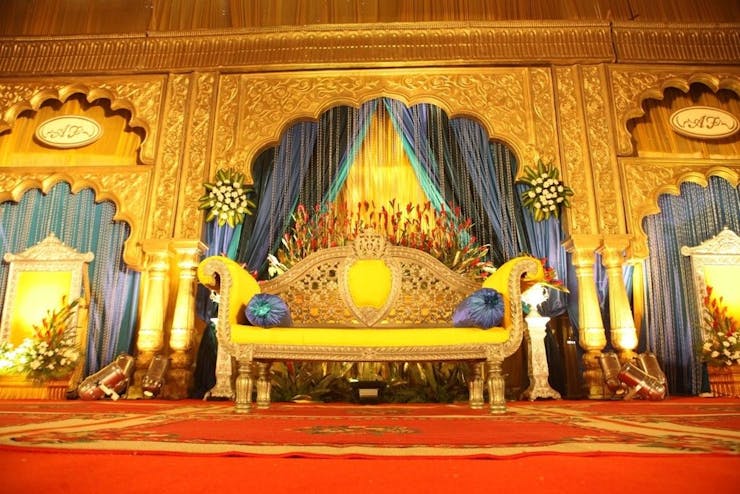 Recommended: 13 Trending Simple Mehendi Decoration Ideas [2022]
2. Elegant Curtain Wedding Backdrop
Now this one might be a very simple stage backdrop design, but believe us this one looks pretty and lovely for a homely wedding. If you are a minimalist couple who believes in simplicity then this is an ideal stage decoration idea for you. This sophisticated wedding curtain stage decor with magnificent floral pillars makes the whole setup looks enchanting. The magical combination of red & white curtains and flowers looks too gorgeous and dreamy.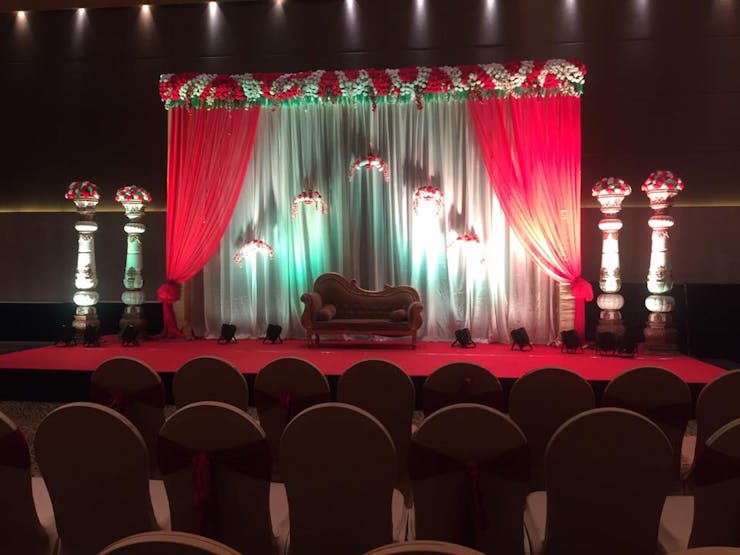 3. Unique & Creative Wedding Backdrop
This lotus front stage backdrop design for wedding creates mesmerizing effects which look pretty in wedding photos too. Plan your dream wedding stage by consulting the best event planner in Kolkata like Events Gyani to let your guests witness a memorable wedding. Here the wedding decorator has creatively used flowers and drapes of pink colour to create a dramatic effect of a dreamy lotus pond.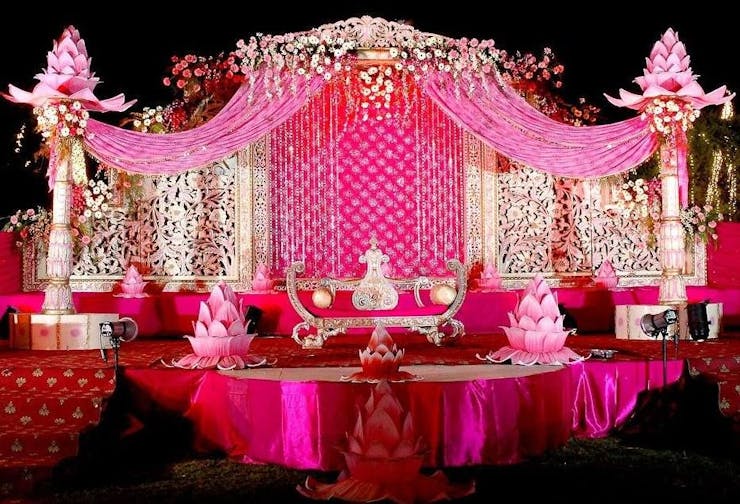 4. Luxurious Effect Of Chandelier Wedding Stage
Fairy light and Chandeliers stage backdrop ideas are believed to create the most dramatic and romantic effect on the stage. The elegance of the royal chandelier makes your wedding go grand. Take a look at these regal backdrops with royal curtains, brass flower pots a stunning sofa that is just perfect for a vintage wedding theme if you want to create a stunning effect with shiny, glamorous elements like lamps and chandeliers then this stage decor will fulfil your desire.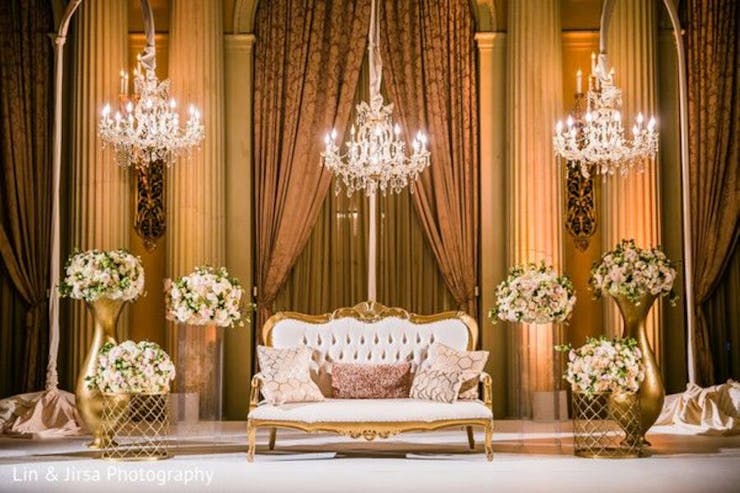 5. Traditional Wedding Stage Backdrop
Indian wedding themes add a special eye-pleasing charm to the stage decor. Beautiful arc created with red and golden drapes and a gleaming chandelier sets the right mood for a traditional Indian wedding. Decorate your wedding mandap with bright golden hues and white centre stage to make it a living fantasy. Make your wedding celebration a memorable event by stepping on this magical setup.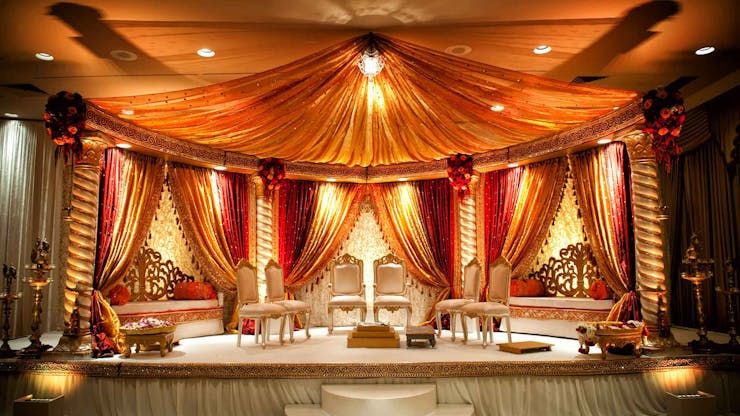 6. Beautiful Fairy Tale Wedding Backdrop
We are mesmerized by this drop-dead gorgeous stage decoration for wedding the pink pastel hue creates a larger than life effect. Stylish and creative pink drapes in the background look breadth taking in the wedding photos. The convention beauty of pastel hue furniture and flowers adds a fairy tale charm to your wedding. To provide a more dramatic effect you can lighten up the entire stage with fairy lights.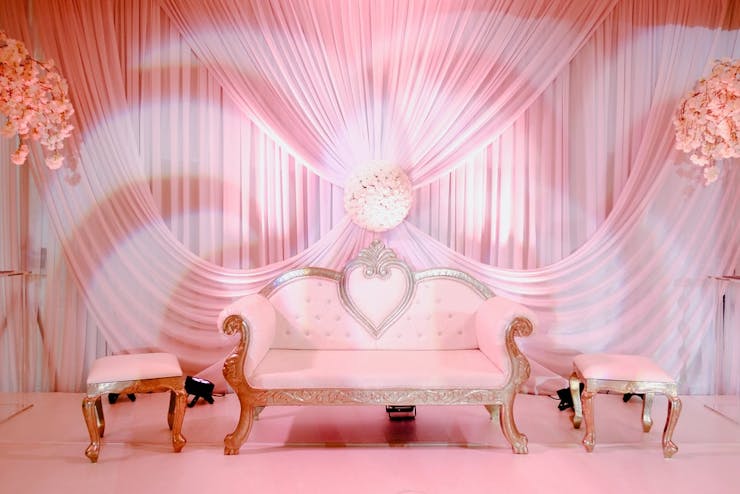 7. Wedding Stage Backdrop Amidst Lush Greenery 
This is a very popular wedding backdrop design ideas. Plan your wedding stage in an open area like your lawn or garden. If you love to celebrate your special day under the open sky then this marriage decor is worthy of being the perfect decoration for you. Designing an elegant floral and curtain backdrop in an exotic garden looks pleasant in an evening or night function. Simple add Fairy lights or small bulbs on the entire state to create a sparkling effect. This wedding stage décor will surely make some space for insta-worthy photos.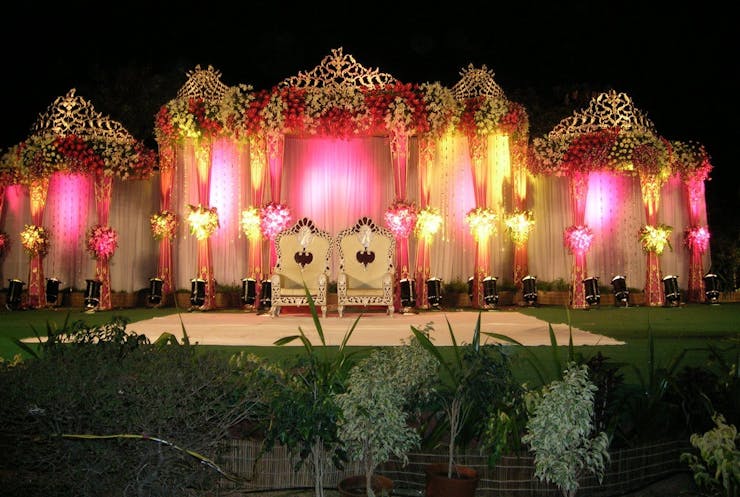 8. Floral Wedding Stage Backdrop
Regal white stages decorated with flower blossoms look extraordinary and rampant. This kind of lush and exotic wedding stage decoration is perfect for a stunning wedding album. The pearly white flowers create a mystical wedding ambience. The white flower pots used as prop make the backdrop decoration wedding a dreamy setting that can be a great attraction for your special day. Putting some extra chairs in the same offbeat hue is always a good idea to include your family and friends in the wedding moment of your special day.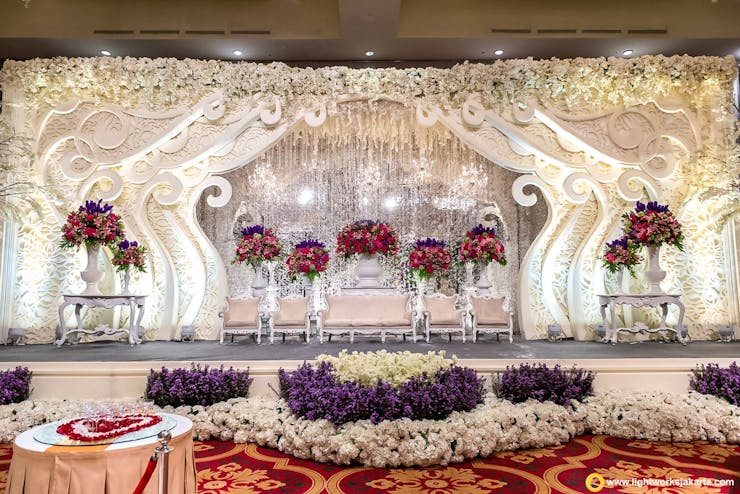 9. Floral Canopy With Dramatic Chandelier
The bright hanging chandeliers used to adorn these wedding stages is a timeless beauty. The mesmerizing floral canopy attached with satin drapes ceiling is creating a fairy tale effect. The criss-cross pattern artificial wall decorated with lovely flowers and a royal sofa at the centre of the stage is one of the best wedding decoration ideas. The floral hedges all around the royal sofa turned this stage into an exquisite marriage stage decoration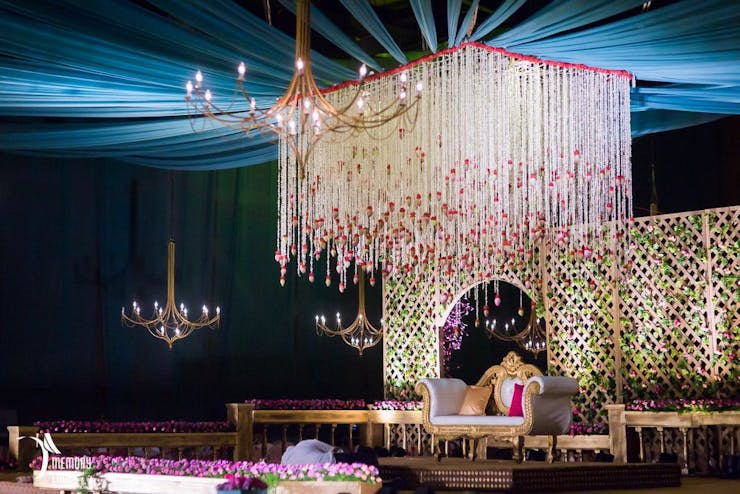 10. Simple Wedding Stage Backdrop
Looking for a simple wedding stage backdrop idea? We are simply drooling over this wonderful and elegant wedding stage backdrop idea with a peach colour theme. Use some geometrical props as your stage backdrop to provide a subtle and elegant look. A pastel hue like a peach is mostly loved for wedding stage decoration to enhance the charming beauty of a simplistic stage.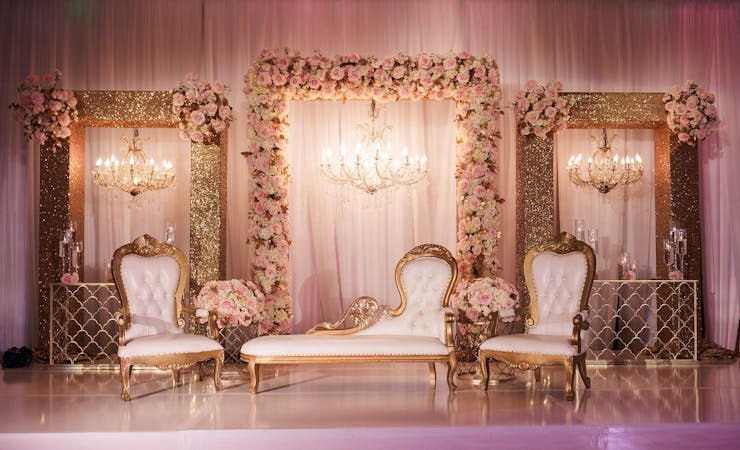 11. Floral Wall Wedding Backdrop
Another beautiful wedding stage decor that looks classy and appealing to the eyes. The soothing effect of peach colour curtains and chairs are pleasing to the eyes. The cascading effect of the sparkling chandelier hanging on both sides on the floral wall is the latest and most unique one that has caught everyone's attention.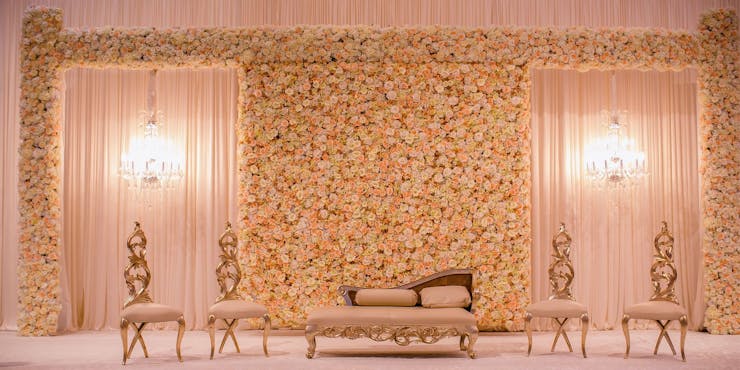 Hope these wedding stage backdrop ideas will inspire you to bookmark a unique and captivating wedding stage backdrop for your big day. This exclusive list of some stunning stage decor will save your time and help you to consult with your wedding planner about your favourite theme.