If you want to celebrate your special day away from the crowd and in a peaceful atmosphere, then destination weddings are for you. Celebrate the magical moment far away from the city crowds with your friends and family. Whenever the idea of a destination wedding comes to our mind we remember the beautiful beaches of Goa or the royal palaces of Rajasthan. But do you know that there are many such places in our city Kolkata which are perfect for a dream wedding? From luxury resorts to grand hotels, Kolkata has many options for a dream destination wedding. You can make your guests happy with scrumptious food arrangements, a luxury stay, and an extravagant celebration. Whether you want to plan it a regal wedding or beach wedding it's your choice completely but make sure to choose a correct destination wedding planner in Kolkata who can turn your special day of life into a fairy tale wedding. Explore some mind-blowing destination wedding in Kolkata and bookmark your perfect match.
1. Rajbari Bawali
There are many reasons that make Kolkata a perfect destination for a luxurious wedding in India. The basic reason lies in its beautiful culture and traditions. This vintage city has many heritage sites that can make your wedding the most beautiful and unforgettable one. The Rajbari Bawali is a classic example of architectural beauty which was built 250 years ago. This vintage-style palace surrounded by astounding greenery provides all the luxurious amenities that are perfect for a regal wedding. Plan your regal destination wedding with Events Gyani, the best event planner in Kolkata to make it a B-town wedding.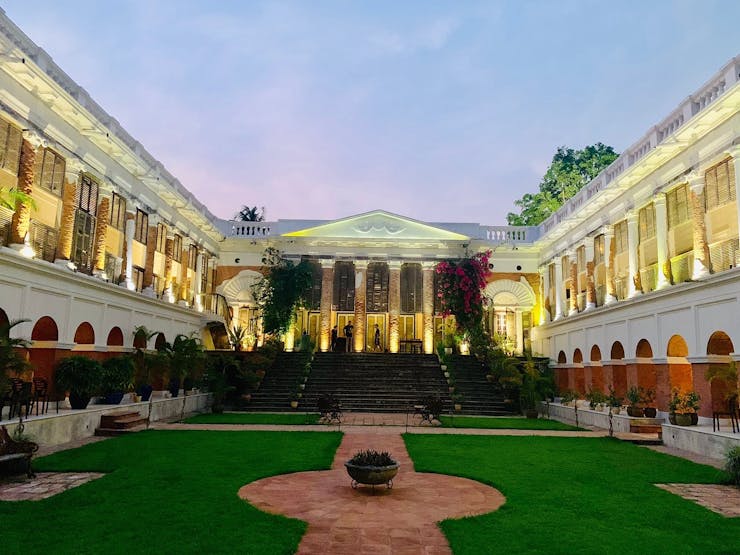 Recommended: 13 Stunning Wedding Car Decoration Ideas You Can Use For Marriage
2. Sundarban Gateway Resort
Looking for an ultimate serene and charming destination for your special day? Located on Satjalia Island in Jamespore Village Sundarban mangrove retreat is a visual treat for the eyes. This luxurious eco-friendly resort is a great option for a big fat Indian wedding. The lush greenery of the mangrove forest and the beauty of the Pichkhali River is a pleasing and delightful option for a destination wedding. From air-conditioning room to delicious food you will get all facilities amid nature to make your day memorable.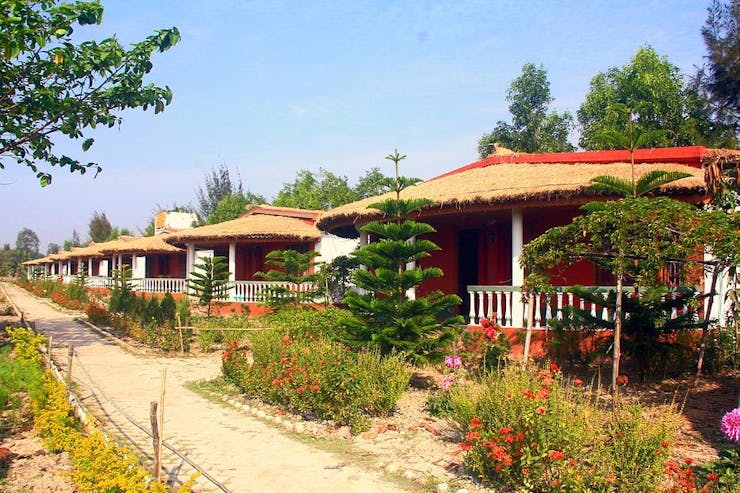 3. Oberoi Grand
One of the most luxurious places in the city of joy is also known as the Grand Dame of Chowringhee. This heritage hotel is the best place to celebrate a regal wedding. The classic architecture and royal amenities of Oberoi Grand make it one of the best destination wedding location in Kolkata. From the city's largest ballroom to the colonial crystal chandeliers will reflect a beautiful story in your wedding film.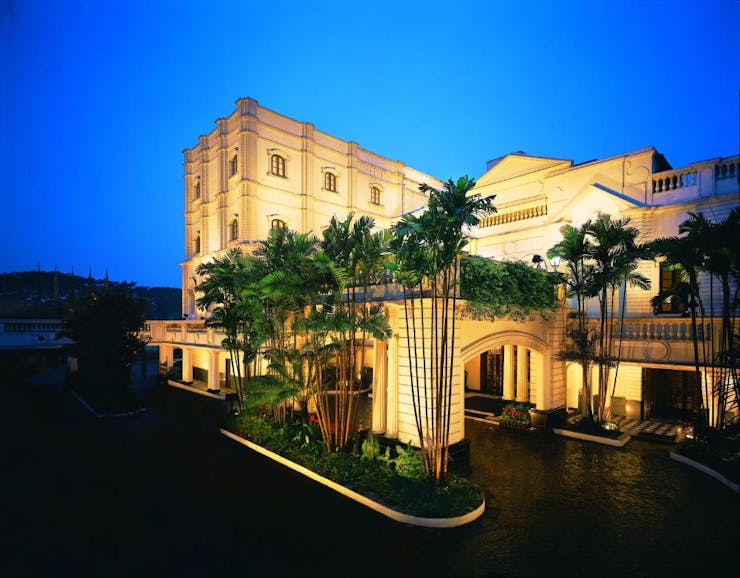 Also Read: Top 13 New & Unique Bridal Entry Ideas For 2022
4. Eco Island
Eco Island is one of the popular wedding venues in Kolkata to get married. This man-made island has both indoor and outdoor space for your guests. Their warm welcoming and delish catering services make your wedding grand and lavish. Nature-inspired wedding theme will be a cherry on top.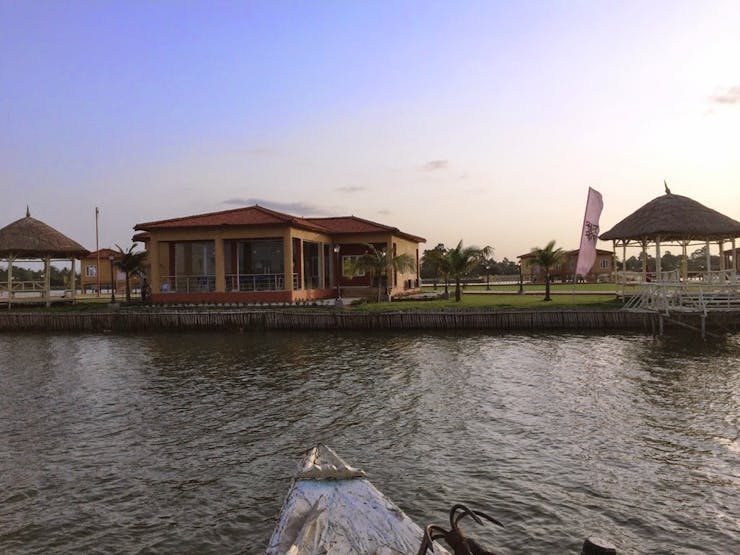 5. Raichak
Have you dreamt of getting married royally? Situated on the banks of the Ganges, Raichak is one of the top wedding venues in this heritage city. This majestic resort's architecture will remind you of the historical forts of Rajasthan. This lavish resort has outdoor pools, a sports bar, and many interesting activities that your guests can enjoy. This royal resort offers you a couple of ways to plan a memorable pre-wedding and post-wedding.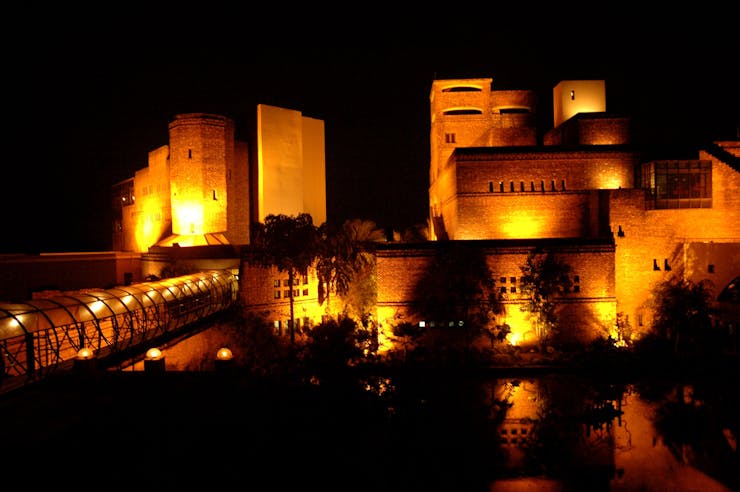 6. The Taj Bengal
This iconic five-star hotel is a perfect choice for couples who want to get married amidst sheer royalty. Its stunning decor, understated elegance, royal suites, and all types of latest amenities, enhanced by a royal wedding decoration is an ideal option for a fairy tale wedding.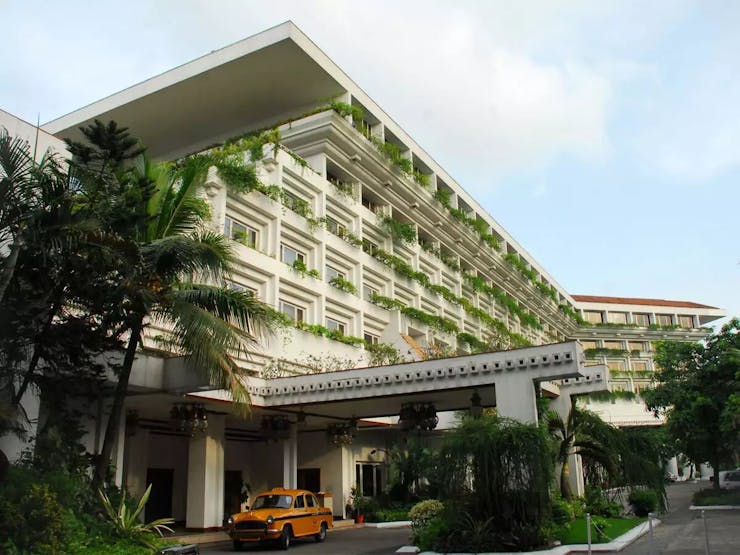 7. Vedic Village Resort
It is the best destination wedding resort in Kolkata city. With a cultural theme of Bengal's village beauty and lush greenery, it is a popular wedding venue. The Vedic villa has modern entertainment, a poolside bar, ayurvedic spa, and exotic plants. This mesmerizing village resort also offers pleasurable dining meals that you will never forget.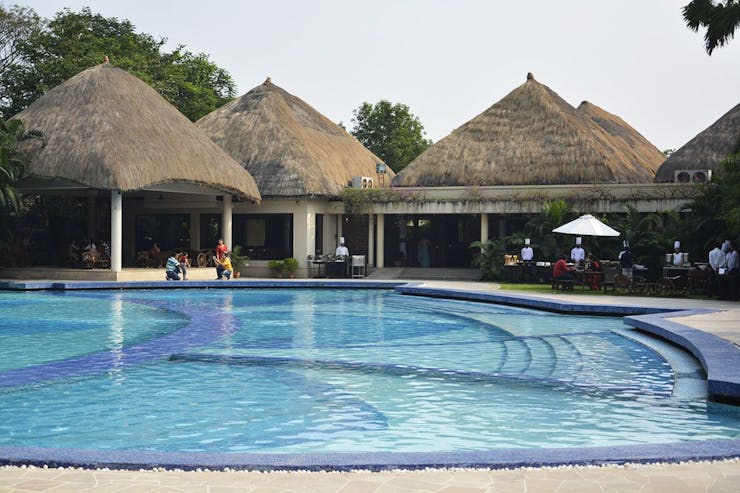 8. Massara Beach Resort
 If you think that only Goa has the most beautiful beaches in India then you are probably wrong. Massara Beach Resort located on Mandarmoni Beach can offer you a memorable beach wedding. Amidst the serene backdrop of sea waves, these lovely cottages and their natural surrounding can make your destination wedding more beautiful.
9. ITC Sonar Bangla
This elegant architecture reflecting the rich historical essence of Kolkata can make your wedding day more beautiful ITC Sonar Bangla comes under one of the best wedding venues in Kolkata. The elegant décor of this five-star deluxe makes your wedding a wonderful experience. Its signature cuisine made by an expert chef can provide immense joy to your special guests.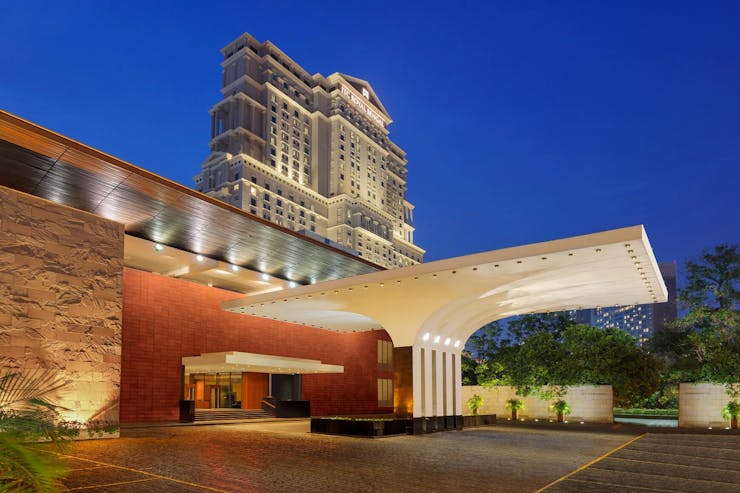 10. Floatel
Floatel is an excellent venue to host your destination wedding. A majestic building floating on the Hoogly River can set a dreamy ambiance to your wedding ceremonies. Its huge banquet hall and aromatic cuisines with a riverside view make it a perfect place to tie the knot.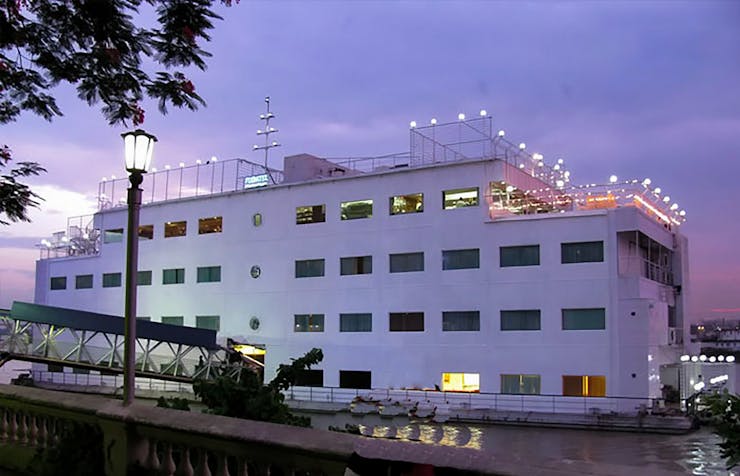 11. Palm Village
Celebrate your special day amidst the lush greenery of Palm trees. Palm village resort is one of the finest and popular wedding venues in Kolkata. From air-conditioned rooms to late-night entertainment and finger-licking cuisine all are here to celebrate your wedding on the most glamorous day. You can also arrange a pool party or pre-wedding ceremony at its outdoor swimming pool.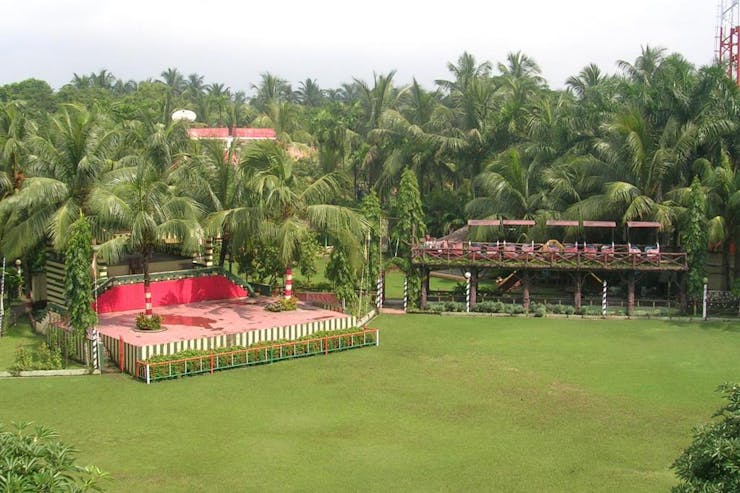 12. Ibiza The Fern Resort
Beach wedding is the latest trend is popular among young couples for a pleasing and splendid backdrop. Ibiza The Fern Resort adds a romantic ambiance to your wedding. This beautiful and precious resort has all the facilities that you need to make your dream wedding successful. Located far away from the city chaos this splendid beachside resort is a coastal paradise for beach lovers.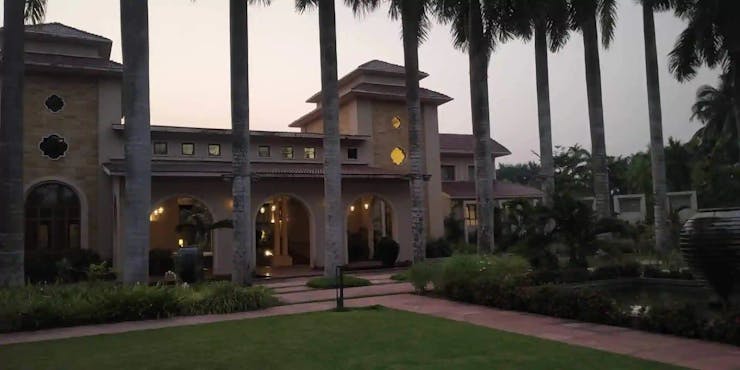 13. Rajkutir Swabhumi
Make your marriage a memorable day by hosting it in this heritage-style luxurious hotel. This 19th-century vintage theme venue can live an impressive effect on your wedding photographs. The zamindari-style architecture and their magnificent sitting arrangement make it the perfect destination wedding banquet hall in Kolkata.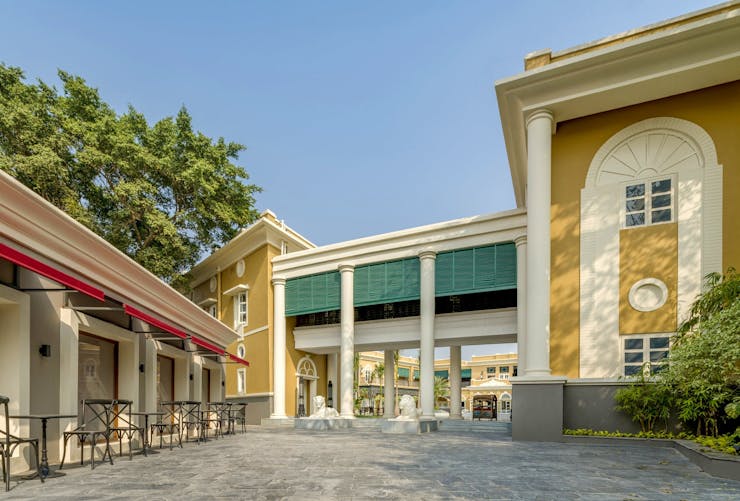 14. PC Chandra Gardens
If you are looking for an open space to tie the knot then opt for PC Chandra Gardens. It is referred to as a luxurious venue for wedding occasions. Their hospitality and unique wedding arrangements can make your destination wedding a huge success.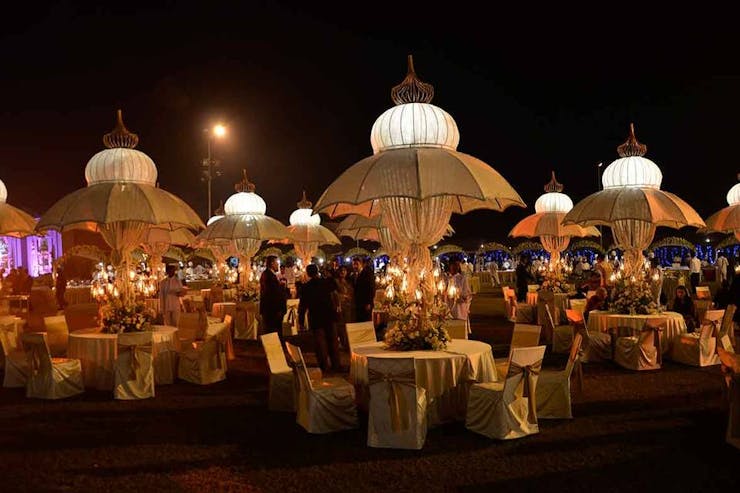 15. Hyatt Regency
Last but not least is another luxurious hotel in Kolkata to celebrate a grand wedding. Located in Salt Lake, Hyatt Regency has a pool bar, 24 hours dining facility, spa, and a great space to conduct a grand and luxurious wedding. You can take an extraordinary leap by planning your wedding ceremony in this luxury hotel.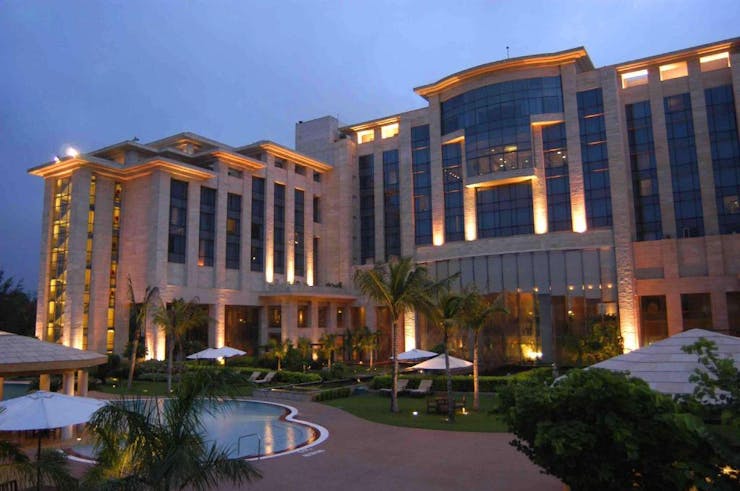 Plan your wonderful day by choosing the best wedding venues in Kolkata to create sweet memories that will stay with you forever.