Bengali cuisine is a pure blend of vegetarian and non-vegetarian dishes. The cultural Bengal is not only a land of literature and art but it is also known for its appetizing cuisine, Bengali's are great food lovers. They have a special inclement towards delicious food. The food menu is the most important matter in a Bengali wedding. A Bengali wedding planning conversation mostly revolves around the wedding menu. Bengali people believe that a food menu for the wedding should be so appetizing that the guests will remember it for the rest of their life. Nowadays people look for a modern food menu at weddings. But the authentic marriage menu bengali comprises magical flavors and lip-smacking taste that will remind you of the heavenly feast on earth.
  If you are looking for the best Bengali delicacies, here are some of the Bengali wedding menu ideas from the best wedding planner in kolkata to save your day!
Wedding Starters
a) Veg Appetizers
1. Paneer Tikka Kabab
Every vegetarian loves this spicy cottage cheese kabab Paneer tikka is a very popular wedding starter. Spicy paneer cubes along with onion, and capsicum are marinated in creamy yogurt are arranged on skewers, and grilled in the oven to serve you the smokey tandoori snack.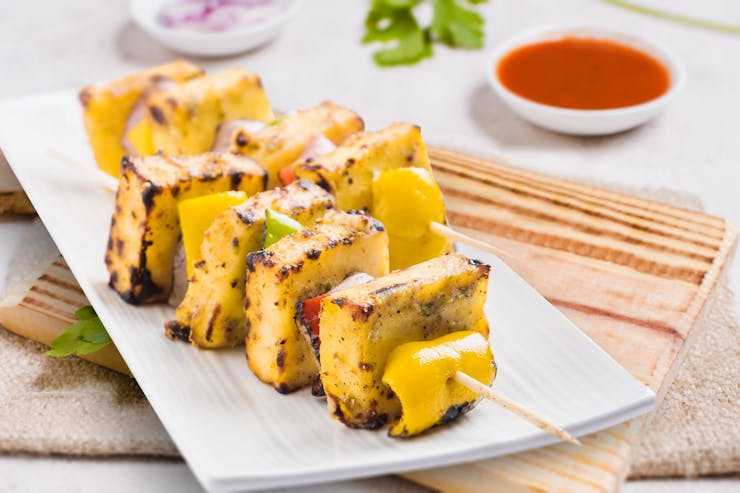 Recommended: Trending Engagement Ring Designs For The Timeless Bride [2022]
2. Crispy Veg Fritters
Bengalis are fond of their hot fritters. These fritters are probably the most simple wedding menu that is served by every buffet food service. The crispy fritters made of various veggies and chick flour are always a tasty treat in Bengali weddings.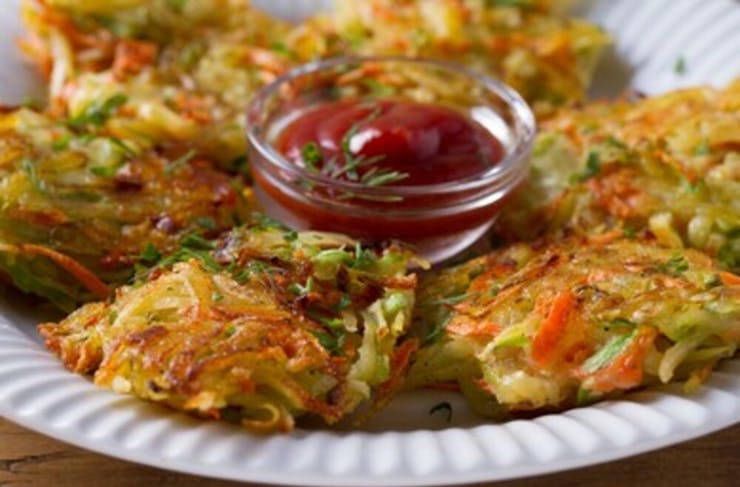 Must Read: 10 Questions to Ask When Hiring a Wedding Planner - EventsGyani
3. Veg Cutlet
Another flavorful veg menu for wedding is a vegetable cutlet. Also known as vegetable chop is a very popular evening snack of Bengalis. Made of potato, carrot, beetroot, peanuts, and spices, these sweet and salty fries give pleasure to your taste buds.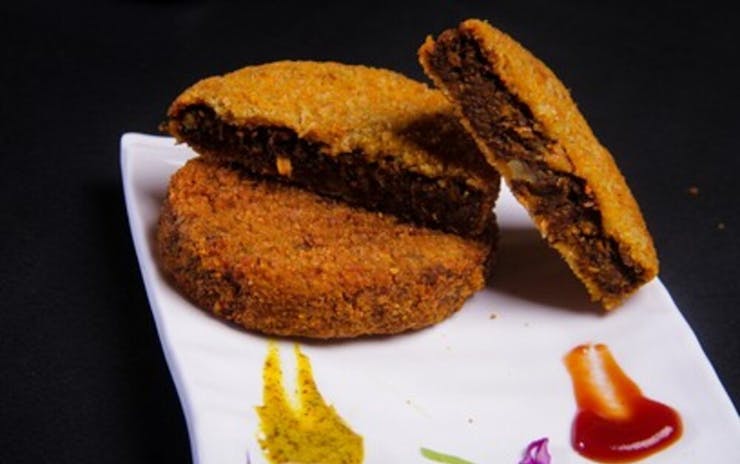 4. Mochar Chop
Deep-fried banana flower dumplings add a traditional touch to your wedding menu. This colonial delicacy consists of boiled banana flower, potato, nuts, and flavorsome spices that is an amazing snack to serve your guests. This highly demandable cutlet is a favorite among Bong foodies.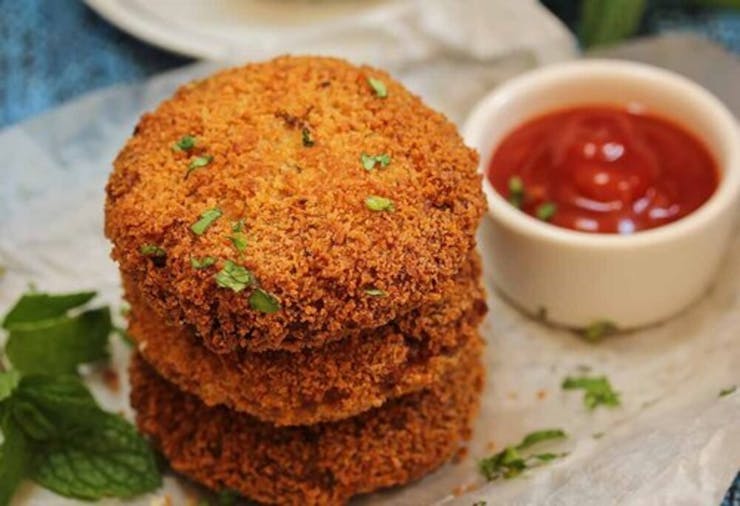 b) Non Veg Starters
5. Egg Devil
A Bengali wedding also has lip-smacking options available for egg lovers. Egg devil is a mouthwatering snack that has slices of egg encased in a spicy wrapping. It is served with salads and kasundi.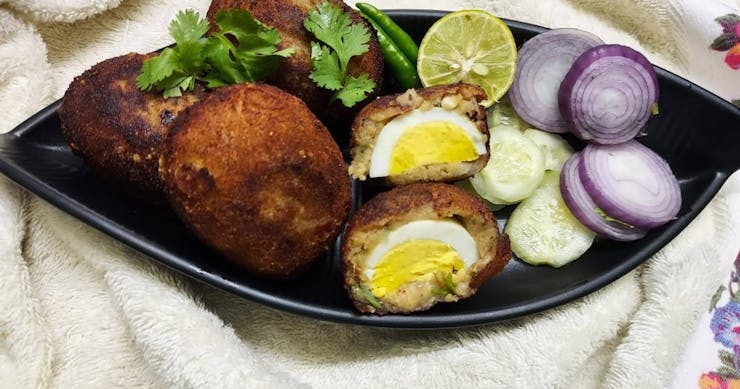 6. Fish Cutlet
Bongs are great fish lovers. How can a wedding dinner begin without having a crunchy and spicy fish snack? This great appetizer made with boneless fish, veggies & spices is coated in egg and breadcrumbs and deep-fried to serve you the sensational fish cakes.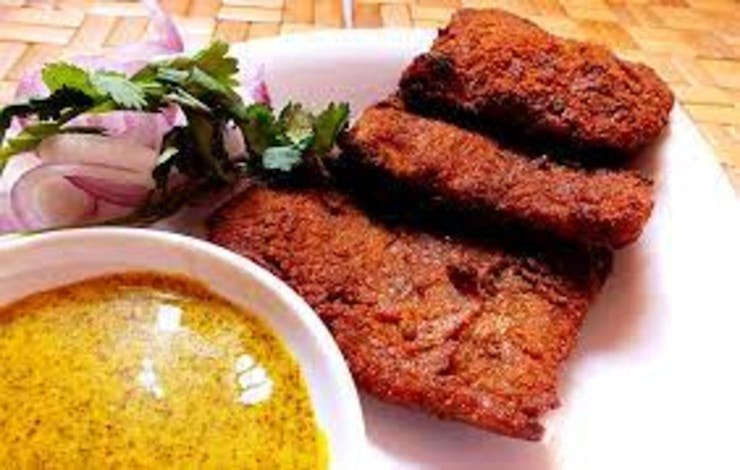 7. Mutton Seekh Kebab
A relishable Bengali wedding menu will never miss this Mughal delicacy made with minced mutton, herbs, and spices. These luscious Kebabs are an ideal appetizer for Bengali weddings.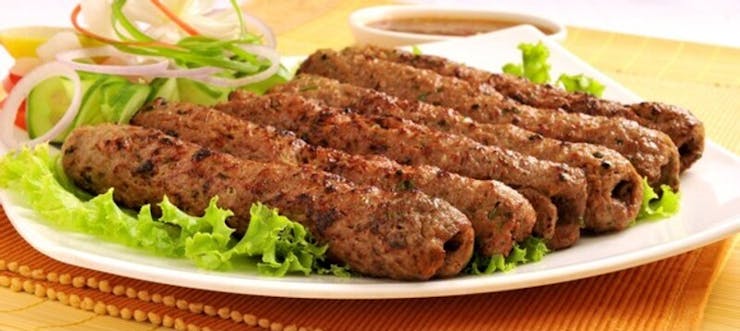 8. Chicken Lollipop
This Indo-Chinese appetizer is gaining popularity in the Modern Bengali wedding menu. The chicken lollipops are super spicy and saucy snacks. This finger-licking appetizer is prepared with a chicken drumette marinated in spicy coating and deep-fried until crisp.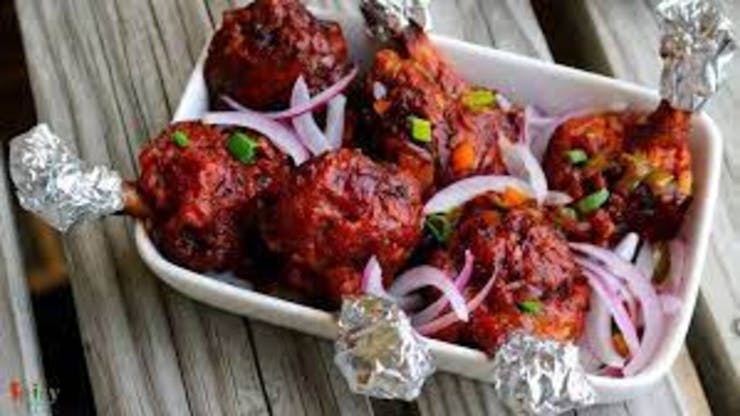 Main course
a) Vegetarian
9. Koraishutir Kochuri
Bengali Koraishutir kochuri is puffed bread stuffed with green peas stuffing. This is one of the best vegetarian wedding food ideas which is mostly served with aloo dum gravy or Chola dal. These delectable crunchy bread are a must food item for a memorable wedding.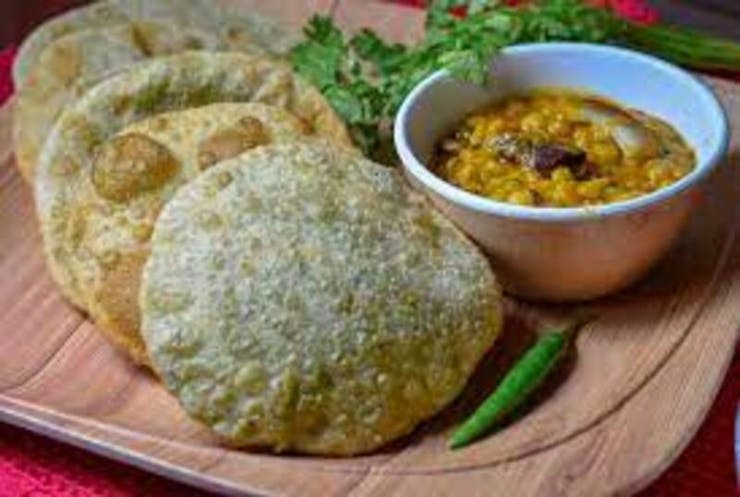 10. Channar Dalna
The flavorful cottage cheese dumplings gravy is a very delicious traditional Bengali dish served at Bengali weddings. The superb combination of fresh paneer balls and potatoes in gravy makes it a savory food item. This lightly spiced recipe can be a tempting treat for your guests.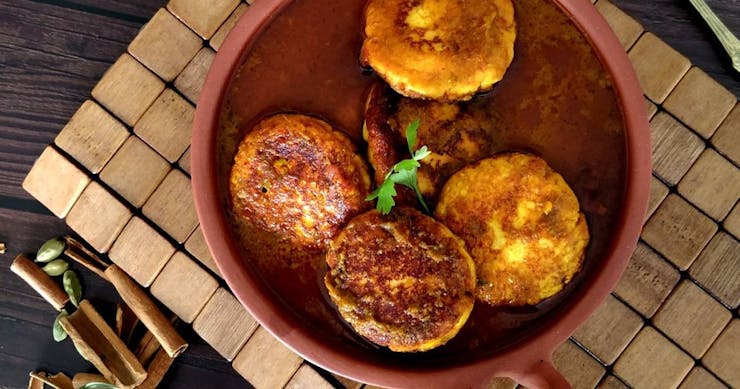 11. Echorer Dalna
Another scrumptious Bengali biye bari menu is Echorer dalna or raw jackfruit curry. This meaty vegetable is cooked in a flavorful curry is a must-have food item in a summer wedding.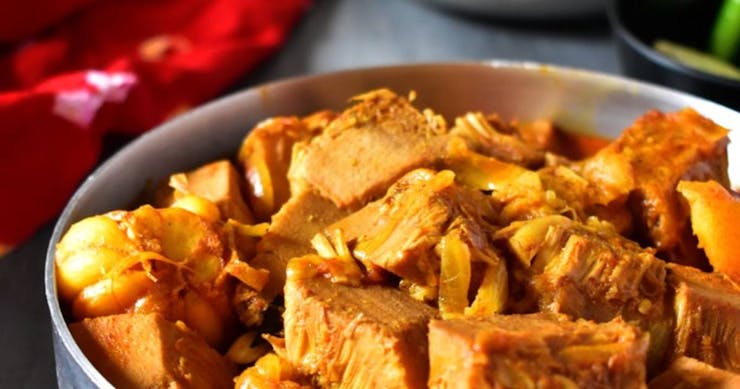 b) Non-Vegetarian
12. Ilish Macher Paturi
The greatest love of Bengali people is named Ilish macher paturi. A typical Bengali dish marinated in mustard paste, curd, coconut, and wrapped in banana leaf is roasted to bring the true Bengali emotion to your mouth saying "fata fati".
13. Macher Kalia
This fish curry is a popular and traditional wedding menu that is served at almost every Bengali wedding. This fish curry prepared with Indian spices and yogurt is immensely popular in Bengali weddings. The thick and spicy fish curry when served with hot rice provides immense pleasure to taste buds.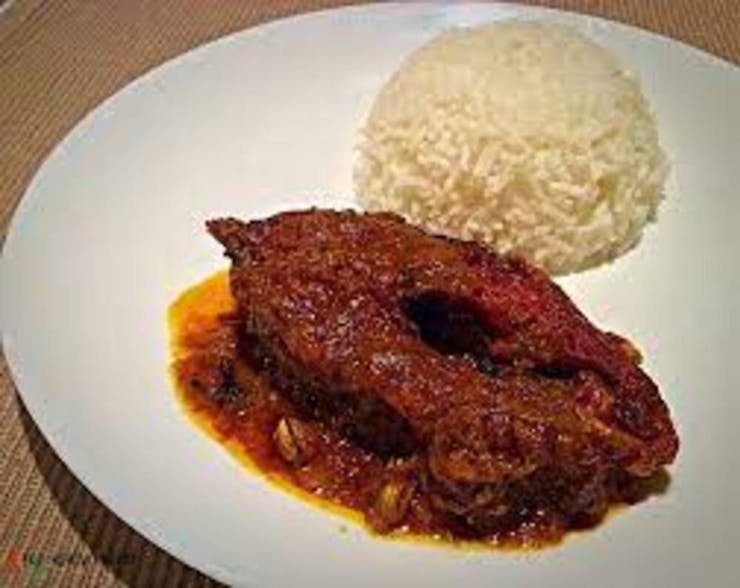 14. Mutton Biryani
The flavorsome Mughal rice preparation is an emotion of Bengali food lovers. Mutton biryani is a grand treat on the Indian wedding menu. Made with aromatic spices, tender mutton, and flavored rice, the Bengali Mutton Biryani is a delectable dish to serve at weddings.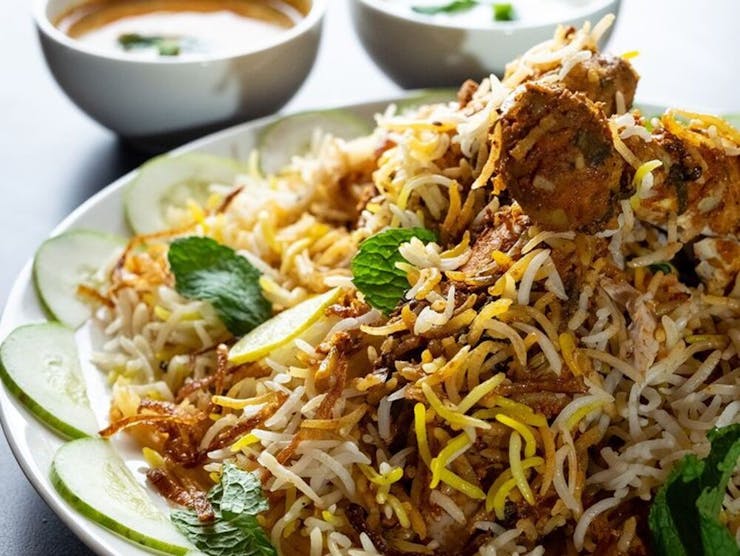 15. Chingri Macher Malai Curry
An extremely beloved dish of Bengali's is prawn. And this tiger prawn when cooked with coconut milk, tomatoes and spices produce the signature dish of Bengal known as chingri macher malai curry. This is an absolute stunner wedding meal ideas.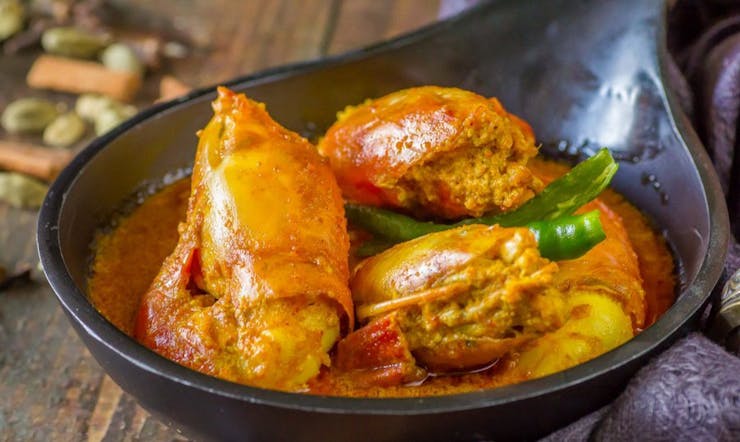 16. Chicken Chaap
This finger-licking dish is luscious food for wedding reception. The Mughlai style chicken chaap is cooked in a spicy and creamy gravy which is served with naan, pulao, or biryani. Serve your guests this unbeatable dish to win their hearts.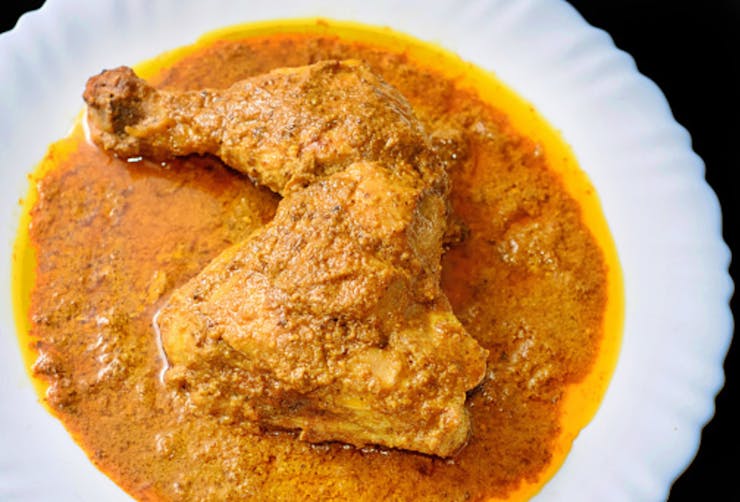 Delightful Desserts
17. Roshogolla
 Bengali weddings remain incomplete without having the juicy and soft Roshogollas in plates. The soft spongy cheese balls soaked in syrup when melted in the mouth give heavenly pleasure. This world-famous sweet is a delight for your sweet tooth and a rock star of Bong weddings.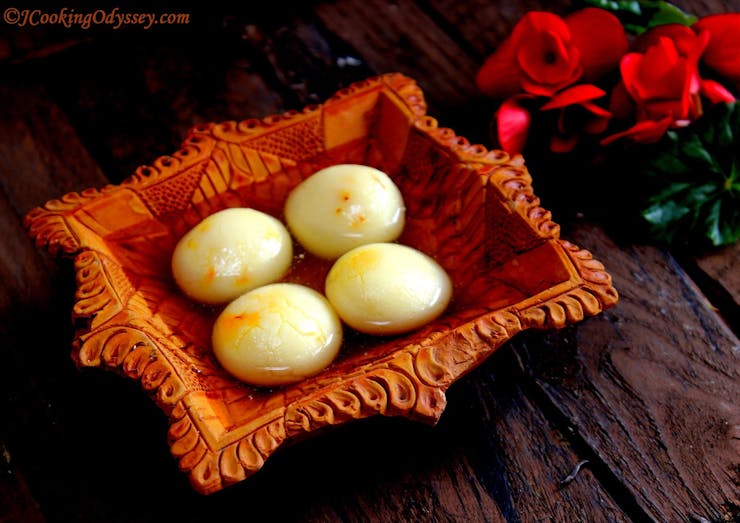 18. Mishti Doi
The ending of a marriage menu bengali must be more succulent. And what can be better than serving the classic Bengali sweet "Mishti Doi". This savory pudding is extremely addictive and one of the best dessert options to make your guests happy.
You can be more creative while planning your wedding menu by having a talk with a dynamic event management team who can provide you with the best food catering service that people will memorize forever. Events Gyani is a renowned wedding planner in Kolkata that will provide you with the best options in classic cuisines, quirky décor, and an insta-worthy wedding to make your special day the most memorable one.