We have to admit the fact that Indian brides are ruling the fashion world with their stunning designer outfits to a classic jewelry collection. They are leaving no stone unturned to find innovative ways to rock their wedding. Modern brides are seeking perfection in each and every element of their wedding day. Just like the stunning appearance they also want a grand entry in her wedding mandap like a glamorous celebrity. To make this bridal entrance a breathtaking moment, you need to follow the latest bridal entry that is simply remarkable. A professional wedding planner in Kolkata can help you to fulfill your bridal entry dream. They can assist you in making your bridal entry most exceptional and awe-inspiring. Let's make your task much easier by sharing 13 memorable bridal entry ideas from the traditional to the most innovative ones.
1. Fascinating Flower Shower Bridal Entry
We are in love with this blissful bridal entry. Let your wedding pictures speak the eternal beauty of this happy moment. Showering rose petals on the bride's entry is a great way to catch all your guests' attention. Being one of the best event planner in Kolkata, we will suggest you go with this lively bridal entry idea which will be undoubtedly a sight to behold.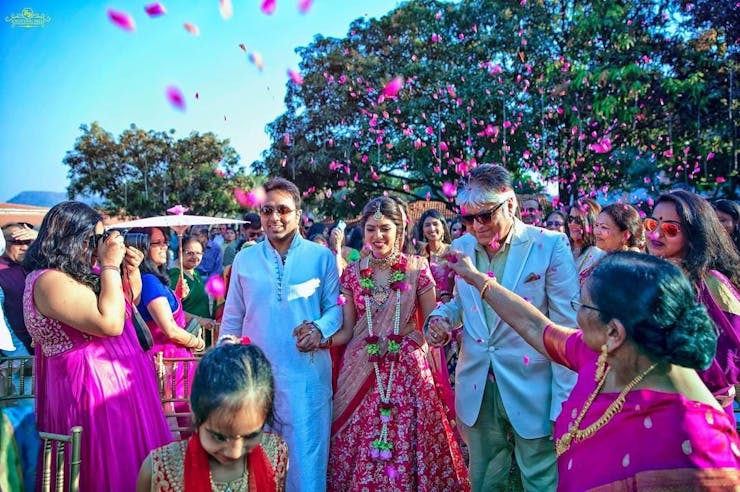 Recommended: 10 Questions to Ask When Hiring a Wedding Planner - EventsGyani
2. Angellic Phoolo Ki Chaadar Bridal Entry
If you prefer to make an entry with fresh flower blossoms, then phoolon ki chadar is one of the best wedding entry ideas for you that makes your dreamy entry the most charming and unforgettable moment. The best part about this floral canopy bedsheet is you can customize the floral sheet according to your favorite flower choice. For example, this gorgeous bride has chosen red rose and tulip rose which is perfectly matching with her designer lehenga.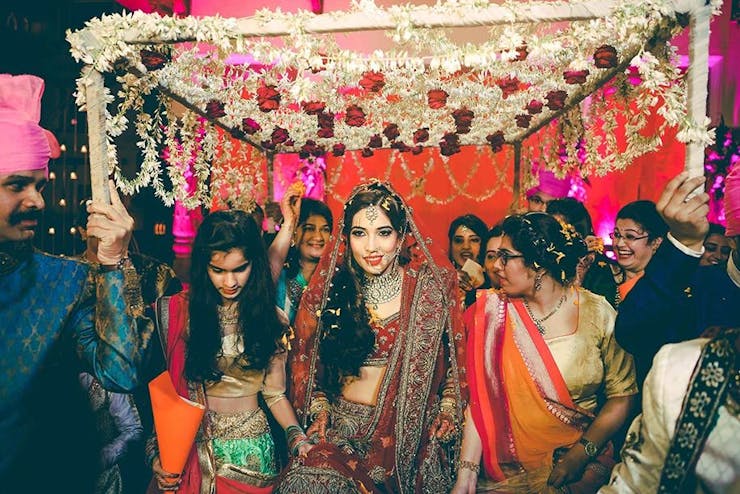 Recommended: 13 trending Mehendi design ideas.
3. Bridal Entry Lead By Splendid Dancers
How about this fabulous entry with a leading troupe of dancers? Doesn't it look like a queen entering an event? We have seen many brides dancing the entire way towards their wedding mandap, which is no doubt a pretty cool idea. But if you hesitate to dance at your wedding, then play the best bridal entry songs to let the group 0f talented traditional dancers perform on it and welcome you in the filmiest way.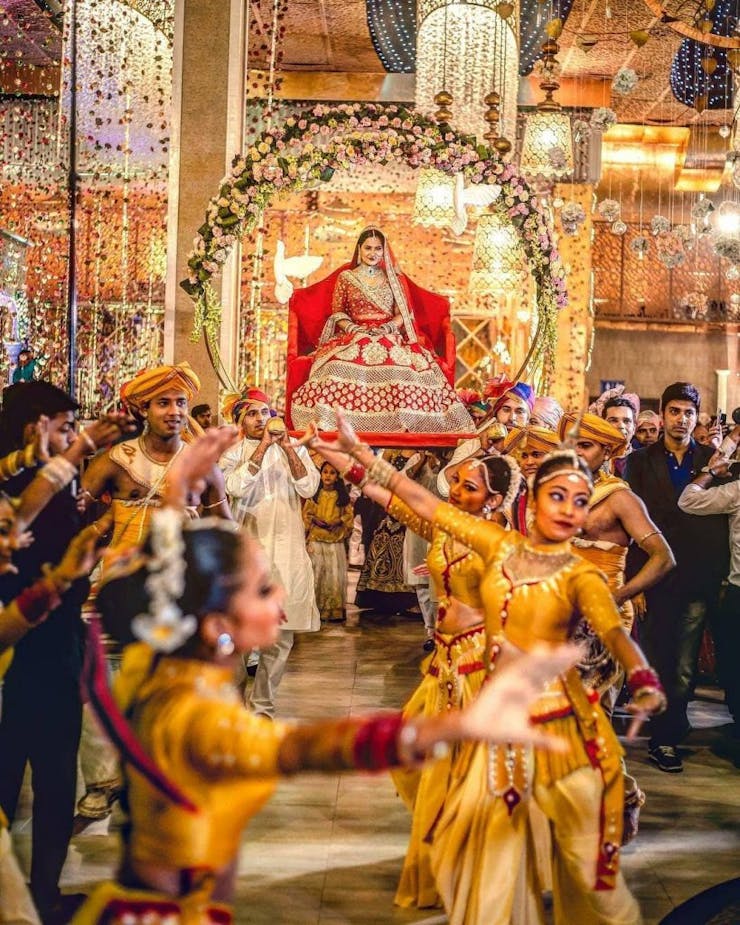 4. Welcome Aarti On Bride's Entry
Another eye-pleasing charm is welcoming the gorgeous bride with lightened lamps. This is a very unique bridal entry ideas. This larger-than-life entrance with vibrant candles gives a wonderful sight. To leave an unforgettable first impression on your guests' minds, try this dramatic entry idea.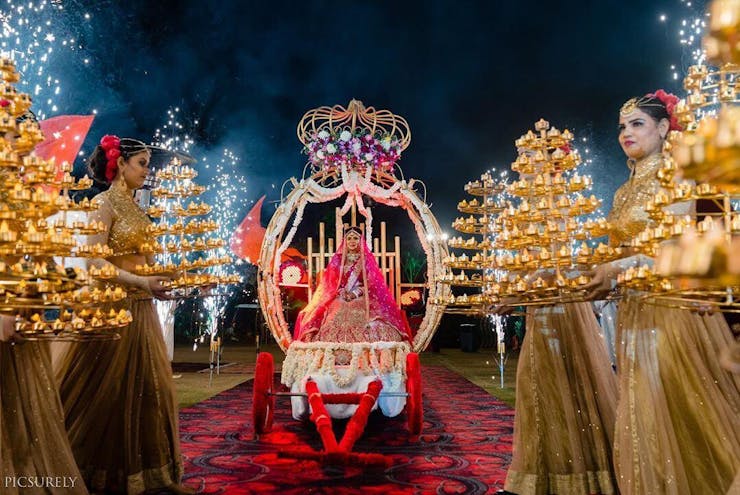 5. Radiant Fireworks Bridal Entry
Adding a little sparkle like fireworks can provide you with an enchanting entry that you will surely love. Let your shimmery outfit shine in the brightness of magical fireworks. This quirky, sustainable, and solo entry of bride in veil is a true example of confidence and beauty, which is made a grand celebration with fireworks.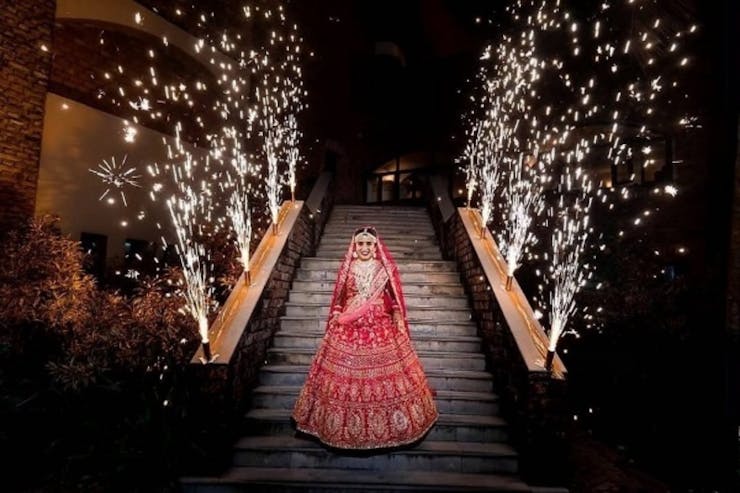 6. Traditional Bridal Entry With Kaleerey Ki Chaadar
A good alternative to phoolon ki chaadar this flower canopy and golden tassels add an extra charm during a bride's entry. In Punjabi culture, a bride makes her way to the wedding venue under kaleerey ki chadar which is considered very auspicious. Look at the bridal glow of this Punjabi bride that is shining prominently under this fashionable golden tassels chaadar.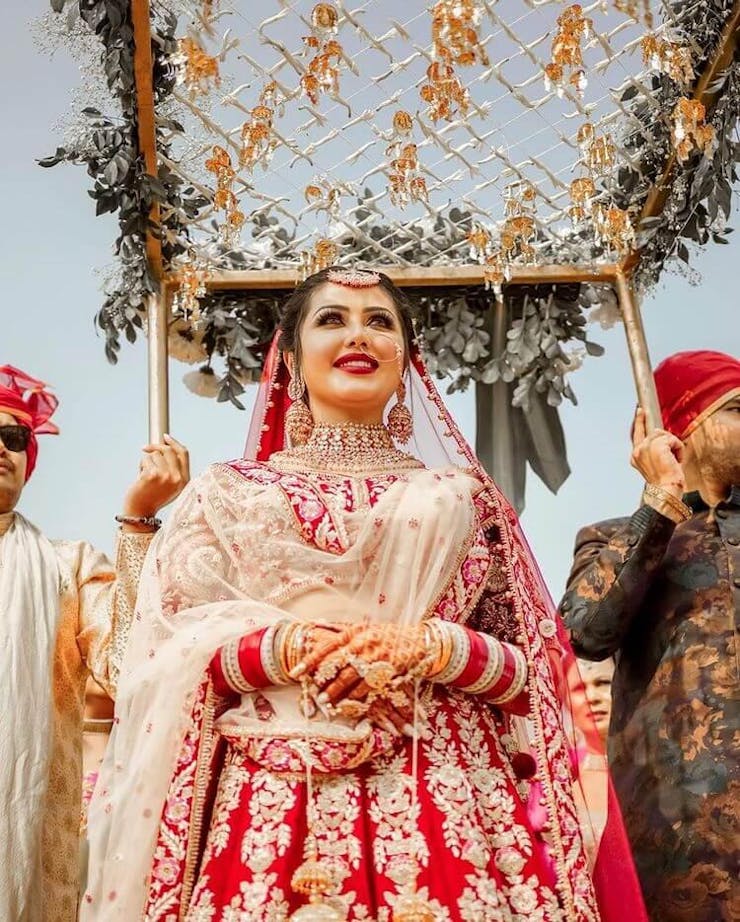 7. Bridal Entry With Holding Elders Hands
We will say this one the best entry for bride Holding the hands of two angels who have taught you every lesson of life and guarded you like no one else can do. Girls get more emotional during their wedding days. Thus holding your parents' hands while entering the mandap is one of the best moments that will cherish for your whole life.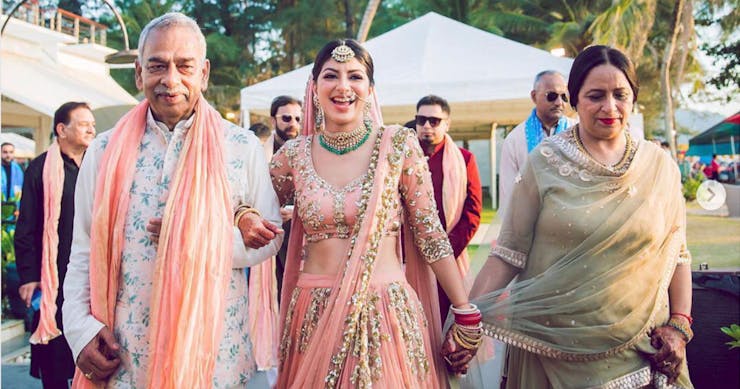 8. Solo Entry Of Bride With Veil
If you are inspired by Anushka Sharma's solo entry on her D-day, then this is going to be the best bride entry ideas for you. We are impressed by the confidence of this elegant bride who has carried wonderfully the tradition of bridal entry in a unique style by walking alone in a veil.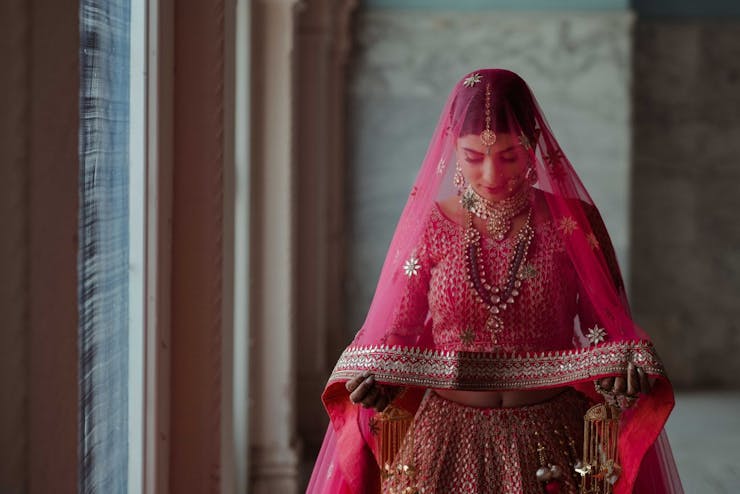 9. An Adorable Bridal Entry
Now, this is a truly lovable ideas for bridal entry. The cute and naughty ones in your family can help you in making a lovely and appealing entry. Your niece and nephew leading your path will create some cherishable moments for your wedding.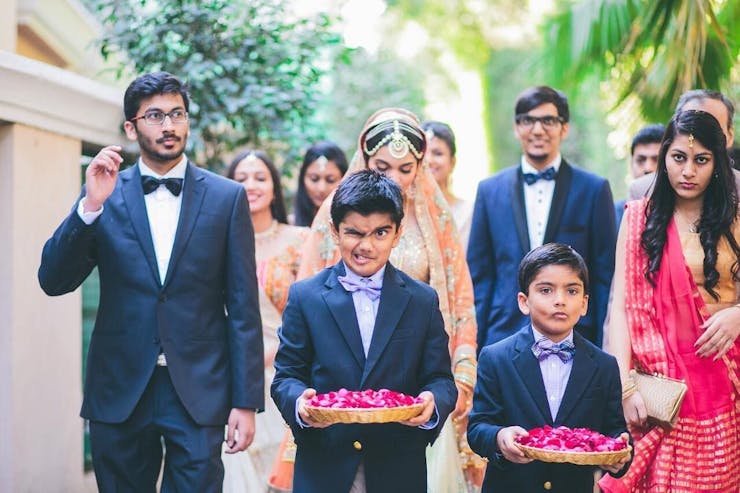 10. Princess Of The Year Entry With Paper Parasols
We all have done those little and adorable fights with our siblings. But when it comes to a sister's marriage, every brother treats his beloved sister like a princess. What can be a better entry than this, when your loving brother holding paper parasols makes your entry like a fairy-tale. This is one of the latest bride entry ideas to rock your D-day.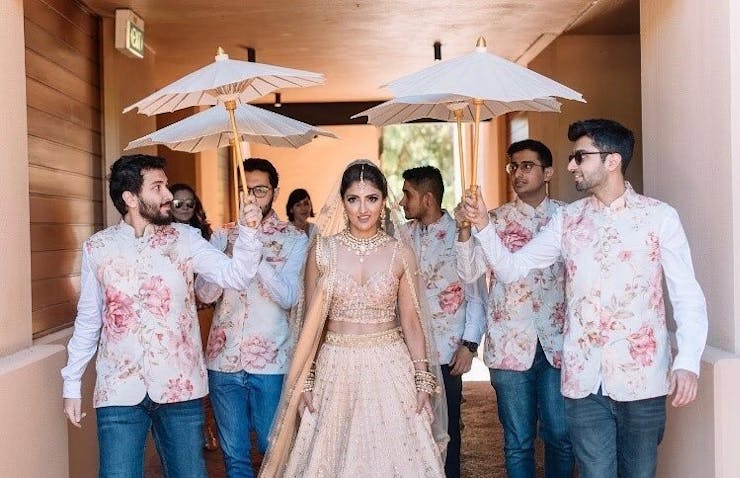 11. Vibrant Bridal Entry In A Dreamy Boat
Looking for dreamy and elegant bridal entry ideas to surprise everyone with your stunning entrance? If you can manage a wedding venue near a lake or pool then take entry on a dreamy boat which will blow everyone's mind away.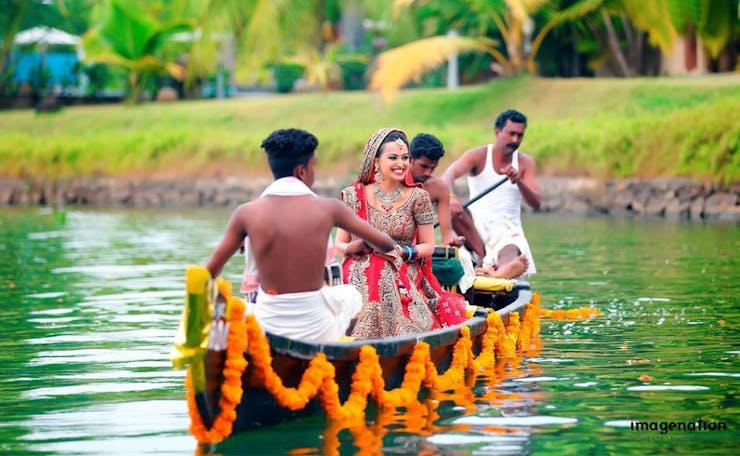 12. Elegant Palki Entry Of Beautiful Bride
Add a desi twist to your wedding by working on these traditional ways of bride entrance ideas. This evergreen bridal entry option designed in the most beautiful way will surely make your entry in a maharani style.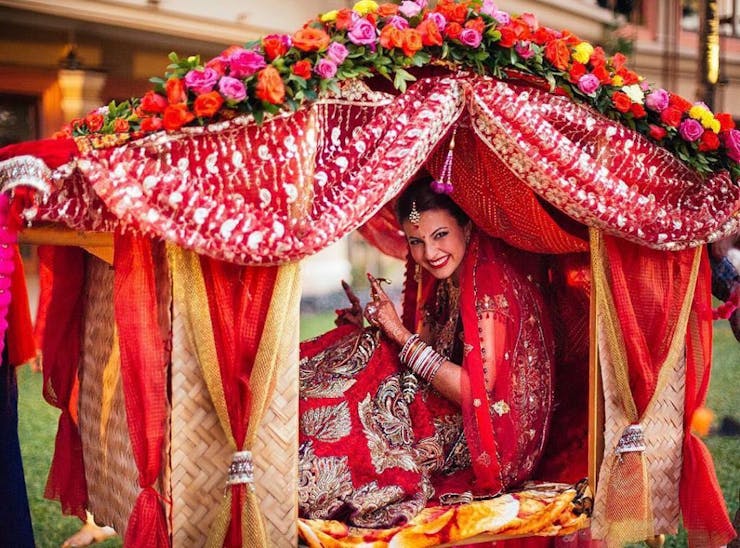 13. Bridal Entry On Royal Chariot
This is a classy and breathtaking wedding ideas for bride entrance. A glorious bride sitting on a royal chariot adorned with bright flower blossoms looks no less than a eternal beauty. Make a magnificent entry in floral chandelier hood chariot to surprise your guests and steal the lime light of your wedding event.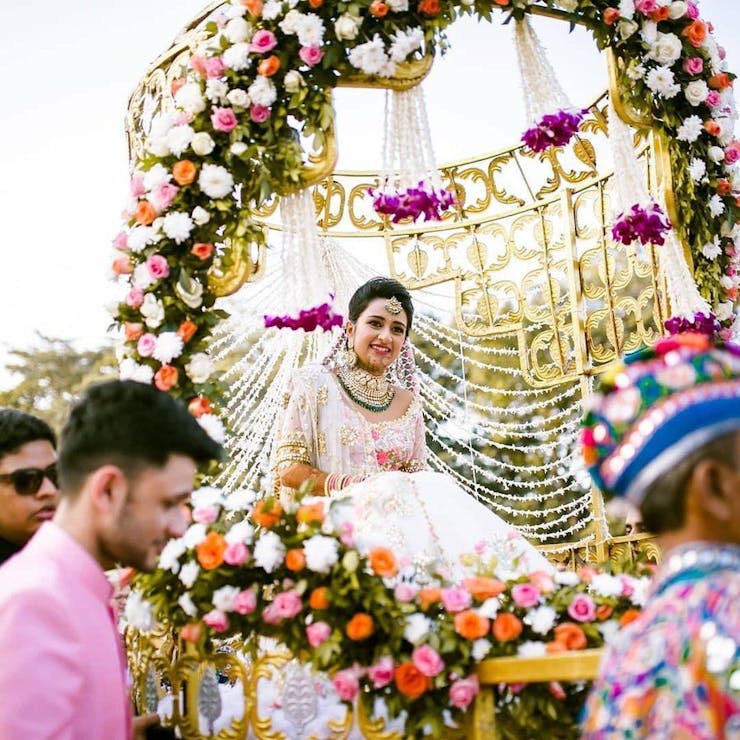 So, these are some of the best & latest bridal entry ideas that will surely help you to make a grand entry. Do comment below to let us know which one you bookmarked for your wedding.