Red roses are the most beautiful flowers that exude a romantic vibe. A red rose is a pure symbol of love, passion, and beauty. These beautiful flowers used in wedding décor give a stunning larger-than-life effect. The most impressive aspect of a wedding is the stage décor. It is where the bride and groom are introduced to their guests. And where the most important moments in their wedding take place.
A professional wedding event planner in kolkata creates a perfect ambiance for a wedding through unique décor elements. A red rose decoration helps to create an atmosphere that is both romantic and beautiful. It is the type of wedding decor that every couple wants on their wedding day. The magnificence of these fragrant flowers can make your wedding stage look astonishing. The magical infusion of pretty red roses can make your dream of a romantic theme wedding come true.
So, let's show you how the red roses stage decoration can turn the vibe of your wedding event around.
1. Include Red Rose Vases On Your Stage Décor
A wedding stage without roses looks lifeless. The grandness and exuberance of this wedding stage are stealing our hearts. These porcelain flower vases decorated with red roses seem like a romantic spring. You too can go for this beautiful red rose flower vase by hiring the best wedding planner in kolkata.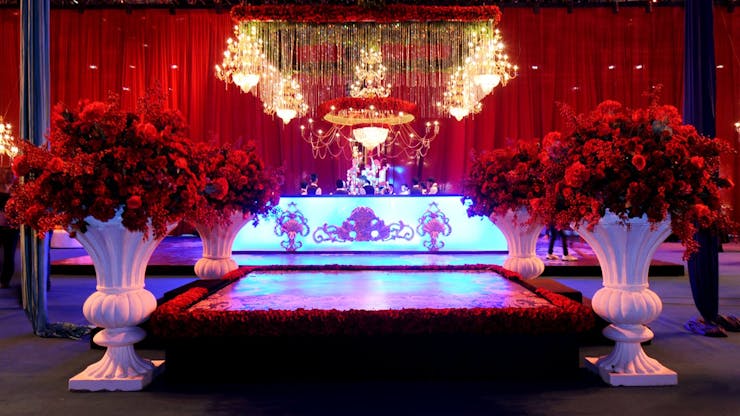 Recommended: Trending Open Mandap Decoration For Upcoming Weddings
2. Create A Beautiful Arch Around Your Wedding Stage
This is another unique red rose wedding stage decoration that will let you mesmerize your wedding guests. If you are a couple who loves roses then you will instantly fall in love with this elegant red rose. This rosy floral arch gives you a feel of a romantic fairy tale.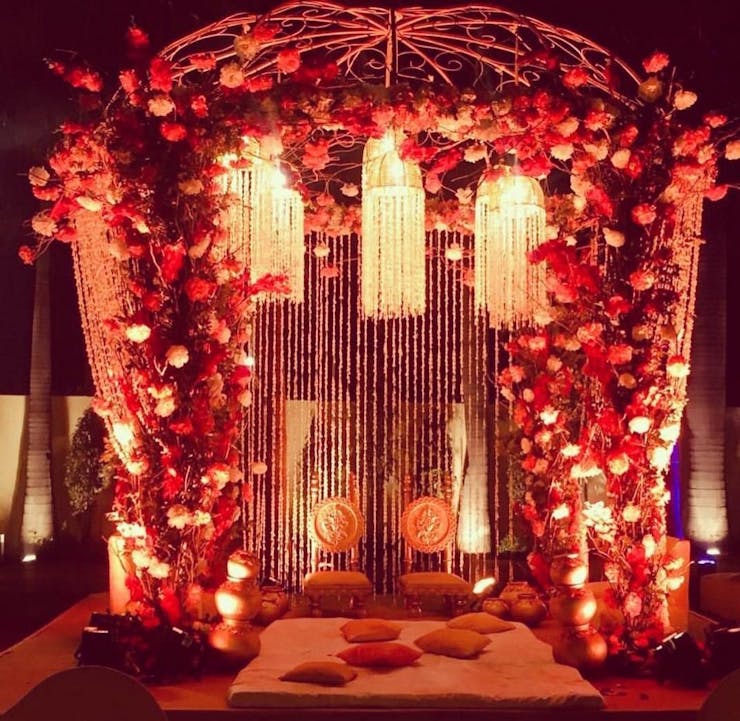 See More: Top 8 Bengali Wedding Flower Gate Decoration Ideas
3. Prettify Your Wedding Mandap With Red Rose Decoration
Your wedding mandap is the most sacred corner where the beautiful union of two souls takes place. Decorating your wedding mandap with fragrant roses can amp up the beauty of sacred union. You can also hang floral hangings made of white and red rose petals to elevate the beauty of your wedding stage.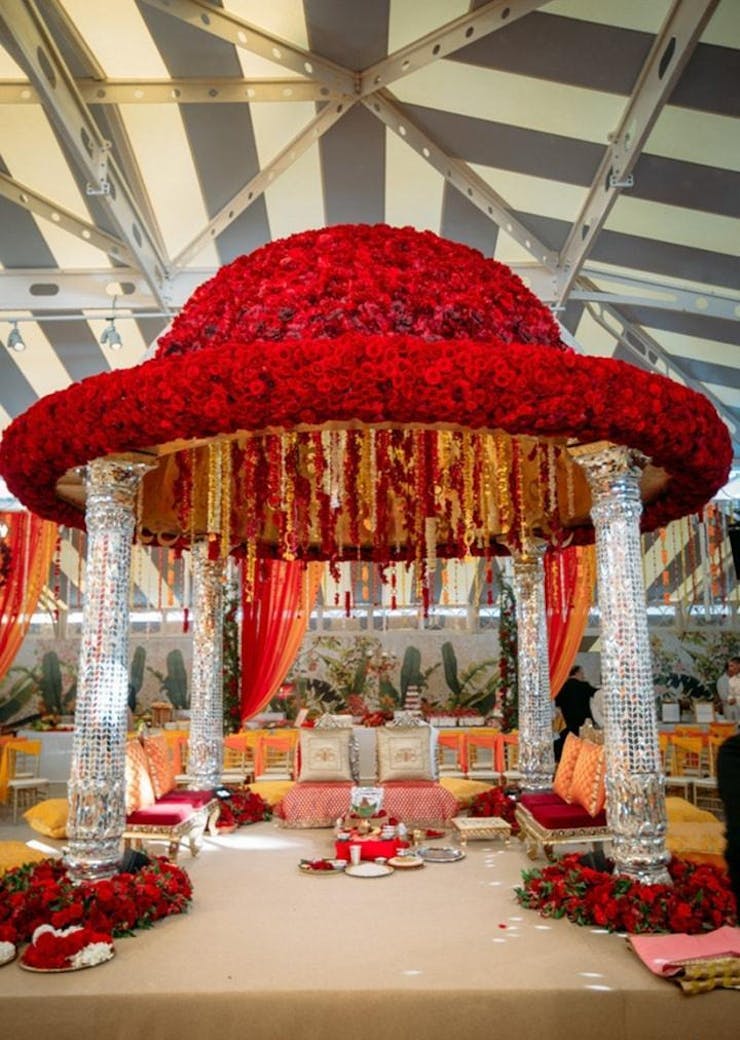 4. Decorate Traditional Installation With Red Roses
How divine does this floral backdrop is looking in the picture? If you are planning a traditional event then you can go for such elegant red rose wedding decoration ideas. A divine figure made of red roses looks as stunning as a decorative piece. You can design this enchanting figure on a contrasting backdrop to make it more beautiful.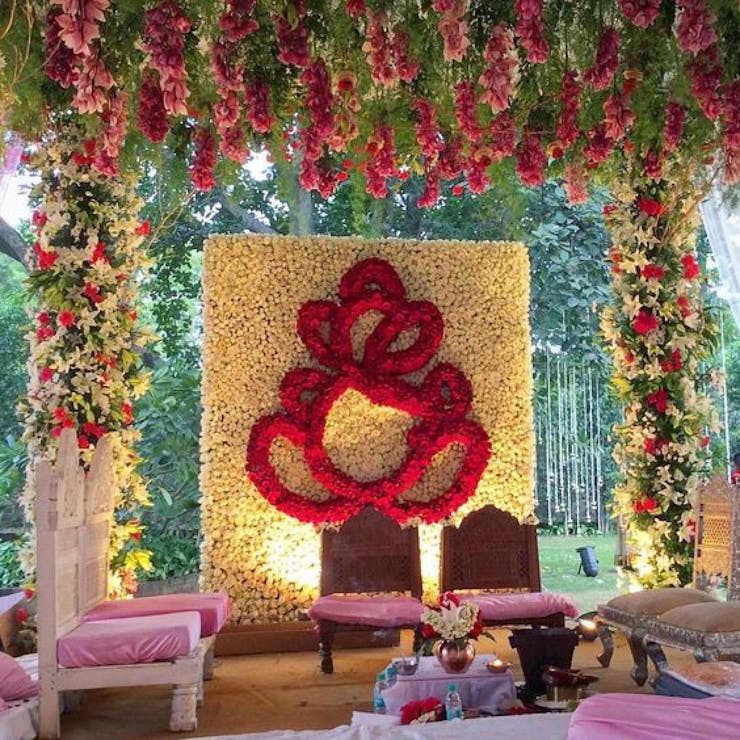 5. How About An Enchanting Red Rose; Backdrop?
One of our favorite ideas for red rose decoration wedding stage is to create a floral backdrop. A backdrop decorated with red roses is a perfect pick for an intimate wedding. You can also use standing lamps and flower vases at the wedding stage. Such romantic backdrops are sure to give you some beautiful wedding photos.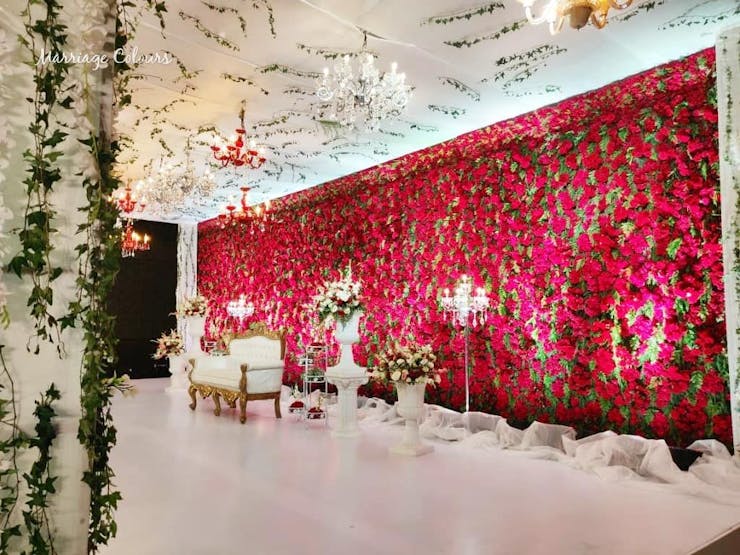 6. Let The Red Rose Flower Decoration Takeover Your Stage Ceiling
Have you always dreamt to have a fairytale-inspired romantic wedding? You can bring your fairy tale moments to life with a red rose ceiling. This wedding stage decoration with red roses will gleam with the opulence of a dreamy chandelier. This beautiful ceiling will also exhume aromatic fragrance that will please everyone around.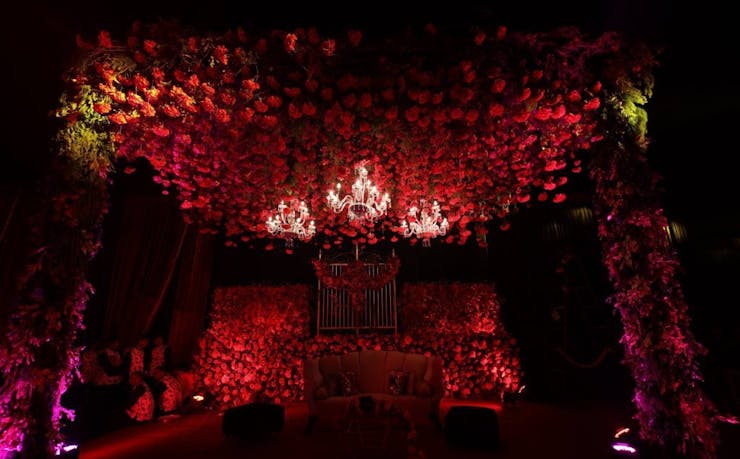 7. Beautify Your Ceiling With A Cascading Rose Chandelier
Floral chandeliers are the most unique decorative element that can elevate the look of wedding décor. This enchanting rose stage decoration can add a glam and romantic feel to your wedding. The captivating chandelier entwined with roses and jasmine is further adding a heavenly aura to the venue.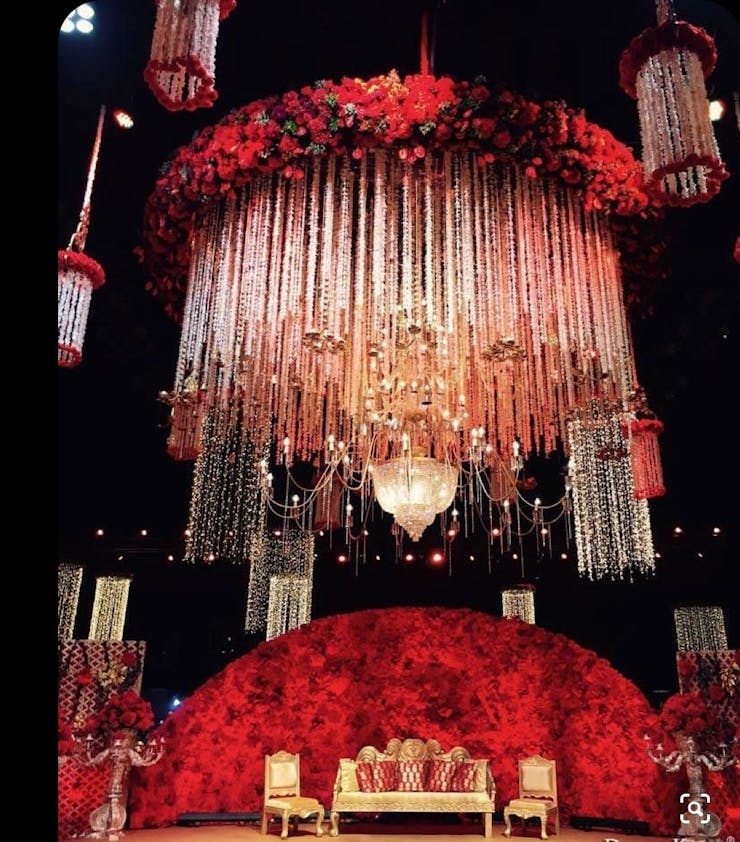 8. Huge Floral Installation Is The Trendiest Red Roses Stage Decoration
A huge floral installation made of red roses can act as a great backdrop for your wedding photos. You can add floral centerpieces and scented candles with this red rose decoration to get a spectacular result. Your wedding planner can suggest you the right idea that will fit the style of your wedding theme.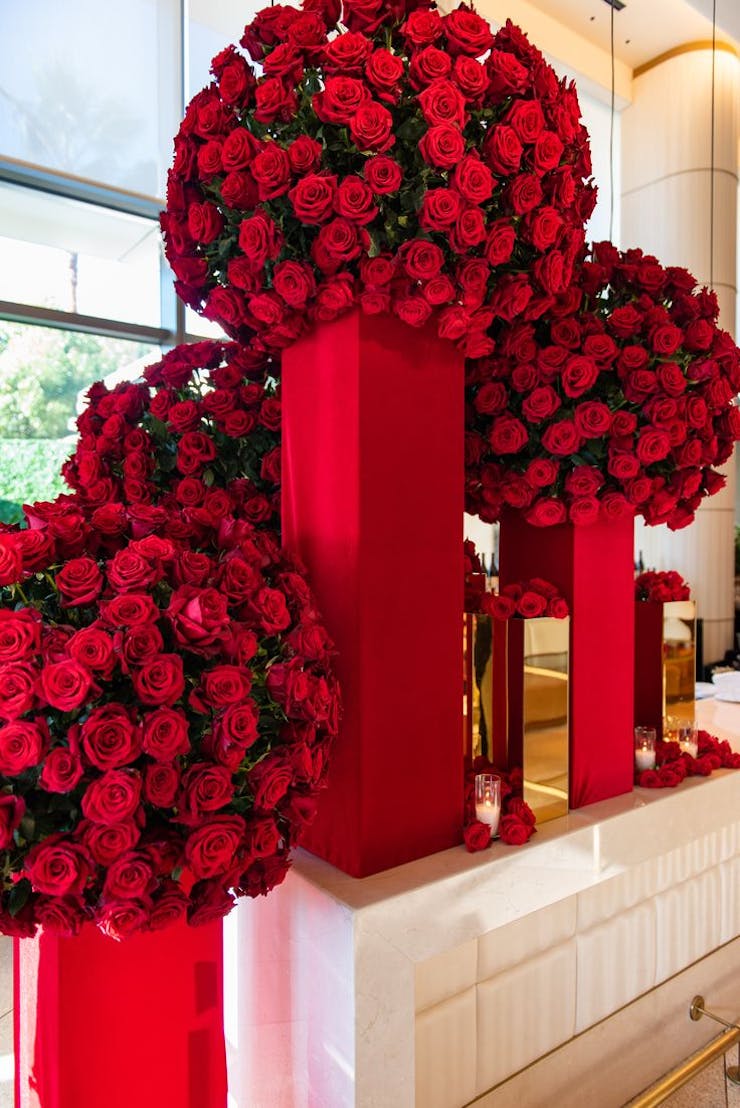 9. Let The Red Roses Cover Your Wedding Chair
This floral chair can add a magical effect to your wedding photographs and make it a romantic tale. When it's come to Indian weddings both the bride and groom are the shining stars of the show. Hence, decorating your wedding chair or sofa with pretty red roses can give it an aesthetic touch.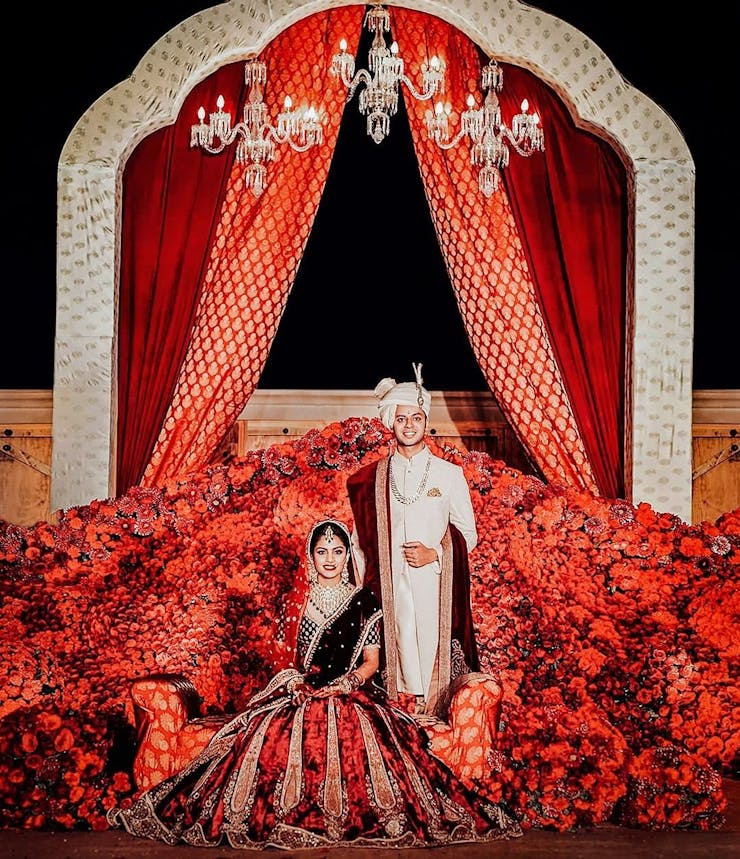 10. Create A Romantic Aisle Towards Your Wedding Stage
Why only focus on your wedding stage when you can make a grand entry through your wedding aisle? You can decorate your wedding aisle with red rose petals that will be a wow factor in your wedding venue. You can make a rangoli-type pattern using rose petals to create a stunning aisle.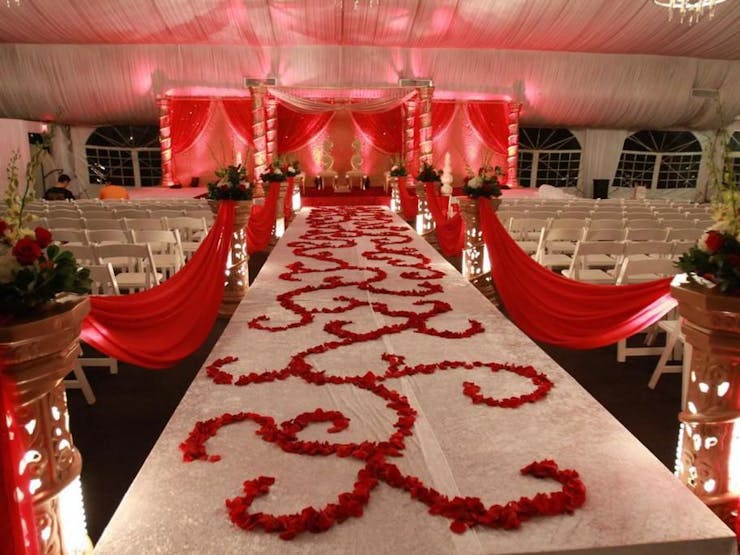 11. A Gorgeous Photo Booth Is The Most Eye-Catchy Red Rose Wedding Decoration Ideas
You can create a beautiful photo booth beside your wedding stage using red roses. It will let you click a romantic story in the picture frames. A rosy red photo booth will add vibrancy to your intimate wedding affair. It will also allow your guest to bring back some wonderful memories of your beautiful event.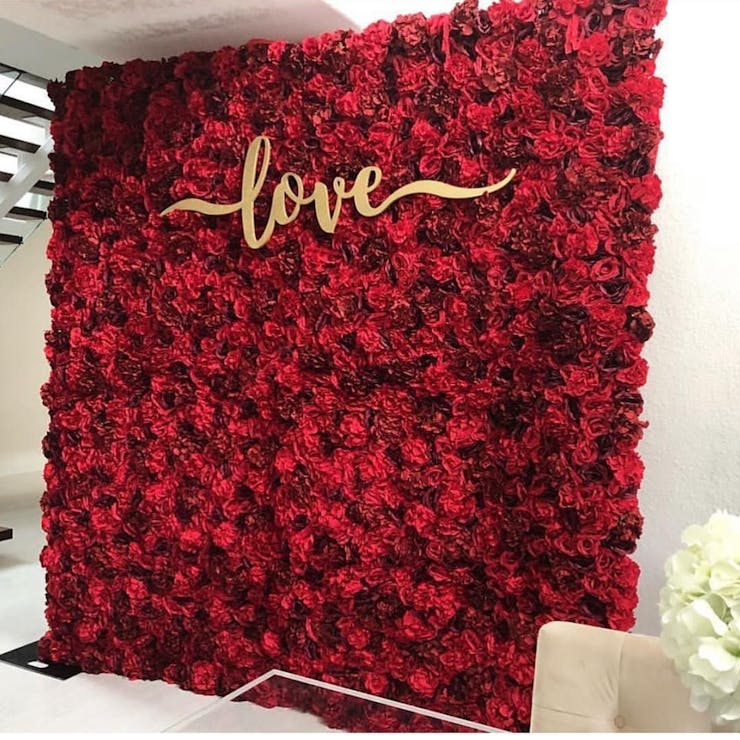 12. Incorporate Rosy Installation On Your Wedding Stage
How can we miss the wedding sofa while talking about wedding stage decoration? Take inspiration from this crescent shape floral installation around the wedding sofa. This kind of rose's installation will increase your wedding décor and also work as a great backdrop. This kind of red roses stage decoration is sure to make your day truly magical.