Decorations have become an important topic to discuss while planning an Indian wedding. Good wedding decoration can spice things up at your wedding. Nowadays, couples are hiring the best wedding planners in kolkata to make their wedding day a memorable event. They are now looking for unique ideas and designs to decorate their wedding venue. We have seen a great evolution in Indian wedding decorations over the past few years. From wedding mandap décor to entrance gate, there are so many options available in wedding decoration today. But have you ever thought what is the most important aspect of wedding decor?
A wedding stage always grabs the audience's attention at the first sight. It is the most important attraction at a wedding where the couple spends their most of time. You must give priority to your wedding stage décor while planning for wedding decoration. You can choose décor elements like a designer sofa, fancy lights, a floral backdrop, and lavish carpets to amp up the beauty of your wedding stage. We have listed all kinds of beautiful wedding stage decoration ideas. To plan an unforgettable wedding event, keep reading this interesting guide.
1. Mesmerizing Floral Stage Decoration For Indian Wedding In Hues Of White And Red
A graceful floral theme wedding stage decoration with red and white flowers looks ethereal. The beguiling charm of the white and red floral ceiling is undeniable. A White and golden sofa set in the middle of the stage against the backdrop of stunning floral art is a sight to be held.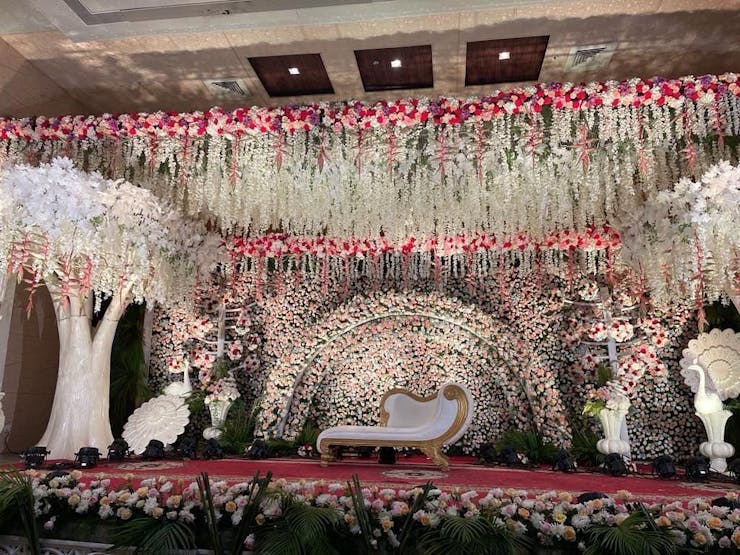 Recommended: 13 Magical Ceiling Décor Ideas For Weddings
2. Royal Wedding Stage Decoration Ideas For luxurious Event
If you have planned a royal wedding then you can opt for this kind of wedding stage to execute the ideas of your luxurious wedding. A brass framework structure looks wonderful as a royal backdrop. The wedding planner has added a classy sofa and antic decorative piece to add more splendor to this wedding stage. To plan a royal wedding in the outskirts of Kolkata you need to hire the best destination wedding planners in kolkata.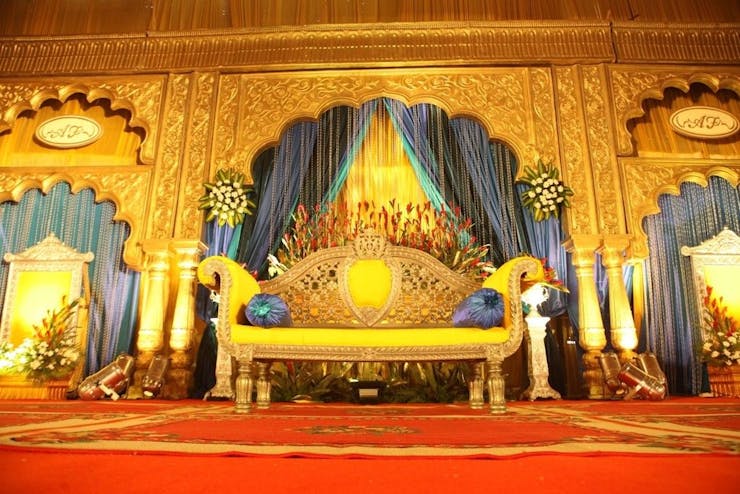 Read This: 7 Beautiful Stage Decoration Ideas For Haldi Ceremony
3. A Serene White Stage Décor For A Fairytale theme Wedding
A white metal structure surrounded by stunning flowers increases looks appealing. A luxurious chandelier on the ceiling enhances the beauty of this beautiful wedding stage. Moreover, the addition of white flower vases and chairs makes the whole setup look enchanting. The floral hedges at the front of the stage is adding a wow factor to the entire wedding decoration.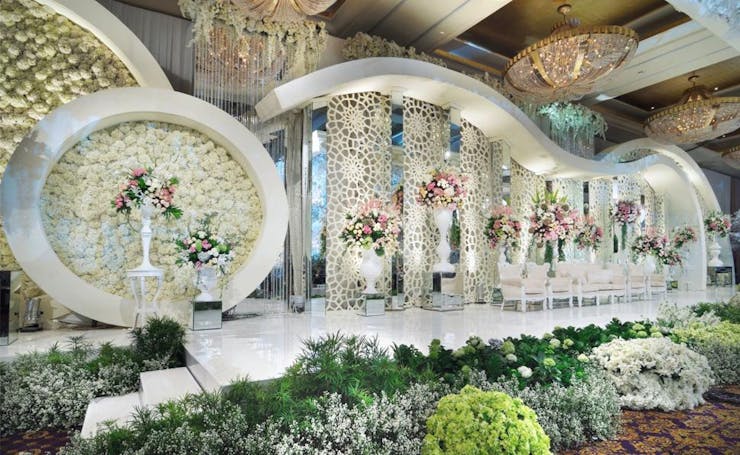 4. An Eco-Friendly Wedding Stage Décor For Nature Lovers
Planning a green wedding decor is the simplest and most environmental friendly affair. This low cost simple decoration can be a unique setup to install on your wedding day. Wedding decoration using foliage has gained immense popularity in the recent wedding season. To amp up the beauty of your wedding stage décor, you can add a few scented candles on tables made of brass layers.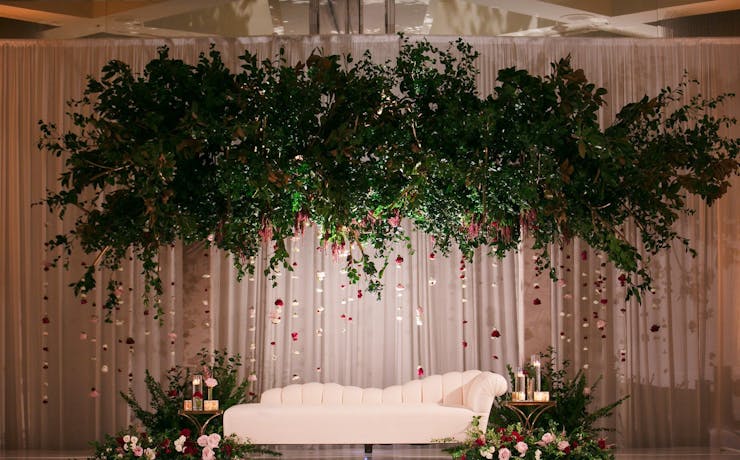 5. A Vintage Style Stage Decoration For Wedding Adds A Classic Feel
You must celebrate the special day of your life on a wedding stage that exudes a larger-than-life vibe. Stage decoration with pretty drapes adds a magical charm all around. The subtle floor of the wedding stage is complementing the rustic and antic chairs on the stage.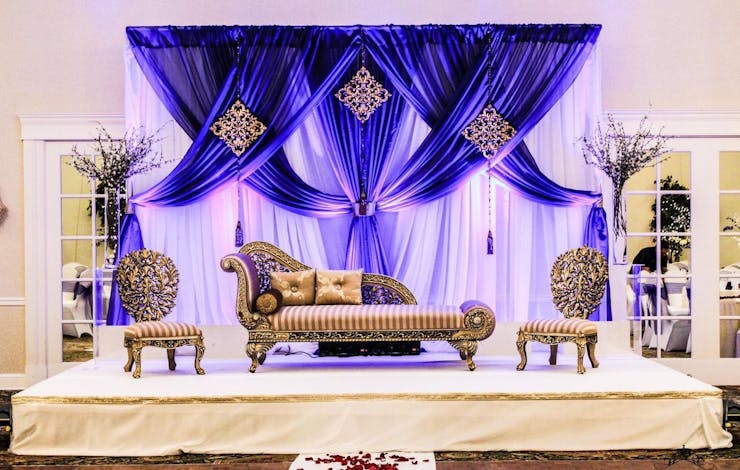 6. Fairy Light Wedding Stage ideas Are The Most Elegant Option In Wedding Décor
Fairy lights are a fascinating element that can illuminate the entire wedding stage. The surreal combination of dainty fairy lights and a rustic theme wedding stage is a true example of sophistication. A floral art as a beautiful backdrop of the wedding stage set an ambiance of an intimate wedding. This is a perfect example of a low budget wedding stage decoration that can work wonders.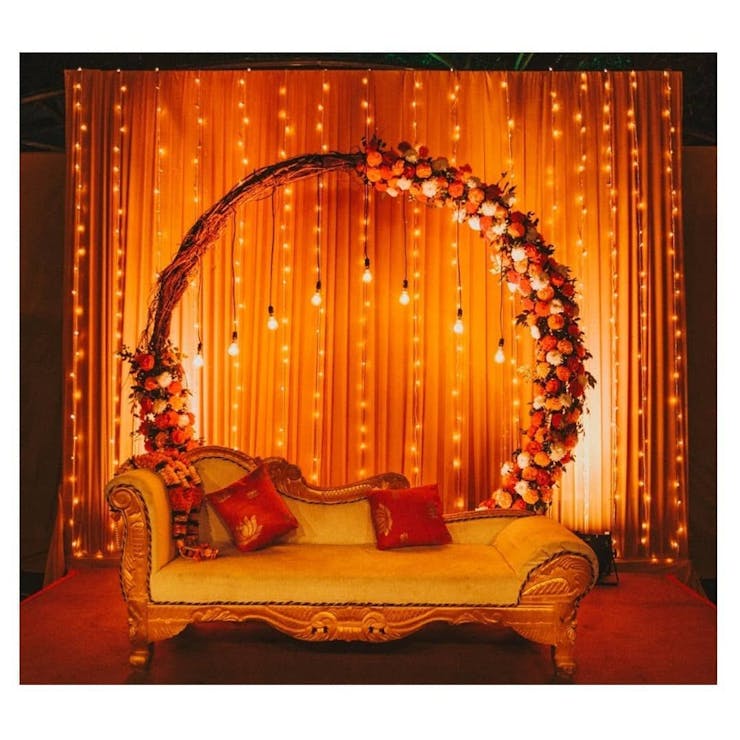 7. Wedding Stage Decoration Ideas In Pastel Hues And A Hint Of Shimmer
Pastel shades can turn your wedding stage decoration into the most exceptional event. This fascinating wedding stage design in pastel shade gives a soothing effect to the eyes. The combination of hanging florals with decorative lights can leave your guest spellbound. Adding a shimmery fabric to your stylish sofa can add an extra hint of class and sophistication.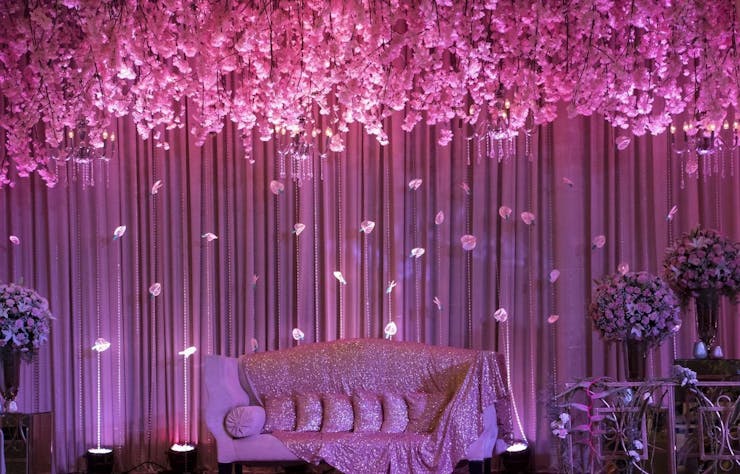 8. Dreamy Drapes Décor Is The Best Option For A Low-Cost Simple Wedding Stage Decoration
Drapes are a decorative element often used in traditional wedding stage decoration. But today it adds a luxurious and royal theme to the entire wedding theme. A shimmery backdrop in pastel shade with contrasting drapes looks enchanting. The royal charm of the chandelier hanging above the sofa adds a dramatic effect to the entire setup.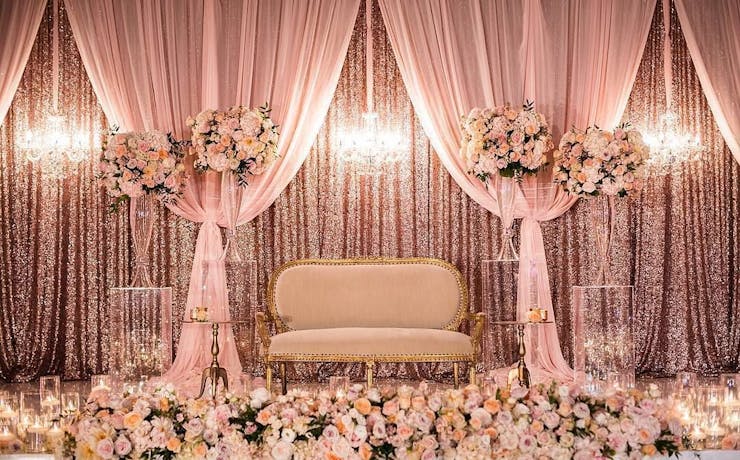 9. A Rustic Wedding Stage With Antique Element Adds A Regal Vibe To Wedding Décor
The combination of a rustic wedding stage with a hint of subtle white color looks beautiful. Candles and flower vases increase the charm of a wedding stage. The pretty fairy lights and floral art in white and rustic shades fit the luxurious theme.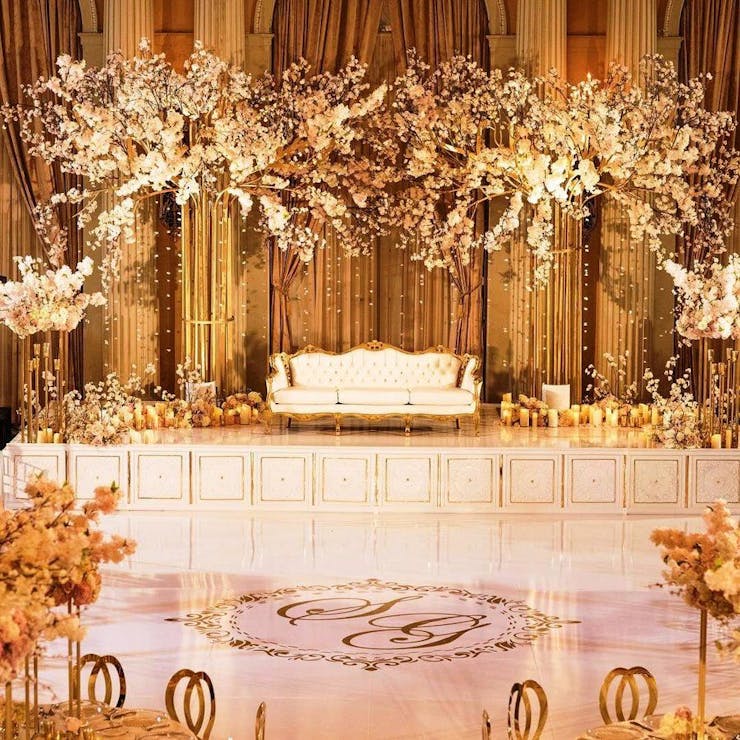 10. A Heavenly Lit Floral Chandelier On Wedding Stage Is A Visual Treat To The Eyes.
The last and the most beautiful wedding decoration idea on this list is this eye catchy theme. This simple wedding stage decoration with a huge floral chandelier looks mesmerizing. The pretty floral arch is the latest decoration idea for an Indian wedding.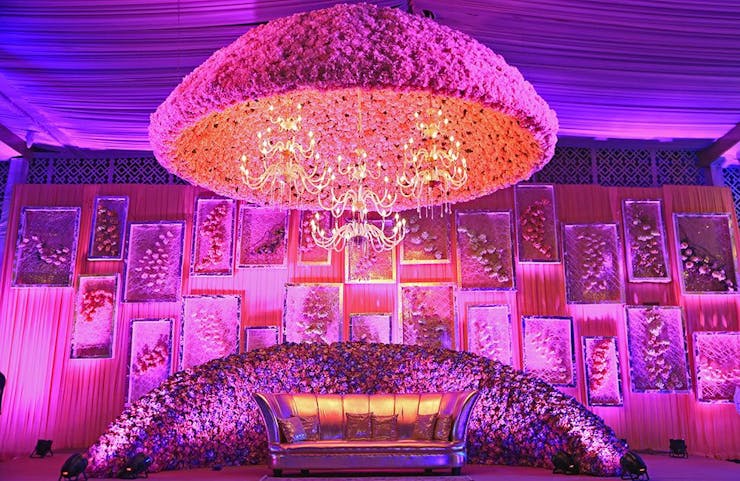 Hope you have got a perfect idea to plan and decorate your wedding stage. Bookmark these ideas to show them to your event decorator for planning a dream wedding.