Stage decoration in Indian weddings is given a lot of importance these days. A stunning stage decoration for engagement can make your event memorable. With the constant change in ideas of stage decoration, wedding event planner in kolkata is introducing unique and creative trends. From the smallest décor elements like candles to a grand royal theme, the Indian engagement theme ideas have undoubtedly been taken a notch higher! Couples in Kolkata want something fresh, unique, and creative that can create a beautiful story of their ring ceremony. Planning an eye-catchy and perfect engagement stage decoration can be an extremely daunting task. Worry not. To make your task easier, we have curated a list of the 13 best engagement stage decoration ideas that will surely earn back a lot of appreciation from your guests. 
1. Simple & Elegant Floral Ring Engagement Decoration Ideas
White engagement stage décor is a new trend for millennial couples. A simplistic floral ring on a white backdrop adds a unique charm to your event. This kind of floral theme engagement decoration ideas are perfect for couples who love all things subtle. Accompanied with some additional props like beautiful candles in a glass box adds the perfect ounce of grace to your engagement stage.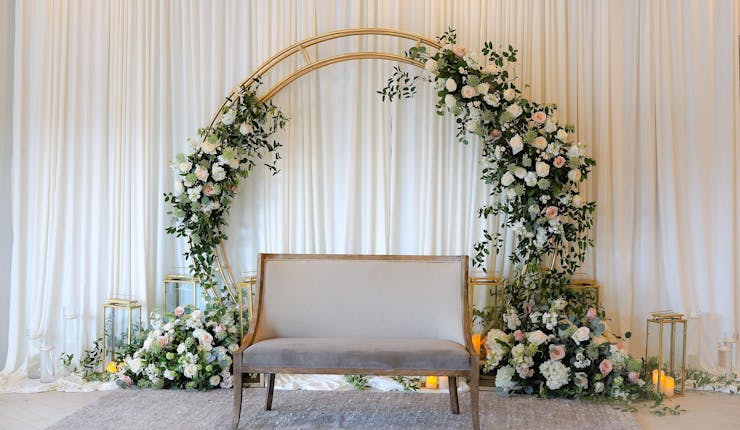 Recommended: 7 Beautiful Stage Decoration Ideas For Haldi Ceremony
2. Love In Air, Heart Shape Flower Engagement Decoration Ideas
This heart shapes flower stage decoration creates a beautiful romantic tale in your engagement pictures. A rich arrangement of red roses in a heart shape is everything you need to plan a romantic and memorable ring ceremony. Make sure to hire the best wedding planner in kolkata who can help you achieve your event decoration dreams.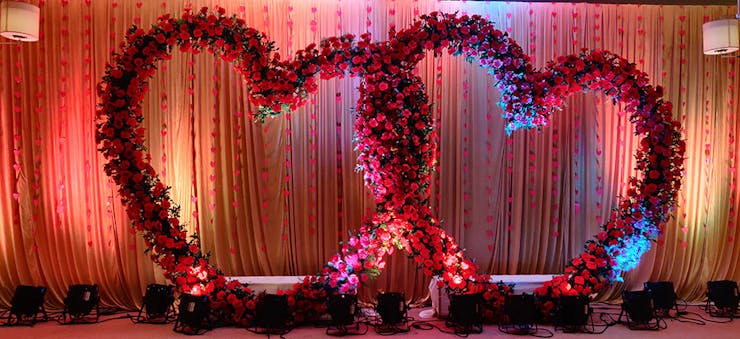 Also Check: Beautiful And Simple Wedding Stage Backdrop Ideas
3. Stunning Floral Wall Engagement Decoration Ideas
A larger-than-life backdrop of a floral wall leaves a cascading effect. This is the most preferred engagement flower decoration idea for an open-air engagement ceremony. The sheer beauty of this floral wall decoration is awe-inspiring. This eye-catchy effect of a fully floral wall leaves every one spell bound. Using contrasting couches and cushions makes this decoration a glamorous one.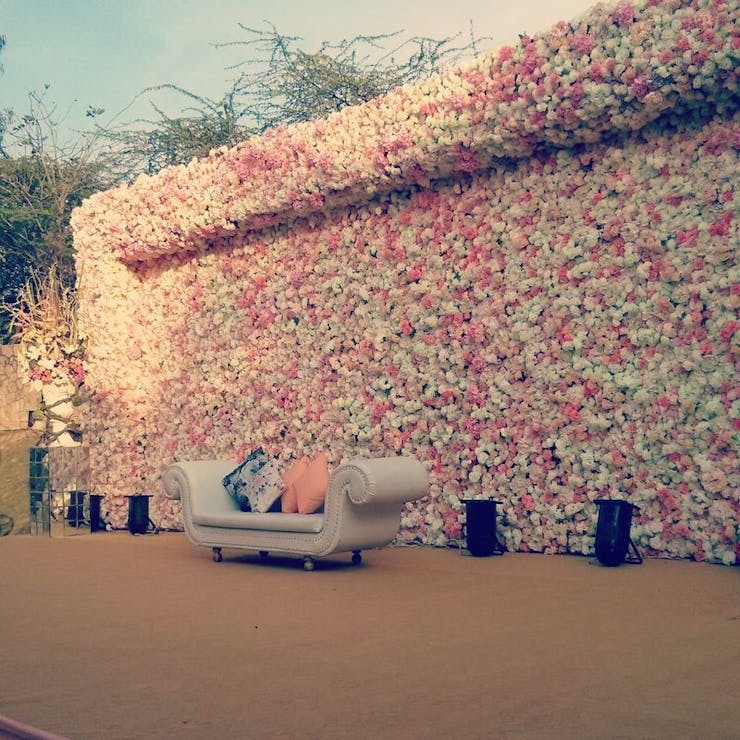 Must Read: Trending Engagement Ring Designs For The Timeless Bride [2022]
4. Magical Drape Engagement Decoration Ideas
You can never go wrong with the dramatic drapes. This classic and timeless stage decoration for engagement is simply to die for! The beautiful contrast of white and golden drapes is something that looks stunningly beautiful. Adding a floral touch on this rustic stage gives your engagement pictures a royal charm. Some shiny elements like a chandelier with creative use of exotic flowers and drapes leave a dramatic effect.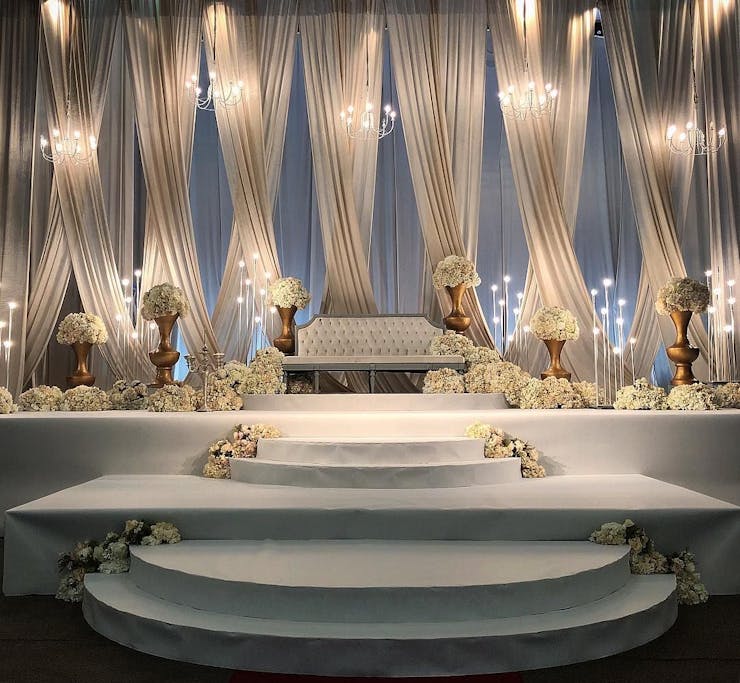 5. Shimmery Tassels Engagement Decoration Ideas
Is there anything more beautiful than this shimmery and twinkling decoration for engagement ceremony? This is the best engagement decoration ideas that looks like a fairy tale. These delicate and shiny tassels hangings offer a sophisticated look and can make your engagement ceremony surreal. The heavenly blue effect of this impressive setup is sure to look jaw-dropping beautiful.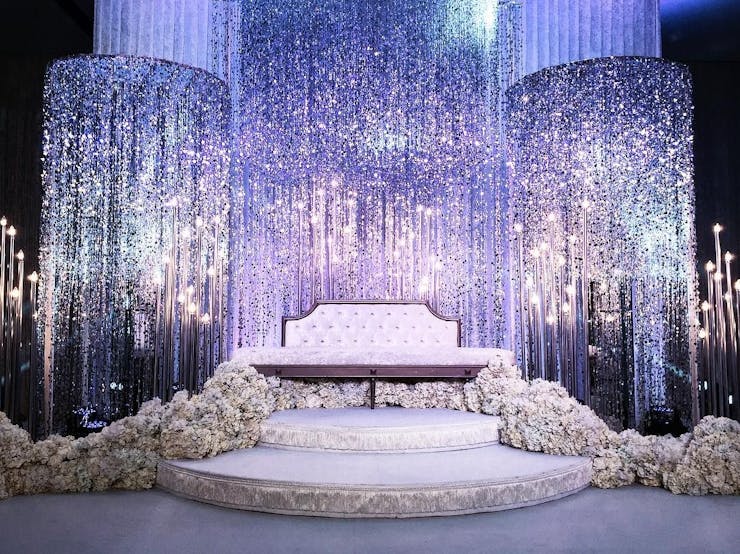 6. Unique And Devotional Wall Backdrop Engagement Decoration Ideas
Give a devotional feeling to the auspicious ritual of engagement by choosing a contrasting and creative wall background engagement decoration like this. Here the contrasting shades of white pillars and green walls make the whole setup look exquisite. This Ganesha theme stage décor is spectacular and one of the best engagement background decoration too. Who would say no to seeking the blessings of Lord Ganesha before the beginning of a new journey?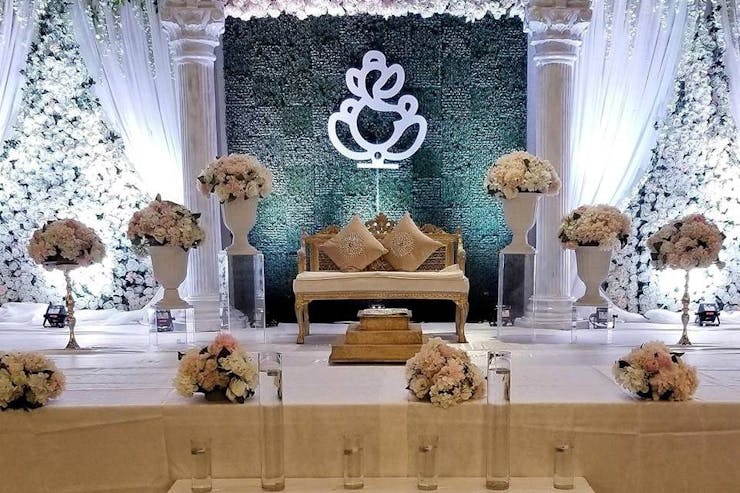 7. Mesmerizing Pink Theme Engagement Decoration Ideas 
A soft hue like pink can surely do wonders for your engagement ceremony decoration. These pink theme-based simple stage decoration ideas add elegance to the entire setup and provide a classic taste. The floral hangings and elegant drapes add an extra hint of color and romance, Pastel colors like pink can illuminate the stage of your special event and accentuate the beauty of the engagement background decoration.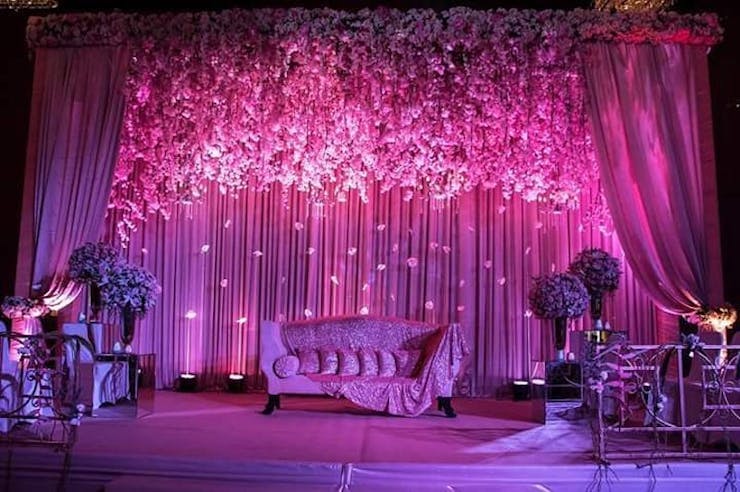 8. Candle Lit Engagement Decoration Ideas
This kindsof mesmerizing and simple engagement decorations are surely going to win everyone's heart. The heavenly vibes of candles emit a mystical aura all around. Decking up the entire stage with candles makes everything magical. Adding a touch of fairy lights and exotic flowers can take your stage decoration a notch higher.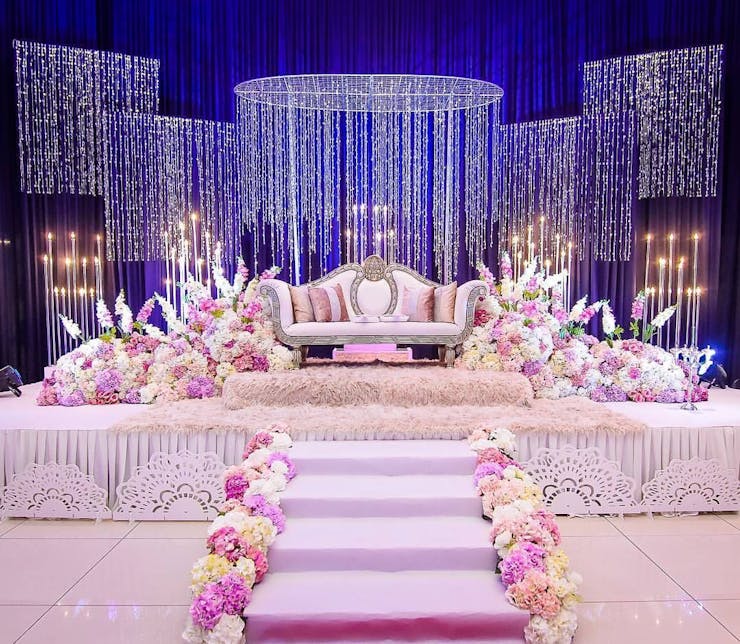 9.  Royal & Luxurious Theme Engagement Decoration Ideas
If you want to celebrate a grand engagement ceremony, then you must choose a royal and luxurious theme for your stage décor. This kind of royal sofas and a luxurious backdrop will look dramatic in your engagement pictures. The ivory-hued sofa and cushion will tell a magnificent tale. The royal charm of this exquisite setup is classy and eye-pleasing.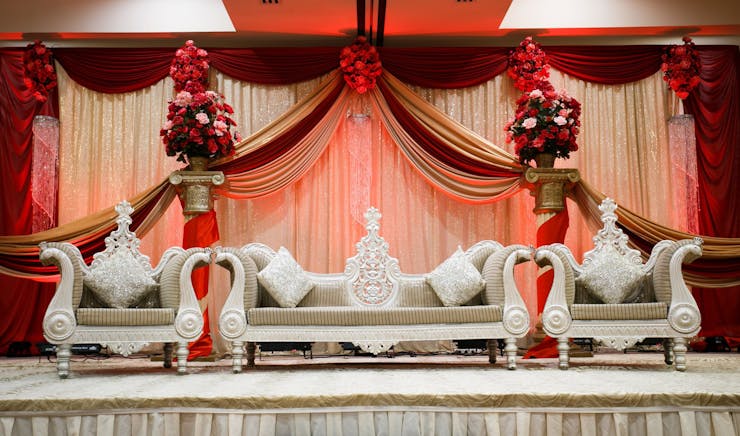 10. Most Ornate Gold Chandelier Engagement Decoration Ideas
This vintage theme décor is absolutely mind-blowing. The dainty chandeliers hanging amp up the entire stage decoration and add romantic vibes. Floral chandeliers floating in the mid-air look whimsically aesthetic. The structured golden wall and a classy couple couch are a beautiful addition to the entire setup. This enchanting engagement stage décor is a perfect theme for open-air events.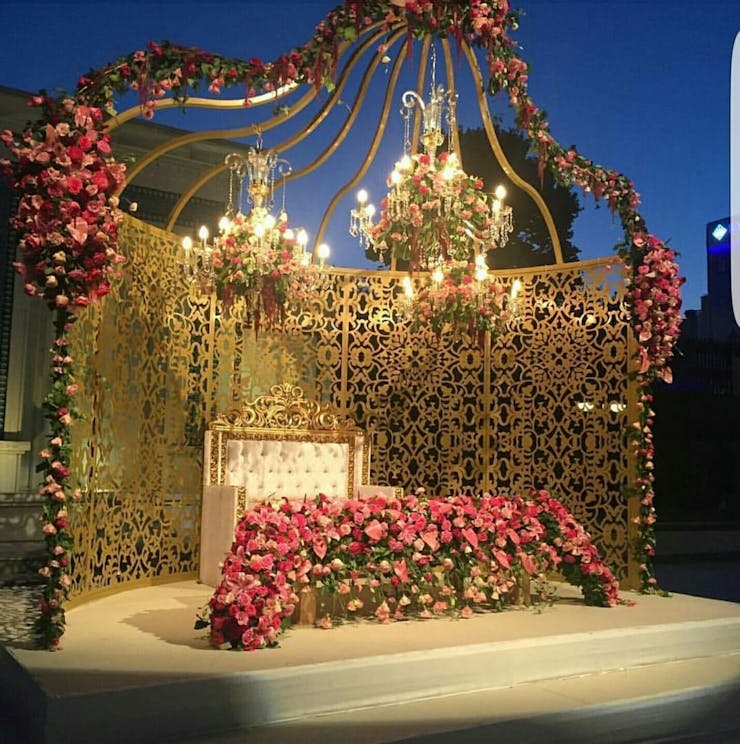 11. Elegant Balloons Engagement Decoration Ideas
This is the most beautiful and simple engagement decoration ideas.. You might wonder how can the birthday décor element add the wow factor to your ring ceremony stage décor! But believe us, these colorful balloon arch decoration ideas can make any event festive and special. Go offbeat with the pastel-hued balloons for an elegant backdrop. You can also use contrasting shades to provide it a mesmerizing touch.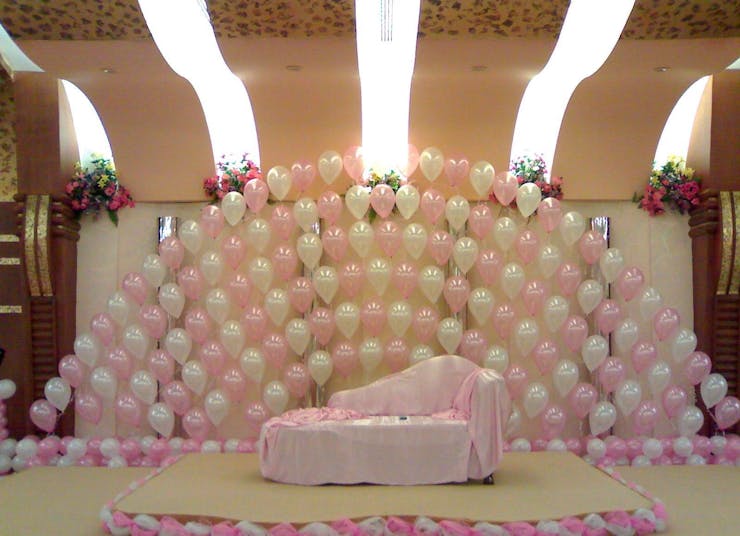 12. Creative Engagement Decoration Ideas
Adding some creative elements to your engagement stage décor can make it a more vibrant and wonderful theme. Enhance the charm of the décor by choosing a geometric patterned backdrop. Take inspiration from this pretty peach engagement decoration ideas..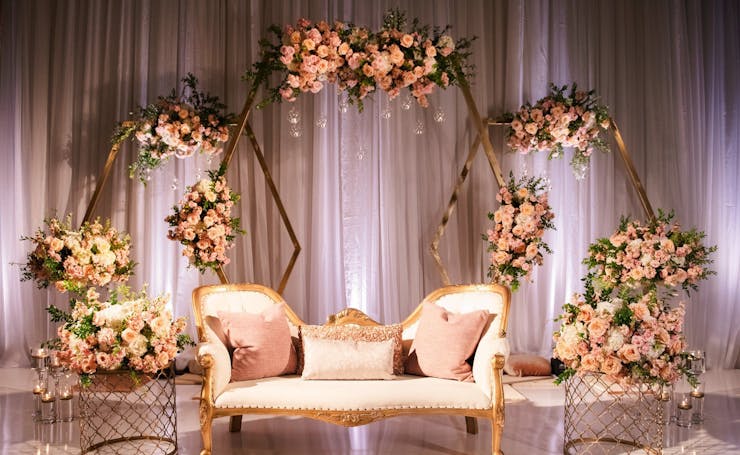 13. Mesmerizing Floral Canopy Engagement Decoration Ideas
Looking for a unique and simple decoration for an engagement event? Then consider giving this pretty canopy stage décor a try. The conventional beauty of this snow-white floral canopy will add a dreamy appeal to the event. The stylish sofa under the floral installation adds a majestic factor to your special event. The white and pink roses combination creates a true example of sophisticated charm.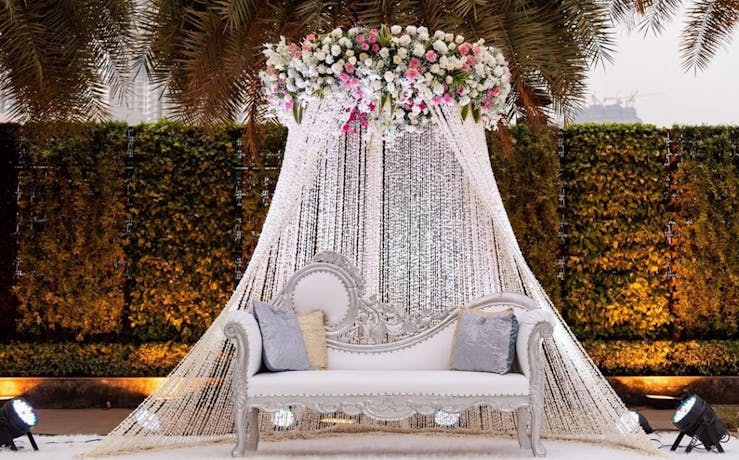 Bookmark your favorite stage décor to plan an unforgettable and splendid ring ceremony.