Balloon decoration is the best part of an indoor party or outdoor event. The beauty and color of the balloon provide an eye-catchy appearance. Whether it's your birthday party or anniversary celebration balloons play a vital role in event decoration. Most wedding event planner in Kolkata uses balloon for decorating halls, stages, and walls. They consider a balloon a primary element of event decoration. There are many ways to decorate balloons in an event, but the most beautiful and popular one is the balloon arch. It is one of the most preferred balloon decoration ideas. These kinds of decorations add a fun element to your celebration. A DIY balloon arch impresses your guests at first glance. It is also a budget-friendly event decoration idea. These kinds of creative decorations become party highlighters. So, we can say this bright and colorful balloon decoration is an ideal choice for your special event. Read to find out some of the best balloon decoration ideas.
1. Balloon Arch Decoration At Home
         This rainbow-inspired balloon arch is truly an amazing work of art. The clustered balloons in the spiral form will wow your guests and increase the beauty of your wedding event. Use different colors of balloons and create a big arch in the center of the event hall. To make it more beautiful you can put a white curtain and twinkling lights behind will work as a stunning backdrop wall. The way it beautifies the wedding hall makes it perfect for photos.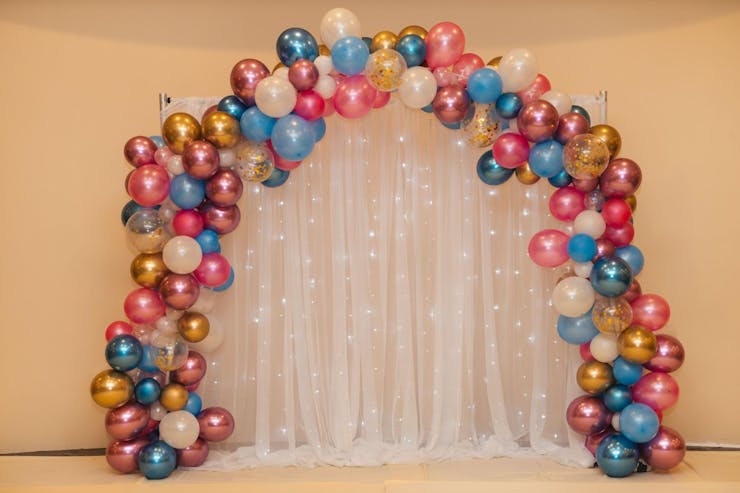 Recommended: 13 Trending Simple Mehendi Decoration Ideas [2022]
2. A Wall Full Of Pink Pearls
         This balloon arch is a masterpiece of art. Pink is a cheerful color that represents love at first sight. What could be more beautiful than decorating your engagement venue with blush pink and light gray balloons? To get a perfect shot you can even w2ear a dress in the same color. Try this as an enchanting engagement backdrop and let the love speak for itself. This can also work great as a wedding balloon décor.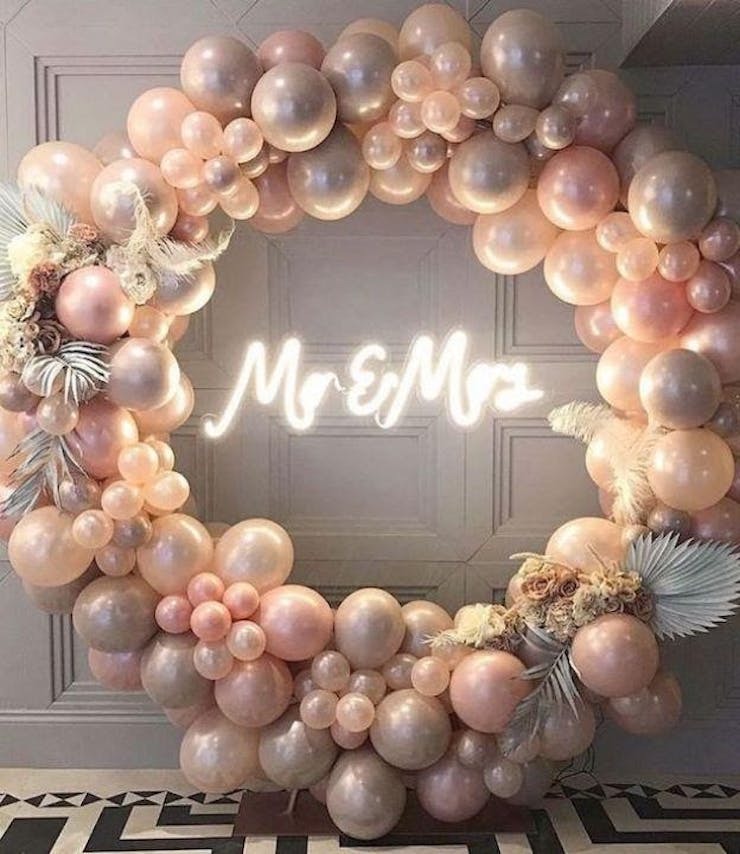 Must Read: 15+ Exceptionally Beautiful Wedding Mandap Decoration Ideas 2022
3. Fairy-Tale Inspired Balloon Gate Decoration
         Everyone dreams of a fairy tale wedding. If you plan for a fairytale-like wedding you will also need a wedding décor like a dreamland. To start with a dreamy decoration, you can decorate a beautiful entrance using a white balloon which will give an elegant look to your wedding venue. Designing a semi-circle balloon entrance is the epitome of beauty. This fanciful look will do wonders for your wedding decor.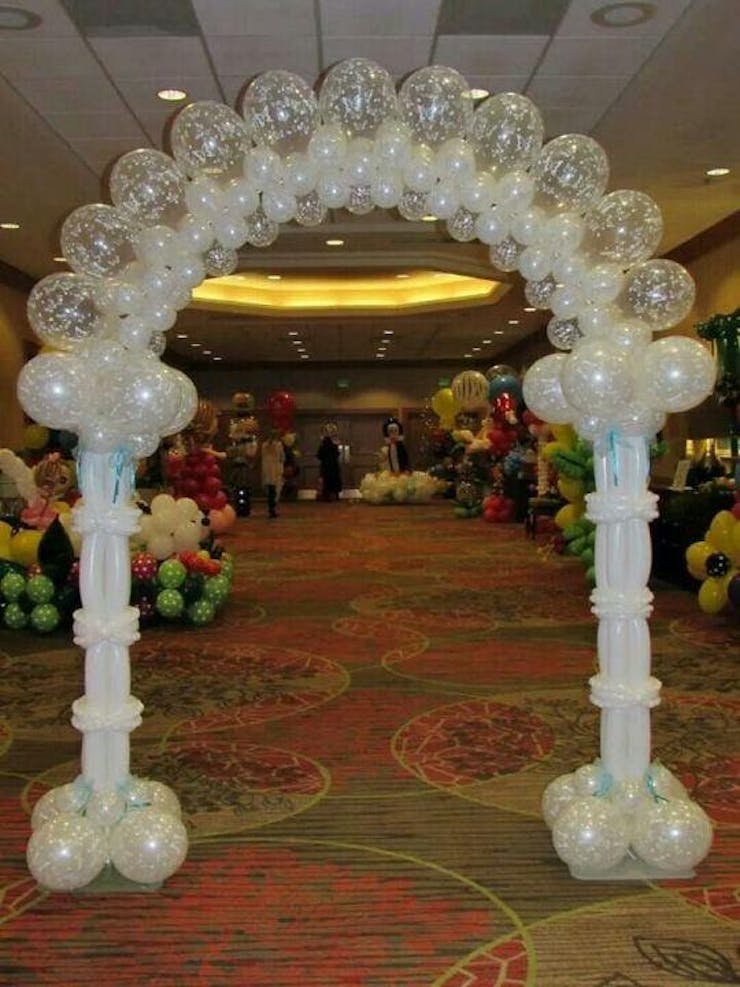 Also Read: 7 Beautiful Stage Decoration Ideas For Haldi Ceremony
4. The Half-Spiral Creative Backdrop
         Now, this is one of the most amazing wedding decoration ideas. A combination of blue and golden blown-up balloons added together in a large metallic ring will work as an awesome interior design for your wedding venue. This beautiful decoration can be used for stylish and fun photoshoot props. You can also create these arches for guest table decoration to offer the food tables a vibrant look.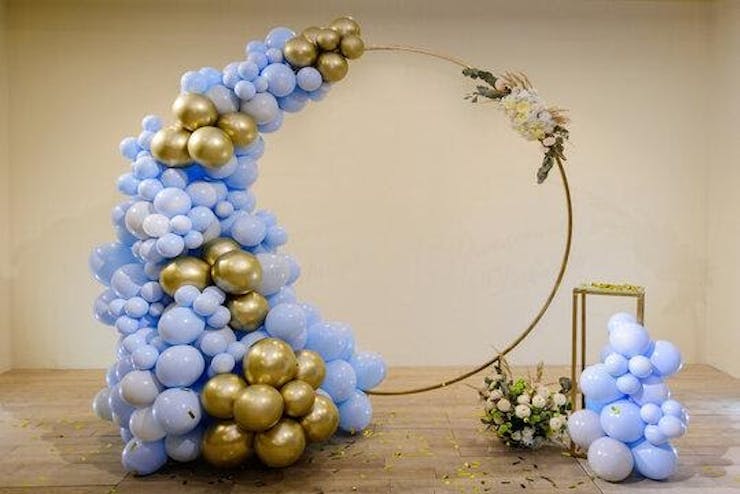 5. Beautiful Balloon Garland
         You can replace the traditional floral garland with the dynamic balloon garland in your wedding event. It could be also a party theme. You can choose light color balloons to bring the perfect ambiance to a wedding. This eye-catchy balloon garland will work as a super chic background for a unique photoshoot. This is a perfect example of creative wedding decor.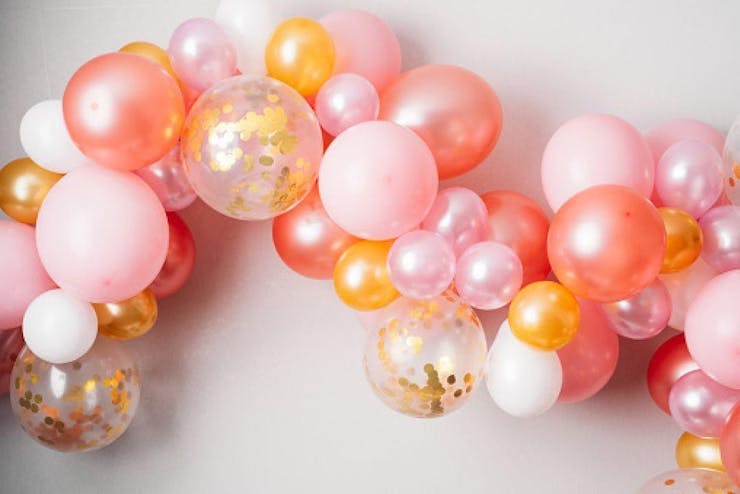 6. Enhance Your Food Table With Balloons
         Are you planning for a wedding cake ceremony at your Indian wedding? People are looking for new and unique ideas to celebrate their wedding. One such moment is cutting a wedding cake at your reception. Cake cutting is considered a lucky omen. So, why not include it in your wedding by decorating the center stage or food table with double arched balloons. To provide it an elegant look you can put LED light inside the blown-up balloon. This decoration always wow guests and make a greater impact.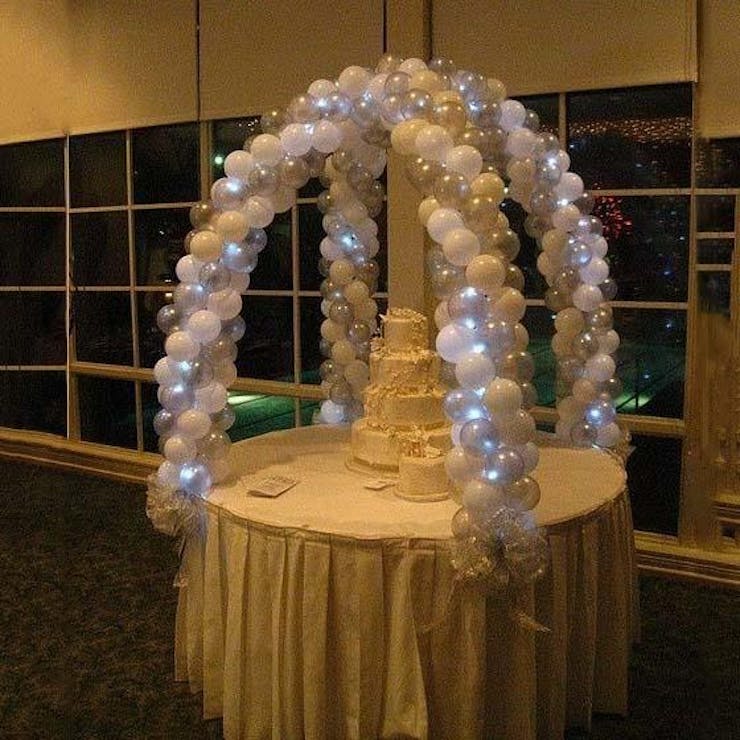 7. The Sunshine Arch For The Haldi Ceremony
         If you want something unique in your haldi decor then give it a try to this cheerful balloons decoration ideas. Do something different in haldi event decoration by replacing the usual marigold flowers with beautiful yellow balloons. These fancy balloons glow in the daylight and provide a gorgeous appearance to the bride sitting in front of it.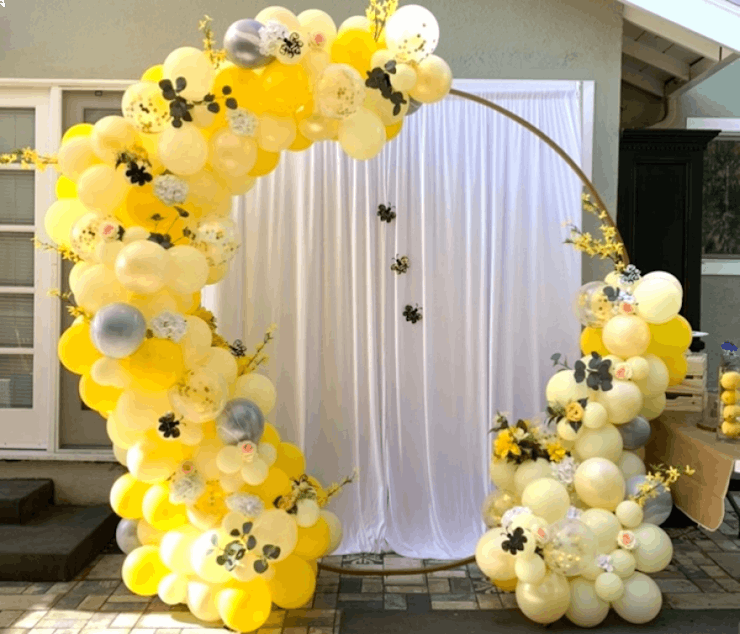 8. Beautiful Balloon Decoration, Splash Of Rainbow
         Are you trying to draw your guest's attention with a colorful flower entrance? Wait. We have something more wonderful to offer. What about decorating your wedding venue entrance with a rainbow arch made of balloons? Isn't it a cool idea? These colorful balloons brighten the venue and create a fun-filled environment. Moreover, this is one of the most simple balloon decoration ideas.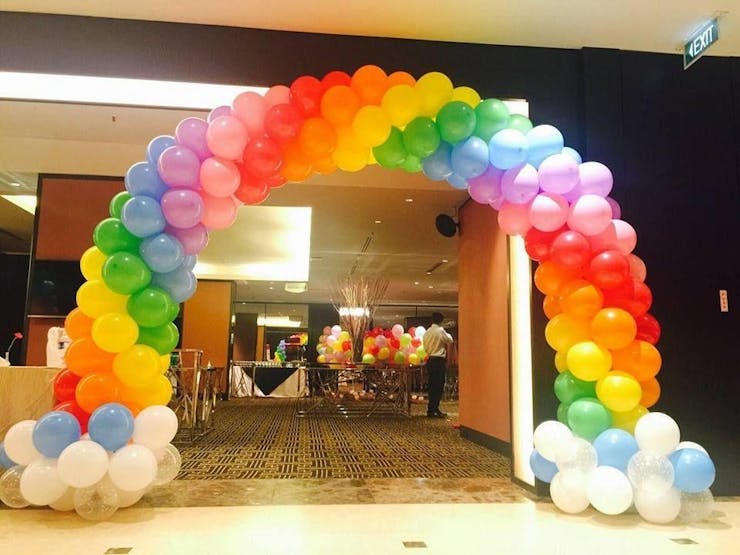 9. Dreamy Pink And White Decor
         To bring an aesthetic look to your wedding reception hall, the combination of a pink and white balloon arch is a great option. This gorgeous arch will make you feel like you are stepping into a dreamland. Installation of these pretty balloons from top to bottom of the walls can offer you some awesome pictures of your special event.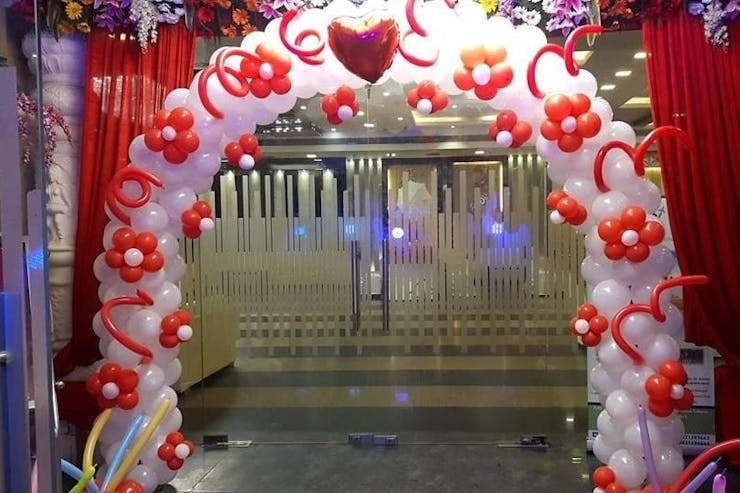 10. Floral Balloon Decoration Gate
         This one is an extraordinary balloon decor ideas and one of the popular wedding themes. The pair of white and red balloons set the mood for a joyful wedding event. This balloon décor is perfect for any occasion. Children have an immense love for these bubbly and floral balloons. This nice decoration will show your creativity at the best level.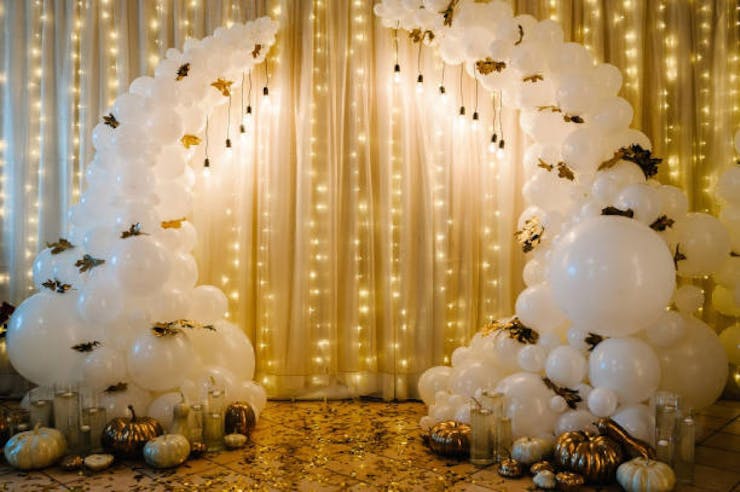 11. Simple Stage Decoration With Balloons
         Give your reception stage an artistic touch by decorating an angular half-circle on both sides. To enhance the beauty you can add some decorative props and bring grace by lighting the backdrop. The luminescent lights will create a stunning display that would be perfect for the wedding couple and guests to be photographed in front of it. This kind of room decoration with balloons is worthy for a memorable wedding event.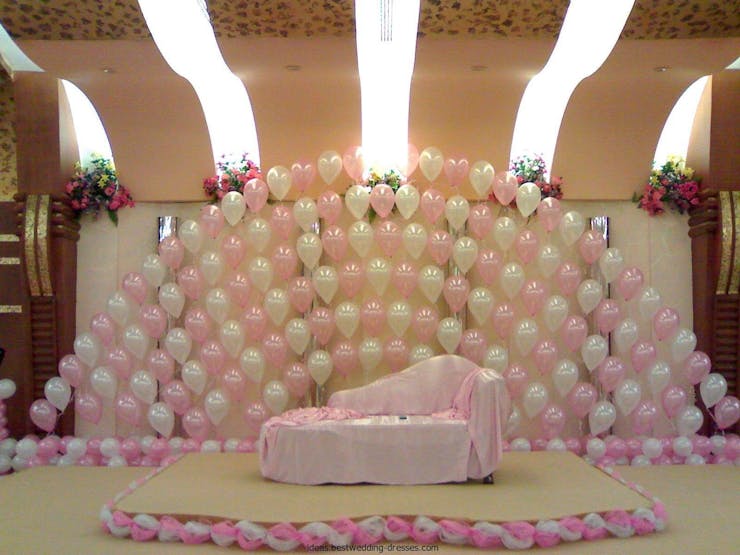 You can also look for balloon bouquet ideas to achieve a fabulous look in your event decorations. So, these are some of the best arch decoration ideas trending on the Internet.
 Are you also planning for balloon installation in your wedding decorations? You can connect with a wedding planner to help you with the creative decoration of your wedding venue. Events Gyani is one of the best event planner in Kolkata who manages memorable events on an affordable budget.