Everyone dreams about a memorable wedding décor that looks beautiful in photographs. Every little décor element plays a major role to make your special day decoration more beautiful and picturesque. The ceiling décor at a wedding venue is one such element that always grabs the attention at first sight. A dreamy ceiling décor will make you feel proud of your unique wedding decoration. Today you will get endless options to decorate a ceiling. But in the olden days, colorful drapes or traditional flowers like marigolds were used for ceiling decoration. Couples are looking for a creative and unique ceiling décor to make their wedding decor the most beautiful one. A famous wedding event planner in kolkata, makes sure to add unique décor elements in the ceiling décor that can match the wedding theme.
Being one of the best wedding planner in kolkata, we have shared here a range of ways that couples can choose a breathtaking ceiling décor for weddings.
1. A Dreamy Chandelier Ceiling Décor
Chandeliers are the most beautiful décor elements in Indian wedding events. It can draw your attention and gives a dreamy touch to your wedding theme. This serenity of many chandeliers decorated along with beautiful drapes is class apart. This dreamy ceiling décor makes your wedding entrance fully magical.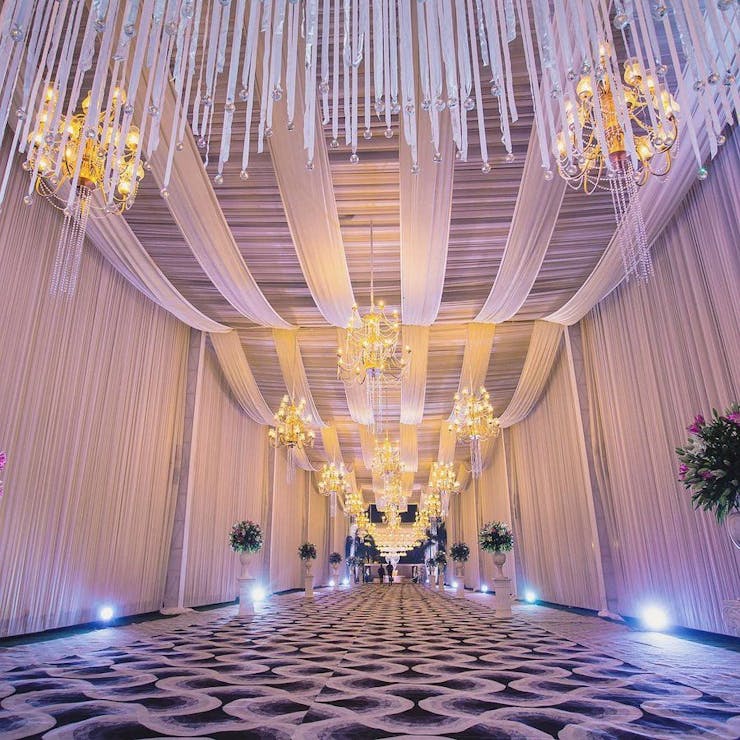 Recommended: Top 13 Ring Ceremony Decoration Ideas – Events Gyani
2. Heavenly Tassel Ceiling Décor
One of the most beautiful hanging ceiling décor wedding ideas is a tassel ceiling. Decking up your wedding mandap with a thread tassel can add that extra charm to your mandap setup. White tassels hanging from the structured ceiling look so breathtaking in the daylight. This tassel decoration can add serenity to your wedding venue.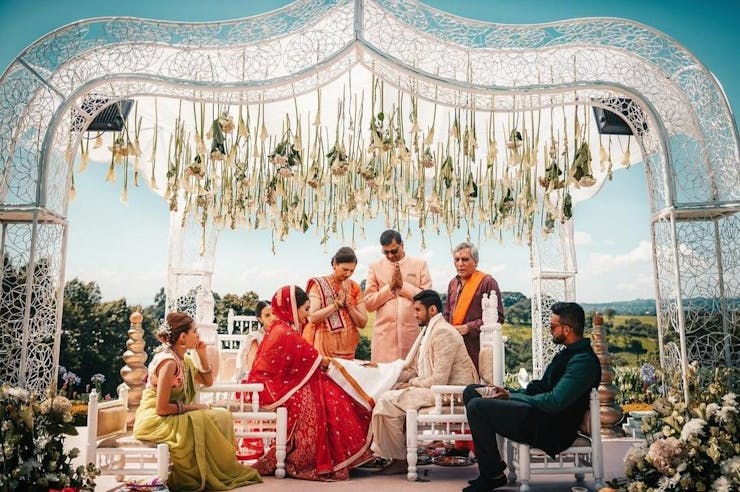 3. A Starry Night Ceiling Décor
If you want to leave your guest mesmerized by the beauty of wedding venue decoration, then you must choose fairy light ceiling décor. These dainty lights can add some extra twinkle to your wedding decoration. The charming elegance of twinkle fairy lights goes well with a fairy tale wedding theme. This kind of fairy light ceiling decoration is the most suitable option for subtle and elegant wedding theme ideas.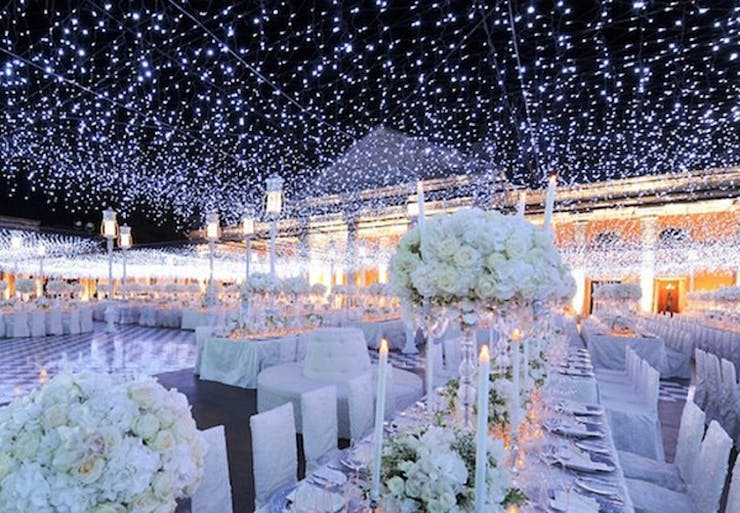 Also Check: 13 Stunning Wedding Car Decoration Ideas You Can Use For Marriage
4. Cascading Floral Ceiling Décor
A floral decoration looks amazing and aesthetically pleasing to the eyes. The grandness and exuberance of this floral decoration for wedding events are truly admirable. Bring your fairy tale moments to life by decorating the ceiling with aromatic flowers. The spiral shape of this ceiling could be the major highlight of wedding decoration.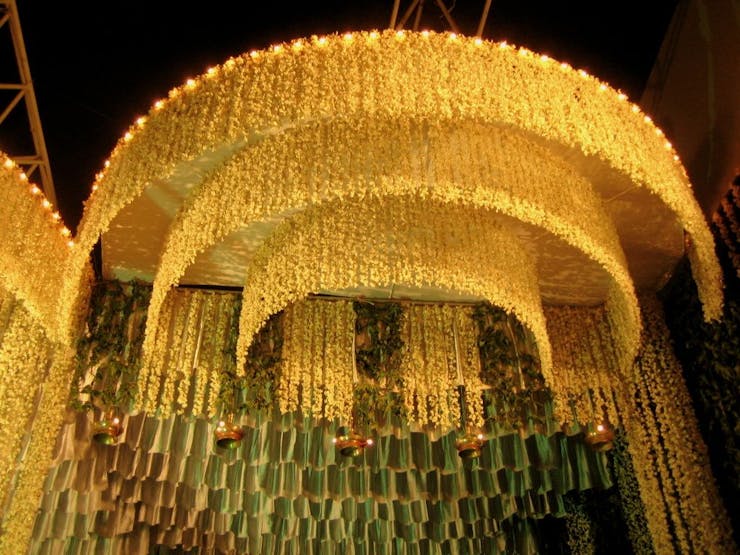 5. Eye-Catchy Drapes Ceiling Décor
A colorful drape ceiling is a perfect option to turn a wedding venue into a magical oasis. A colorful drape can add a classic touch to your Indian-themed wedding. Bold and red color drapes look festive and captivating enough for a grand wedding function. This kind of color coordination in a wedding ceiling décor will impress your guest with its royalty.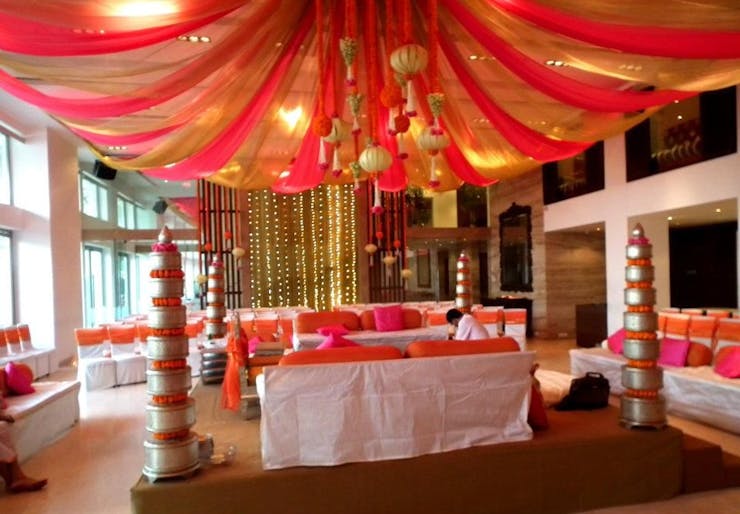 6. A Fairy Tale Inspired Ceiling Décor
Highlighting the dining space in a wedding venue with some appealing décor elements can make it more unique. You could hang paper lanterns from the ceiling to create an unforgettable dining experience for your guests. This beautiful ceiling will leave your guests mesmerized by the charisma of the ceiling décor.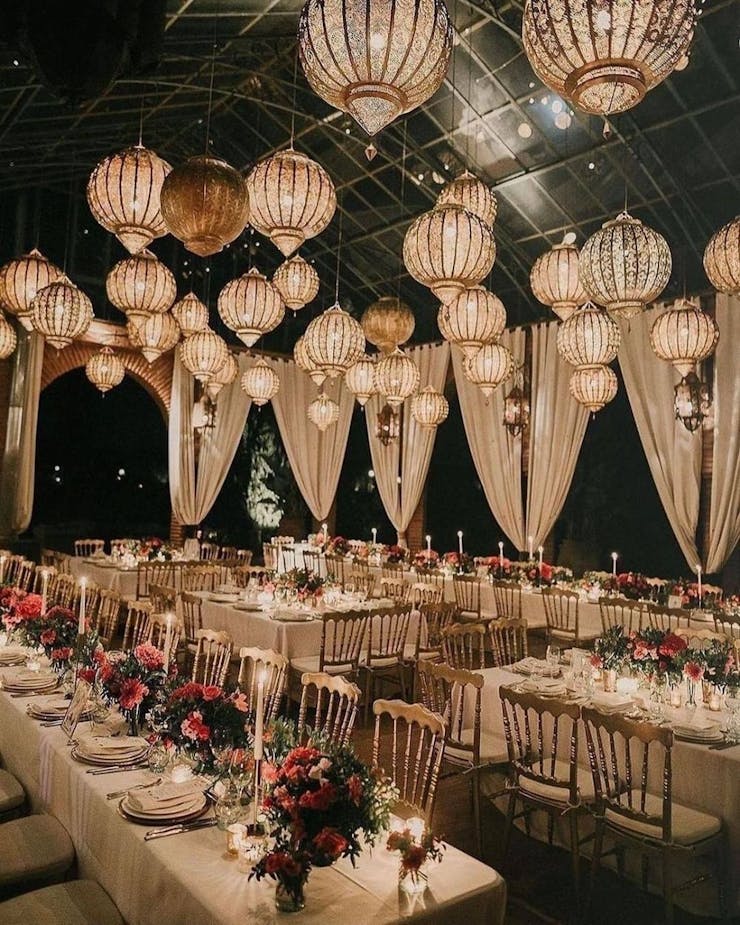 7. Traditional Charm Of Bells & Flowers Ceiling Décor
Bells are symbols of divinity in our country. Adding these auspicious elements to your wedding décor will leave a serene aura all around. We love this beautiful mandap created with an eye-catchy ceiling of hanging flowers and tinkling bells. Infusing mogra or rose garland between the ceiling décor will make the whole setup much dreamier.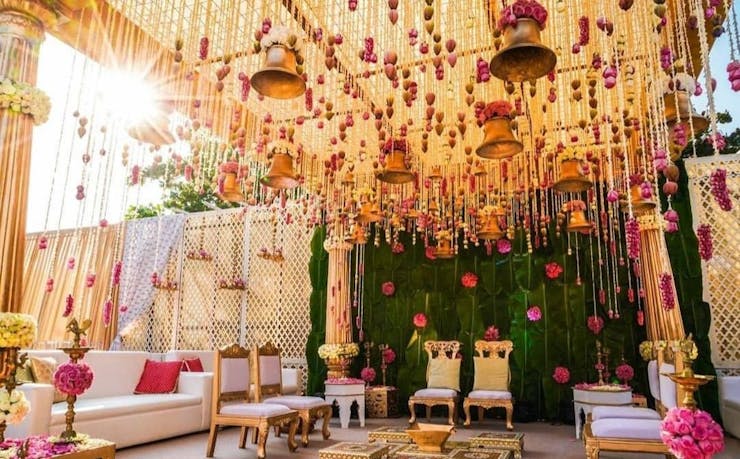 8. A Sparkling Sky Décor For Wedding Celebration
Adding disco balls to wedding decorations is a new concept. These iconic centerpieces when added to ceiling décor offer a shiny appearance and also make the mood for a party night. Disco light ceiling decor is the best decor element for fun-filled events like sangeet ceremonies. It sets the right mood to rock the dance floor.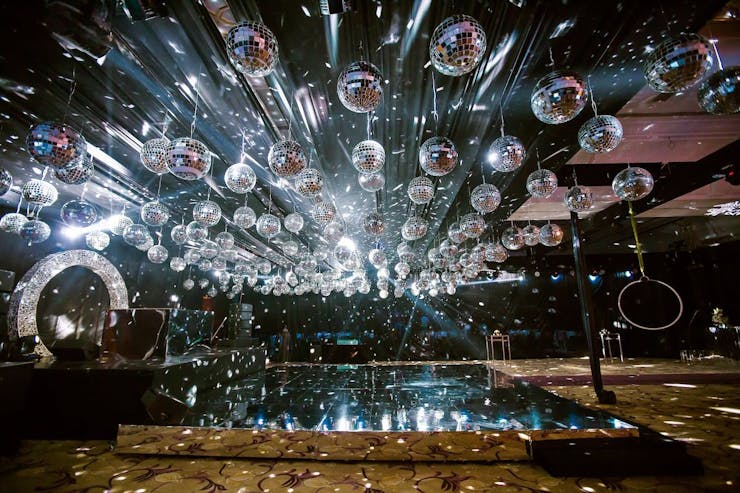 9. Breathtaking balloon Ceiling Décor
Balloons are only considered a décor item for anniversaries and birthday parties. But believe us balloons are a very popular choice for wedding venue ceiling decoration ideas. Decorating a ceiling from balloons in contrasting shades of pastel made the ambiance of your wedding more fun. The balloon decoration is one of the most beautiful sights at your wedding.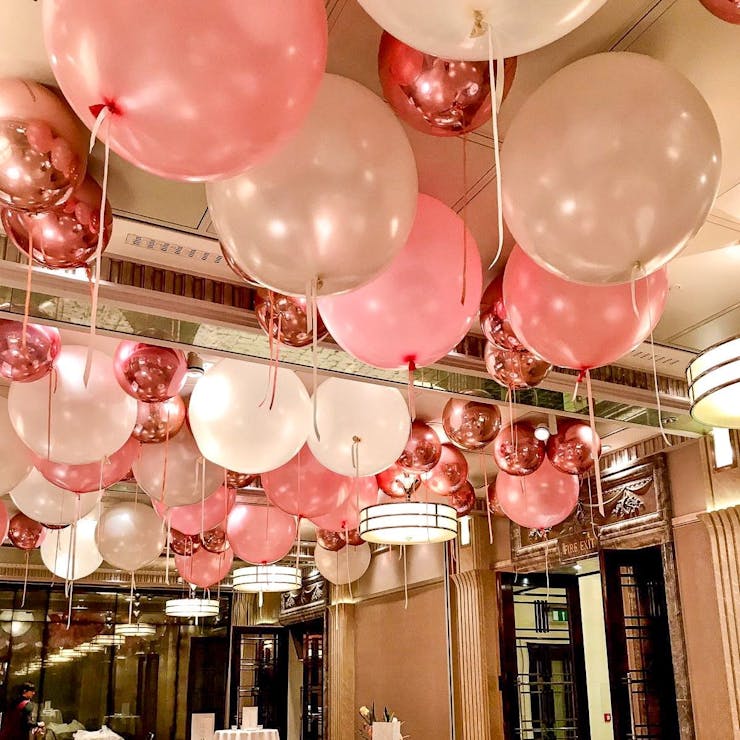 10. A Huge Floral Canopy Ceiling Décor
A hanging floral canopy made of exotic white flowers entwined with one another look stunningly beautiful at the first sight. The pleasant aroma of these fresh flowers pleases your guests and beautifies your wedding function. The combination of a floral canopy and a pastel drapes in a ceiling décor is a cherry on the top.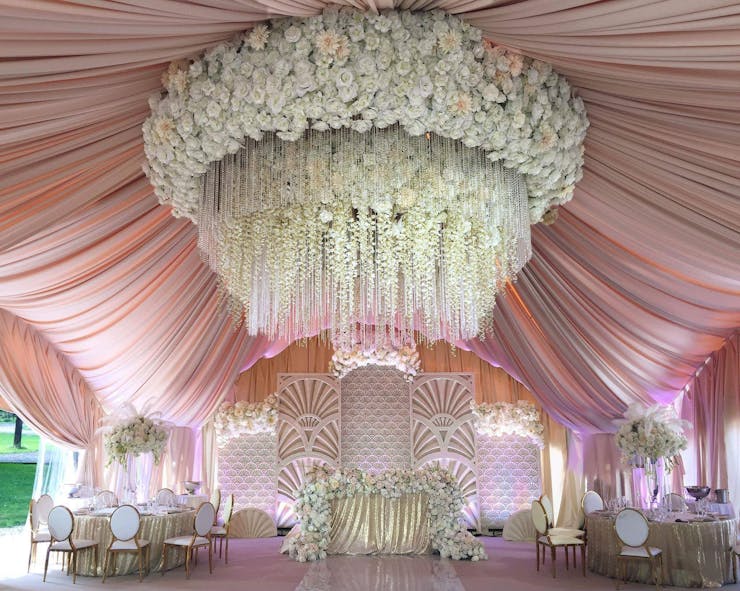 11. Most Alluring Hanging Floral String Ceiling Décor
A mogra ceiling at a wedding venue is one of the prettiest ceiling décors. The pleasing aroma of fresh mogra makes everyone happy. The endless rows of mogra garlands create a waterfall effect on the ceiling of your wedding venue. The beauty of such an aromatic ceiling décor leaves all the guests mesmerized.
12. Shimmery Gold Ceiling Décor
Decorating your venue ceiling with golden décor elements can provide a royal feeling. Shimmery golden tassels and fabric fans hung on the ceiling area make it regal and unique outdoor wedding decorations. These shimmery hangings can add a classy touch to your wedding decorations.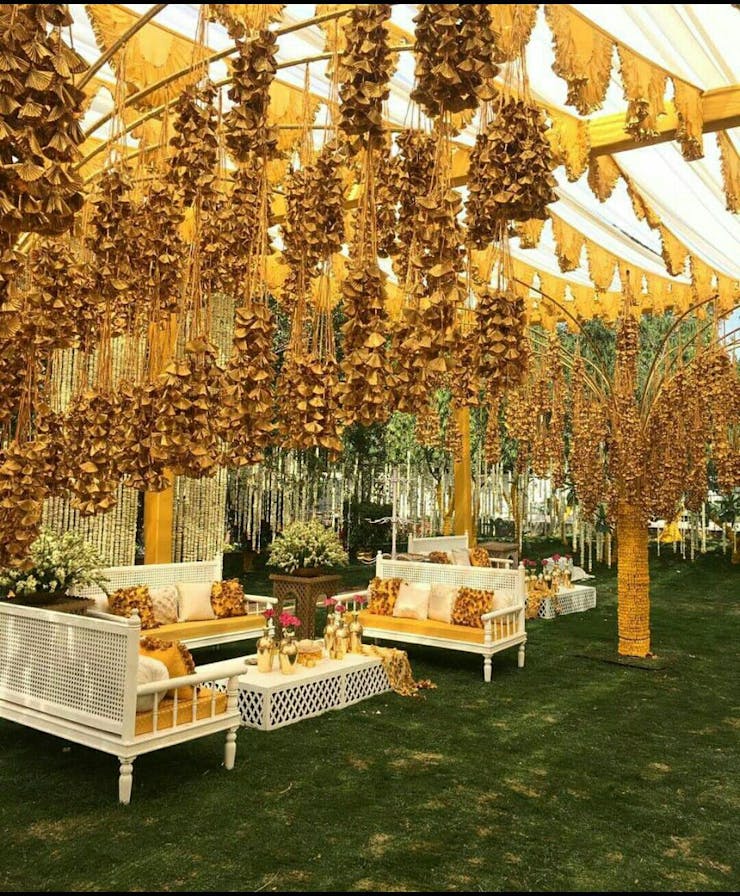 13. Eco-Friendly Lush Green Ceiling Décor
If you prefer a nature-themed wedding then you will love this immensely beautiful ceiling décor. The cascading ferns and foliage hanging from the ceiling leave a fresh vibe at your wedding venue.