An engagement ceremony decoration is getting a lot of importance these days. Couples want to make their life-changing "yes" the most memorable day of their lives. Hence, to plan a captivating engagement event you need to focus not only on your stunning look and precious ring design but also on the venue decoration. With constant creativity in Indian wedding decoration, many amazing themes have been introduced by popular wedding event planner in kolkata. Event decors like a tassel ceiling, floral carpet, and regal chandeliers have now bloomed up to be one of the fanciest and awe-inspiring ring ceremony decor. Planning a lavish and grand event is not a daunting task anymore. Events Gyani feels happy to share with you the top 13 unique and enchanting ring ceremony decoration ideas to make your engagement décor a phenomenal one.
1. Lovely Ring Shape Floral Decor
The ring shape stage decoration looks extremely beautiful in a ring ceremony event. This pretty floral ring décor is quite adjusted with the rest of the theme. This is an ideal theme for a memorable ring ceremony. Contact the best wedding planner in kolkata to plan a mesmerizing engagement ceremony decoration. You can use seasonal flowers and foliage to design an eye-pleasing floral ring.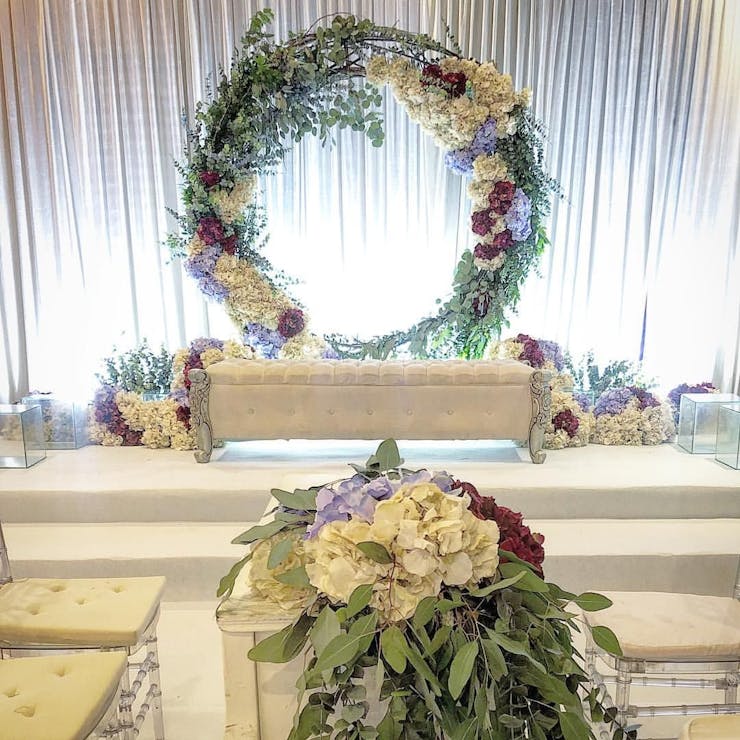 Recommended:13 Stunning Wedding Car Decoration Ideas You Can Use For Marriage
2. An Elegant White Themed Decor
Bright and beautiful white theme engagement décor looks ravishing and leaves your guest awestruck. A pristine white color stage symbolized purity and subtleness. It also adds a graceful charm to your ring ceremony. White theme decoration ideas for ring ceremony look eternal and catches your guest's attention instantly. The fusion of white structured walls and flowers is a true example of a lavish décor.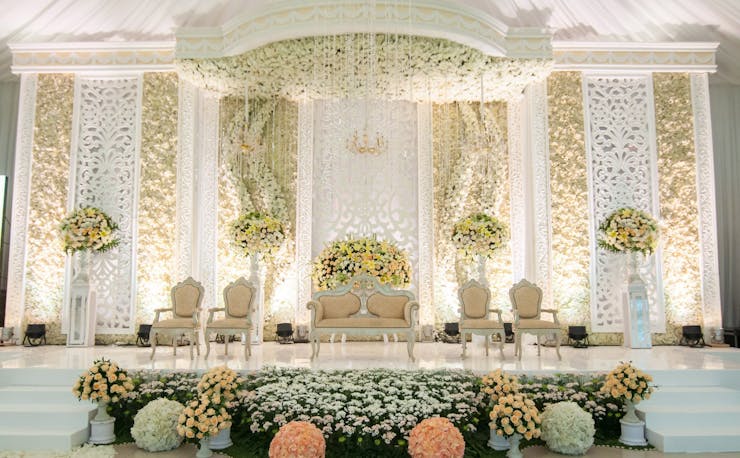 3. A Shimmery Fairy Tale Decor
The whimsical aura of this sparkling stage decorated with shimmery blue tassels and candles lights adds a magical essence to your engagement venue. Such a cascading ceiling with shimmery hangings is soothing for the eyes. This kind of ravishing engagement décor creates fairy tale engagement pictures.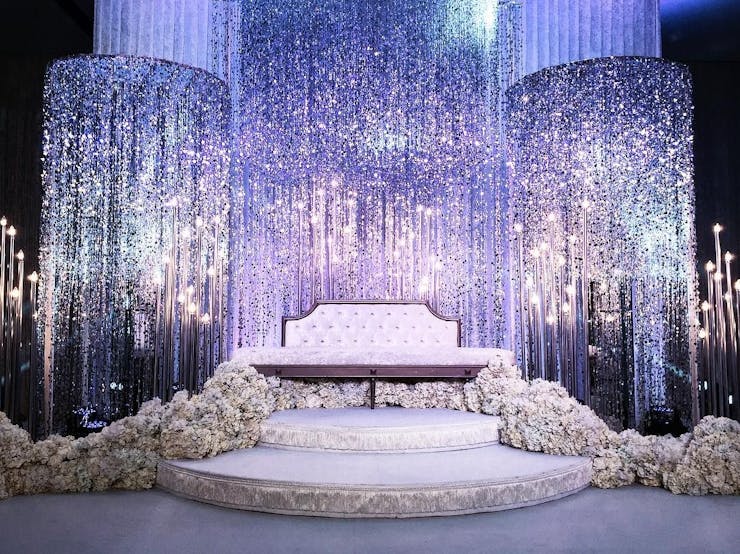 4. Dreamy Chandelier Decor
An intricate design golden metal structure with multiple chandelier hangings offers you a luxurious feel. This kind of royal ring ceremony state decoration ideas becomes the highlight of your grand ring ceremony. This kind of dreamy chandelier decoration with an antique decorative sofa is an ideal option for an outdoor engagement event. The vintage chandelier hanging from the ceiling adds an oomph factor to the whole decoration.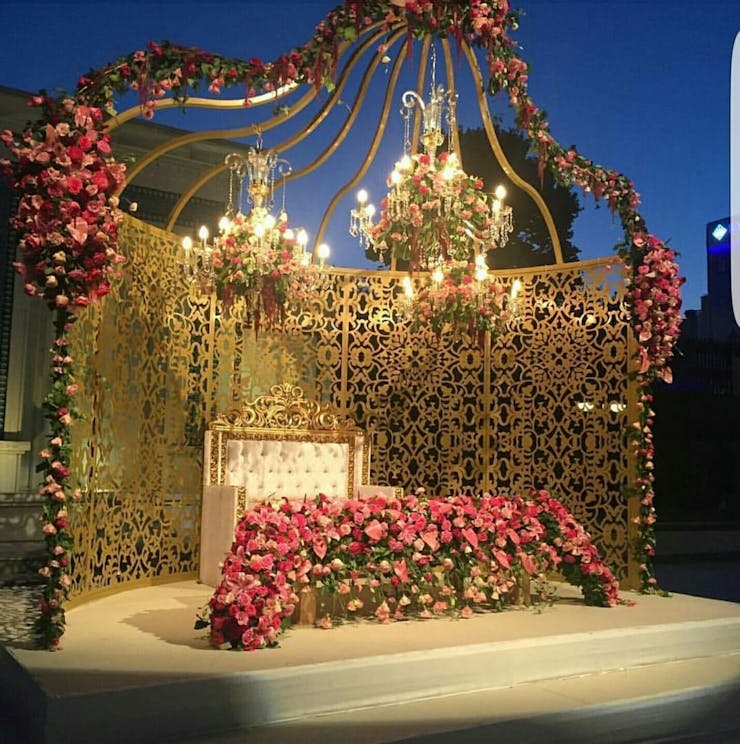 5. A Breath-Taking Canopy Decor
The serenity of this floral canopy is class apart. Flowers like jasmine adds a heavenly feel to your ring ceremony decoration. This kind of floral canopy made of long garlands of fresh jasmine flowers is a visual treat for your ceremony. This kind of ring ceremony flower decoration adds a classy touch to the entire stage. The enchanting charm of the silver and white stylish sofa and fresh flower blooms makes your event a true delight.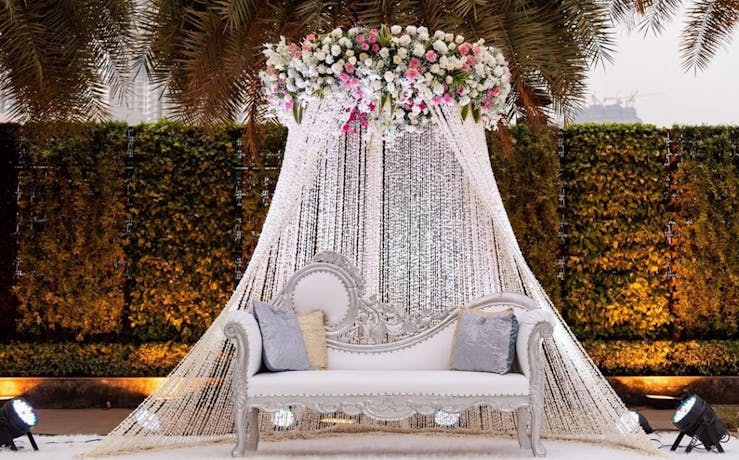 6. Heavenly Petals Decor
Have a look at the wonderful decoration of this surreal venue. This kind of flower decoration for ring ceremony can undoubtedly leave your guests spellbound. The pristine white flowers, a dreamy floral pathway, and a royal chandelier hanging from the middle of the ceiling; are one of the fanciest forms of venue décor. The fresh flower petals make the entire pathway visually appealing.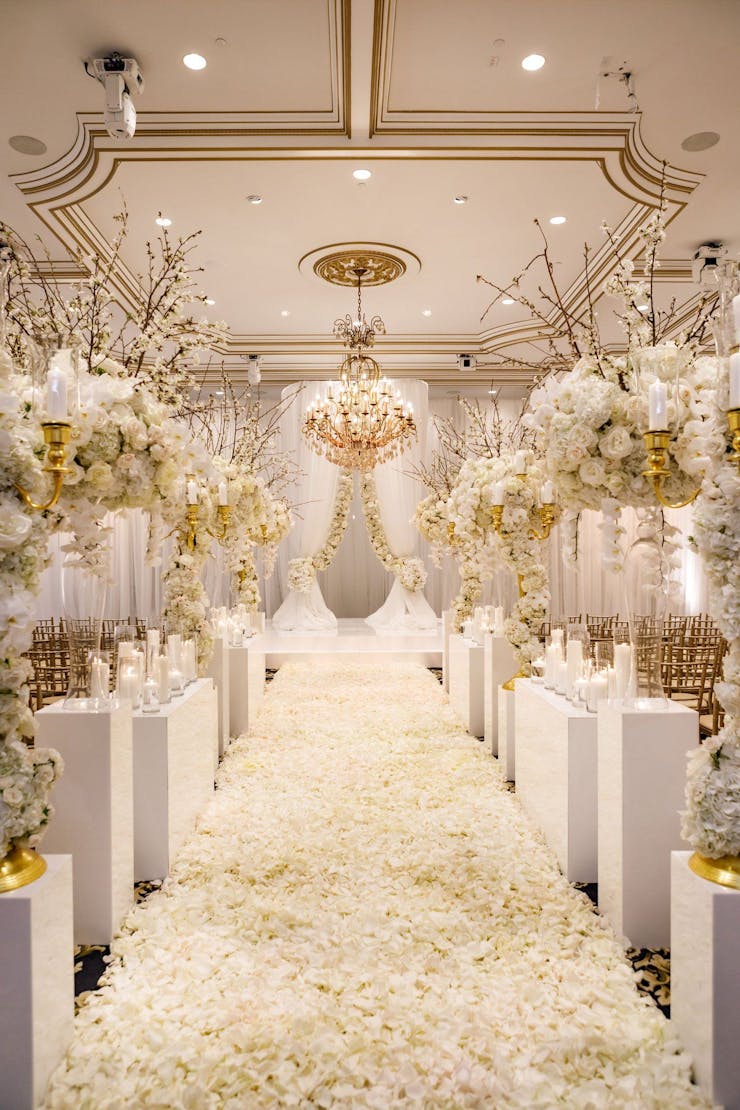 7. A Simple & Devotional Decor
Almost all traditional Indian events begin by seeking the blessing of Lord Ganesha. So if you are looking for a traditional venue decoration then this kind of religious and devotional backdrop will be the perfect theme for you. The green backdrop and floral arrangement of this engagement décor results in traditionally beautiful and graceful settings.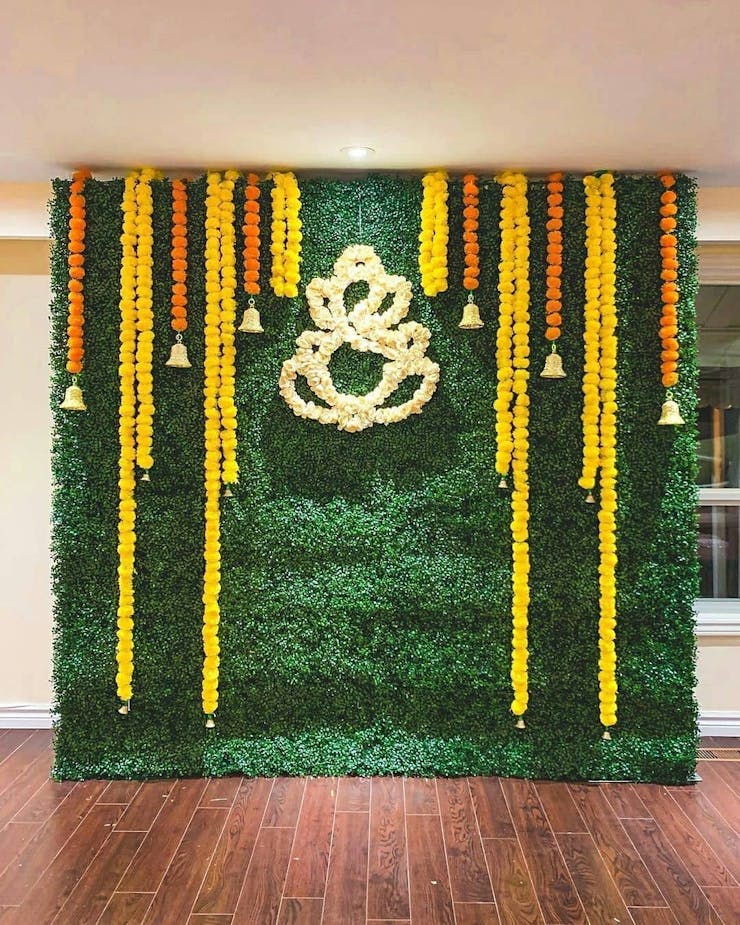 8. An All Floral Wall Decor
The massive floral wall decoration is one of the best engagement decoration ideas. This kind of rose floral backdrop is perfect for the couple who love all things subtle. The beauty of this heavily decorated floral wall is truly magical and beyond words. To enhance the beauty of this elegant floral backdrop you can add an antic flower basis.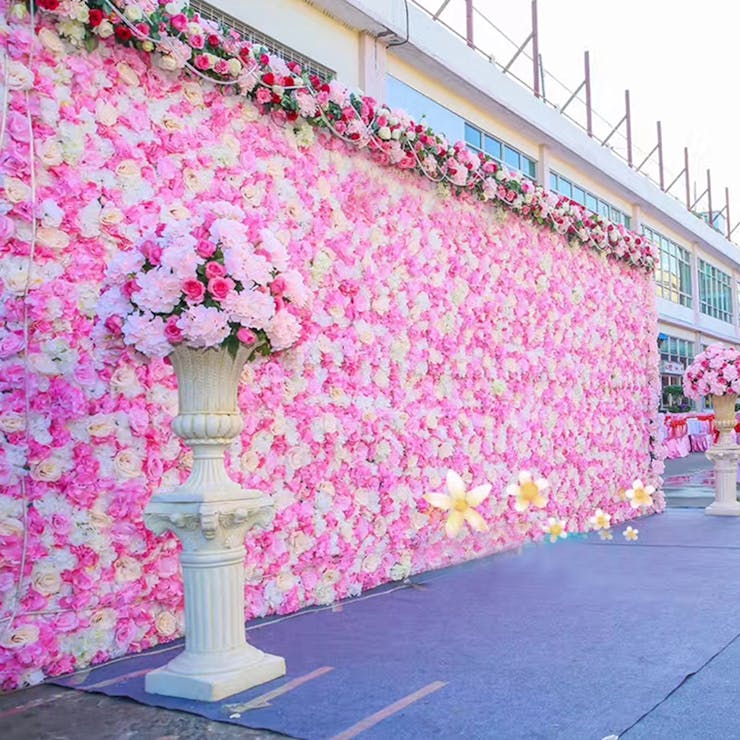 9. Stunning Pastel Drape Decor
Another dreamy ring ceremony simple decoration is a pastel drapes backdrop. The satin drapes in pastel pink color are an ideal option for a romantic photo frame. The absolute beauty of this simple décor is exactly what dreams are made of to make it more beautiful you can add some additional décor elements like flowers, lanterns, and fairy lights.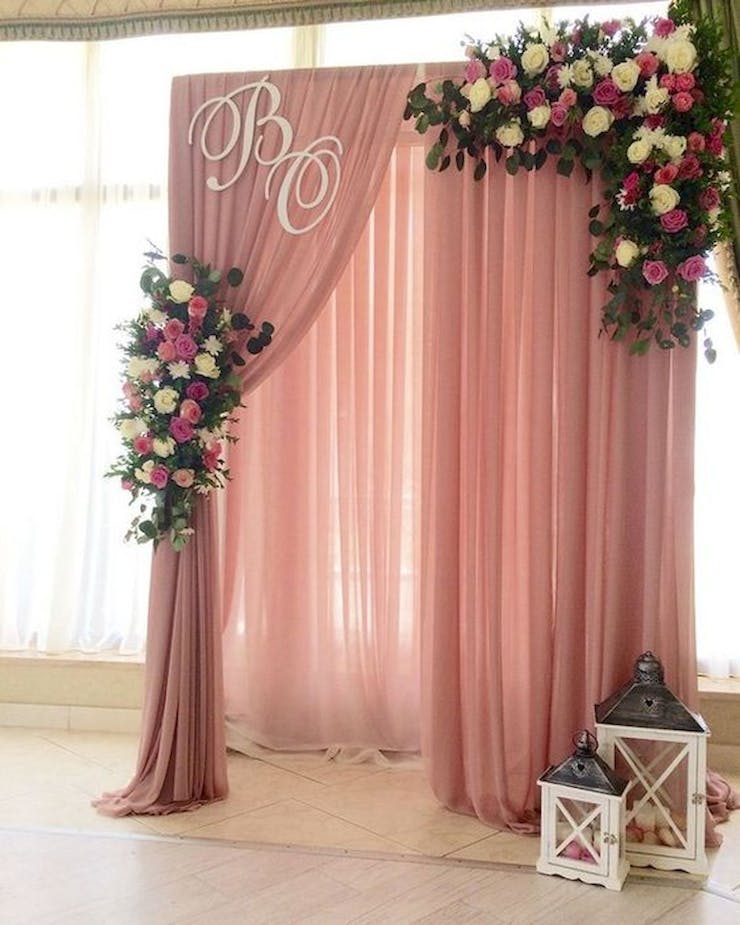 10. Romantic Heart Theme Decor
To add a romantic vibe to your engagement ceremony you can try this heart shape engagement flower decoration. The subtle pink hue of this floral heart with a starry night backdrop is a dreamy decoration that makes your event a memorable one. This conventional and elegant ring ceremony décor idea can create a romantic engagement story.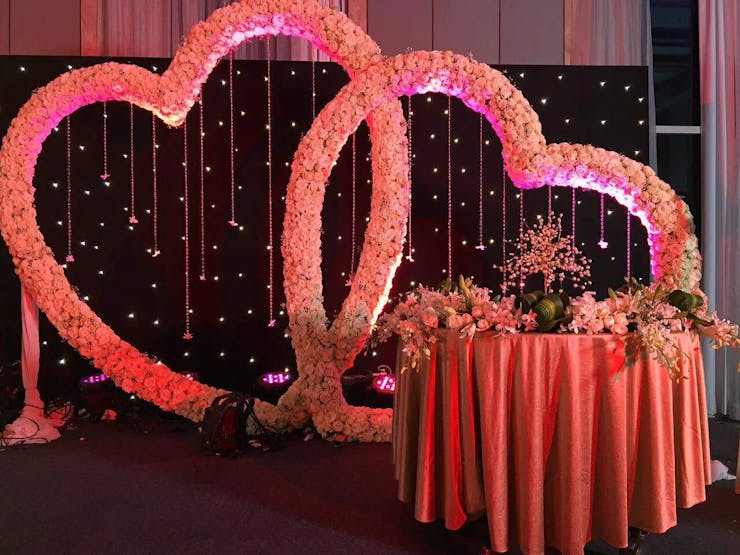 11. Classy Geometric Patterned Decor
The rustic-hued geometric patterns decorated on a purple stage backdrop can accentuate the beauty of your engagement stage. This creative masterpiece is a fine example of natural charm and rustic vibes. Try this pretty engagement theme décor to celebrate a fairy tale engagement.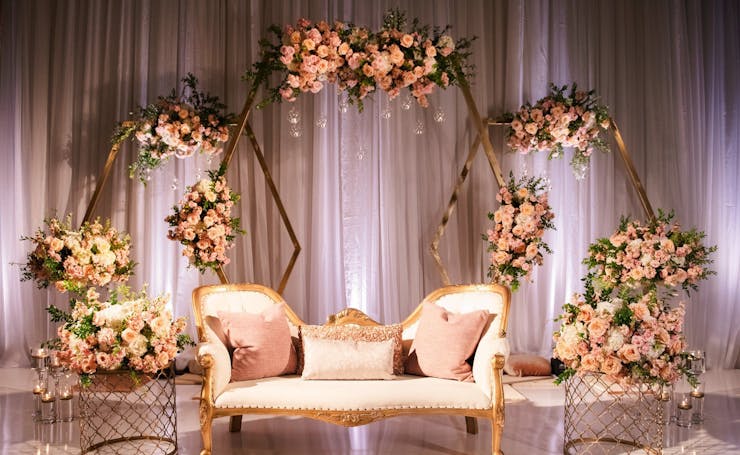 12. Spectacular Floral Swing Decor
The floral swing has become a new trend in engagement ceremony decoration. The gorgeous addition of a floral swing in an engagement event can easily grab your guest's attention. This colorful swing décor is best for daytime engagement celebrations. You can add floral hanging tassels on the swing to enhance the charm of this colorful theme.
13. Whimsical Bohemian Decor
The breathtaking bohemian style engagement décor is a unique engagement decoration the rustic vibe of the boho theme looks amazing in an indoor engagement event. This stylish and creative theme will be a jaw-dropping décor for your classic ring ceremony.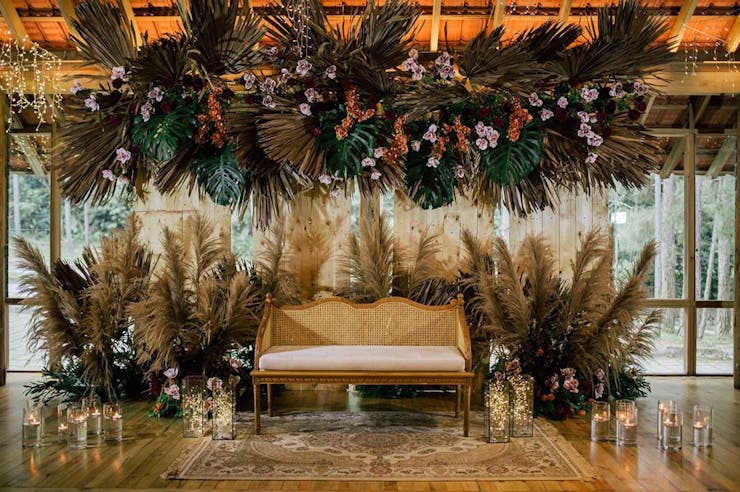 So this way you can accentuate the beauty of your engagement venue to make it the most beautiful moment in your life. Bookmark the ring ceremony decoration ideas that suit your personality and contact a well-known wedding decorator to plan a lavish engagement event.