Décor items like photo booths can make your wedding events more colorful and fun. The photobooth is an interesting element that every guest wants to have at the wedding. Installing a photo booth at the wedding venue gives everyone a chance to capture some sweetest memories of the wedding. Photobooths are gaining more popularity in Indian weddings thesedays. Best Wedding planner in kolkata is constantly surprising us by introducing new and unique photo booth ideas for weddings. A photo booth also serves as spectacular wedding décor in Indian weddings. It adds an unique twist to your wedding theme.
So, how to choose a perfect photo booth? Read this interesting guide on photo booth ideas for wedding decoration and get ready to click quirky poses with it.
1. Floral Frame Photo Booth Ideas
A floral frame like this can add a wow factor to your wedding pictures. Fully decked-up flower pillars offer visually appealing pictures of some cute moments. This is one of the most popular choices of event management company kolkata to make a classic floral décor.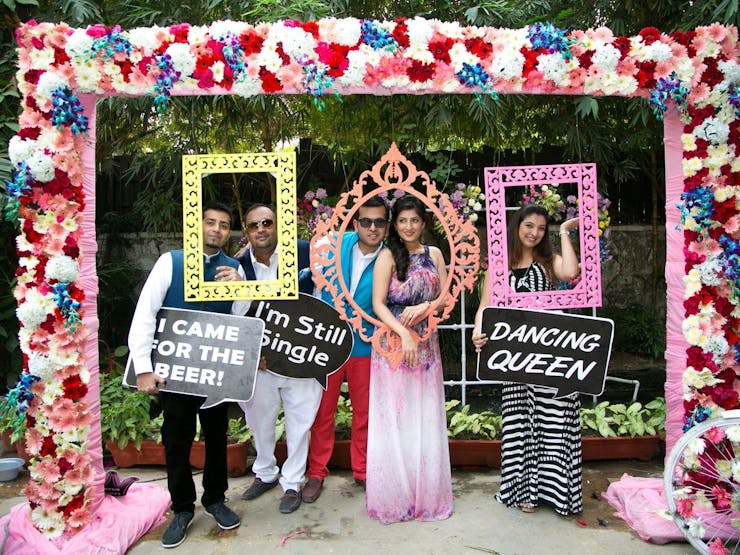 Recommended: 13 Latest Engagement Stage Decoration Ideas In 2022
2. Photo Booth Ideas For An Insta-Worthy Shot
Couples are opting for social frames to create fun-filled wedding memories. These are the most unique selfie point ideas that you can choose to capture an Insta-worthy pose. These social frame photo booth ideas are becoming very popular in engagement and pre-wedding events. This social media photo booth is a unique décor that everyone will love.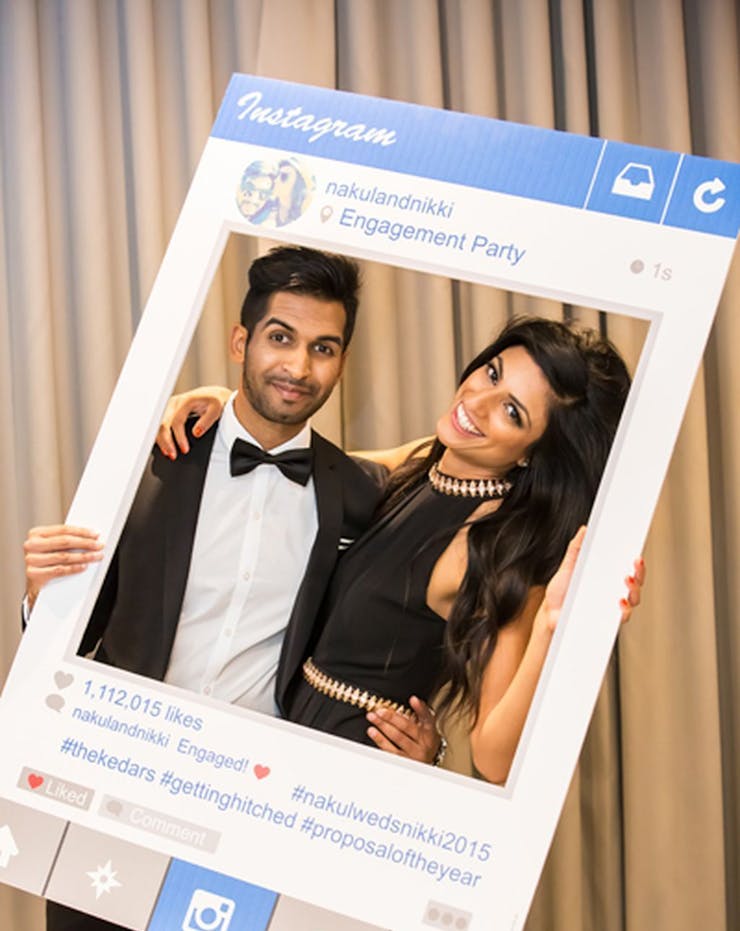 See More: Top 13 New & Unique Bridal Entry Ideas For 2022
3. Blissful Ride Photo Booth Ideas
Props like a bicycle or an old rickshaw decorated with flowers will steal million hearts. Adding these hand-decorated vehicle props to your wedding venue will offer a dramatic look to the entire wedding theme. This quirky photo booth design is a perfect option for your desi guests.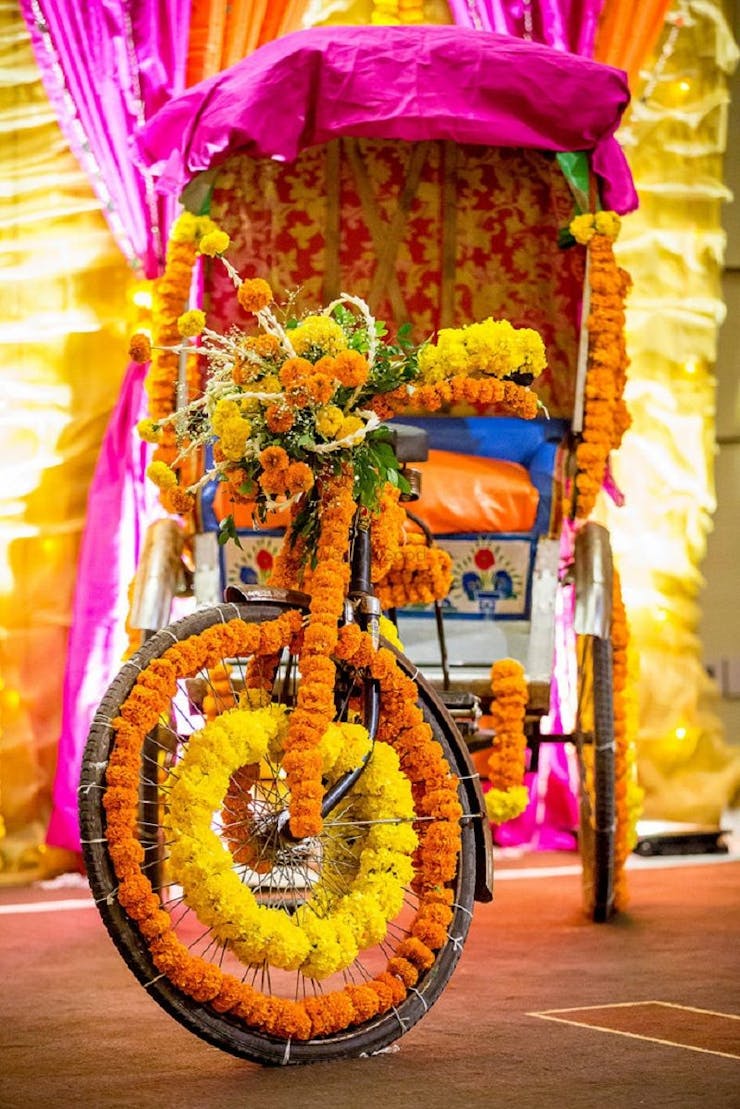 4. Fancy Hangings Are The Best Photo Booth Ideas
When it comes to wedding decoration fancy photo booths are the first thing that comes into a decorator's mind. This selfie booth ideas for wedding is a wonderful prop for clicking some romantic and fun-filled pictures. Let your relatives, guests, and loved ones enjoy the dramatic appeal of this fancy photo booth for wedding.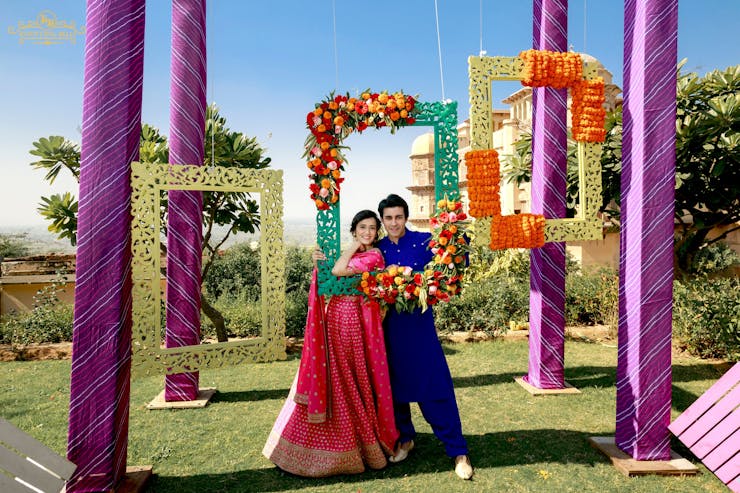 5. Whimsical Floral Wreath Photo Booth Ideas
A floral wreath décor is one of the most beautiful photo booth backdrop ideas. This gorgeous addition to the wedding venue can leave everyone amazed by its beauty. This can be a great prop for outdoor venues and daytime events. Whether it's a solo pose or a couple pose, a floral wreath will add a modern twist to your wedding pictures.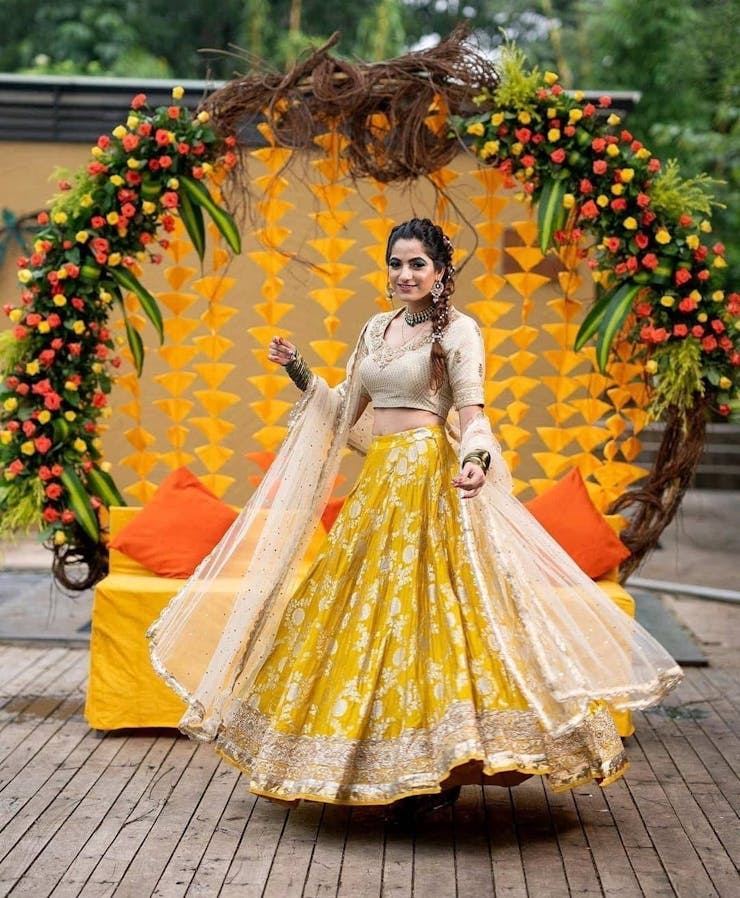 6. Creative Photo Booth Ideas
If you want to rock your intimate wedding then you must try DIY photobooths. These paper fans and colorful ribbons decor give you a perfect photo booth for clicks. This kind of colorful wedding photo booth props is a great wedding decor for vibrant functions like a Haldi or Mehendi ceremony.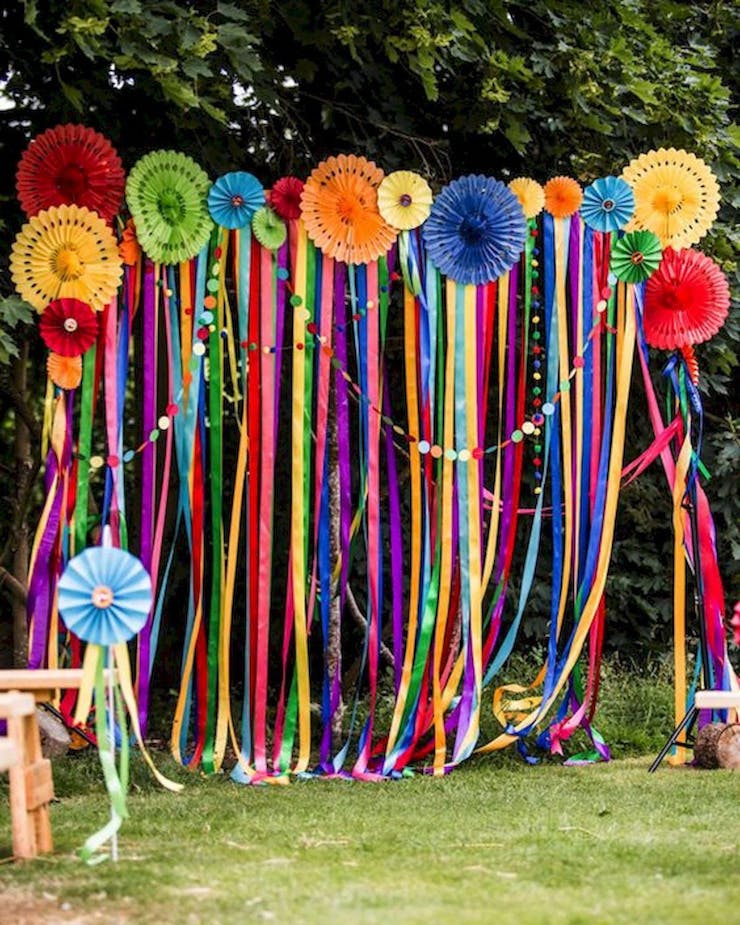 7. The Traditional Photo Booth Ideas
Marigold flower décor is an integral part of Indian wedding events. This vibrant bloom adds a perfect vibe to a wedding. A stunning marigold installation looks marvelous in an Indian wedding function. This floral photo booth decoration ideas are a great option for a cheerful family pose.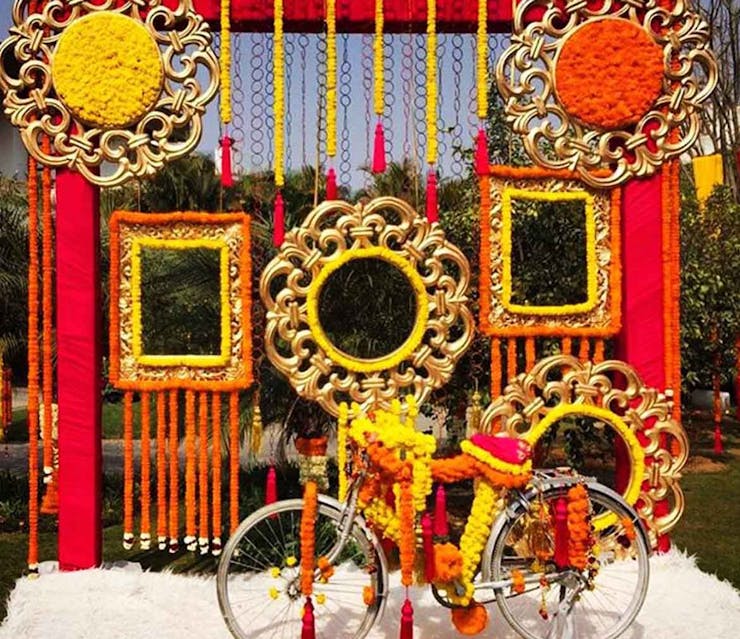 8. Colorful Photo Booth Ideas
Adding a little creativity to your wedding décor can give you a spectacular photo booth backdrop. This kind of wedding selfie point decoration created with paper flowers and colorful hangings is a perfect décor idea for a photogenic couple. This colorful photo booth will attract the guests' eyes and look surreal at your wedding.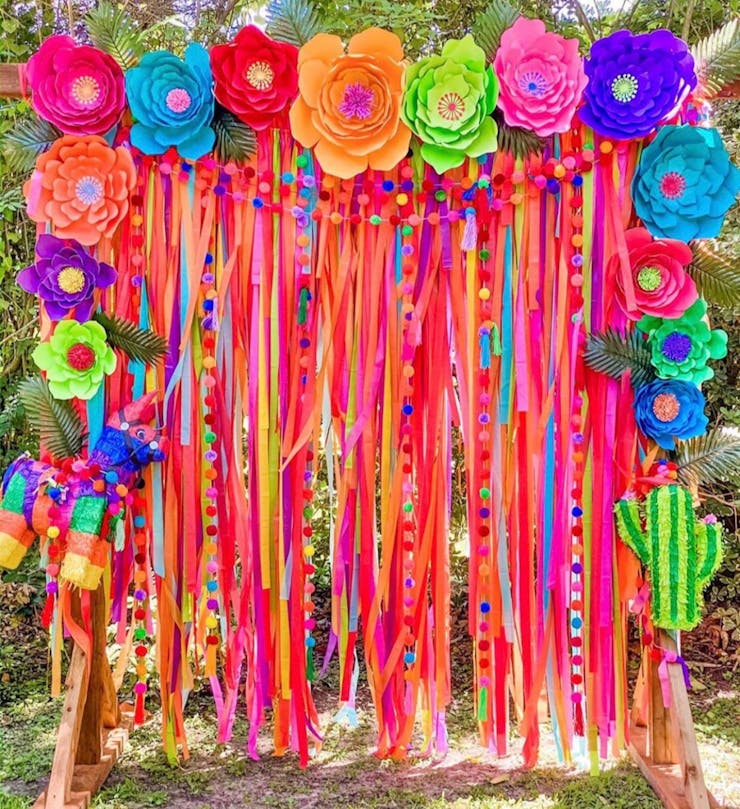 9. Dreamy Rustic Photo Booth Ideas
Simple yet sophisticated, these rustic photo frames can make the whole setup look enchanting. The geometrical shape frames attached to flower hangings look elegant and attractive at the same time. This hanging décor makes a beautiful spot at the wedding venue. Try this photo booth ideas at your wedding to wow your guests.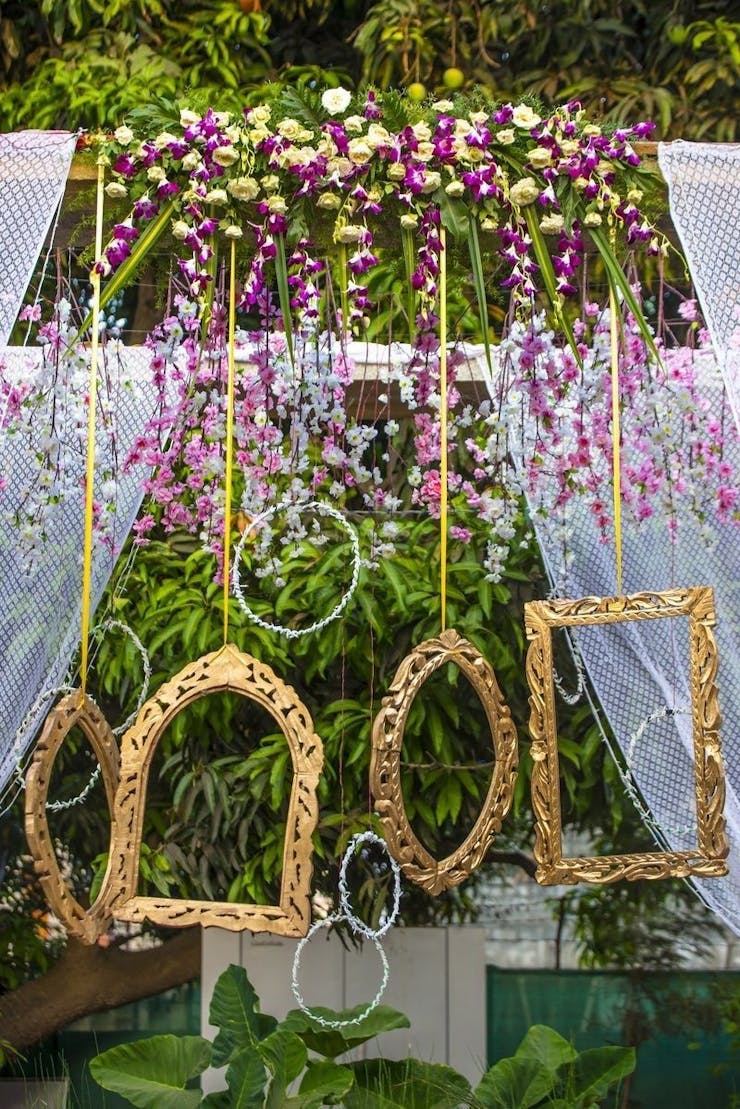 10. Photo Booth Ideas For Origami Lovers
If you are a great fan of Japanese origami art then you will love this origami wedding decoration ideas. Colorful origami hangings photobooth is a beautiful backdrop for clicking some beautiful memories. This kind of creative photo booth ideas will show your uniqueness as a couple in wedding pictures.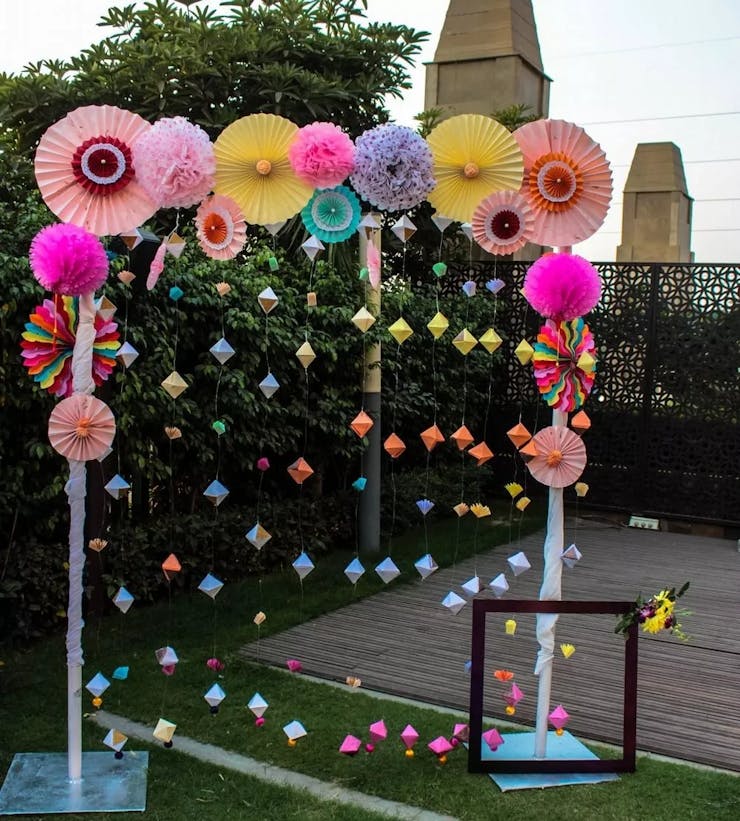 11. Personalized Photo Booth Ideas
Adding a personal touch to your wedding décor can offer you some unique pictures. You can ask your decorator to install your name tags in your photo booth area to make it a unique wedding element. This is the best way to tell your love story to your friends and family.
12. Floral Paradise Photo Booth Ideas
If you love everything subtle and minimal then choose this eco-friendly floral wall for a memorable wedding event. A green foliage photo booth backdrop is a surreal option that will provide you with an eye-catchy wedding picture. Inspire your guests to click selfies with these floral photo booth ideas.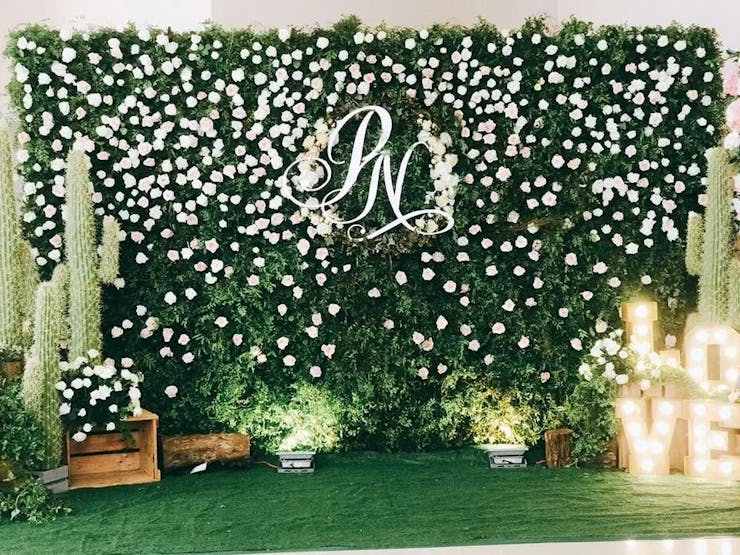 13. A Backdrop Of Colorful Kites Photo Booth Ideas
Another quirky and creative photo booth ideas for wedding events is kite decoration. Decorating an entire wall using dangling kites allows you to take beautiful group pictures at your wedding functions. This kind of vibrant photo booth is an ideal option for daytime wedding events.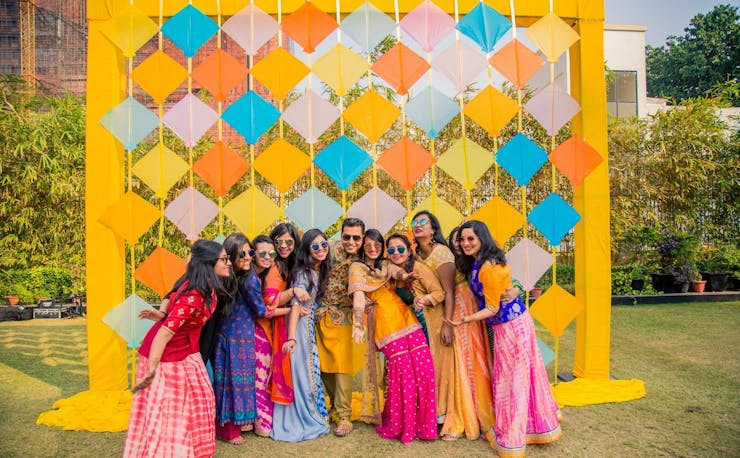 14. Story Book Photo Booth Ideas
A storybook photo booth is a great option for indoor wedding events. If you want to tell your love story then this photobooth décor will inspire you to fulfill your dream. Installing a photo booth like a storybook can help you to click on some amazing wedding pictures that will always stay in your memories.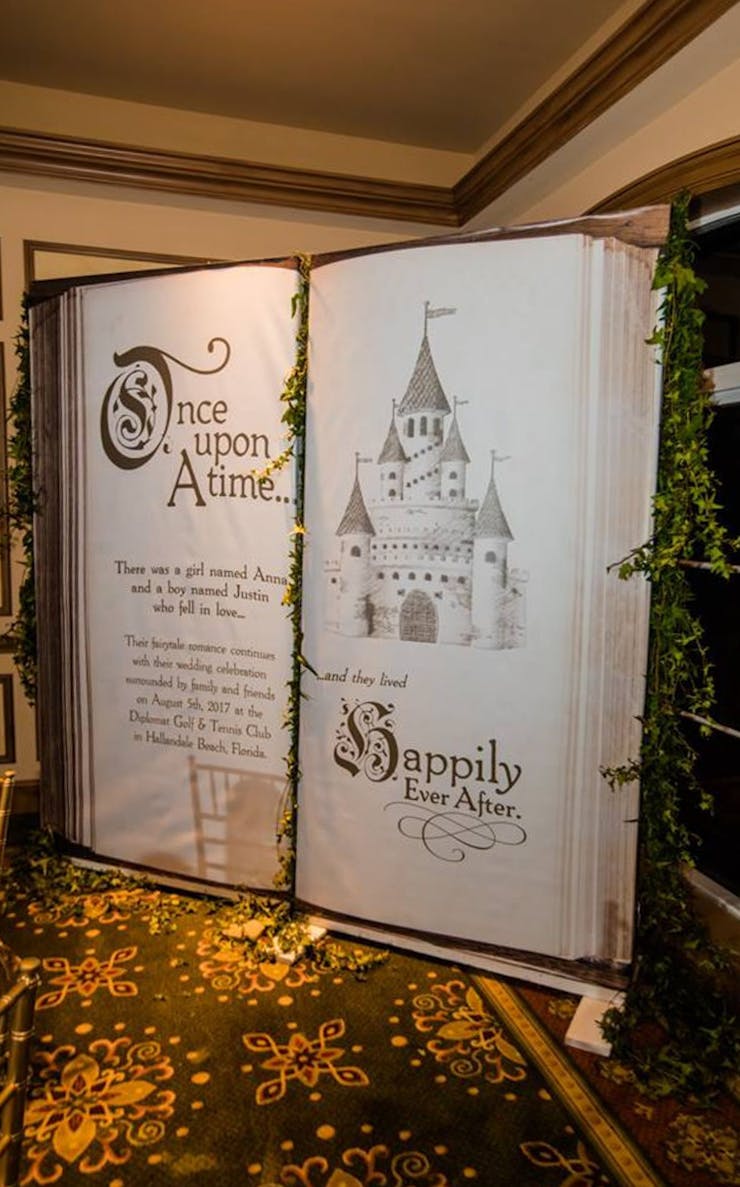 15. Dramatic Photo Booth Ideas
If you are planning a Bollywood theme wedding then opting for a photo booth backdrop like this will leave your guest awestruck. A filmy poster of the couple and a colorful backdrop will add a special Bollywood tadka that you need to entertain your wedding guests. This kind of filmy photo booth ideas are a great prop for your guest to have some fun with.
Photo booth ideas for weddings can add a fun element to your wedding decoration and allow everyone to have some fun with it.