Weddings in India are a matter of grand celebration with all the family and loved ones. Wedding gates or entrances are the most important part of the wedding ceremony. It gives an idea to guests of what lies ahead. Having a beautiful wedding entrance can spice things up. It can help you design your dream wedding venue. The right choices of flowers can help you to create a sense of grandeur and elegance. A floral wedding gate can make your wedding memorable for guests.
You hire the top wedding event planner in kolkata to deck up each corner of the wedding venue. But your wedding venue gate is what brings guests inside to the wedding area. Hence, they need to look spectacular to capture the guests' attention. Floral hanging and a floral aisle are some popular wedding decorations at weddings. These flower decorations can add texture and color to the entire wedding theme. A well-designed wedding gate will earn the first impression from your guests. It has the power to welcome your guests with a spellbinding aura.
End your search for magnificent wedding gate decor here. Scroll through these bengali wedding flower gate decoration ideas.
1. Go For A Pristine White Floral Arch
An advantage of hiring the best wedding planner in kolkata is you will never become disappointed with your wedding décor. Because they keep trying unique ways to deck up your wedding venue. A pristine white wedding gate is a wonderful option to leave your guest spellbound. The elegant charm of a white floral arch adds divinity to your wedding entrance.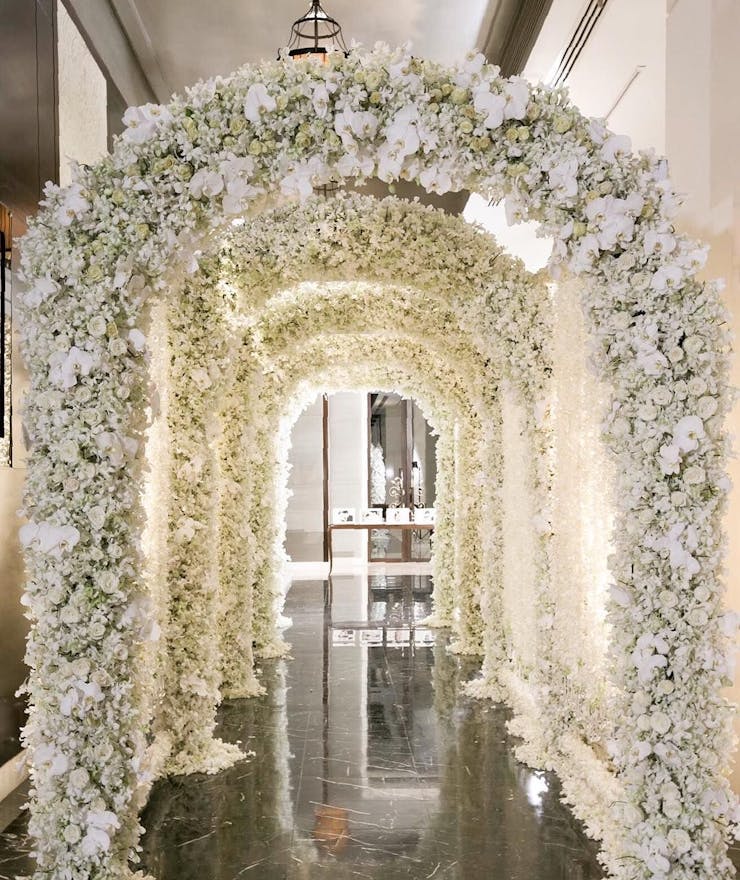 Recommended: Top 10 Amazing Wedding Stage Decoration Ideas
2. How About A Romantic Red & White Floral Entrance!
What's a Bengali wedding gate without a rose decoration, right? Roses are one of the most beautiful flowers with an aromatic fragrance. It can turn your wedding entrance into a magical pathway. A wedding gate decorated with tube buds and red roses exhibits a spellbinding charm. This wedding decoration gate design has touched our hearts with its ethereal charm.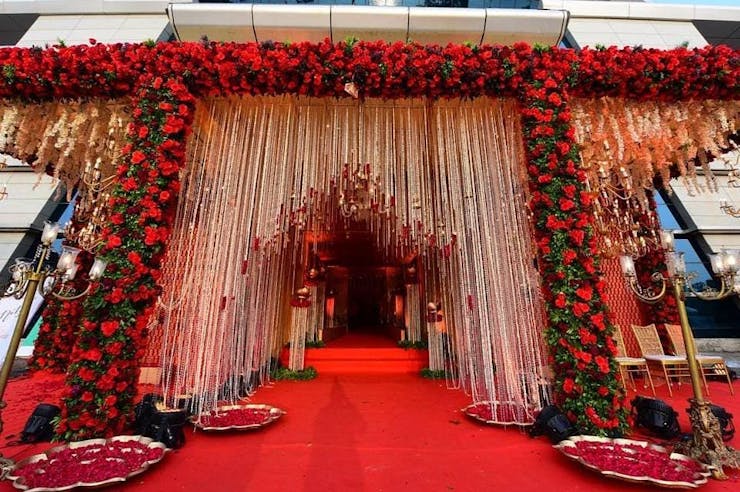 Read More: Top 10 Unique Wedding Dance Floor Ideas
3. A Modern Arch With Traditional Vibes
There is no denying the fact that marigold flowers are the first choice when it comes to a traditional occasion. It adds a festive vibe to the whole wedding decoration. For example, this bengali wedding gate decoration done with yellow marigold flowers gives a festive feel to the entire setup. Moreover, this modern art is adding an extra pinch of creativity to the entrance décor.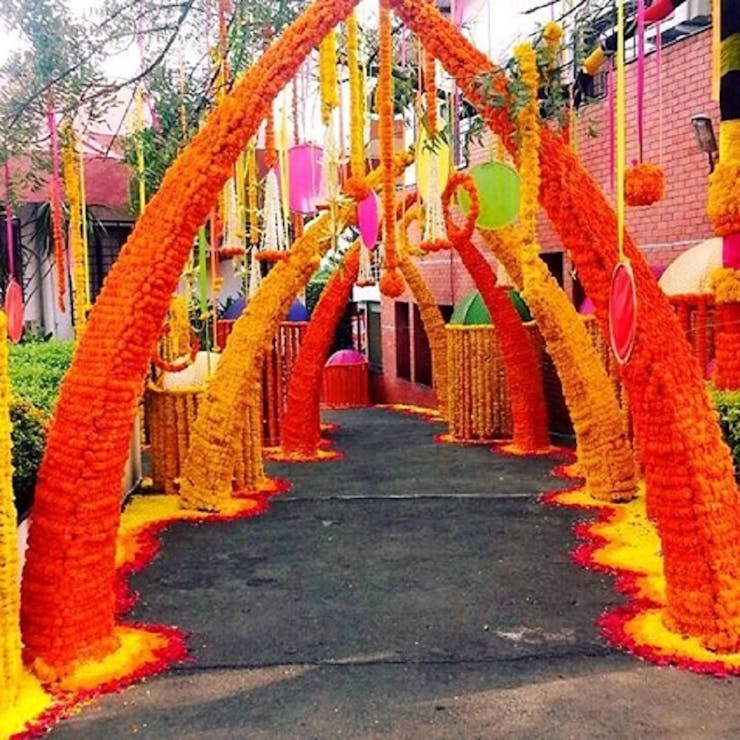 Also Check: 11 Beautiful First Night Room Decoration Ideas
4. Floral Canopy Are The Latest Bengali Wedding Flower Gate Decoration Ideas
A floral canopy designed on structured pillars can steal the heart of your guests. A floral canopy is an ideal wedding entrance décor for an outdoor wedding event. The use of colorful drapes can add more beauty to this whimsical floral gate decoration.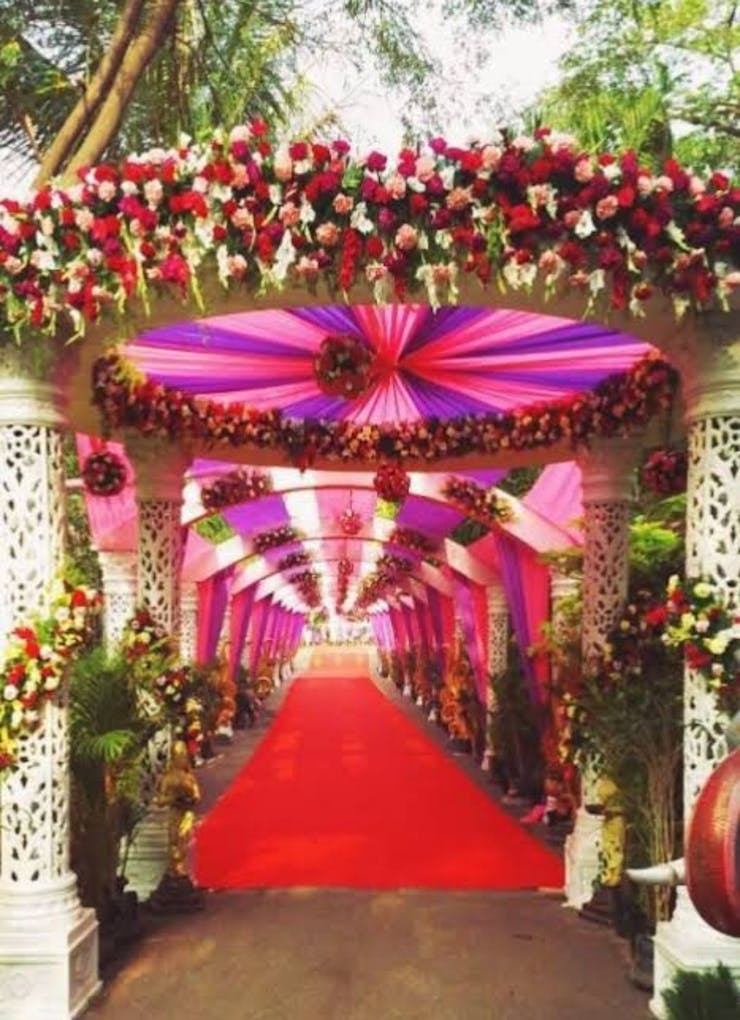 5. Splendid Entrance With Mogra Garlands
Arabic jasmine is also known as mogra is an aromatic flower. Its ethereal beauty can cast magic in your wedding decoration. This surreal flower decoration for the wedding gate looks stunning. Breathtaking mogra curtains on the entrance gate can greet a warm welcome to your guests. The sweet fragrance of mogra buds can spread a pleasant aura all around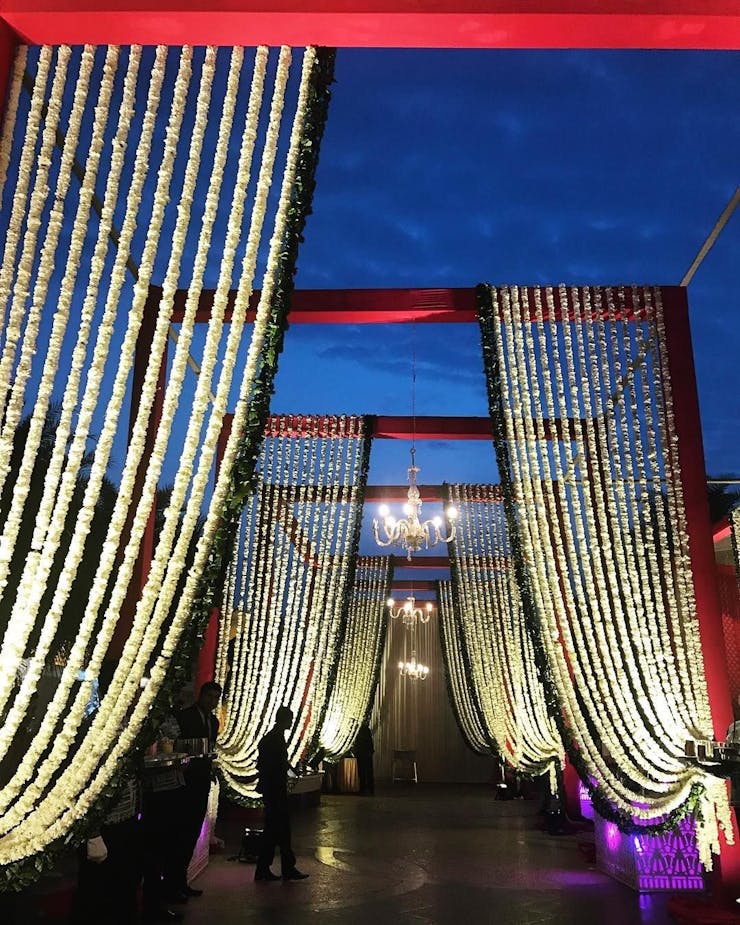 6. Floral Tunnels Are One Of The Most Famous Bengali Wedding Flower Gate Decoration Ideas
Looking for a flower entrance that looks simple yet elegant? Go for a flower tunnel entranceway. The path to your dream wedding comes true with such a magical wedding gate decoration. Adding a few pieces of fairy light can beautify this creative piece of art.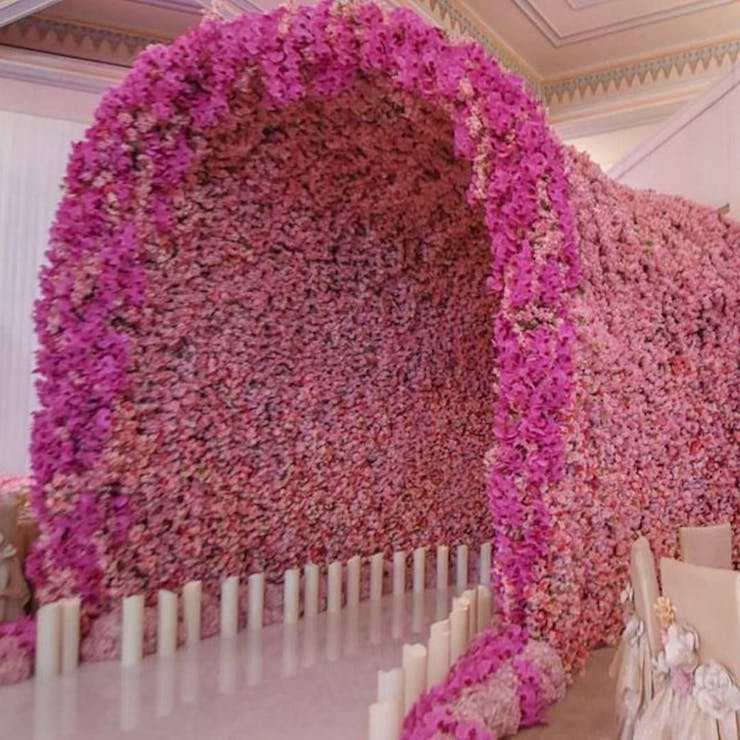 7. A Bright And Vibrant Wedding Gate Decoration
This vibrant flower gate decoration for wedding is sure to make your big day memorable. A wedding entrance decorated with exotic flowers can amp up the beauty of your wedding venue. You can choose contrasting flowers to create a multicolor floral arch. This stunning wedding gate décor is perfect for a colorful theme wedding.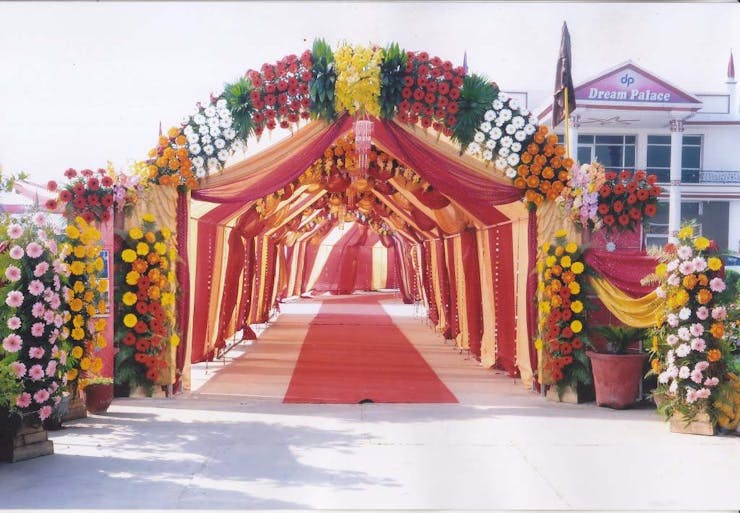 8. Simple Flower Gate Decoration For Wedding To Win Million Hearts
If you love simplicity with a slight touch of elegance then you can opt for this simple flower decoration gate for wedding. Using pastel colors in wedding gate decorations will catch everyone's eye. A dreamy arch made of pastel flowers is one of the nice options to give your wedding décor a dramatic feel. You can take this wedding décor a notch higher by adding a few decorative elements beside the entrance gate.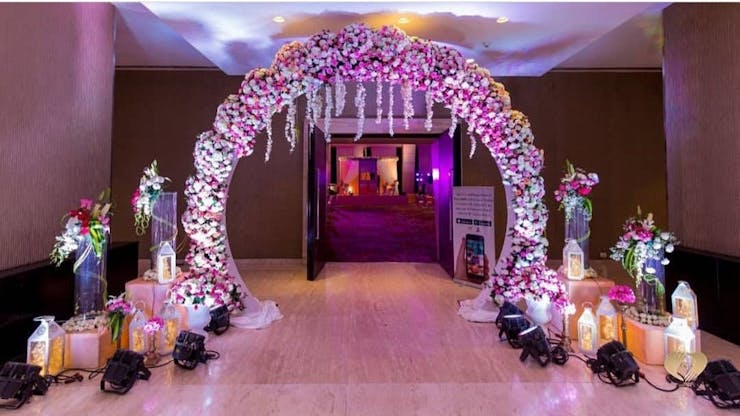 It's time to have a look at some most beautiful wedding entrances. Because the wedding entrance can also adds a breathtaking charm to a wedding venue.
1. Create A Floral Aisle With The Rose Petals
A floral aisle is one of the most popular ways to enhance your wedding gate decoration. This beautiful floral gate décor idea looks as eye catchy in photos as it does in person. Most couples opt for colorful carpets to decorate their wedding aisle. But a gorgeous floral decoration done using rose petals is bound to give a romantic vibe.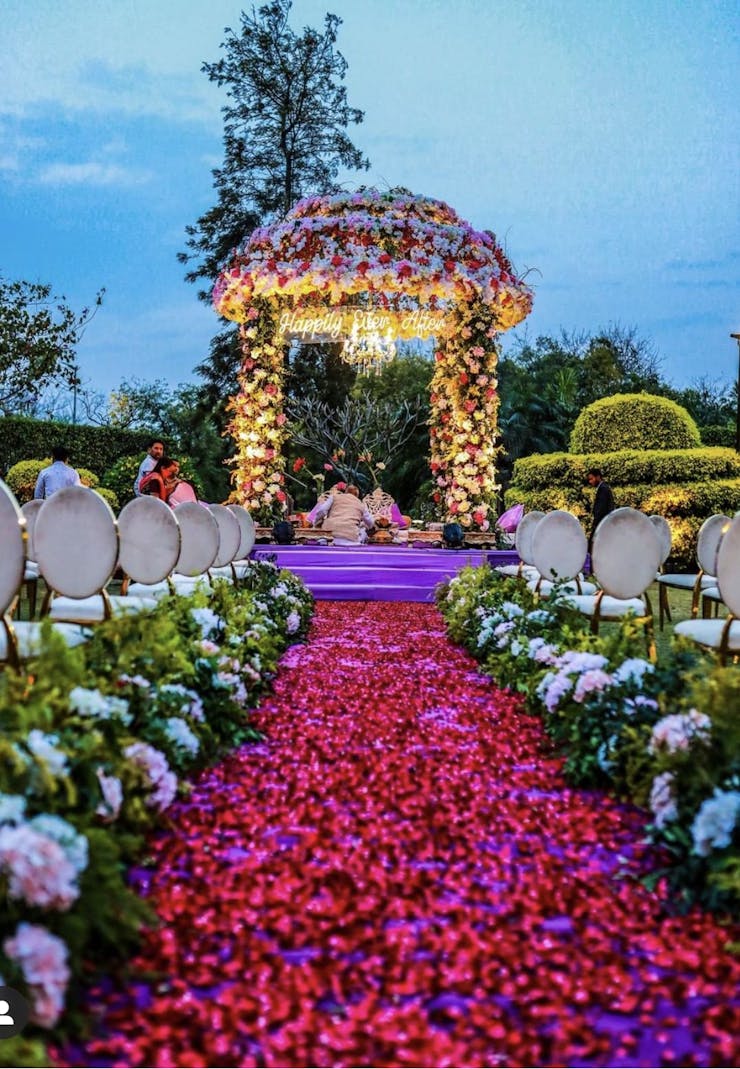 2. Hanging Floral Arrangements Will Always Grab Guests' Attention At First Sight
Traditional wedding gates always give a classic feel to your wedding guests. There is nothing more gorgeous than your wedding entrance decorated with floral hangings. You can take your wedding gate beauty a notch higher by decorating it with floral hangings. This wonderful wedding gate décor can add a wow factor to any wedding venue.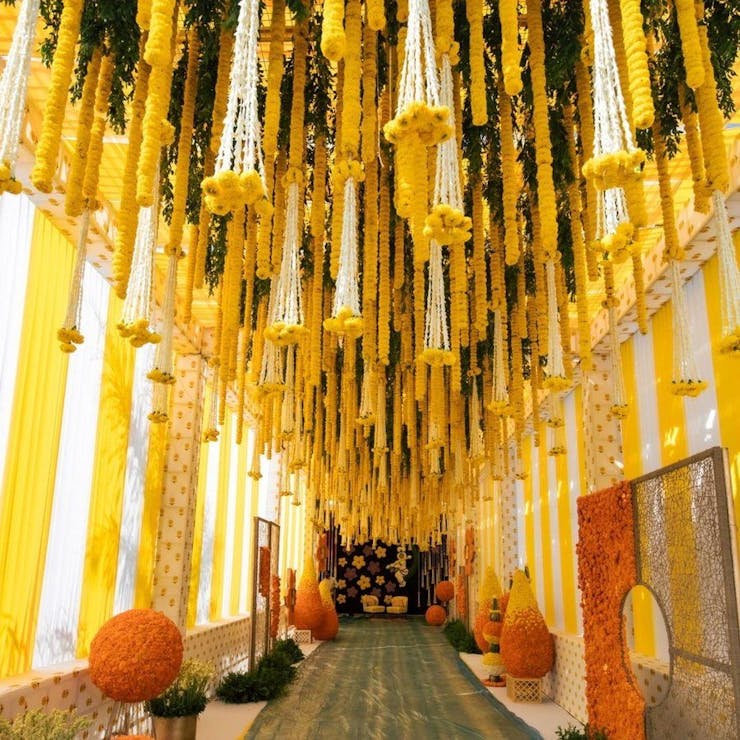 3. Enchanted Beauty Of Floral Ceiling
The floral ceiling provides a glimpse of your fairy tale wedding to your guests. A heavenly pastel color floral ceiling complements the color tone of your pastel theme décor. The magical charm of this floral entrance is sure to attract your wedding guest as they walk inside.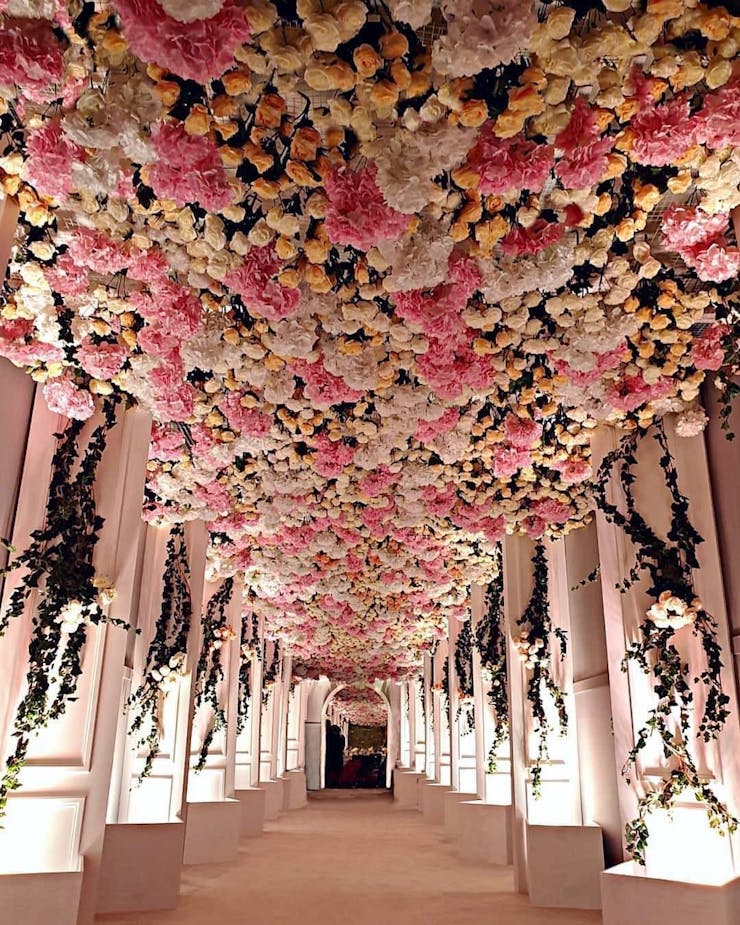 4. Grandeur Of A Floral Chandelier
A huge chandelier setting at the entrance of your wedding venue can give a heavenly feeling. A huge pristine white chandelier can add an oomph factor to the whole wedding arrangement. The enchanted beauty of this floral passage is a perfect option for your dream wedding.