The act of dancing signifies joy and celebration in humans. Wedding dance also represents the joy of humans which they feel while celebrating a wedding. Dance can infuse life into a wedding celebration. Be it a Mehendi ceremony, or a sangeet ceremony, every couple wants to dance to enjoy their special day. Even many couples rehearse their dance moves before their wedding celebration. Hence, it is very important to plan for a good wedding dance floor. Like any other wedding venue decoration, a designed dance floor also makes your wedding event a memorable one. It is the major highlight of y our pre-wedding events that get clicked throughout the day. It also offers a welcoming space for guests to sit and enjoy the dance performances. You can customize your dance floor as per your preference. All you need to do is hire the best wedding planner in kolkata to get a designed dance floor. There are many beautiful dance floor ideas that you can choose for your wedding. If you are still confused about choosing a perfect one, Then read this blog to get the most unique wedding dance floor ideas.
1. Checkered Board Are Among The Most Classy Wedding Dance Floor Ideas
If you want to make a wedding event a memorable one then you must choose a lively dance floor. It creates wonderful wedding memories. A checkerboard dance floor is the most classy design. Most couples want to incorporate this design for their pre-wedding events. You can add a few chandeliers above the ceiling to give your dance floor design a unique twist. This checkered dance floor will amplify the beauty of your wedding function. And it will also give you some candid shots of your wedding dance.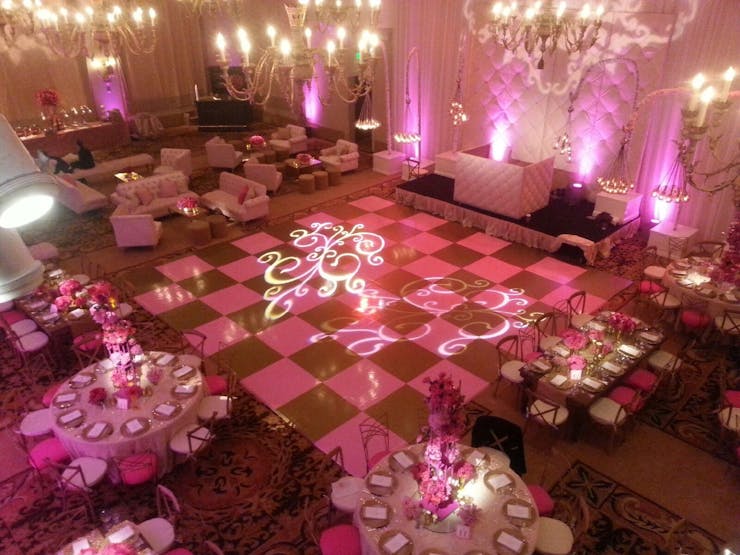 Must Check: 13 Magical Ceiling Décor Ideas For Weddings
2. Mehndi Prints Are The Best Dance Floor Ideas For Outdoor Wedding
A wedding dance floor created with paisley or mandala designs is the best wedding dance floor idea for the mehndi ceremony. This kind of printed design on the dance floor goes well with your colorful Mehendi theme. If you have a floral theme Mehendi function, then you can choose rangoli patterns or mehndi design to amplify the beauty of your dance stage. Make sure to consult the budget wedding planner in kolkata if you want a customized dance floor.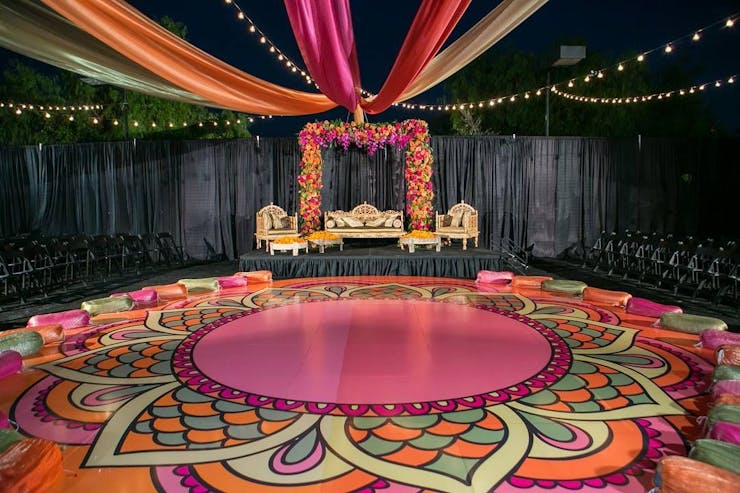 See More: 13 Stunning Wedding Car Decoration Ideas You Can Use For Marriage
3. Mirror Dance Floors Are Perfect Ones For Sangeet Ceremony
Want to celebrate a cocktail sangeet night with your loved ones? A mirror dance floor can help you make a glamorous statement at your wedding event. It is one of the most beautiful ideas for wedding dance floor. A glass appearance in pastel shades can add a special elegance to the surrounding area. This kind of dance floor creates a magical setup for a romantic dance performance.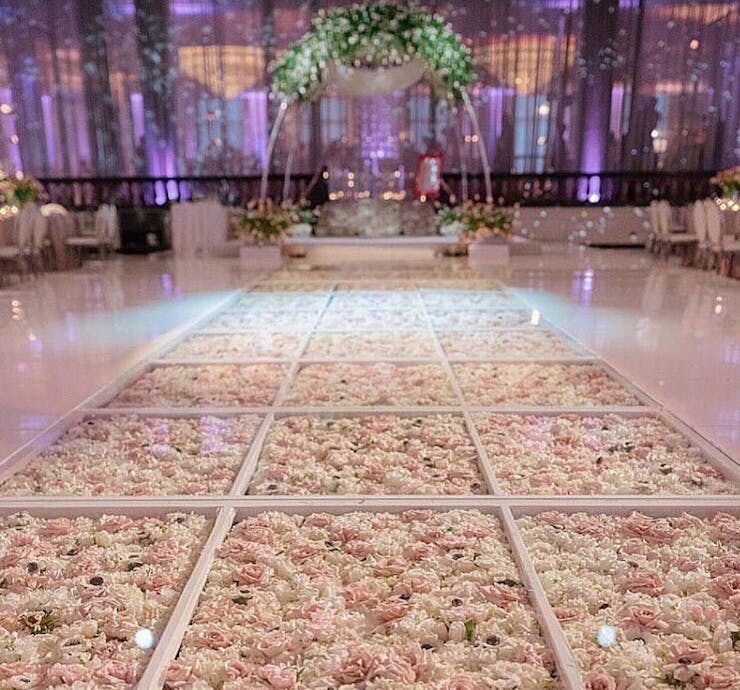 4. Carpet Dance Floor Wedding Ideas Gives A New Meaning To Your Wedding Décor
A mehndi ceremony celebrated in a colorful theme looks great in wedding pictures. To match the beauty of the vibrant theme décor you can try to incorporate a carpet dance floor. It is a very popular outdoor wedding dance floor ideas that enables everyone to dance on the ground. A colorful carpet in a mosaic pattern will add an unforgettable experience to your mehndi dance performances.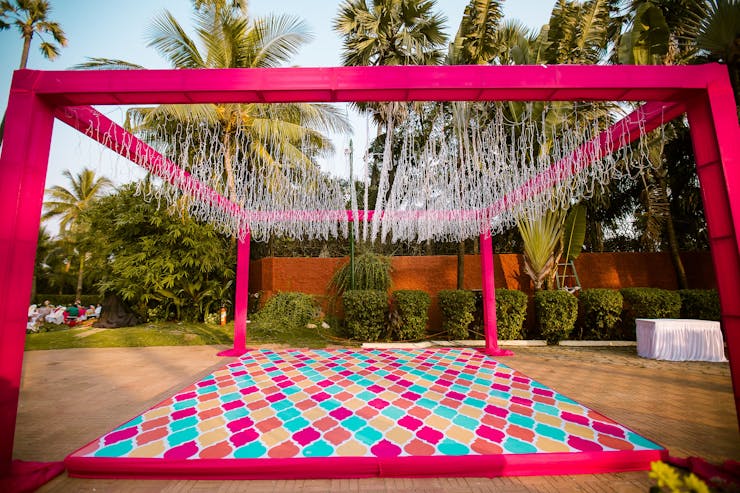 5. Customize Your Dance Floor With Your Wedding Hashtag To Make It Memorable
This wedding dance floor would be the perfect option to make your sangeet ceremony a candid affair. Print your names or wedding hashtags on the dance floor to create a swanky ambiance. It is the perfect way to celebrate your togetherness on the dance floor. This classy dance floor will make the space filled dreamy. It goes well with a fairy tale wedding theme.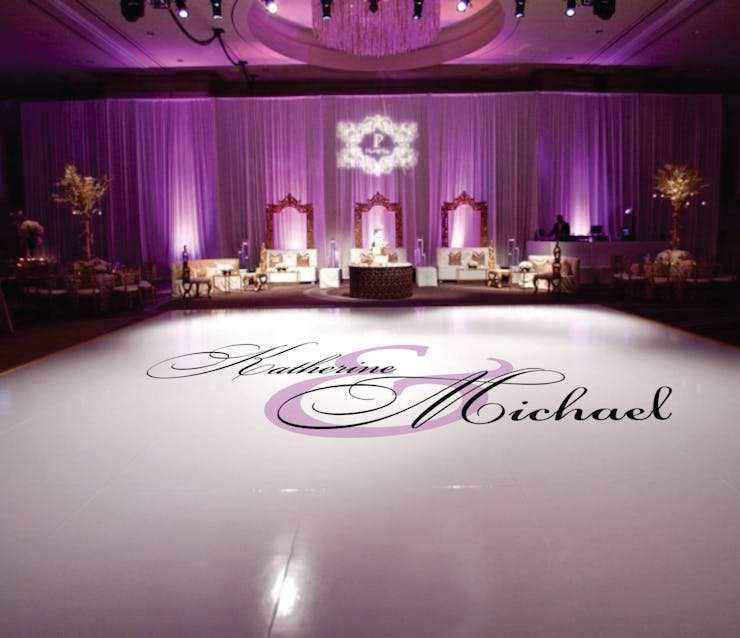 6. Patterned Dance Floor Looks Extremely Magical
Some hypnotizing patterns on the wedding dance floor turn the entire setup beautiful. Adding some floral hanging and a chandelier on the ceiling can make it even more special. The reflection of LED lights projects a stunning pattern on the dance floor. This unusual dance floor design looks more beautiful with a pastel theme wedding décor.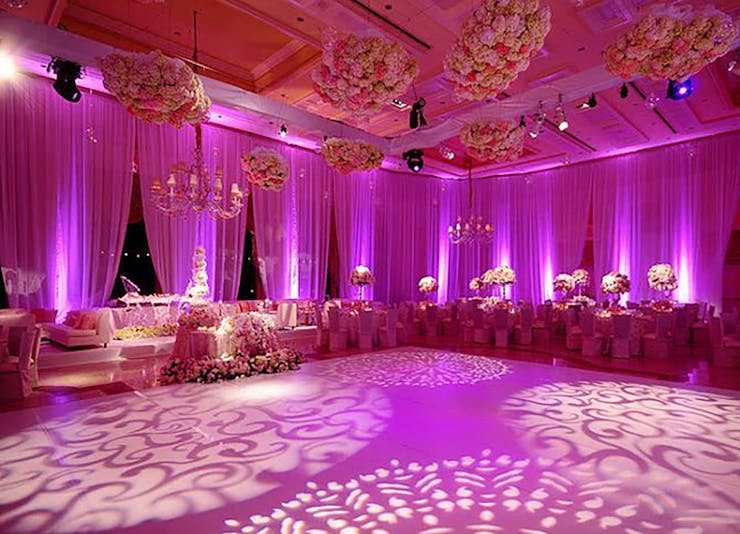 7. Floral Wedding Dance Floor Decorations Are Visual Delight
This is the most elegant wedding dance floor idea you can try. Flowers can add beauty to every wedding decoration. Incorporate a floral dance floor design and let your dance space blossom with a charming floral effect. Make sure to keep the projection clean to leave your guest spellbound with its surreal charm. You can also hang lush green foliage over the dance floor to provide a natural effect. This kind of setup will create a magical space that adds a natural ambiance to the gorgeous dance floor.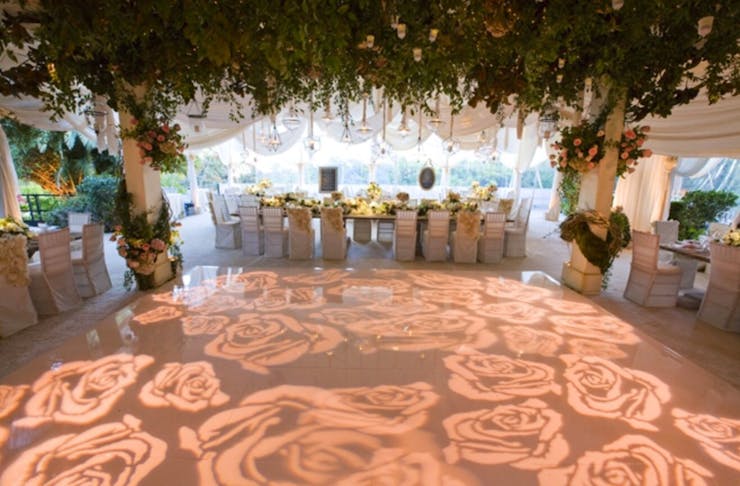 8. Provide Your Dance Floor A Starry Sky Appearance With Fairy Lights
Adding tiny LED lights all over the dance floor space can create a starry night effect. These are the most popular wedding dance floor lighting ideas seen in recent Indian weddings. This fairy light effect can transform your regular dance floor into an extra special one. You can incorporate such magical wedding floor ideas into your intimate wedding reception party.
9. Show-Off Your Love For Art By Choosing A Geometric Style Wedding Dance Floor
Nothing is more creative than a geometric-style dance floor. Add colorful shapes like a circular pattern or pentagons to create a spectacular dance floor. You can also add a chandelier above the ceiling to illuminate the entire dance space. This kind of creative dance floor setup serves as a beautiful work of art in your wedding photos. And it also creates the most beautiful space for the first dance of the adorable couple.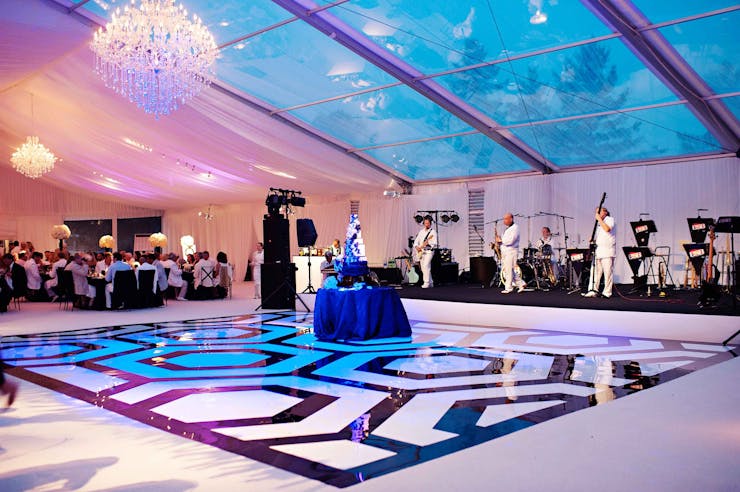 10. Wooden Wedding Dance Floor Ideas Are a Great Way To Celebrate An Outdoor Event
If you are planning a pre-wedding event in your farmhouse area then you can try this elegant and classy dance floor. A wooden dance floor is the best backyard dance floor ideas. It gives your dance floor an earthy theme and makes it the most memorable event. You can add some fairy lights above the wooden floor to create a vintage theme.