There is a popular saying, "first impression is the last impression." It also applies in the case of a wedding entrance gate. A grand entrance elevates your wedding look and makes it a memorable event. Being professional wedding planner in Kolkata, we understand the importance of choosing the right elements to decorate a stunning venue entrance. A mesmerizing wedding venue gate will make your arriving guests take a selfie with it. Gone are those days when Indian wedding entrance gates were a matter of marigold drapes.
With changing times, wedding planners have found new and creative ways to decorate your wedding gate just like a heaven door. Thus, keeping in mind the present-day wedding decorations needs, we are sharing with you some eye-catchy wedding entrance decor ideas that will surely stand on your expectations.
1. Elegant Floral Entrance
If you are looking for a colorful and dreamy wedding entry decoration then this pinkish-white floral decor creates a romantic ambiance in your wedding venue. Gorgeous flowers like roses add beauty and fragrance to the venue. Give your guests a visual pleasure by choosing a seasonal flower decor.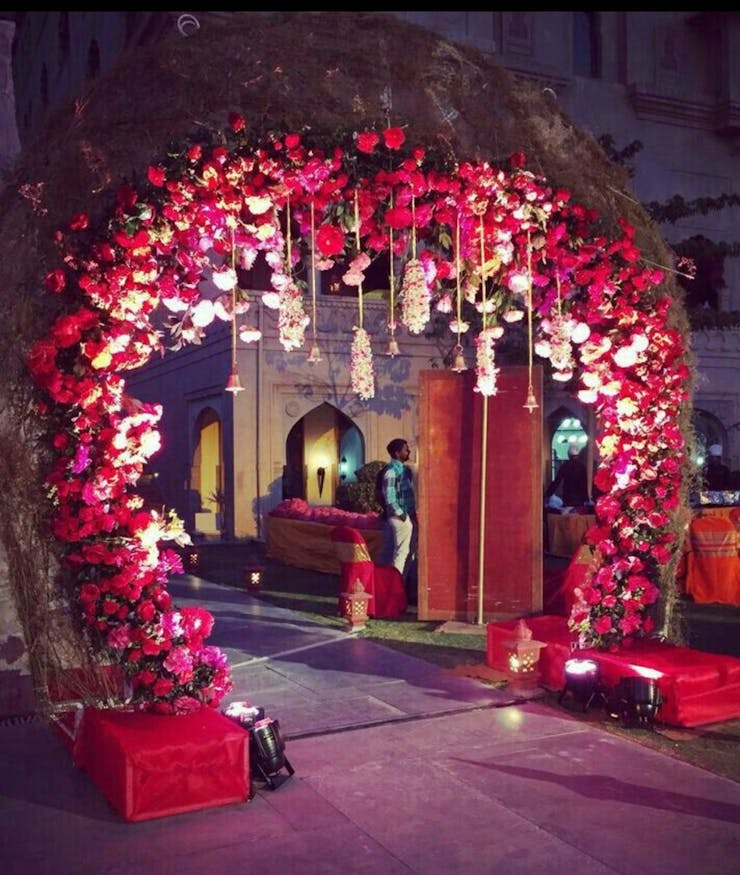 Recommended: 13 Stunning Wedding Car Decoration Ideas You Can Use For Marriage
2. DIY Wedding Entrance
If you want to reveal your creative side, you can prepare DIY decors such as tassels or paper fans to decorate your wedding entrance. Our talented team of wedding planners helps you to fulfill your dream wedding desire. And that is why Events Gyani is considered one of the best event planner in Kolkata. When you arrange the wedding entrance area with these creative decors, guests won't stop praising your wedding decor.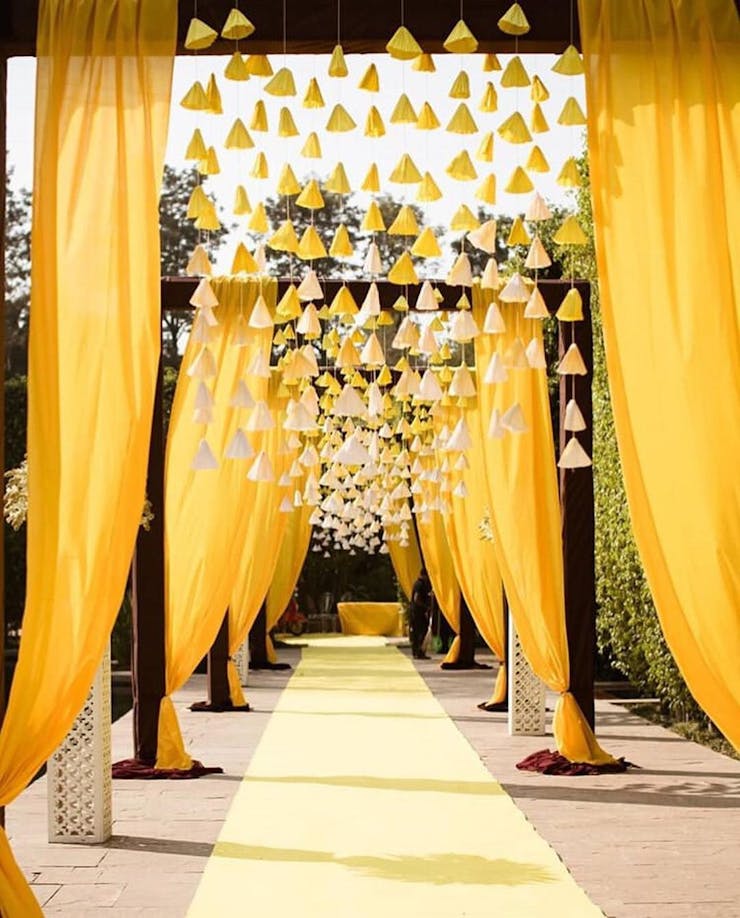 Must Read: 13 Trending Simple Mehendi Decoration Ideas [2022]
3. Dreamy Fairy Light Entrance
Fairy light walls decorated at the wedding entrance add a spectacular view to your wedding decor. The fairy lights entrance wedding decor leaves your guests mesmerized and also adds a magical appeal to your wedding photographs. These beautiful entry walkways with numerous twinkling bulbs look surreal. You must try this dreamy shining wall of fairy lights as a wedding entry decor to level up your wedding ambiance.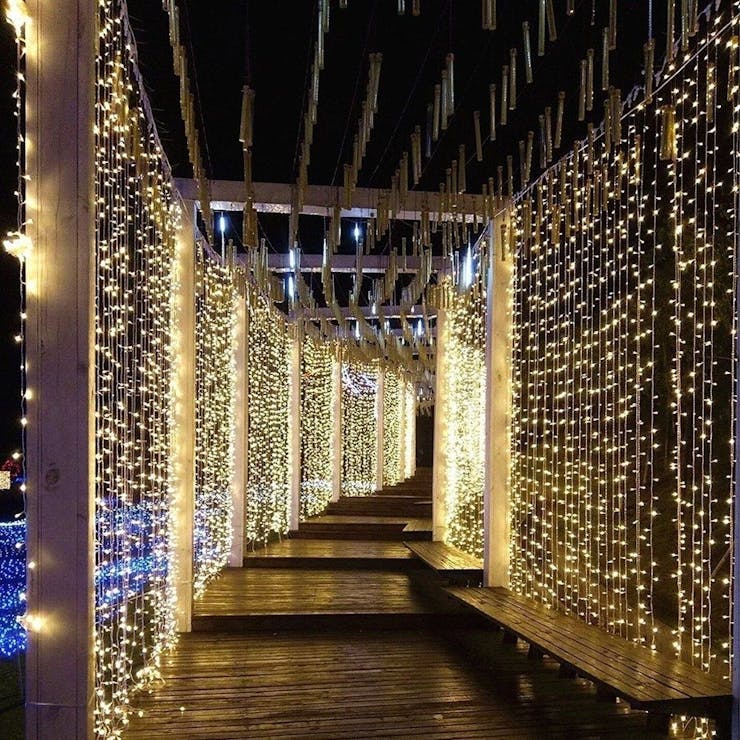 4. Charming Drapes Entrance
Draping the entrance to your wedding venue adds a dramatic appeal. Just like seasonal flowers, the glamorous drapes are also considered a romantic element. The entry decoration for wedding done with drapes is too pretty to give a miss. Sheer white or pastel hue fabrics with florals and exceptional props such as lanterns will transform your wedding venue in no less than a Shakespeare romantic drama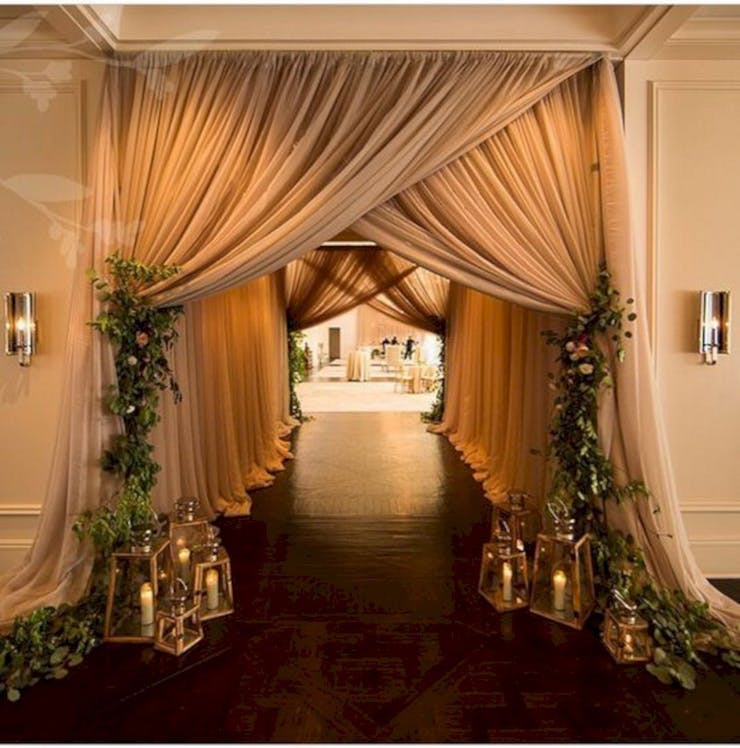 5. Fascinating Entrance Made With Cherry Blossom Trees.
The cherry blossom trees' wedding walkway decoration are the latest wedding decor trend. This fascinating tree decor looks so magical and pretty. This type of aesthetically pleasing wedding looks closer to heaven. So, if you are looking for an unconventional and memorable wedding decoration idea, then consider a ravishing tunnel of cherry blossom trees.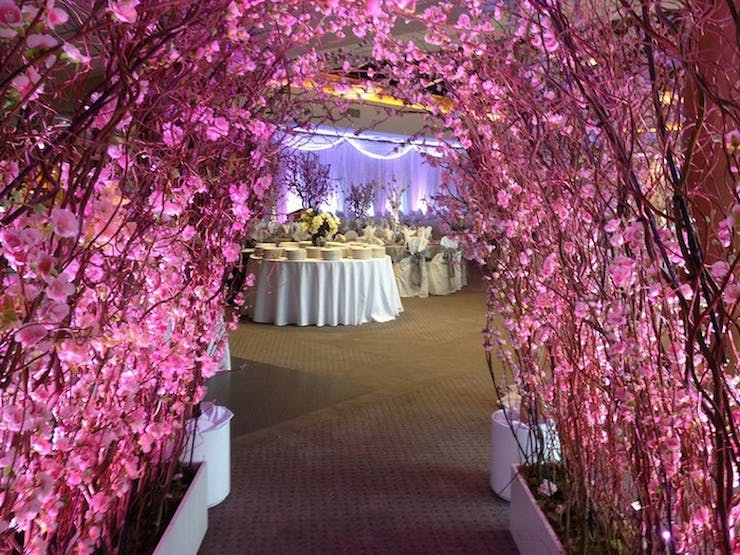 6. Charismatic Mogra Decor
The decoration at the entrance of your wedding venue must be elegant and a creative one to grab the attention of your guests. A simple and elegant flower-like mogra can also turn your wedding into a fairy-tale event. The structured mogra curtains at the entrance of your wedding venue create a serene and fragrant environment that pleases everyone.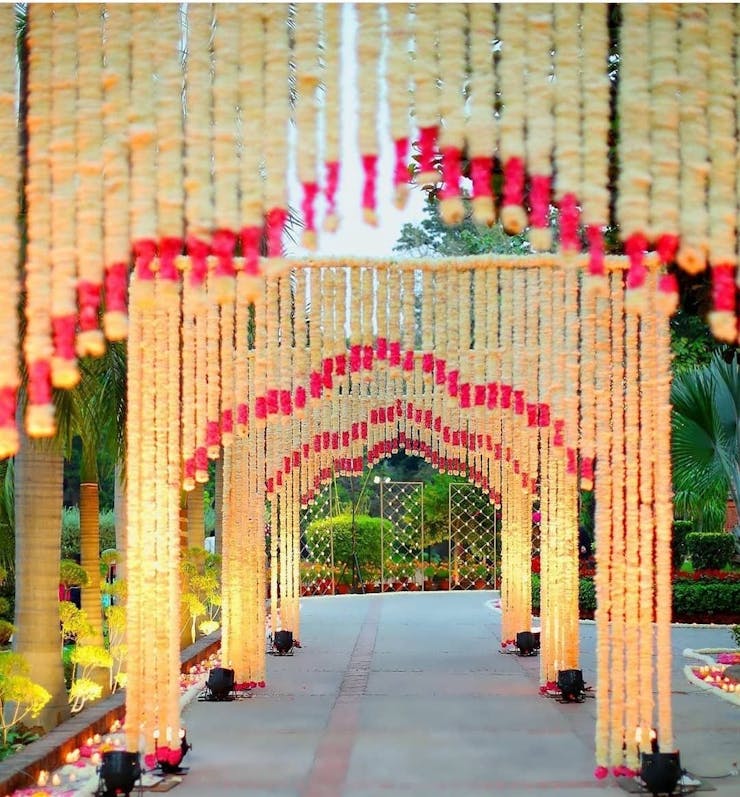 7. Mesmerizing Candles Wedding Entrance.
Trust us, this illuminated wedding pathway is one of the most beautiful wedding venue entrance decor. The sparkling ceiling decorated with scented candles and beautiful flowers sets the tone of a grand wedding. The flower arrangements made around the candles illuminate the entire entrance. These hanging lights or decors is a brilliant example of classy wedding decor. We are simply fascinated by its elegant charm.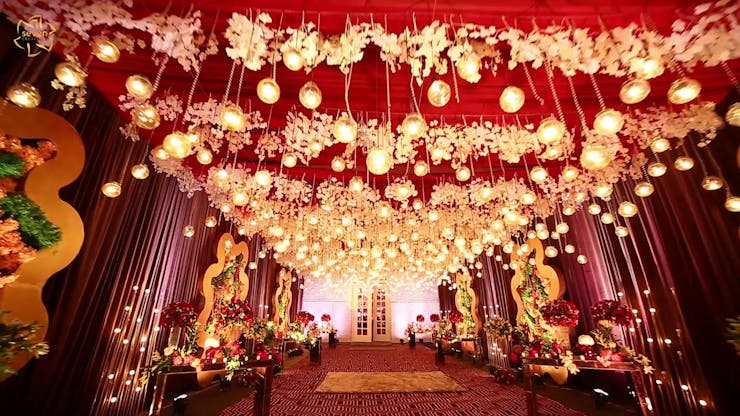 8. Nature Inspired Lush Green Entrance.
In recent times, many couples opt for an eco-friendly wedding. Green wedding decor is also a sustainable wedding decoration. A simple structured wall of green foliage and fresh flowers are a whimsical alternative you can opt for. Let your wedding gate be an extension of a lush green valley. This foliage entry will surely be a perfect theme for a picturesque frame.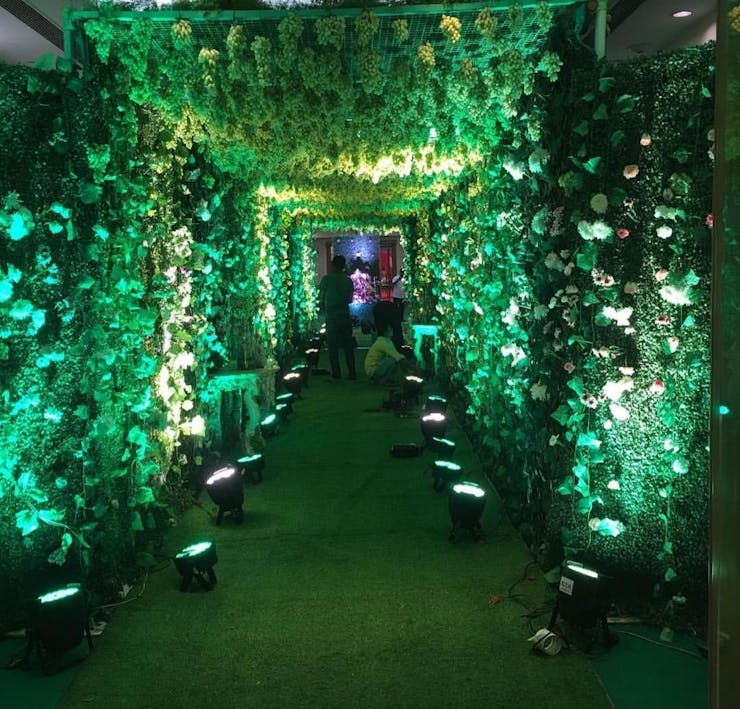 9. Traditional Vibes Of Marigold Decor
This one is the most simple and traditional entry gate decoration for haldi ceremony. Marigold garland is an all-time favourite wedding decor in Indian weddings. The traditional and elegant pathway designed from fresh marigold flowers in an artificial wall pillar adds a perfect wedding vibe. The simplicity of this beautiful Indian-themed entrance truly wins our hearts.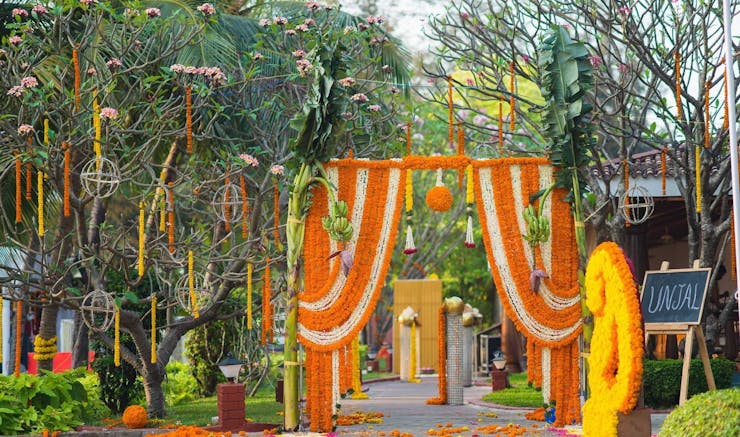 10. Ravishing Tunnel Arch
This style is ideal for a wedding mandap. The entranceway to a wedding mandap decorate in a stunning floral arch adds a wow factor to a daytime wedding event. Your guests are sure to be mesmerized with its heavenly ambience as they step inside through these mystical floral arches. The vibrant hues of this beautiful tunnel will make your wedding a memorable occasion. To add an extra zing factor to this floral arch you can add strings of fairy lights which will give a divine feeling at the night.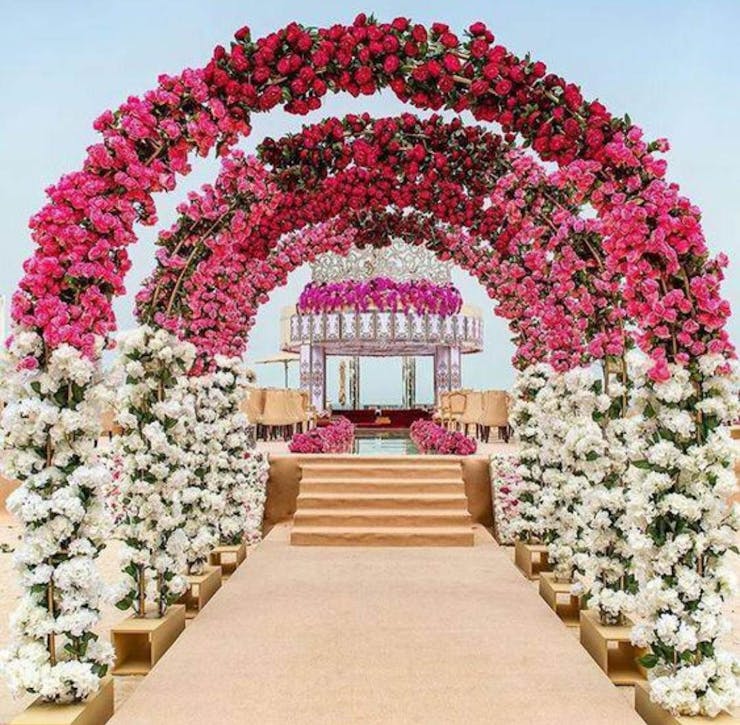 11. Themed Fairy Light & Flower Decor
Here is the last and most beautiful decor in this curated list. If you want to glam up your wedding entry walkway in the most dramatic style then opt for these wonderful strings of fairy light and floral adornments hanging from the ceiling. Together they constitute a marvellous figure of an illuminated chandelier. Isn't it the most beautiful way to impress your guests? This awe-inspiring will turn your special day into a dream wedding.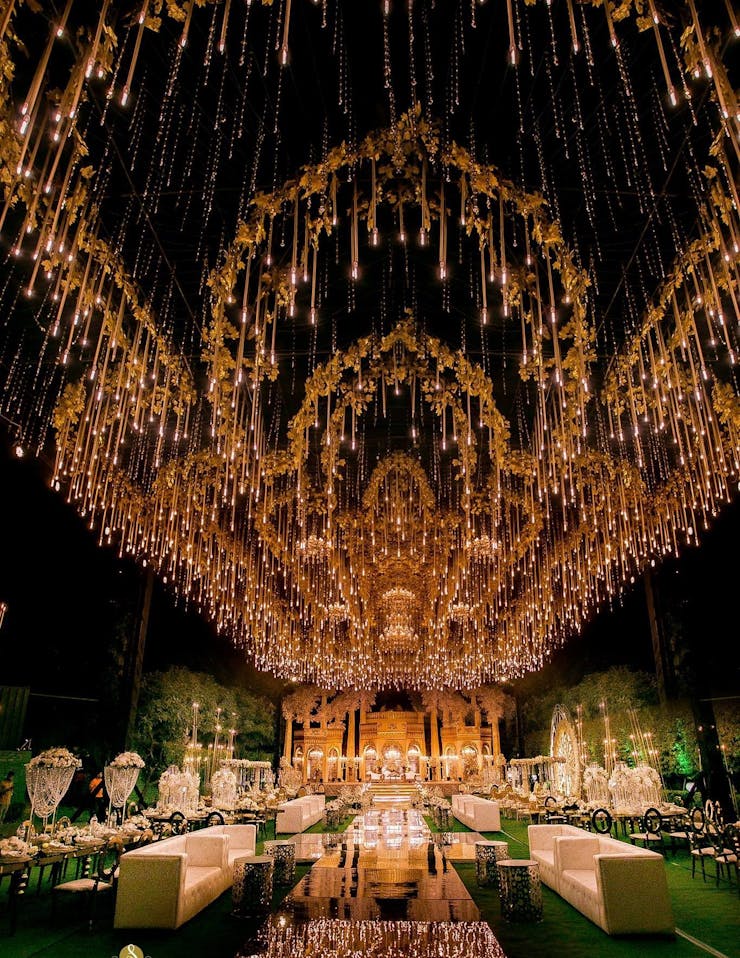 These are some wonderful wedding entrance decor ideas that can provide your wedding with a rich and elegant look in a budget-friendly package. At Events Gyani, we will take care of all your wedding managements needs and provide you with the best memories of your life. Check out our websites for service details and plans. Happy learning!