Haldi ceremony is a beautiful age-old ritual that is celebrated before an Indian wedding. It is an exciting and joyous event that takes place in the daytime. Nowadays, it is really amazing to find the way couples are celebrating their pre-wedding ceremonies. They are taking smaller events like Haldi to a whole new level. Steal the show with bright and colorful props and gorgeous decoration to provide your guests with a unique and unforgettable experience. A stunning backdrop not only fascinates the people around you but also offers you some dramatic Haldi pictures. As a well-known event management company kolkata, we but that a splendid event decoration will make your Haldi ceremony more beautiful. Here is a comprehensive guide on some amazing haldi theme ideas that can make your Haldi function memorable and unique.                                                                                               
1. Take Inspiration From Bohemian Style Haldi
If you are looking for a trendy and offbeat theme for haldi function then you can try to opt for a beautiful bohemian theme. The unique style of these flowers and pearls decorations adds extra beauty to your Haldi setup. The pretty palm leaves and mesmerizing fairy lights provide a stylish and esthetic view of your traditional event. The rustic color of this beautiful setup makes a statement celebration and is definitely a great choice for a vibrant event like Haldi.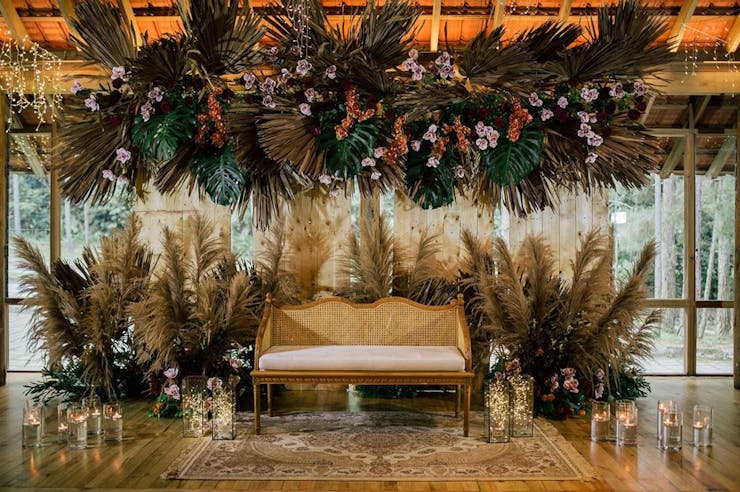 Recommended: 15+ Exceptionally Beautiful Wedding Mandap Decoration Ideas 2022
2. A Funfilled Pool Side Haldi Theme Décor
Hosting pool parties can make your event more joyful. These latest pool haldi decoration ideas are so eye-pleasing. The colorful tents on the poolside look beautiful and also serve the best rest house for your guests. You can also add some colorful installations besides the pool to provide it with a more beautiful look. Adding some unique props like colorful cycle rings is sure to make your day with an outstanding photograph.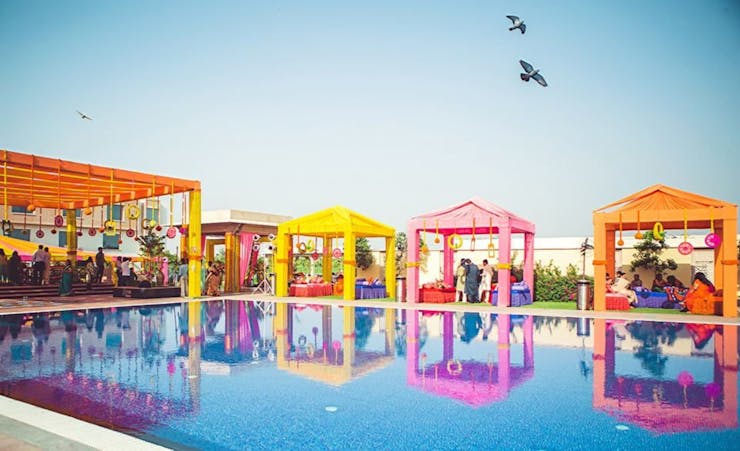 Must Read: 13 Trending Simple Mehendi Decoration Ideas [2022]
3. A Vibrant Yellow Theme Haldi Décor
If you want to continue with the traditional theme, you can definitely try a yellow theme Haldi setup. Try to create a beautiful seat for the bride-to-be under an umbrella-like yellow tent installation. You can decorate it with yellow marigold flowers to give a magical feel to your Haldi ceremony decoration. This kind of setup is perfect for a traditional Indian haldi ceremony, where the couple chooses to wear a yellow outfit for the Haldi ritual.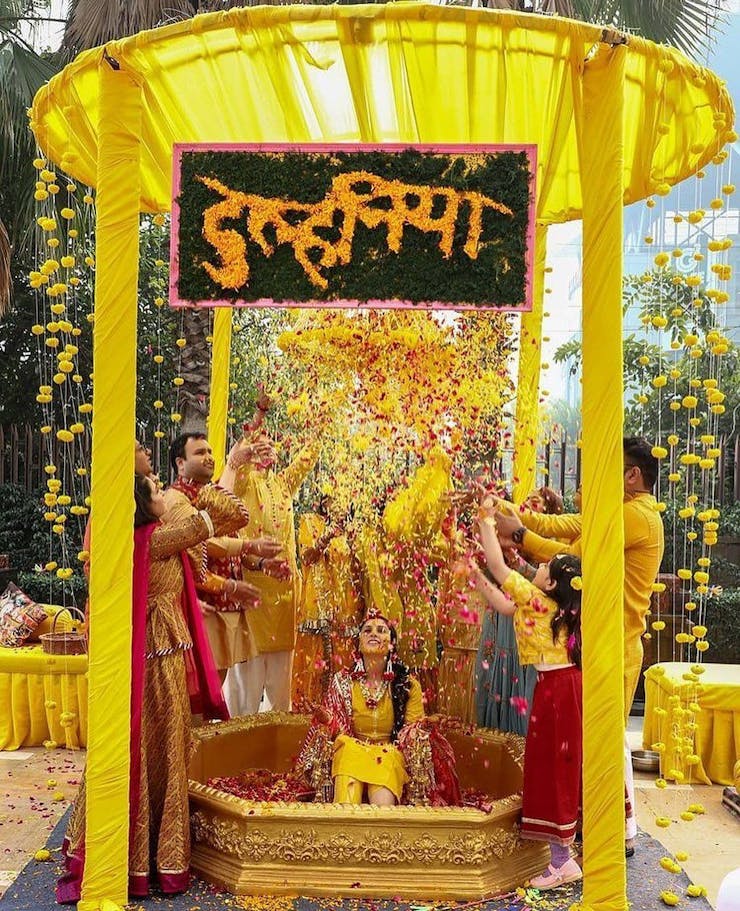 4. Go For Traditional Genda Phool Mandap
Another popular choice to decorate the Haldi venue is a stunning marigold floral installation. This homely haldi wedding decoration setup is beautiful and low budget haldi ceremony decoration. This simple and elegant Haldi décor will leave your guests amazed. A Haldi inscribed floral tag against the contrasting green wall is perfect for a conventional theme Haldi function. To accentuate the beauty of this adorable setup you can ask your wedding planner kolkata to add some dreamy fairy lights to the whole setup.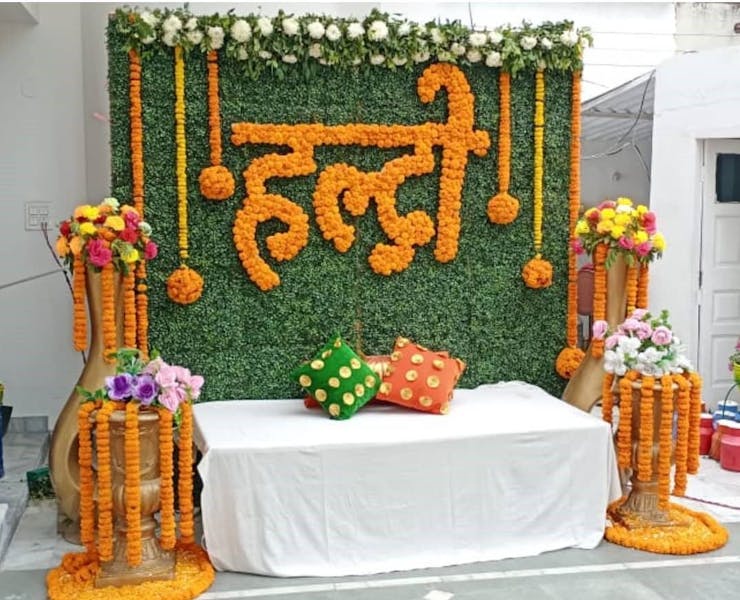 5. The Rainbow Inspired Colorful Haldi Theme
Multi-color DIY installations add the Haldi sitting place to draw most of the attention of your guests. To bring a happy vibe to your Haldi setup you can add fun and vibrant colors props like paper fans and geometrical shapes. These multicolor props will make your décor more lively. Take inspiration from this amazing and colorful Haldi backdrop designed of various DIY decors.
6. Elaborate And Dreamy Haldi Ceiling Décor
Take your haldi ceremony decoration to a new level by choosing a unique and colorful ceiling décor made of multi-color drapes. This spectacular ceiling seems to be the best décor for a vibrant Haldi ceremony. You can also try hanging some creative props like colorful kites and umbrellas with the stunning ceiling of your Haldi setup. Scalloped drapes and contrasting sitting areas can make your ceremony a cheerful one.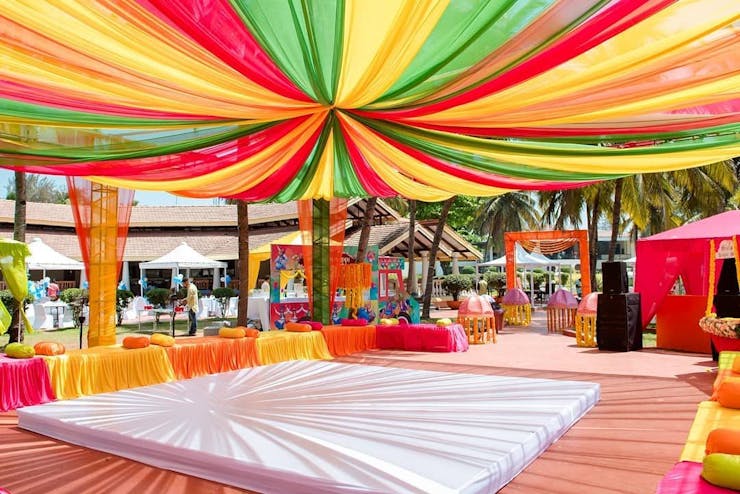 7. Classy Canopy Stage Haldi Décor
Canopies leave an impressive impact on your guests. A floral canopy décor in contrasting hues of sunshine yellow and white is an absolutely mesmerizing Haldi setup. Using a vibrant shade like yellow on the Haldi day adds warmth and happiness to your Haldi venue. The freshness of surrounding flowers will bring the wedding vibes and make the ritual more exciting and amazing. It also works as a great backdrop for quirky Haldi pictures.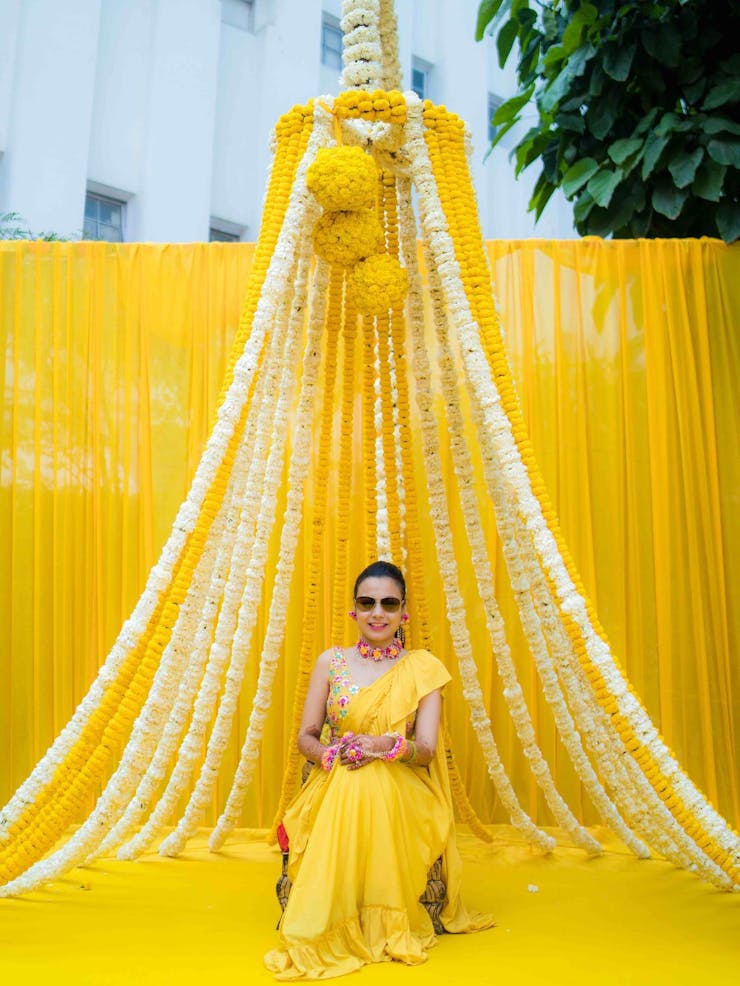 8. Fairy Tale Inspired Pink Themed Haldi Décor
Pink is a color symbolic of beauty and happiness. Most of the brides loves this pastel hue due to its dreamy effect. You can also plan a dream catcher pink wedding Haldi decoration to create a dramatic effect in your Haldi venue. The beauty and sophistication of a pink theme Haldi venue will mesmerize everyone with its beauty. You can try to create a dreamy tent in your garden area using drapes of two contrasting shades like blush pink and fuchsia pink.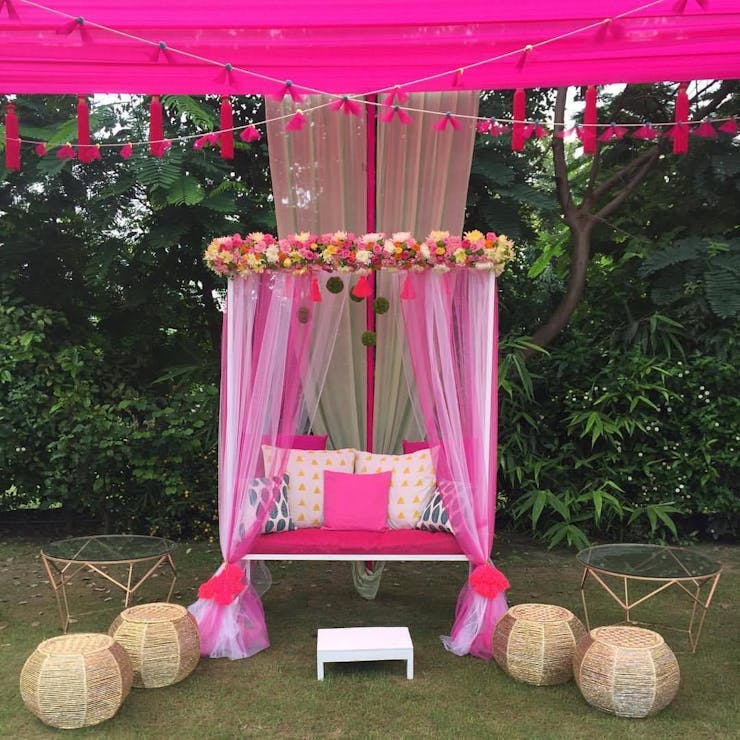 9. The Stunning Beauty Of Floral Haldi Décor
A Haldi setup bursting with flowers offers a whimsical vibe in the atmosphere. This gorgeous and beautiful Haldi setup decorated with yellow drapes and some exotic flowers is going to turn your Haldi portrait all bright and shiny. The stunning beauty of this elegant pre-wedding stage decoration will leave your guest spellbound. You can use some additional props like earthen pots filled with flower petals to add an esthetic appeal to your haldi stage decoration.
10. Sparkling Haldi Décor Theme
Apart from focusing on your Haldi stage decoration, you can also add some beautiful elements for your guests to enjoy. Funky welcome boards at the entrance gate of your Haldi venue make the events more lively. You can also add little fairy light and candle to provide a gleaming effect to your Haldi entrance.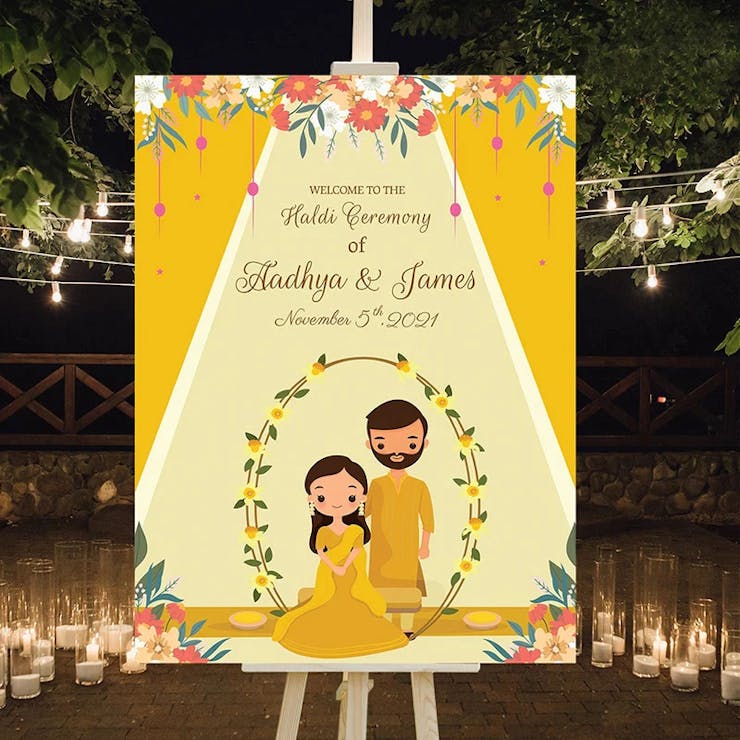 11. Simple Yet Elegant Haldi Décor
This is one of the simplest and most budget-friendly Haldi theme ideas. If you have a garden or a lawn area then you can also plan this awesome setup. A wooden swing is decorated with multiple flowers lifts up the overall appearance of your Haldi décor. This kind of dreamy swing makes you look like a princess in your pre-wedding ceremony pictures.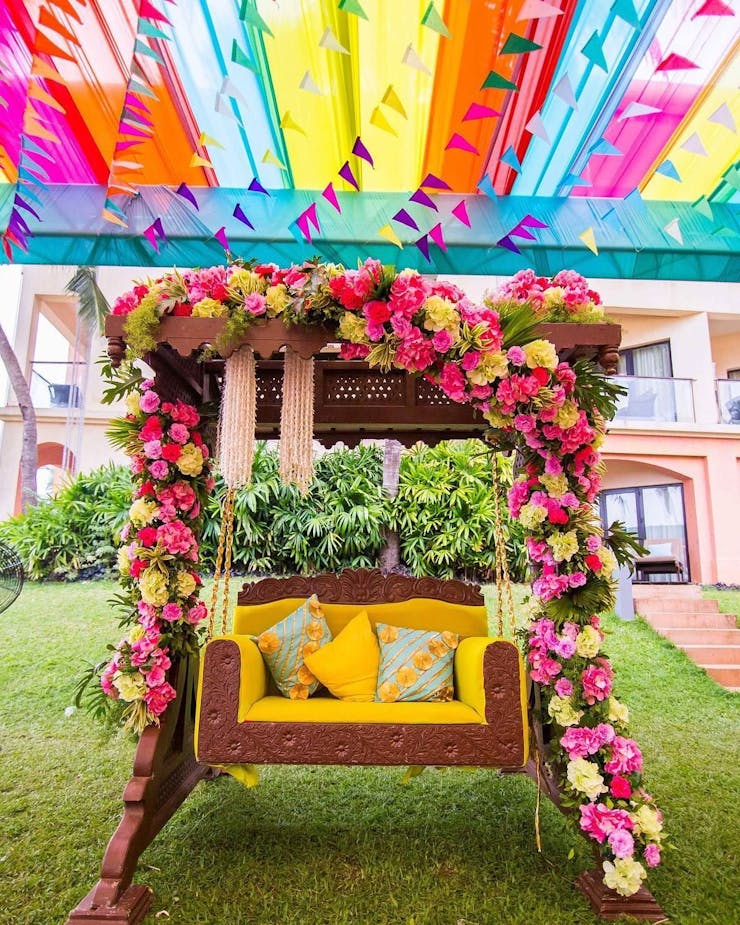 So, bookmark your favorite Haldi theme décor and plan a memorable pre-wedding ceremony.