Are you planning a destination wedding and looking for unique mandap decoration? Indian weddings are renowned for their elaborate and stunning venue decorations. You can plan a breathtaking wedding by using some of these ideas into your wedding. There are endless possibilities for transforming y our wedding mandap into a work of art. Wedding event planner in Kolkata create a beautiful arrangement for decorating your mandap. They make sure to create a mandap design that reflects your personality and style. You must pay utmost attention to this wedding décor. As this sacred place will mark the beginning of your new life. Also, an impressive mandap décor can make your dream come true of celebrating a fairytale wedding. This guide will tell you how can a breathtaking mandap can turn the vibe of your wedding function around. So let's dive into this interesting blog and find out the most stunning open mandap decoration ideas for your wedding.
1. Choose A Colorful Mandap With A Plethora Of Coordinating Bloom
Flower decoration suits all types of budgets and themes. Decoration done with golden drapes and flowers adds a mystic touch to your wedding. You can higher the best wedding planner in kolkata to replicate this dreamy mandap décor. You can use carnations and roses to create this magical setup.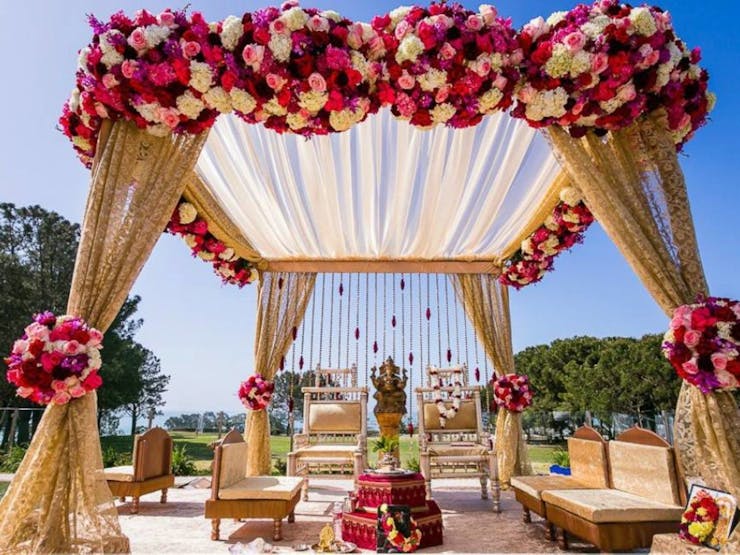 Recommended: Top 10 Amazing Wedding Stage Decoration Ideas
2. A Breathtaking Mandap With Glowing Chandelier Is Perfect For a Fairy Tale Wedding
A royal chandelier adds a certain amount of dreamy touch to your wedding décor. This open mandap design created with a magnificent chandelier is a treat to the eyes. If you plan to have a destination wedding on a hill station then this wedding mandap is a great option for you.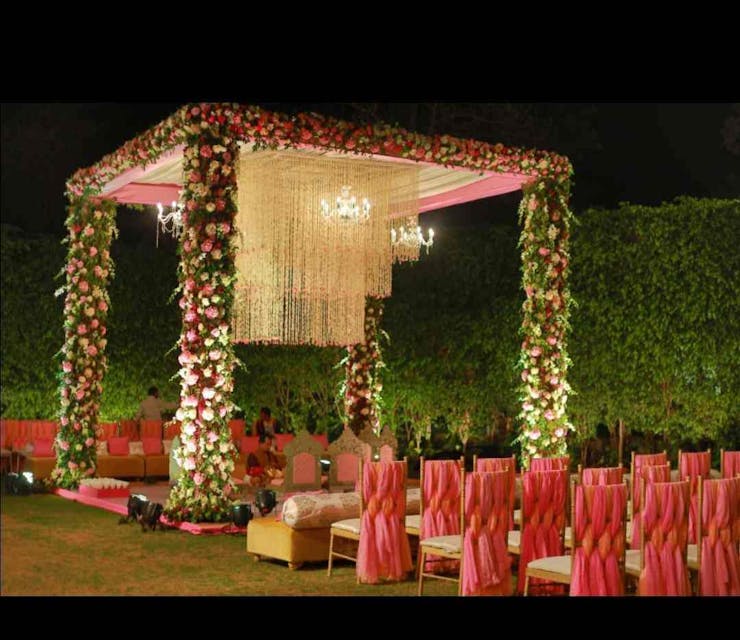 See More: Top 8 Bengali Wedding Flower Gate Decoration Ideas
3. Colorful Drapes Can Add More Beauty To Your Beach Side Mandap
A traditional wedding decoration always uses colorful drapes to add a festive vibe. This wedding mandap was designed with a vibrant pink shade to enhance the decoration. Planning such a picturesque wedding décor at a beautiful beach is an awesome idea.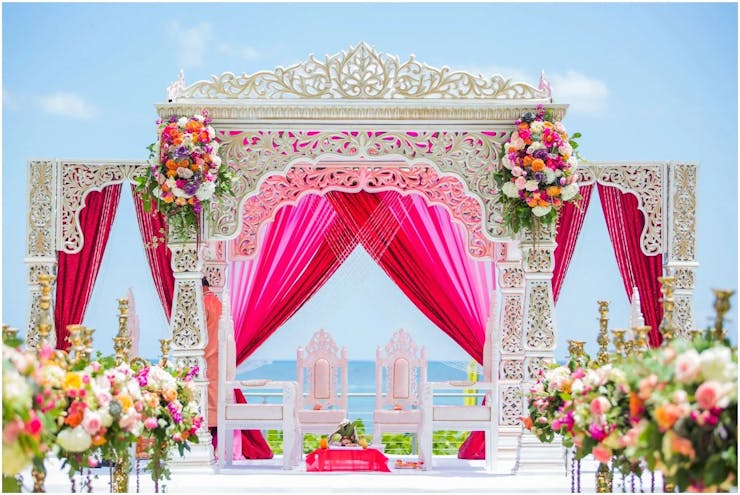 4. A Beach Side Open Mandap Decoration Amped Up With Pink Flowers
Beach weddings are always dreamy and give you some most beautiful memories of life. Getting married to the love of your life in a decorated mandap is the most beautiful experience. The blue sky and ocean have added more charm to this dreamy open marriage decoration.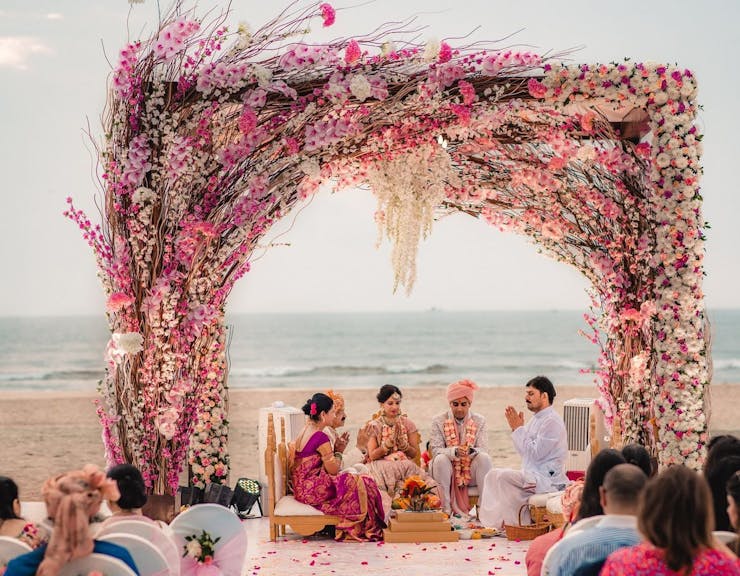 5. Pristine White Flowers & Ivory Drapes Together Creates A Dreamy Décor
We become speechless after watching the astounding beauty of this open wedding mandap. The pristine white flowers and white drapes are perfect for a fairy tale wedding theme. The combination of these pastel flowers and white drapes is a match made in heaven.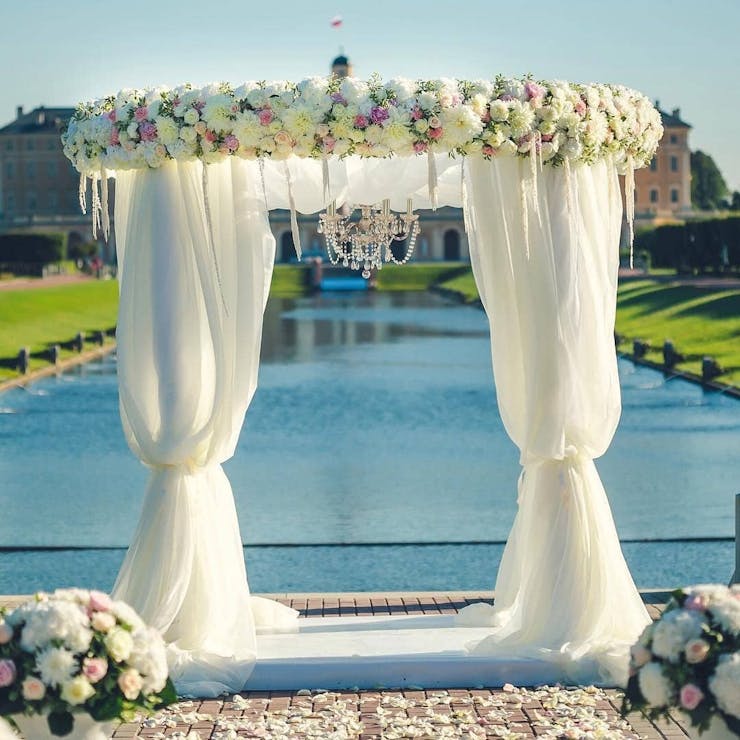 6. An Open Air Mandap Decorated With Floral Chandelier
The floral chandelier is the most exquisite addition to your wedding mandap décor. This beautiful installation can add a touch of elegance to the entire mandap. The heavenly aura of a chandelier can leave a great impact on your wedding guests. You can use a variety of blooms to create this open decoration for marriage.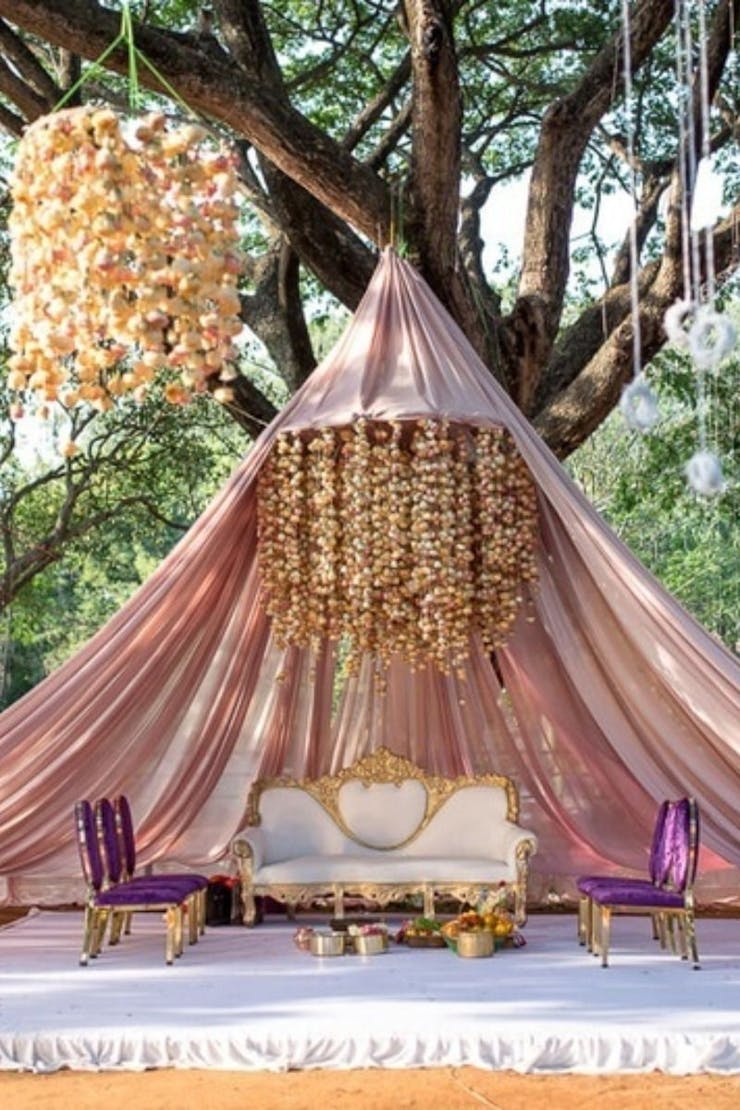 7. The Intricate Design Of This Laser Cut Mandap Can Make Your Guests Go Wow!
The laser-cut mandap design looks amazing in a picturesque wedding location. We love how this adorable couple has coordinated their dress with their mandap. The intricate design of the pillars is making this entire setup look spectacular!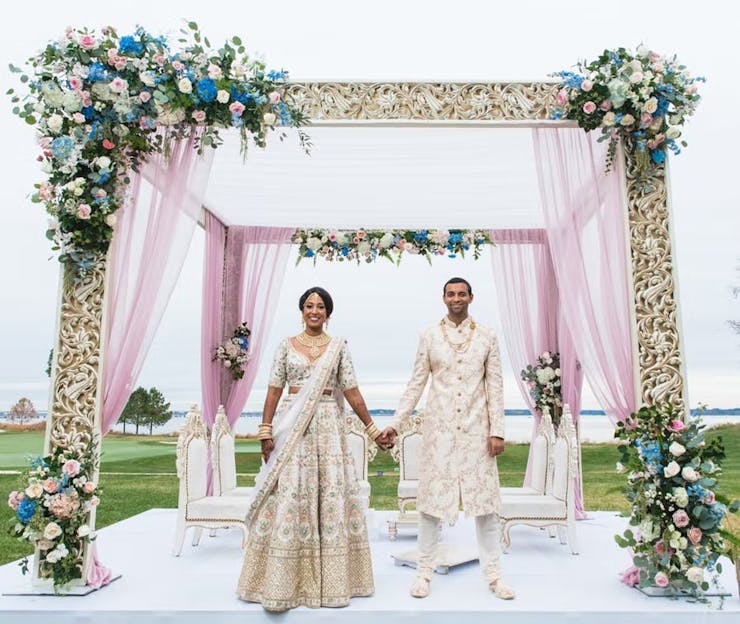 8. A Circular Mandap Looks Surreal In Pictures
If you are looking for an off-beat open mandap design then this one right here is the perfect choice for you. The circular shape of this wedding mandap looks stylish and magnificent at the same time. The wedding planner has added more charm to this mandap design by using golden drapes.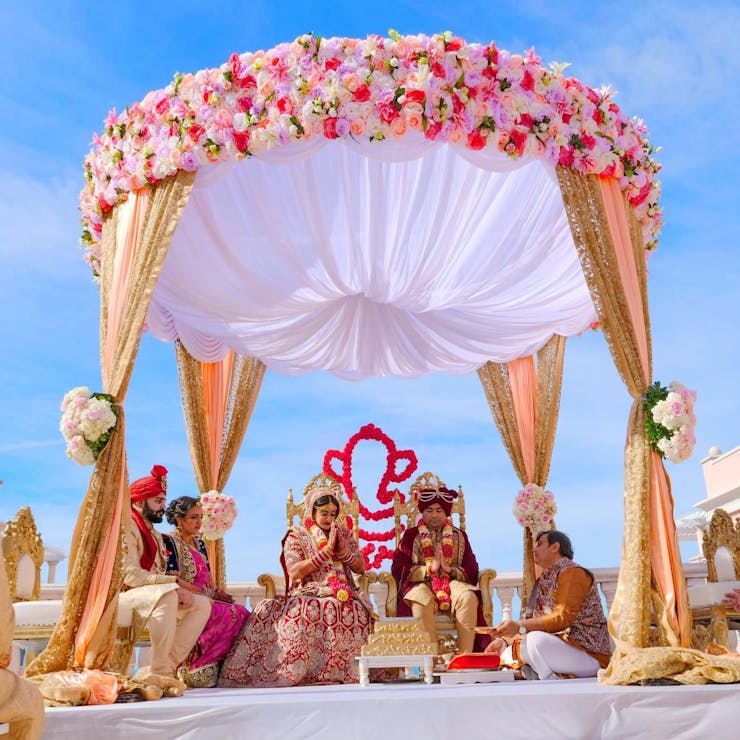 9. A Temple-Themed Open Mandap Decoration
This kind of open stage wedding décor looks more traditional and classy. The sheer perfection of this temple-themed mandap design is mind-blowing. The use of traditional décor elements like lighting lamps can beautify the entire décor. The use of flowers in decorating the structure is the cherry on the top.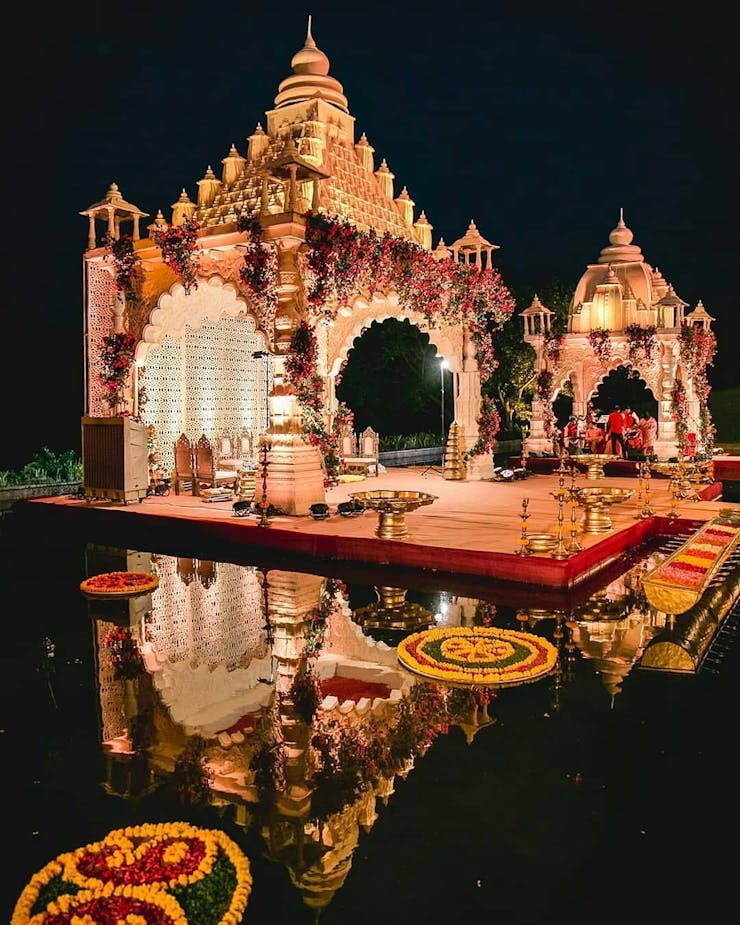 10. Have A Rustic Mandap Décor Amidst Lush Greenery
How about planning a destination wedding in the woods of Shimla or Manali? This beautiful couple has decided to celebrate their special event amidst lush greenery. Rustic open stage decoration for wedding is an ideal choice for a simplistic wedding. The use of marigold flowers can add a traditional vibe to this amazing wedding mandap.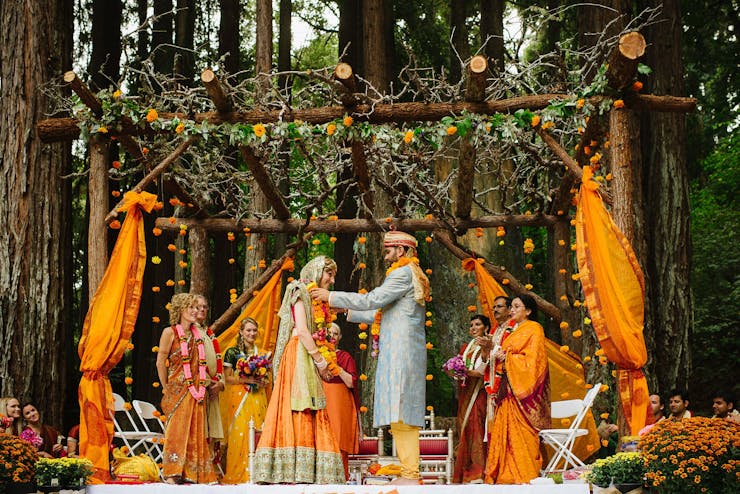 11. A Royal Mandap Décor In Traditional Theme
If you are celebrating your wedding in a Rajbari then you need to opt for a royal wedding mandap. The glorious look of this wedding mandap can leave you mesmerized. The use of religious motifs can define your cultural belief in a picture frame.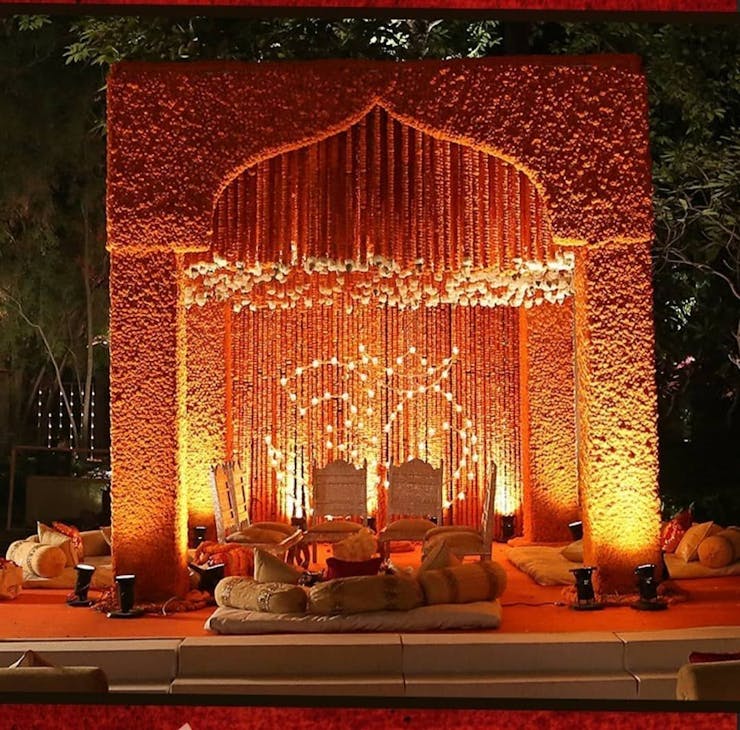 12. A Dome Shape Mandap In Red Hue Exudes Romantic Vibes
This dome shape open stage decoration can add a pop of color to your wedding venue. Decorating a wedding mandap with red carnations or roses can add a romantic vibe to the place. This kind of open stage decoration is sure to add grandiosity and opulence to your wedding décor.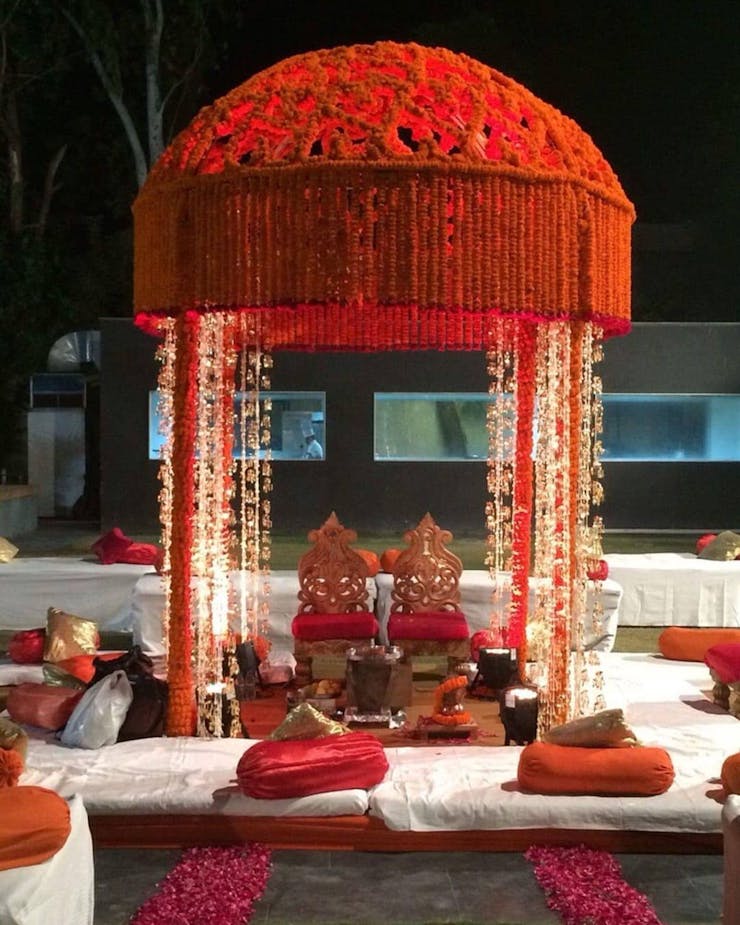 13. How Stunning This Lotus Shape Open Mandap Design Looks!
This peaceful and splendid wedding mandap design can add perfection to your wedding. A lotus mandap made with pastel flowers can add a unique charm and gives your wedding décor a fascinating look. This super elegant wedding mandap always catches attention at the first sight. This kind of venue decoration is an ideal choice for a wedding celebrated beside a lake.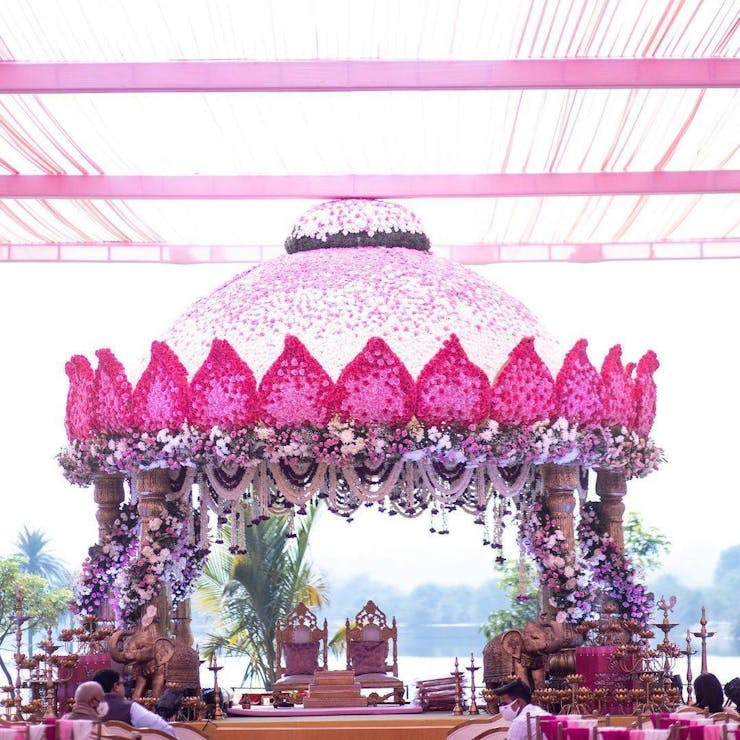 14. A Nature-Inspired Wedding Mandap With Hanging Leaves & Bunched Flowers
Adds a classic Indian vibe to your wedding décor by choosing this elegant wedding mandap. Adding green leaves and pastel flowers to the wedding décor can create a spectacular setup. Such a beautiful wedding decoration is perfect for celebrating your wedding at a beautiful resort.