Ever spotted a traditional Bengali wedding without a magnificent wedding tray? Bridal trousseau gifts are an essential part of a Bengali wedding. The exchange of wedding gifts helps develop friendly relation between the two families. It shows both families' mutual love and respect and spreads happiness in the wedding atmosphere. The groom's family sends the bridal tatta on the day of the Haldi ceremony. While the bride's family carries with them the wedding tatta for the groom's family at the wedding reception.
The significance of these gifts is not monetary. They are symbols of the couple's acceptance into their family and society. A well-decorated wedding tray can make your event a memorable day of life. You can hire the best wedding planner in Kolkata to decorate Bengali wedding tatta. A pretty version of wedding gifts can make everyone happy. After months of saving the best Bengali wedding tatta decoration ideas, we have curated this list for you. Keep reading this blog post to find some super-unique ways to decorate wedding trays.
1. A Peacock Style Wedding Totto Decoration
This Bengali wedding tatta decoration involves packing the bridal saree in the shape of a beautiful peacock. You can use artificial pearls and flowers to decorate the wedding tray. This is an unusual design that will create a lasting impression on people's minds. Get in touch with an experienced wedding management company to pack the wedding tray in an attractive manner.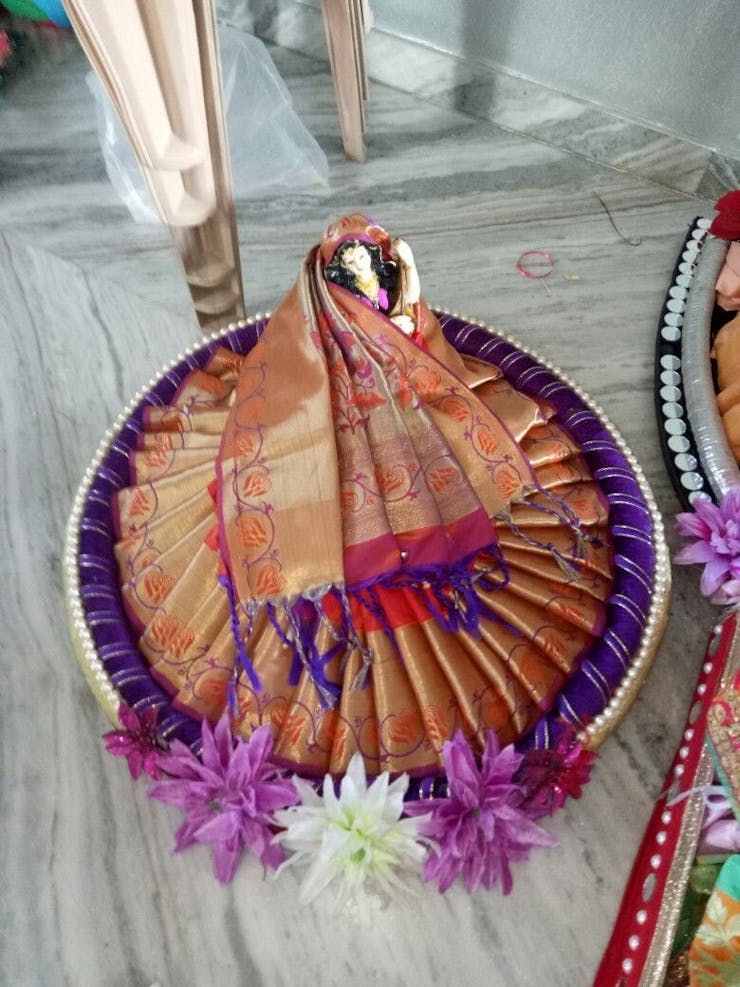 Recommended: 13 Stunning Wedding Car Decoration Ideas You Can Use For Marriage
2. The Ribbon Style Bengali Wedding Tatta Decoration
Take inspiration from this ribbon-style tatwa decoration for Bengali marriage. You can make use of a satin ribbon or silk ribbons to decorate the wedding gift. Such exquisite Bengali totto decoration ideas are perfect for a grand wedding. You can shape it in a circular or rectangular shape of your choice by using a few decorative elements.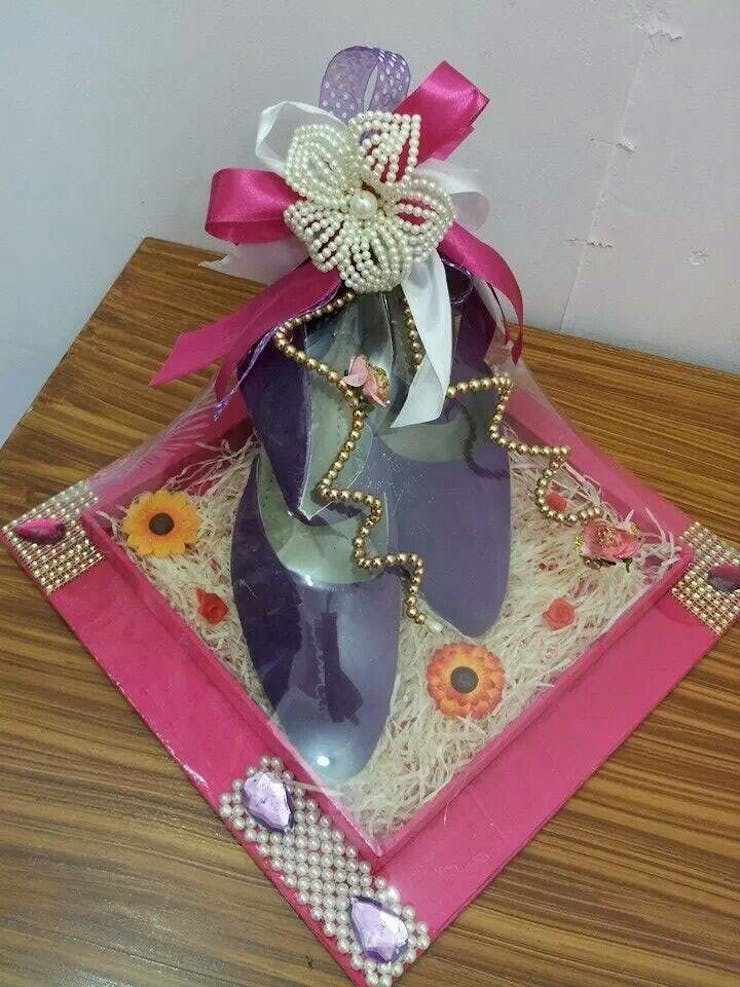 Must Read: 16+ Must Needed Bengali Wedding Planning Tips
3. The Classic Square Style Wedding Tray
A simple square tray covered in shimmering gold paper is another wonderful Bengali decoration ideas for a wedding tray. This kind of decoration is done using a wall of thermocol wrapped in golden paper. It adds a rustic vibe to the wedding tray. You can add sparkling artificial to enhance the beauty of the wedding gifts.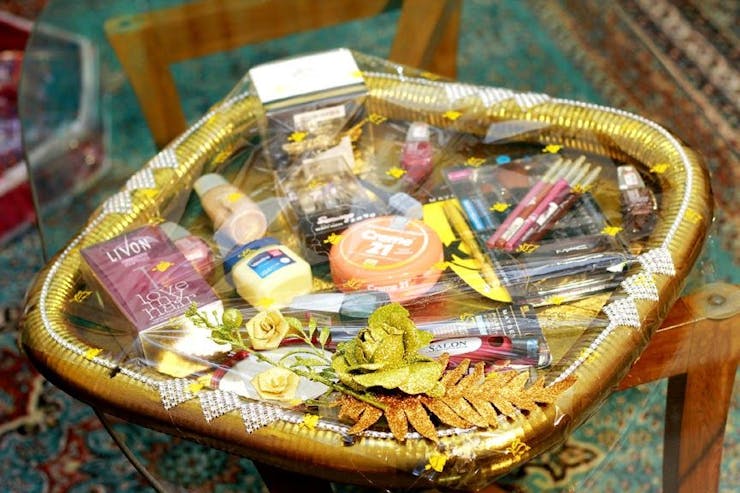 See More: 13+ Interesting Ways To Personalize Your Wedding
4. Unique Bengali Totto Decoration Ideas
This particular type of Bengali marriage tatta decoration ideas lies around a unique concept. You can ask your wedding decorator to arrange the wedding trays in a particular style. This will provide the entire wedding tray decoration with an amazing layout.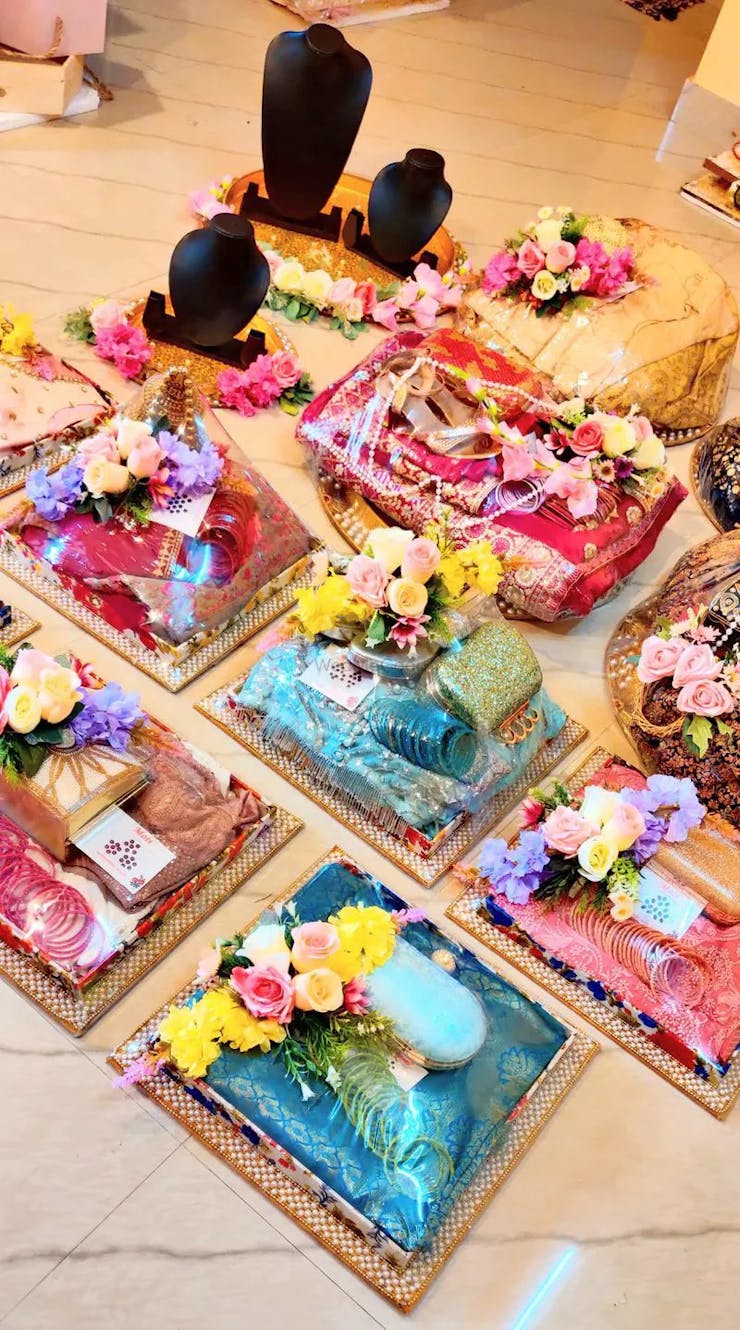 5. Modern Style Wedding Gift Packing
How about decorating the bridal saree in a creative style? A bridal saree is the most important gift item in the Bengali wedding tatta list for bride. You can create shapes like a peacock, swan, or boat to make the bridal gift look stunning.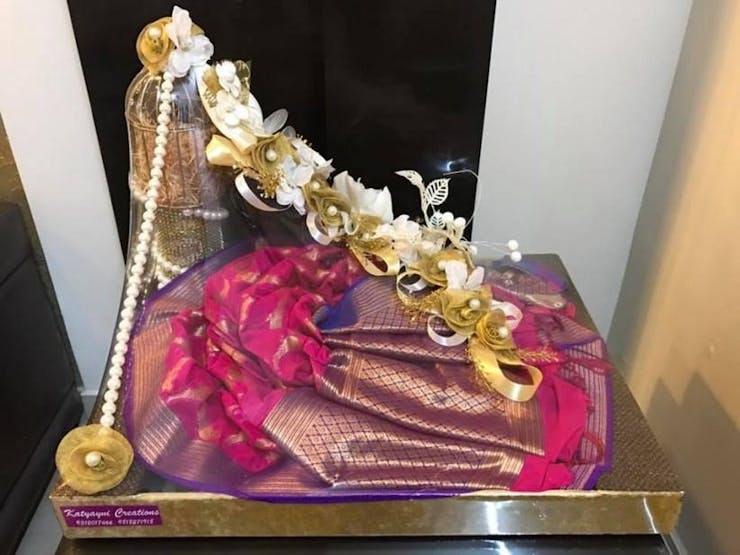 6. A Rectangular Style Wedding Gift Décor
This rectangular shape wedding tray decoration is one of the simple choices for a traditional Bengali wedding. You can decorate the tray using embroidered cloth and stone motifs. This kind of wedding tray can be used to send the fish to the bride's home as per the wedding ritual.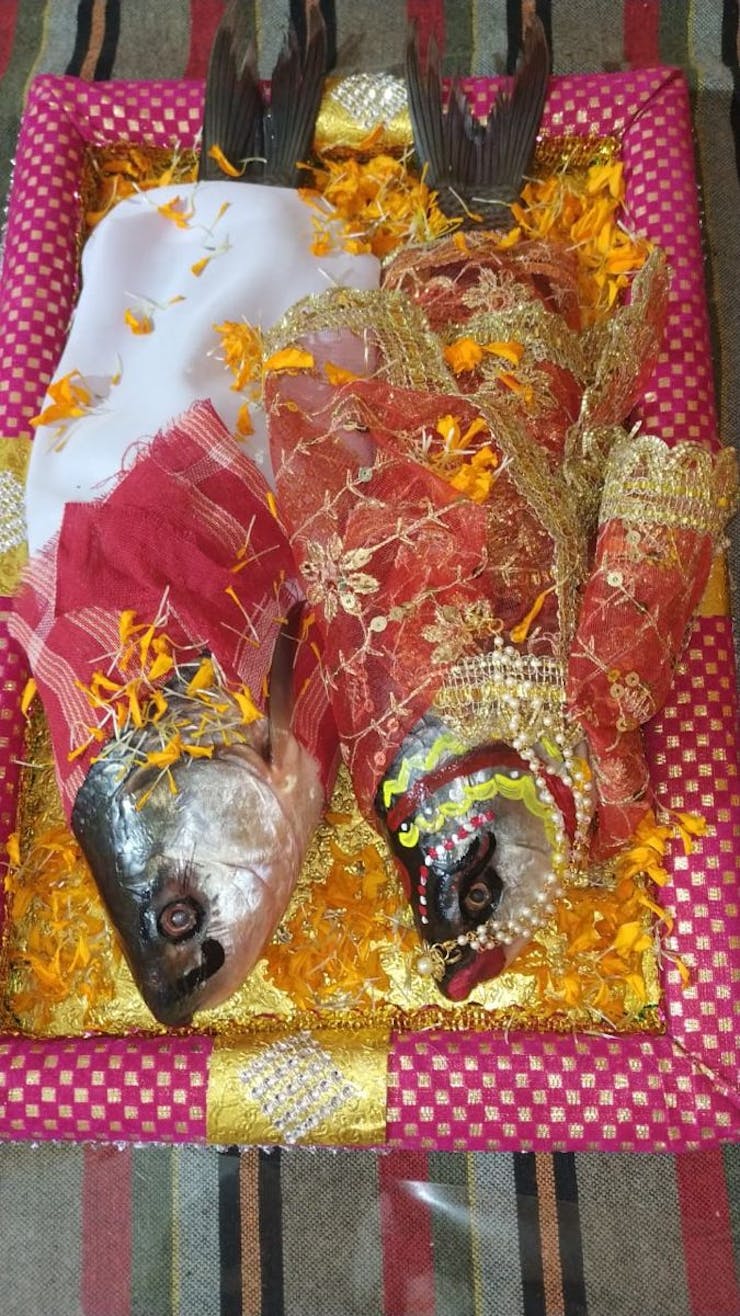 7. Basket Style Wedding Gift Decoration
The next one is a conventional type of tatta decoration for Bengali marriage. A beautiful basket decorated with fancy and colorful paper looks very pretty. Add a glamorous touch to this wedding gift basket by adding artificial flowers or leaves on the top. This can be a perfect way to gift food items to the bride's or groom's family.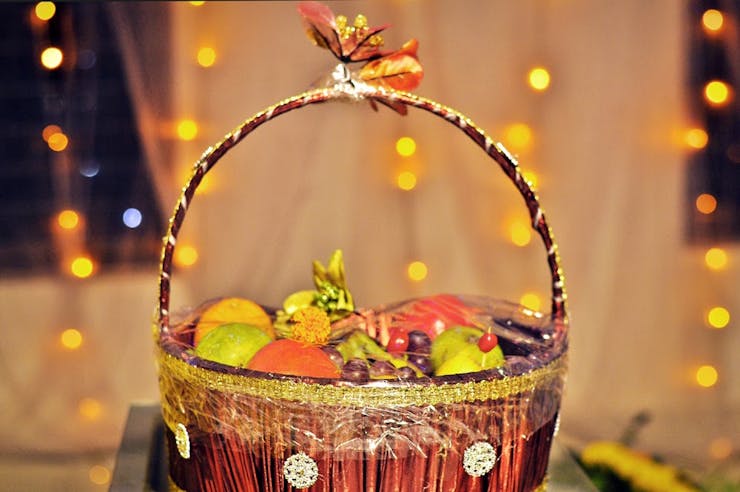 8. Circular Wedding Tray For Bride
Finally, comes here are the most beautiful tray decoration ideas for Indian wedding. A circular tray made of a cane basket is a popular addition to the wedding tray design. You can pack a circular tray using cellophane sheets and flashy ribbons to make it look elegant.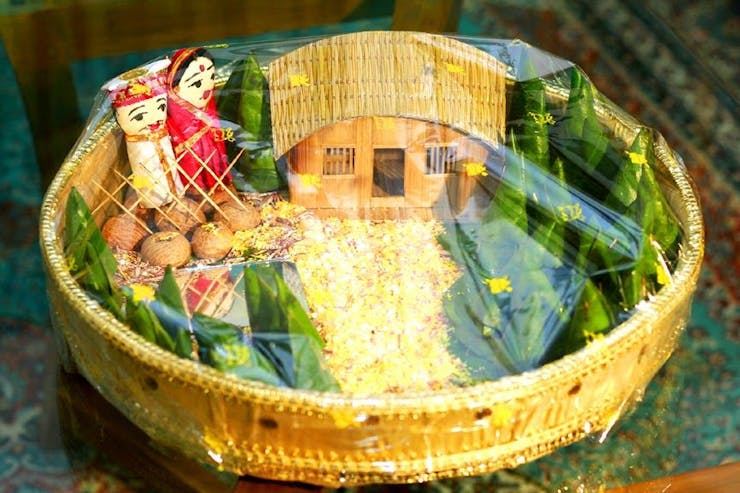 9. A Ruffle Decoration For an Elegant Wedding
A rectangular or square tray decorated with fancy ruffles looks stunning and creative. This is the latest Bengali wedding tray decoration ideas that look pleasant to the eyes. You can choose a rectangular tray to cover all the border areas with the pastel net. Adorn the decoration with contrasting flowers to add a glamorous shine to the gift items.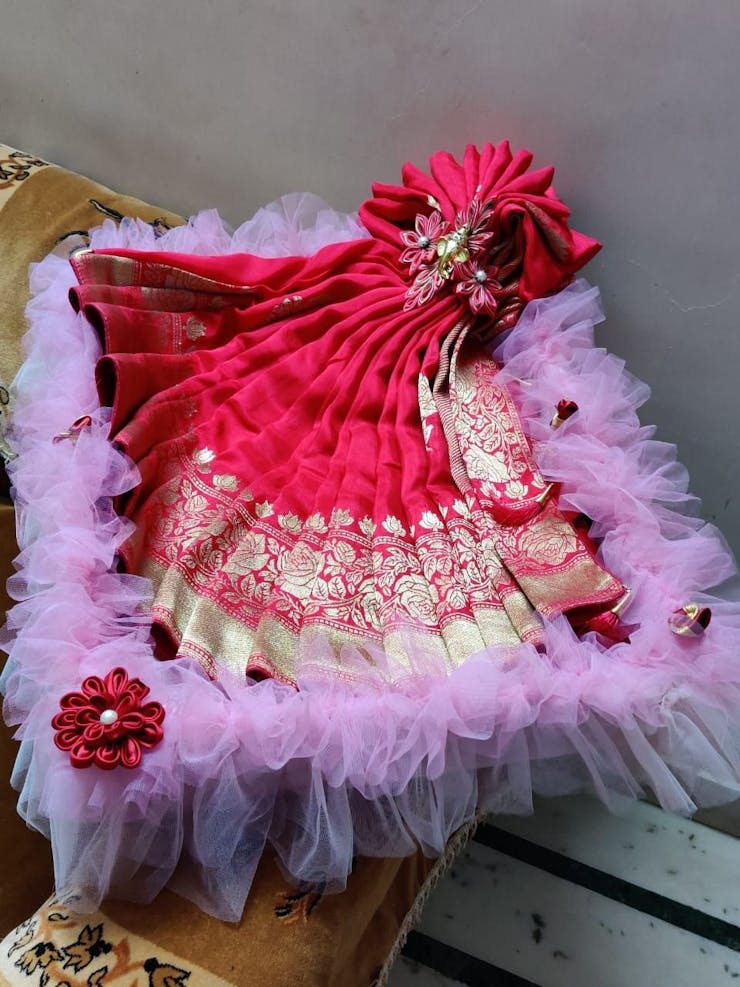 10. The Golden Net Wedding Tray Is An Evergreen Packing Style
Cover up a wedding tray with net fabric in a golden hue to add a luxurious vibe to your wedding gift decoration. This kind of wedding tray decoration is perfect for creating a beautiful cosmetic tray or bridal accessories gift items. The floral pattern on the top created with golden papers gives a fancy look to the jewelry.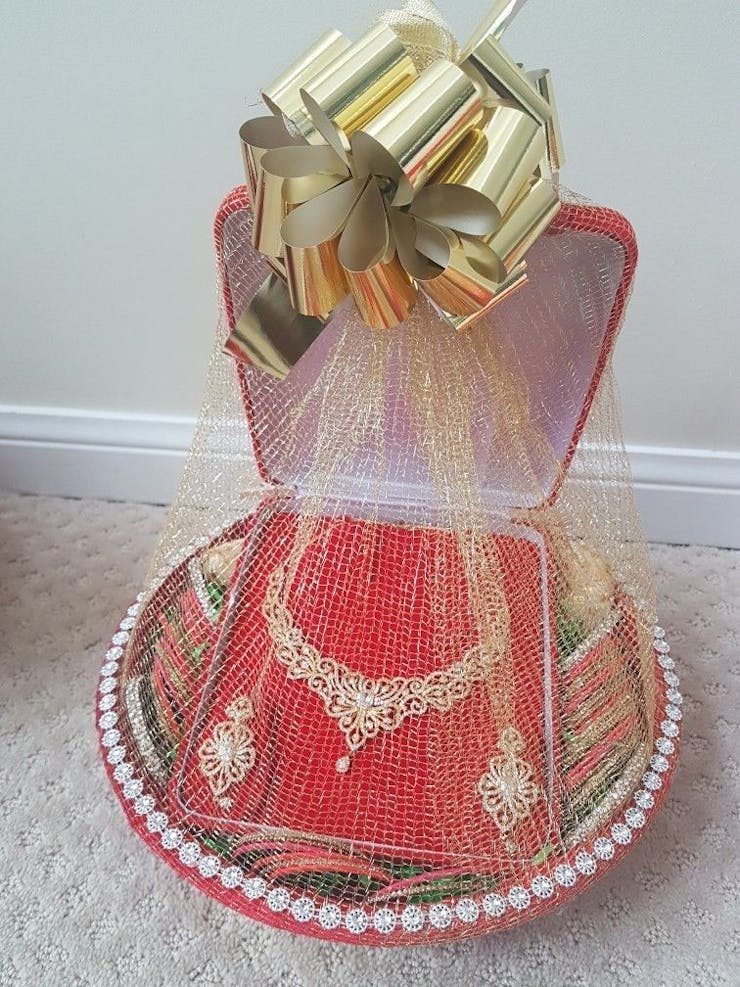 Important Bengali Gift Ideas For A Traditional Wedding Event
1. Sweets
One important thing to include in your Bengali wedding tatta is the tray of delicious sweets. Sweets play an essential role in a Bengali wedding food menu. A fully decorated box of sweets with the Bengali tatta is a real delight for the wedding family.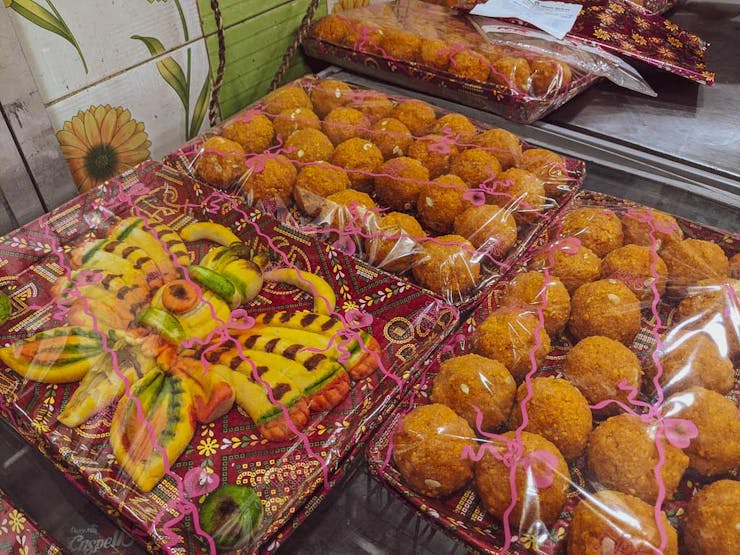 2. Fish
Sending fish in the Bengali wedding tatta is considered auspicious for the would-be bride. Usually, a fresh Rohu fish is decorated like a new bride. A gorgeous decoration of the fish tray can make it look like an eye catchy wedding gift.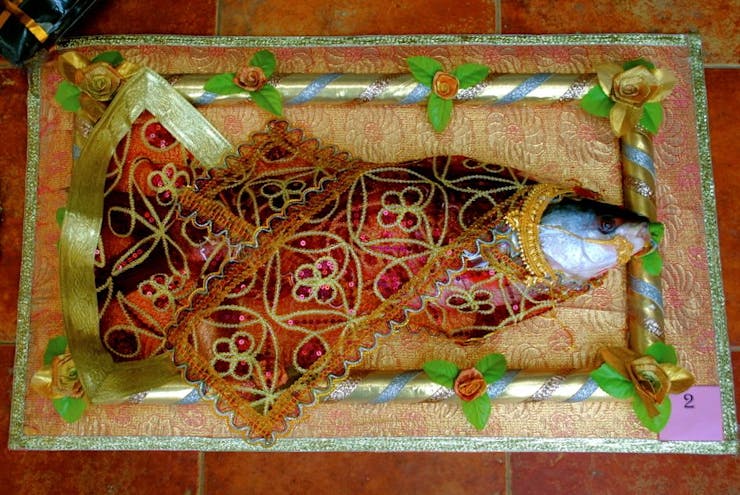 3. Clothes
Clothes and accessories are the most important element in the Bengali wedding tatta list for groom as well as bride. Both the bride and groom's family exchange clothes, handbags, and watches as a symbol of mutual respect.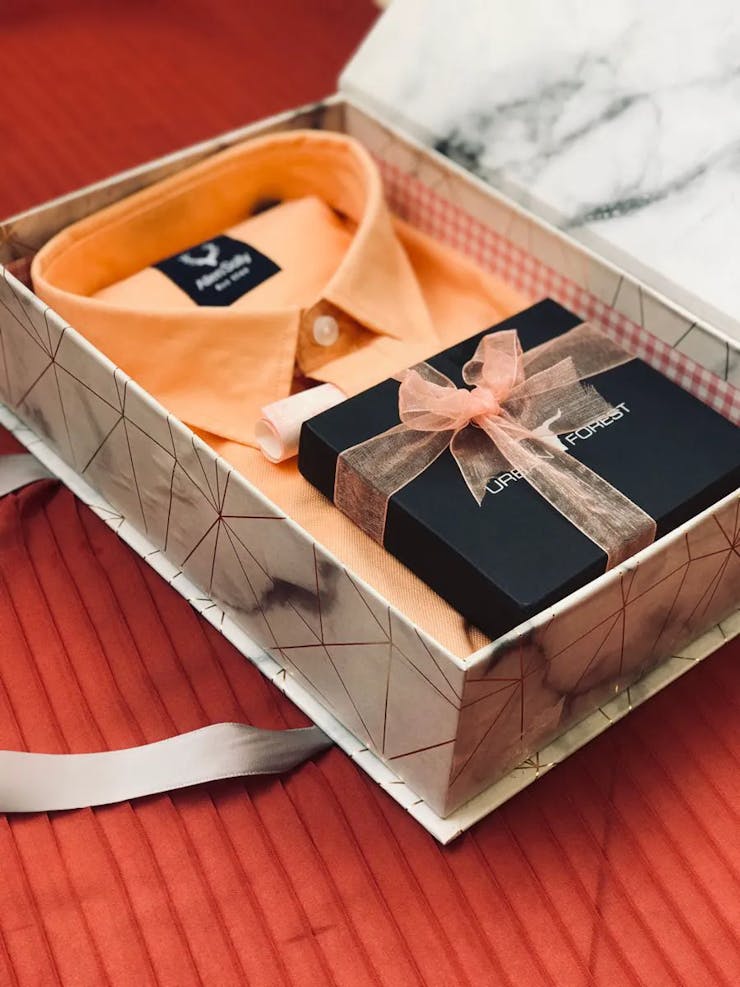 4. Cosmetics
Cosmetics are an irreplaceable section on the list of bridal wedding trousseau. A well-decorated tray of all makeup essentials is a beautiful gift for the future bride. This is a beautiful gesture that every bride will love.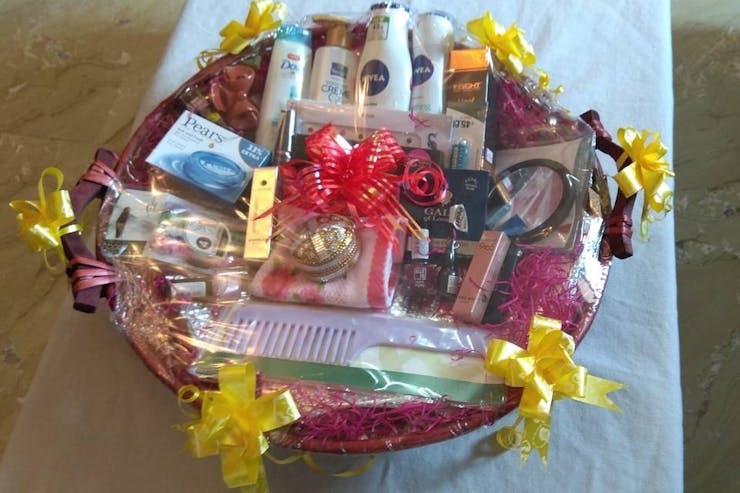 5. Shoes
The wedding shoe is also an essential gift item in the wedding trousseau. Stylish shoes or footwear can make your wedding look more glamorous. This is a small gesture shown by both families to wish the couple good luck for their new life.