A wedding is the most celebrated affair in an individual's life. Hence, every couple decorates their wedding venue like a fantasy world. You may hire the best wedding planner in Kolkata to deck up each corner of your venue perfectly. But when it comes to decorating your wedding stage you will spend hours deciding which the theme is. The importance of wedding stage decoration cannot be overlooked! It can make or break your entire wedding experience. A well-done stage will make your wedding everything you ever dreamed of. Because a beautiful wedding stage can help the couple to publicly declare their love. You can start the planning process by deciding what type of wedding theme you want. This will narrow down your options and help determine the best Bengali wedding reception decoration idea. Scroll down this list and bookmark the best Bengali reception decoration for your wedding.
1. Swan Theme Reception Stage Décor
If you are planning your wedding reception in a garden then you have enough space to execute this wedding reception stage design idea. The bewitching charm of two large swans in the backdrop will add a magical vibe to the atmosphere. Make sure to ask the wedding management company to use the perfect lighting so that every picture turns out photogenic.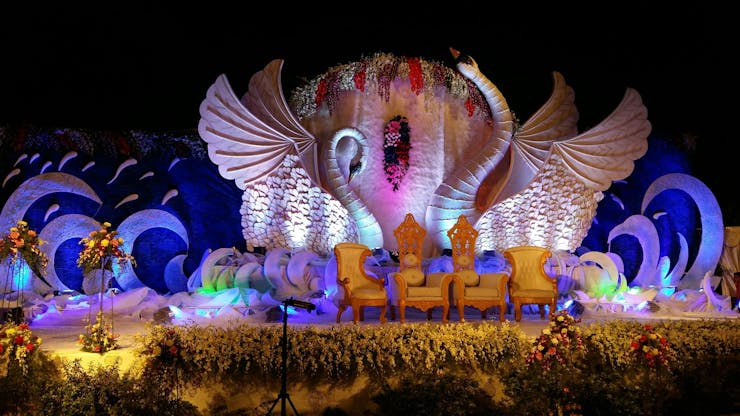 Recommended: 16+ Must Needed Bengali Wedding Planning Tips
2. Bohemian Theme Reception Stage Décor
This decoration for the reception hall is an ideal option if you want to plan a boho wedding. Boho wedding themes are the latest wedding trend that can transform your wedding stage into a dreamy place. Pampas grass, elegant lanterns, and a beautiful sofa can enhance the beauty of the stage. Its elegant style and modernity will add a special charm to your Bengali wedding stage decorations look.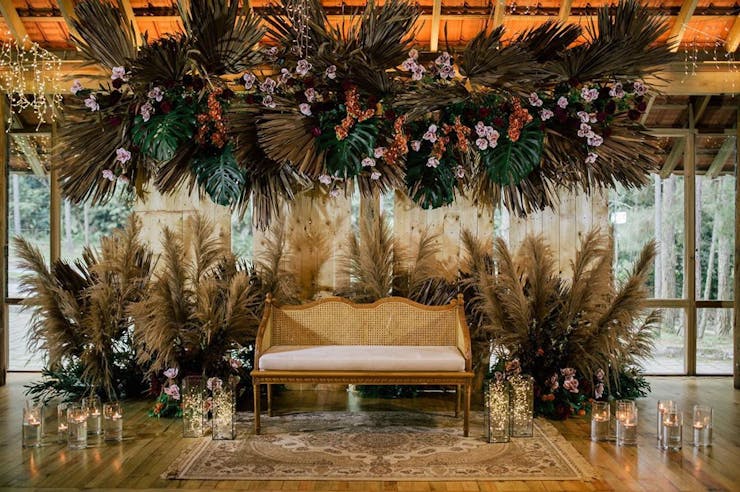 Must Read: 13+ Interesting Ways To Personalize Your Wedding
3. Rustic Theme Reception Stage Décor
The wooden and earthy feel of a rustic theme is everything you had ever dreamed of. The beautiful seating arrangement and floral decoration emit the charm of a bygone era. The wonderful wedding signage on the polished floor is a fantastic addition to the rustic theme wedding reception stage décor.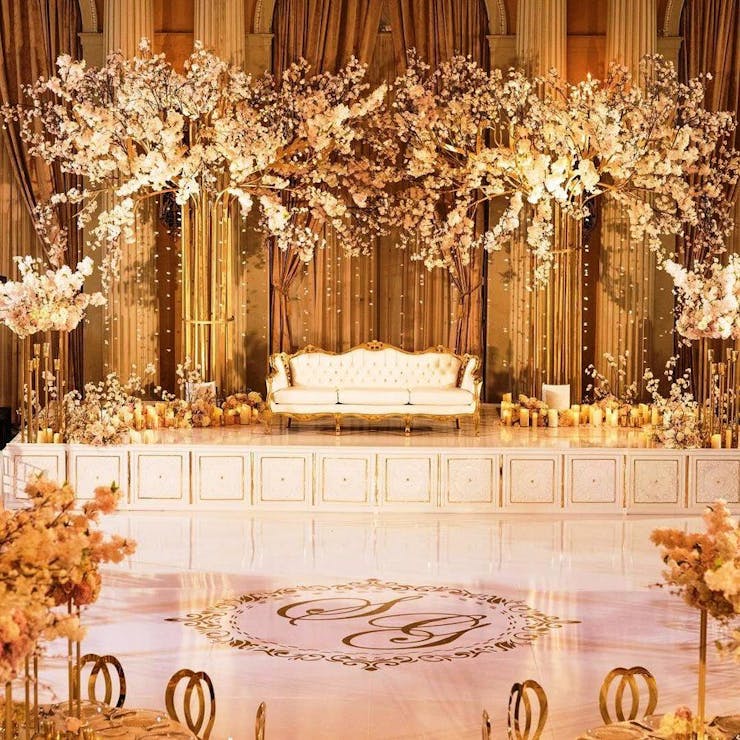 4. Tropical Theme Reception Stage Décor
Tropical theme decoration for the reception is the latest idea to plan a joyful wedding. Adding green foliage and blossom flowers adds a refreshing vibe to your wedding décor. The beauty and elegance of such a wedding stage can impress your wedding guests. It will also allow you to capture some great couple of pictures with a stunning backdrop.
5. Blue White Theme Reception Stage Décor
You can never go wrong with a mesmerizing blue and white stage decoration for wedding reception. The pretty hanging drapes from the ceiling create a fairy tale effect on the wedding stage. Adding a shimmery backdrop can turn this into an exquisite marriage stage decoration. White drapes with a shimmery blue backdrop can turn your wedding pictures gorgeous.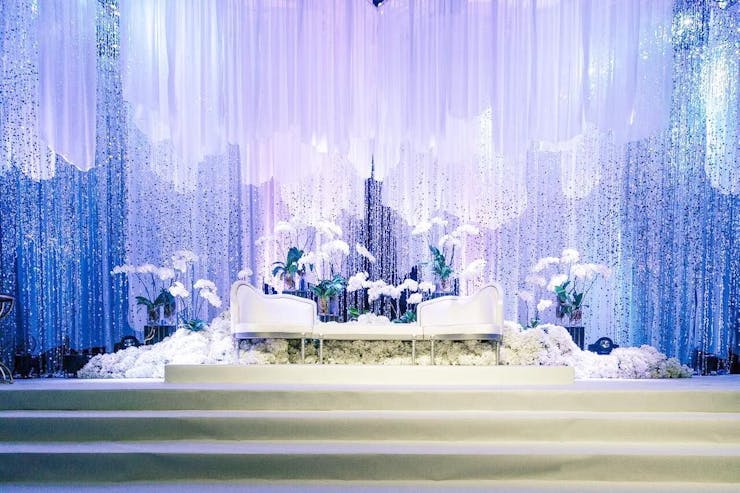 6.  Floral Theme Reception Stage Décor
Adding a pop of vibrant color to your wedding stage décor can look eye catchy and dreamy at the same time. Such a mesmerizing wedding stage complements the look of the gorgeous Bengali bride. A floral chandelier hanging from the rooftop adds a subtle aura to your wedding event. This reception stage decoration with flowers is an ideal choice to complement your fairy tale wedding theme.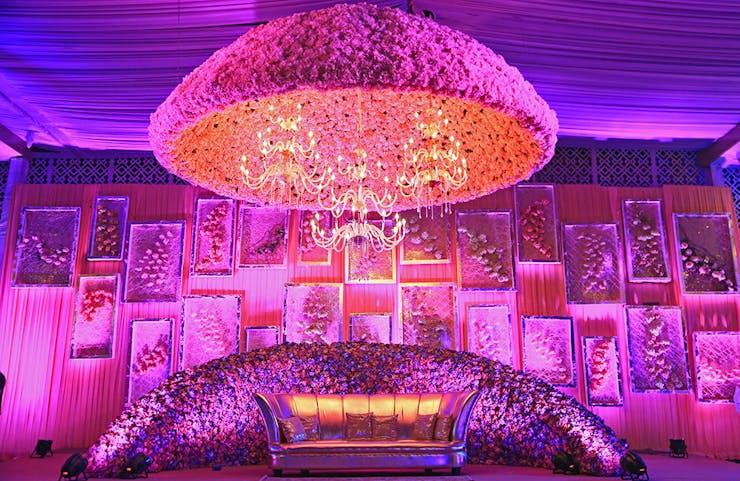 7. Pastel Theme Reception Stage Décor
If you are very fond of subtle yet elegant décor then we have found something very suitable for your event. Pastel theme wedding reception theme decorations always look classy in the pictures. You can use minimal props to add definition to your subtle wedding stage decor.
8. Royal Theme Reception Stage Décor
The royal wedding reception stage decoration ideas are a strong portrayer of the prosperity of the wedding couple. A center stage designed in red and golden view adds glamour to your wedding venue. A luxurious seat and royal props like grand flower vases can enhance the beauty of your grand affair. Such a magnificent stage is a sight to behold!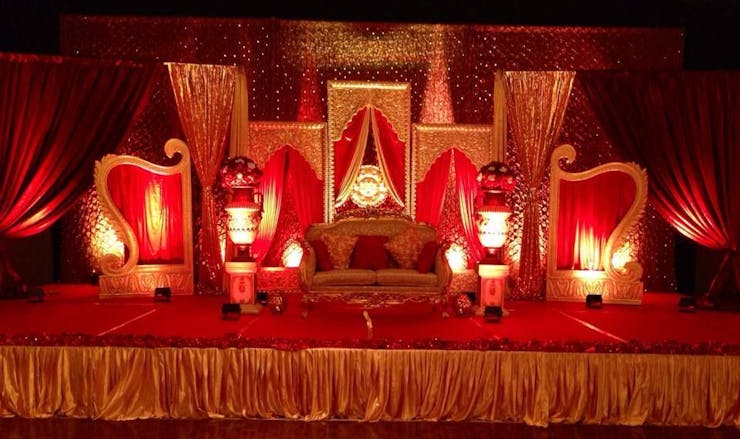 9. Fancy Theme Reception Stage Décor
If you are looking for a low cost wedding reception stage decoration then this is a perfect option for you. This simple yet stunning reception stage can be the center of attraction at your wedding. The cascading blue drapes and illuminated fairy lights add a surreal charm to your wedding venue. You can add lanterns and flower vases for this minimal yet dashing reception stage. This kind of simple stage decoration idea is a wonderful choice for minimal couples.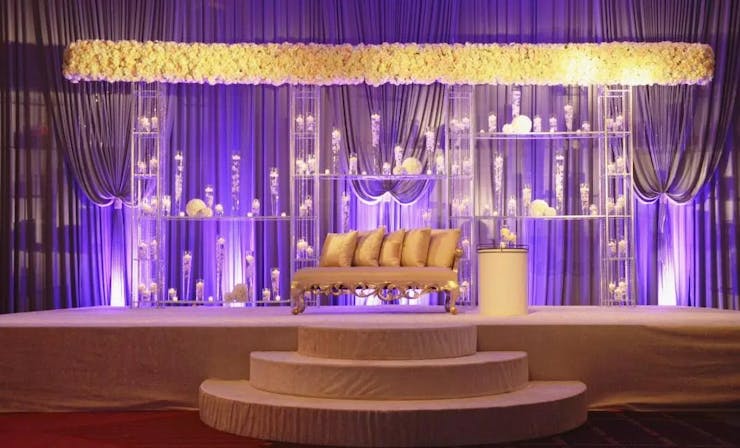 10. Open Air Reception Stage Décor
Receptions don't always need to be hosted inside a banquet hall. An open-air reception stage can also make your wedding a memorable event for a lifetime. You can plan such an excellent stage decoration in a garden area or big lawn. A magnificent structure and floral decoration look exotic in pictures. You can make use of cascading drapes and beautiful carpets to add a more dramatic effect to your wedding décor.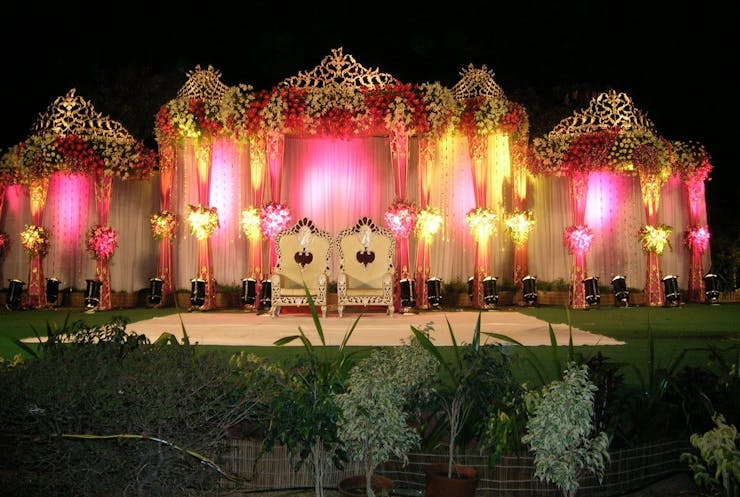 11. Romantic Theme Reception Stage Décor
Is there a more romantic way to announce your union than a red rose decoration? Red roses can add a romantic vibe to your reception. The aromatic fragrance and ethereal beauty of red roses can completely turn your reception stage into a dreamy land. The combination of red roses and floral chandeliers sets a perfect example of romance.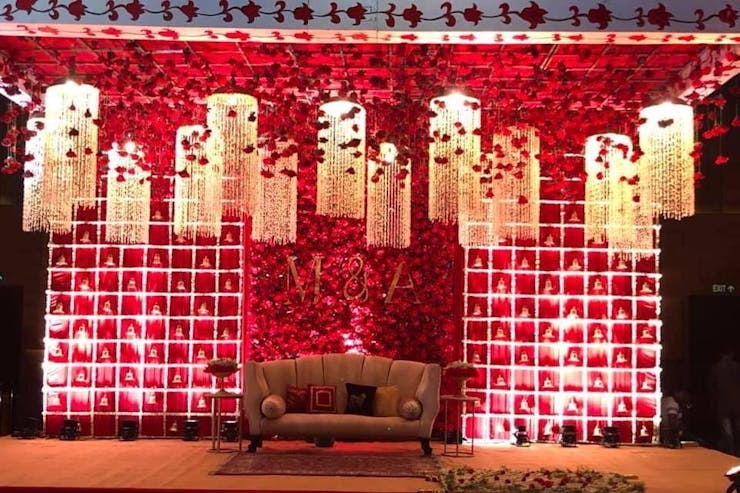 12. Shimmery Theme Reception Stage Décor
A shimmery wedding reception stage decoration is straight out of a fairy tale. The use of twinkling fairy lights and stunning drapes creates a heavenly effect. You can make use of the dreamy chandeliers and shimmery curtains to amp up the lavish décor. Perfect lighting and a stunning sofa are the right addition to this unique thing wedding stage.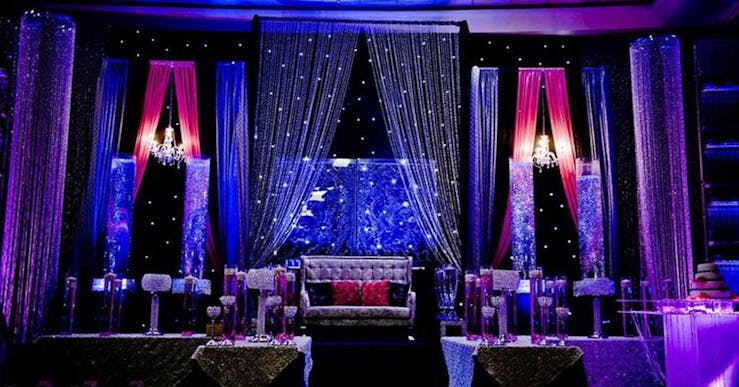 13. Elegant Theme Reception Stage Décor
Everything seems romantic when you add a few candles to your elegant white reception stage décor. If you are a couple who loves the magical charm of pristine white shade then you can opt for this wedding stage décor. White blossoms and pastel curtains create a dramatic effect on the stage and make everything looks magical in pictures.