At this time of the year, the wedding season is in full swing. Every Bengali couple wants their special day to be unique and memorable. Bengali wedding events are no more limited to wedding photography and delicious food menus. Couples are now more serious about how to make their wedding venue look extraordinary.
Hence, if you want to make your wedding dream come true, you need to pay extra attention to the decorations. It is important to stay up-to-date with the latest trends in wedding decorations and use them creatively. You can consult the best wedding planner in Kolkata to know the best ways of making your wedding event memorable. With the help of creative decorations, your wedding can become an event to remember.
There are plenty of beautiful Bengali wedding decorations ideas available these days. But couples mostly choose innovative ones.
So, have a look at the list of the latest Bengali wedding decoration ideas that can make your event shine.
1. Ombre Effect Wedding Decoration Ideas
Ombre décor is the latest marriage decoration trend used by wedding event planner in Kolkata. A floral ceiling or a tablecloth designed in an ombre shape will surely catch your guest's eyes. It looks fantastic with fairy lights and a chandelier addition. You can make use of pastel flowers to decorate the surrounding areas which will create a magical mood in the space.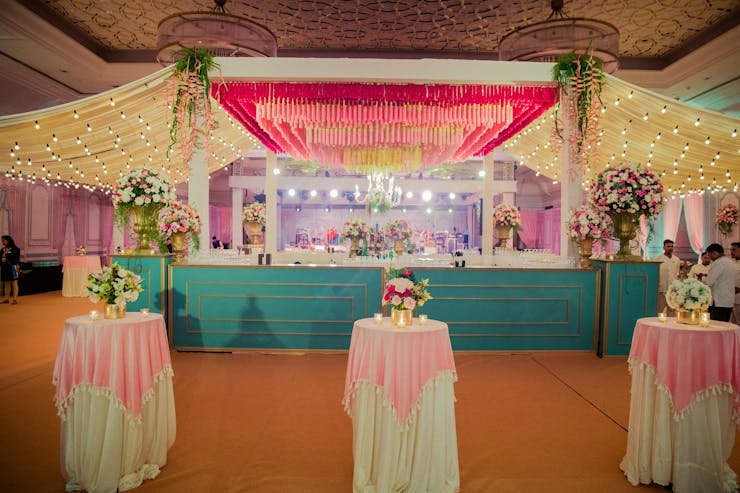 Recommended: 16+ Must Needed Bengali Wedding Planning Tips
2. White Chandelier Bengali Wedding Stage Decoration
A classy chandelier is one of the most essential elements used by Bengali wedding planner Kolkata. The grandeur of these romantic chandeliers will add a mesmerizing touch to your wedding venue. Its timeless appeal can enhance your overall wedding décor. Look at the vintage charm of these elegant chandeliers adding a unique touch to the wedding entrance.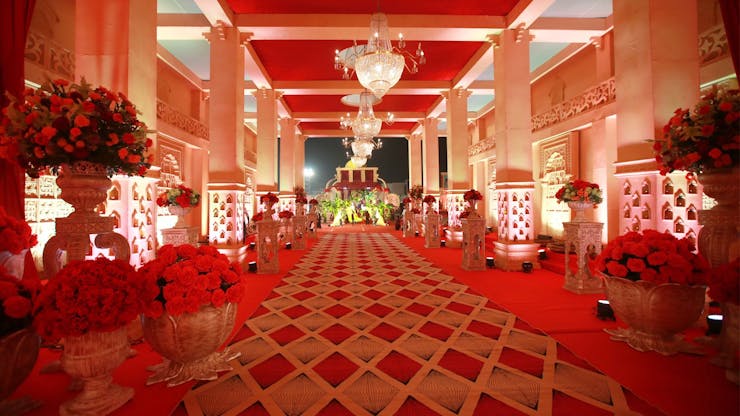 Must Read: 13+ Interesting Ways To Personalize Your Wedding
3. Rainbow Décor Wedding Themes
If you are a great lover of vibrant shades then you must opt for this rainbow wedding theme. These are one of the best wedding themes that make your event extra special. The multi-color magic used in this theme can brighten up your overall wedding décor. This creative theme is perfect for couples who want to experiment with something bright and beautiful.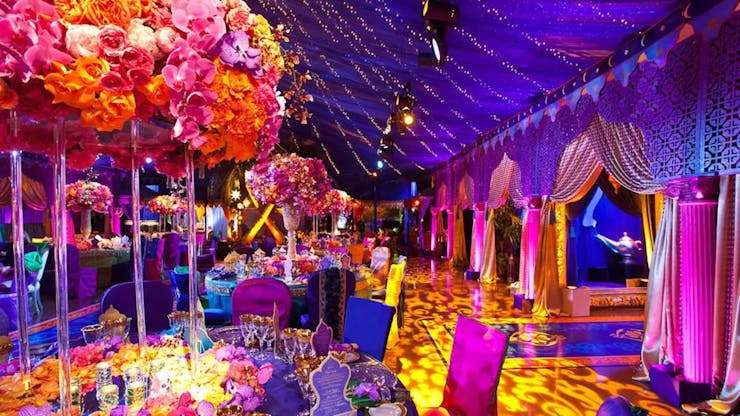 See More: Top 15 Trending Photobooth Ideas For Wedding
4. Bohemian Wedding Theme Ideas
Bohemian themes are one of the best wedding themes for marriage that provides you with a vintage feel in your wedding venue. You can use white floral garlands and green foliage to add a classy feel to your wedding décor. A boho theme made using floral ceilings is a great option to make your decor look like a million bucks.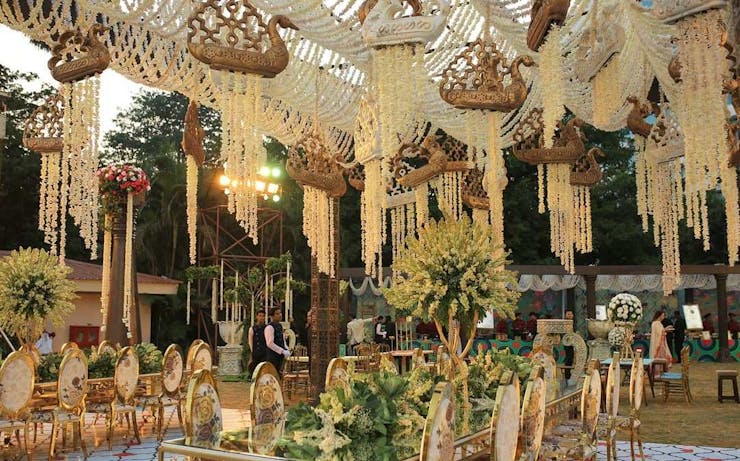 5. Rustic Wedding Hall Decoration
Another wonderful idea to make your special event memorable is to opt for a rustic theme. This kind of beautiful wedding decorations provides a warm feeling. You can make use of metallic chairs and a carpet of a similar shape to add a dash of rustic appeal.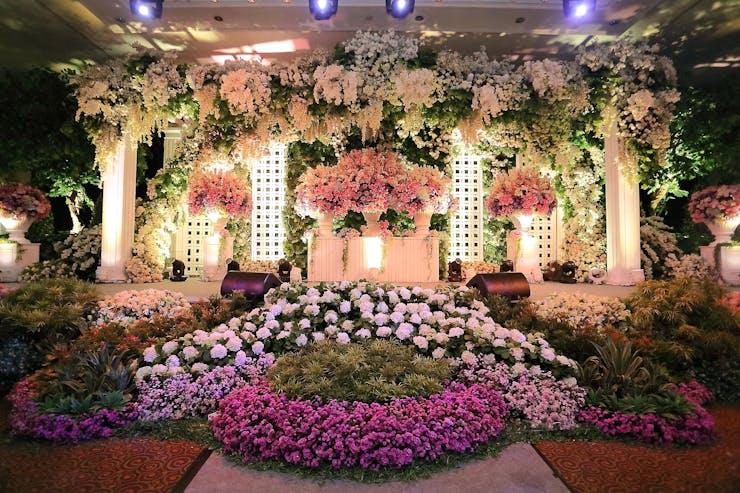 6. Unique Flower Decoration For Wedding
Flowers can make any simple place look beautiful. You can add beautiful flower installations to your venue to leave everyone speechless. Floral canopies are the most popular ideas used in Bengali wedding gate decoration. Vibrant shade flowers can add a romantic glow to your venue and make it look dreamy.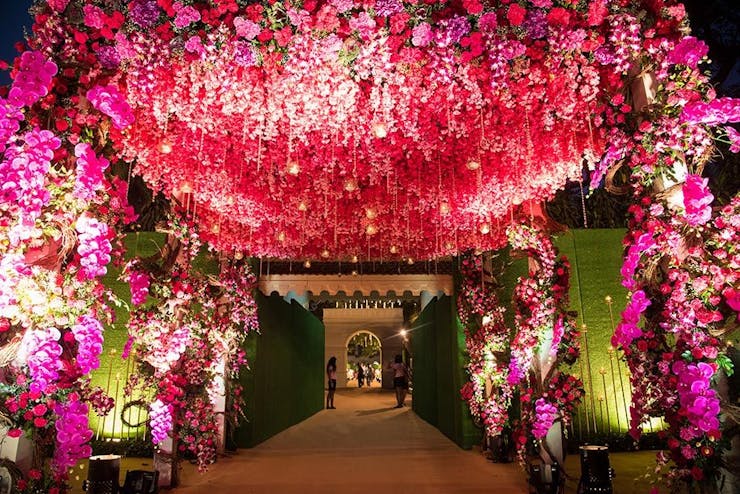 7. Gorgeous Green Bengali Marriage Decoration
Have you ever imagined decorating your entire wedding venue in a green tone? Green is the most popular shade trending in this wedding season. Many Bengali couples who admire the beauty of nature are choosing this theme. A lush green wedding stage covered with pretty flowers and foliage can amplify the entire function's look.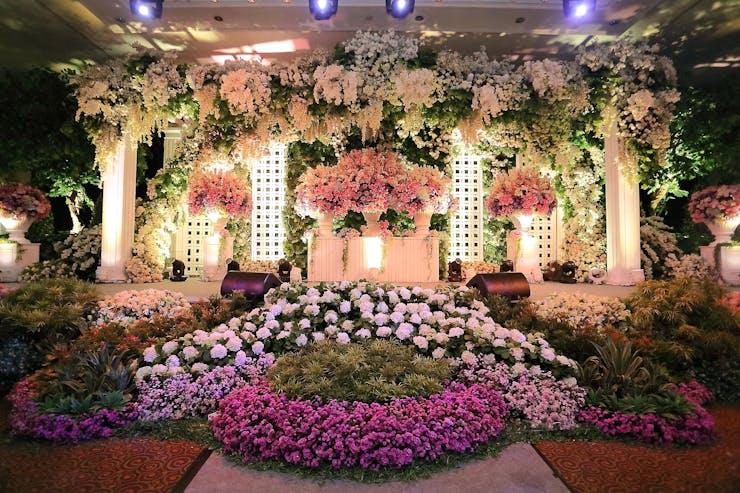 8. Traditional Bengali Wedding Decoration
Let's admit the fact that traditional theme wedding décor is still treated as one of the best options for Bengali wedding pandal decoration. You can even choose a traditional theme to decorate your reception stage. Adding a centerpiece on the stage can help you click some amazing wedding photos. The long flowy drapes and use of metallic colors are going to add a royal vibe to the décor.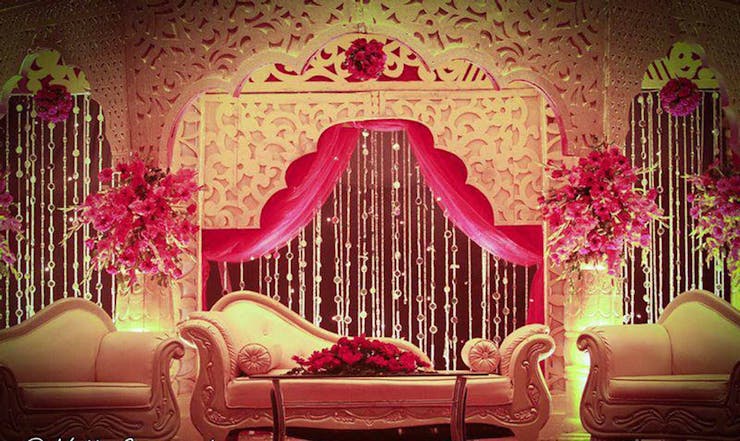 9. Open Air Wedding Decorations
How about celebrating your special event below the open blue sky? An outdoor garden wedding is one of the popular choices among Bengali couples. The natural beauty and calm atmosphere make the event more magical. You can decorate the venue using fairy lights or dreamy drapes to make your event look more romantic.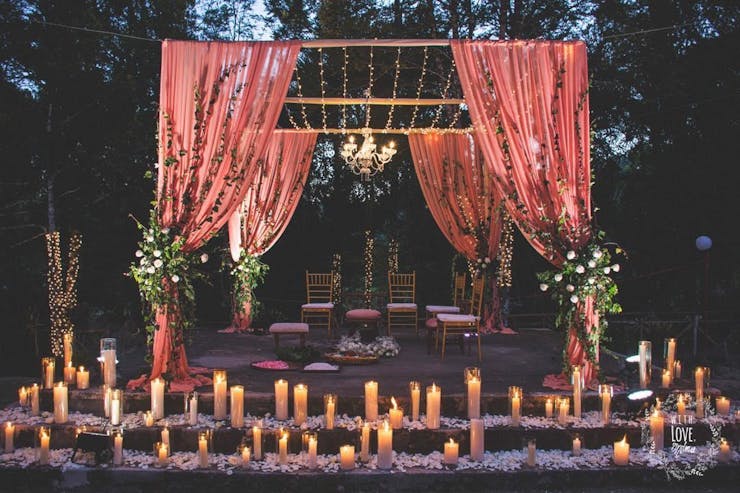 10. Beautiful Wedding Decoration With Red Roses
Using red roses in your wedding decoration is the best idea. The aromatic fragrance of this beautiful flower adds a romantic vibe to the atmosphere. Red roses decoration is the most popular choice to amplify the beauty of a wedding hall in Kolkata. Red roses can also be used as charming centerpieces and for floral canopies.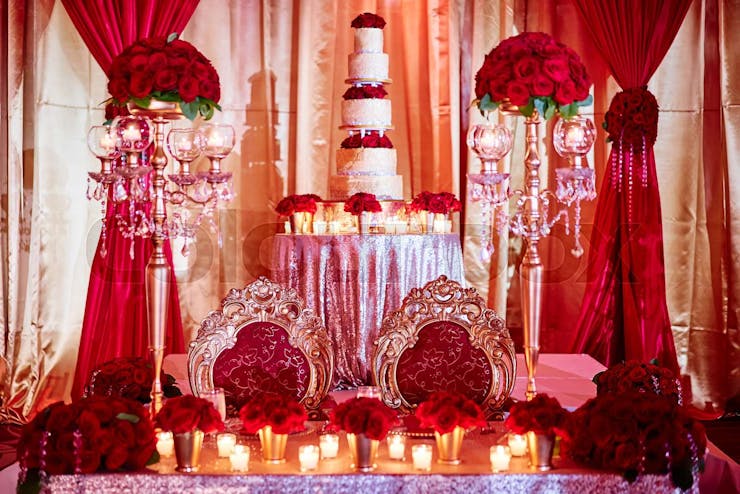 11. Shimmery Bengali Wedding Decorations
You can add a little glitter and sparkle to your wedding venue décor for making it a glamorous event. These kinds of wedding ideas are perfect for a winter wedding. You can use shimmery strings or fairy lights to make it look an eye catchy wedding décor.
12. Gorgeous Bengali Wedding Mandap Decoration
You can even add a plethora of blues to your wedding mandap decoration. The fragrance and beauty of fresh flowers will make your event more special. It can make the venue look exquisite and wonderful in pictures also. Whether it's an open area wedding mandap or inside the wedding hall a floral decoration can never go wrong.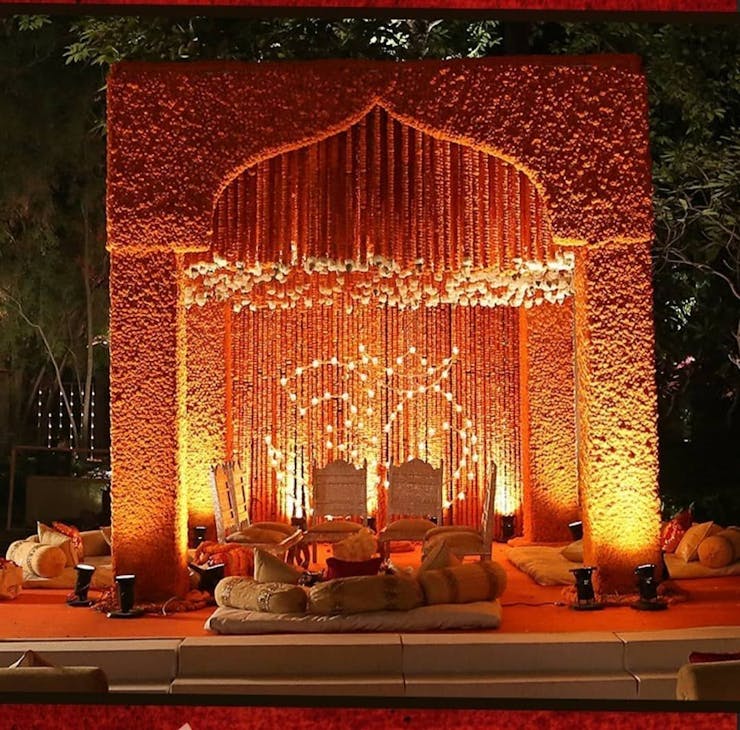 13. Personalized Wedding Decoration Ideas On A Budget
Couples are now adding a personalized touch to their wedding themes to make their event look extra special. This is one of the best decorations for a wedding that can make a lot of difference. They are also opting for personalizes chairs and catalogs to make their event unique. You can use personalized hashtags on your wedding stage backdrop or in the centerpieces to grab the attention of your wedding guests.