The best thing about Bengali weddings is they are full of colors and joyous occasions. Delicious Bengali food menu, and fascinating venue decoration are the major aspects of Bengali wedding. But one thing that has gained a lot of attention in Bengali weddings these days is the dashing groom's look. Just like gorgeous Bengali brides, grooms too need to look their best on their special day. Choosing the right wedding outfit for him can make all the difference.
With so many options available, it can be difficult to decide which groom outfit is right for you. Don't worry. Experienced Bengali wedding planner Kolkata can help you select the ideal wedding outfit. They have an eye for detail and can help you find a unique look that will make you stand out from the crowd. With their expertise, you can be sure that your wedding event and look both will be remembered for years.
Keep reading this blog to know more about the trending Bengali groom wedding dress.
Recommended: Trending Bengali Wedding Card Ideas - Events Gyani
1. Royal Angrakha Are The Most Stylish Bengali Groom Dress
Angrakha is a traditional outfit which was worn in Royal courts during the Mughal era. Today this royal outfit has become an exquisite work of art in itself. This is why modern grooms choose this classy apparel for their wedding occasion. You can pair it with a tight churidar for a dapper groom look.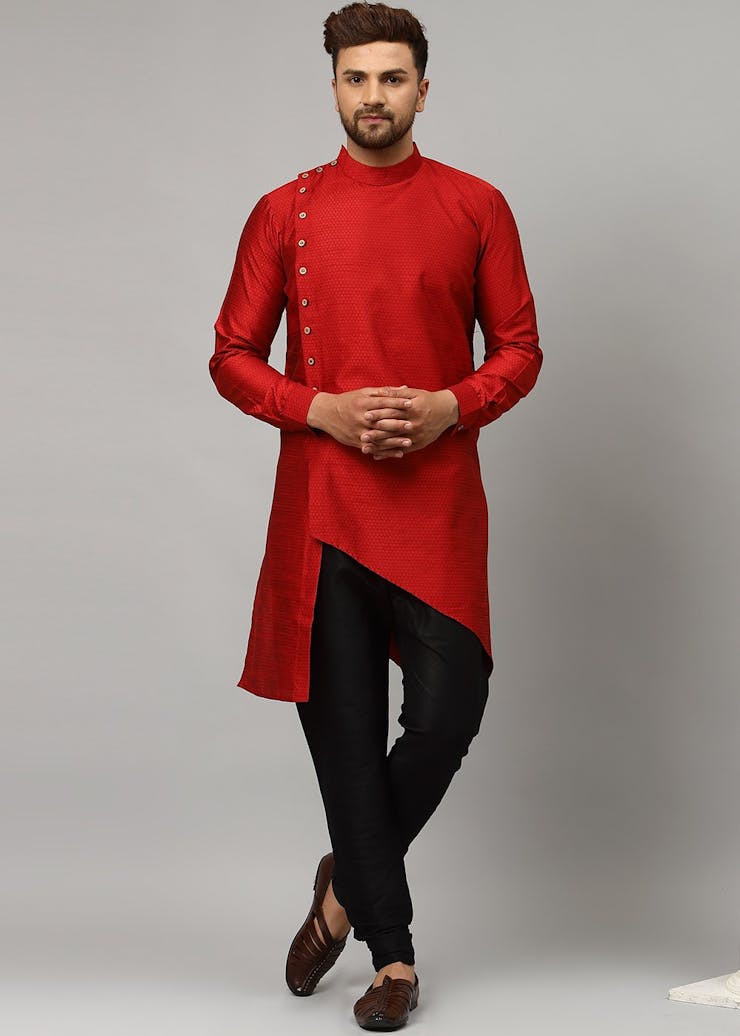 Must Read: 13+ Interesting Ways To Personalize Your Wedding
2. Metallic Sherwani Is A Stunning Bengali Outfit To Make Style Statement
Some grooms like to add an extra dose of glitz and glamour to their wedding look. You can never go wrong with a metallic sherwani. This sparkling Bengali groom outfit also complements the theme of your wedding event. Take the help of the best wedding planner in Kolkata to plan a wedding theme of your choice.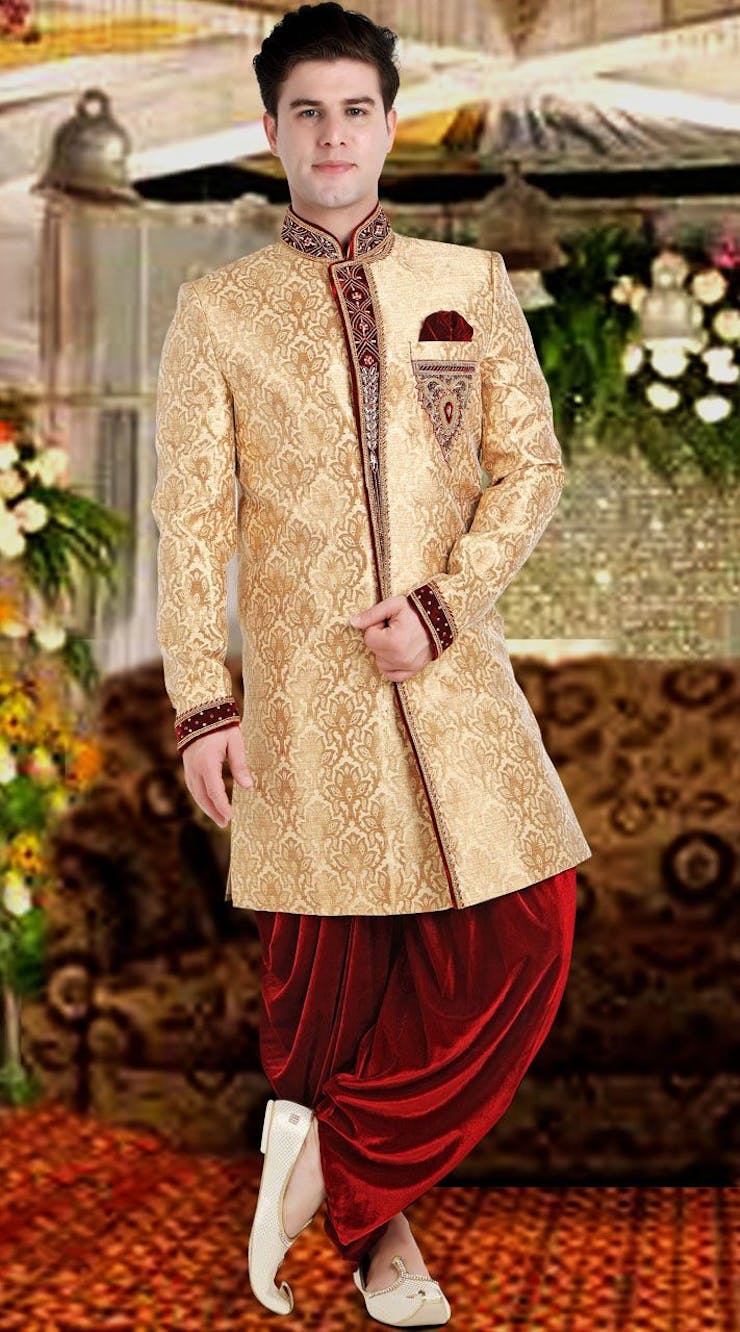 See More: 16+ Must Needed Bengali Wedding Planning Tips
3. Jamdani Kurta And Dhoti Are Popular Traditional Bengali Groom Dress
Bengali weddings are a traditional and sacred affair that requires the groom to dress in ceremonial clothing. Traditional Bengali wedding dress is the best outfit to ensure that the groom looks his best on the big day. This classy outfit can complement your bride's gorgeous attire. It also go well with a traditional theme wedding decoration. You can book a budget wedding planner in Kolkata to plan dreamy wedding decor.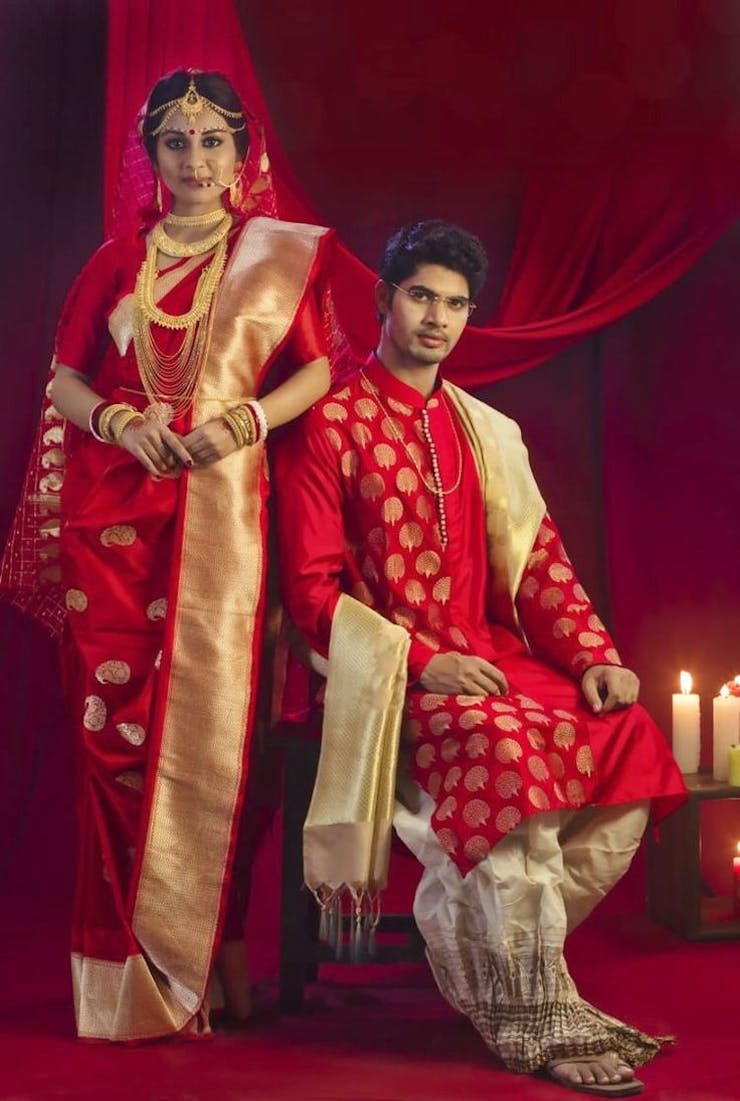 4. Wearing An Ivory Sherwani Is The Latest Bengali Dress Style
This subtle Bengali groom sherwani provides you with a graceful look. A floral print ivory sherwani is a perfect summer wedding dress for a Bengali groom. You can style this elegant outfit with a pearl necklace and a beautiful wedding shoe. Don't forget to keep up with a stylish groom hairstyle.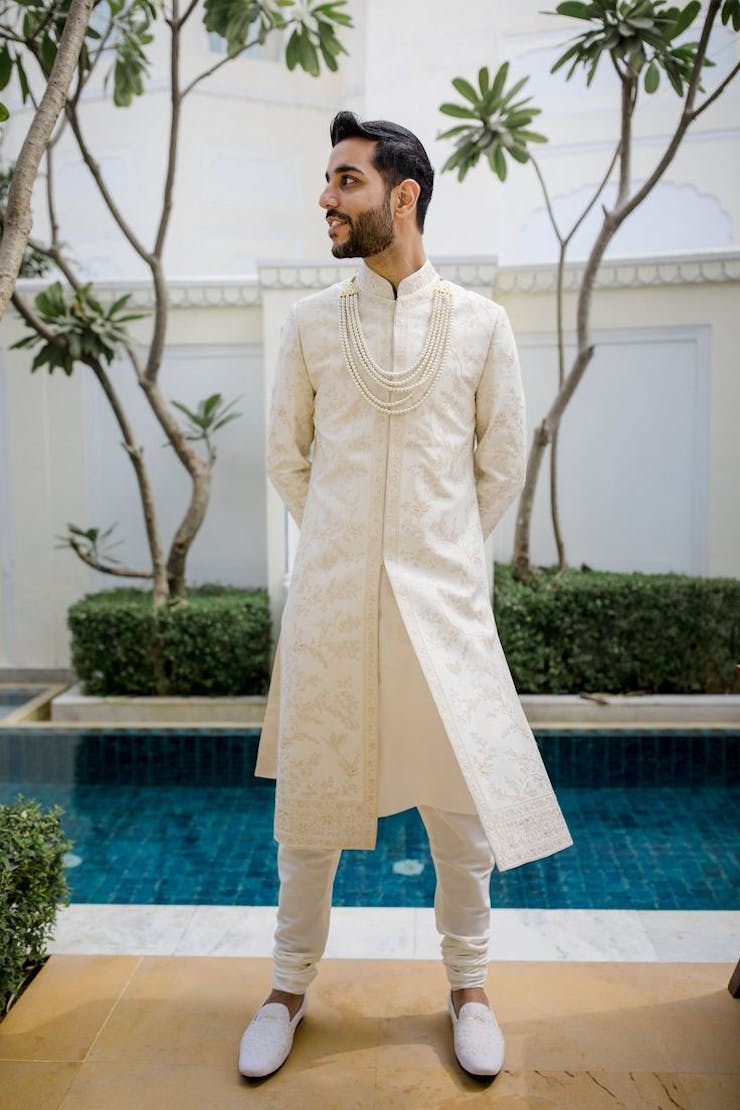 5. Floral Sherwani Are Perfect Dress For Wedding Photography Bengali
A floral sherwani tops the bar of elegance and makes you look like a royal prince. This is one of the most wonderful Bengali outfit ideas for fashion-forward grooms. The beautiful floral prints on an off-white sherwani provide you with a romantic dreamlike appearance. This unique Bengali wedding dress will surely grab your attention!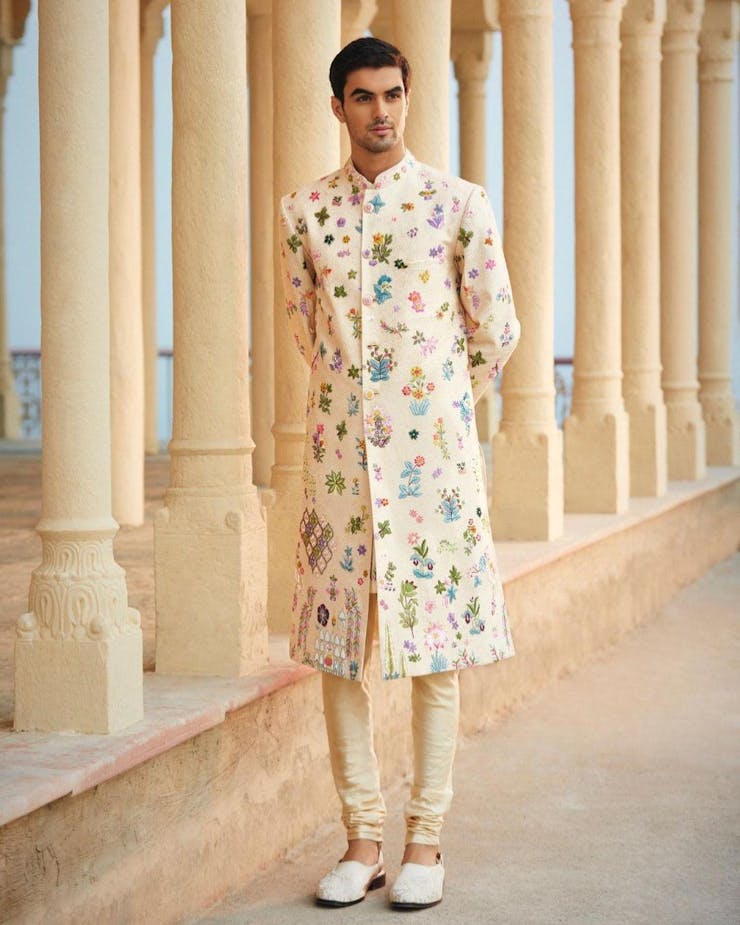 6. Nehru Jacket Are The Best Outfit For A Dapper Bengali Groom Look
Shoutout to the best Bengali groom dress for wedding! Nehru Jackets are an essential outfit to complement your stylish kurtas. Nehru jackets in pastel hues are good options for daytime events. This charming jacket can add an extra layer of elegance to your personality.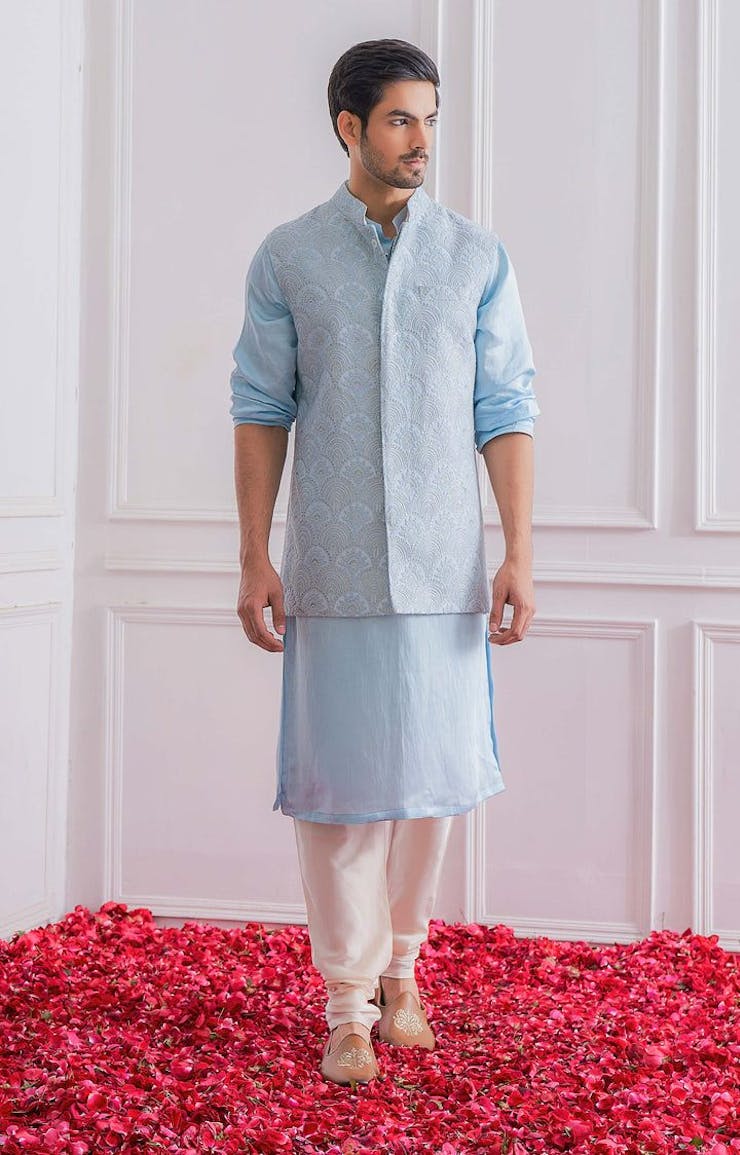 7. Opt For Embroidered Kurta And Dhoti For A Sophisticated Groom Look
An embroidered dhoti and kurta is the latest Bengali groom outfit that is gaining immense popularity for its unique design. This hand-embroidered dhoti kurta is a great choice for a groom who wants to make a fashion statement. This trending Bengali groom wedding dress shouts beauty and ethnicity in every aspect.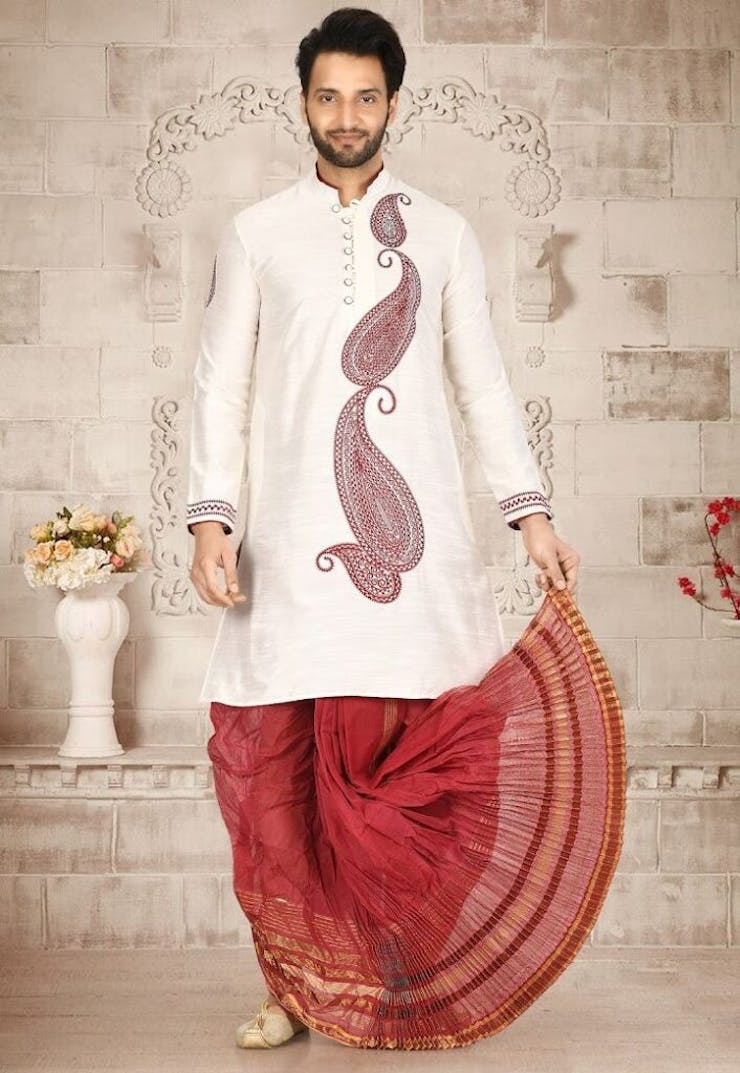 8. Black Tuxedo Is Perfect For A Glamorous Reception Look For Bengali Groom
With its timeless style and classic appeal, a black tuxedo is sure to make any Bengali groom look like he stepped out of the pages of a fashion magazine. This is the perfect reception dress for bengali groom. There's no doubt that this timeless look will ensure that you look your best on your special day.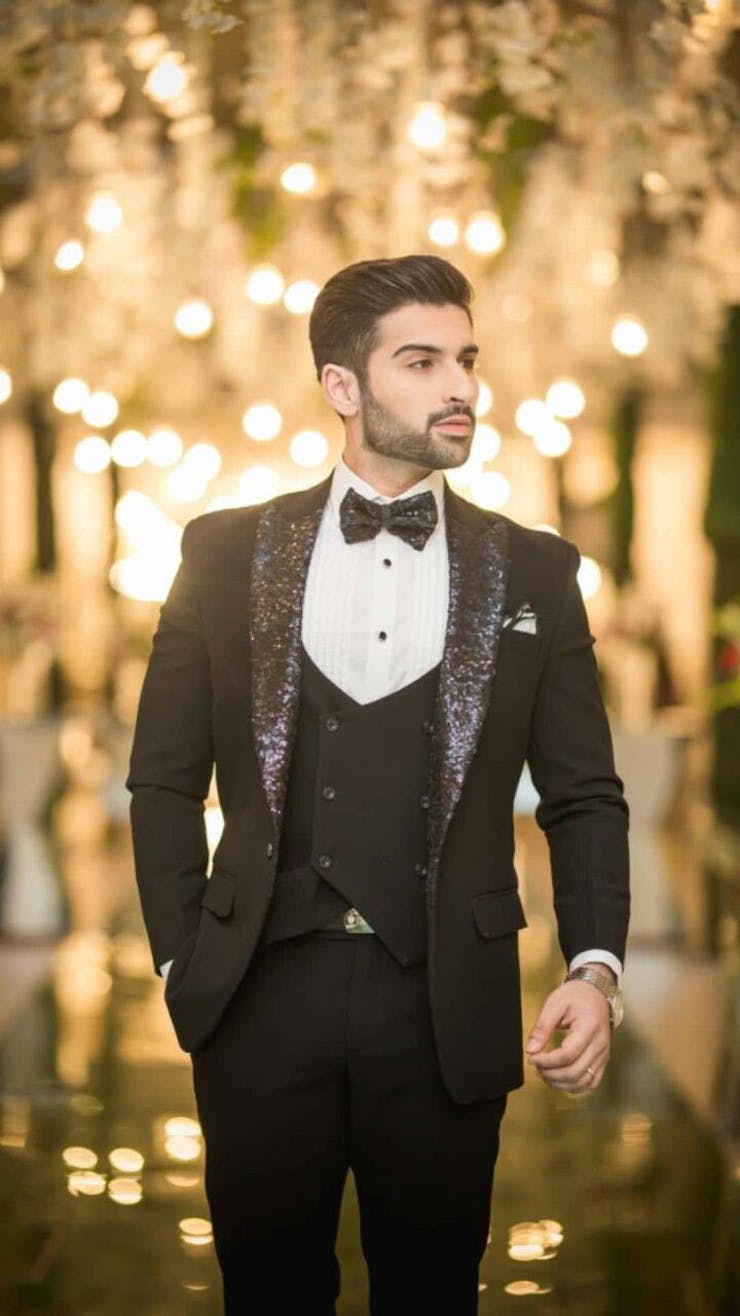 9. Try A Red And White Dhoti Kurta For A Sophisticated Groom Look
Are you looking for a sophisticated groom look? A red and white dhoti kurta is a perfect choice! This traditional wedding dress for Bengali groom is both stylish and elegant. This stylish suit is ideal to wear on any special occasion. It's the perfect way to make a statement while still maintaining a classic look.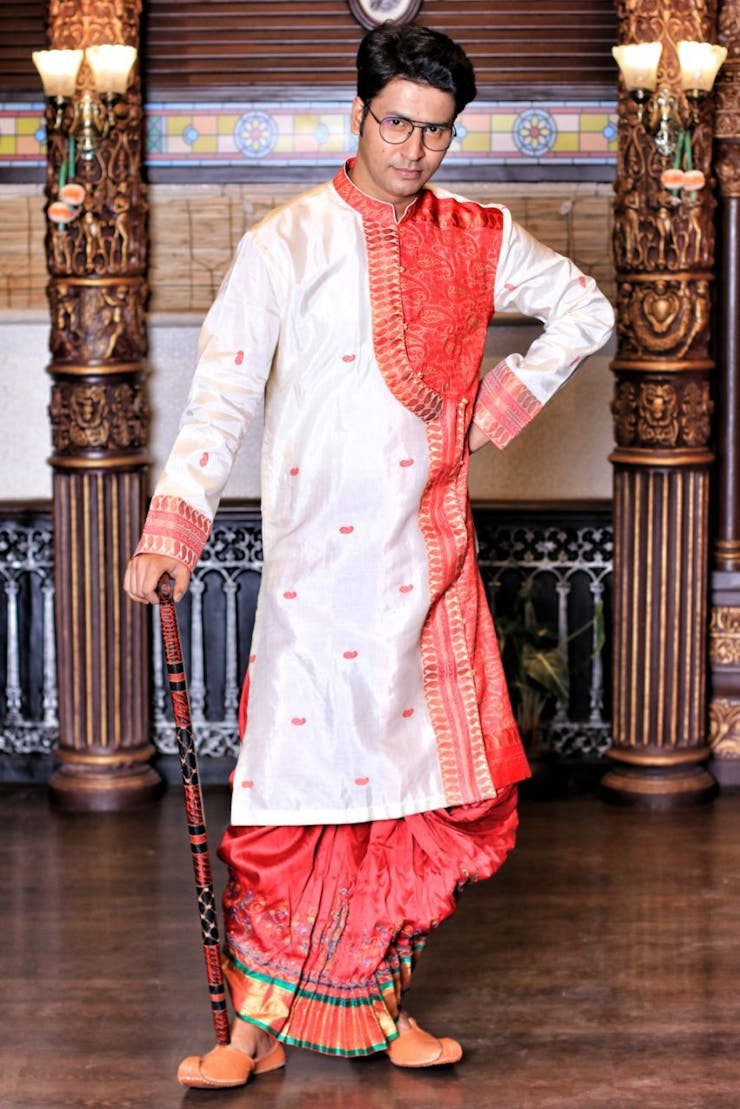 10. Jodhpuri Suits Can Add A Regal Vibe In Your Personality
Nothing says glamour and sophistication like a red and white dhoti kurta! If you want to add some extra flair to your wardrobe, the Jodhpuri suits are a perfect choice! Its vibrant colors, intricate embroidery, and comfortable fit make it the best Bengali groom dress for reception.
11. White Kurta Are The Best Bengali Groom Attire For Haldi Ceremony
White Kurta is a traditional outfit that has been part of Bengali culture for centuries. The white color of the kurta symbolizes purity making it the ideal choice for wedding events. It can be worn with a classic silk or cotton dhoti. With its timeless appeal and classic style, White Kurta is sure to make any groom look his best on his special day.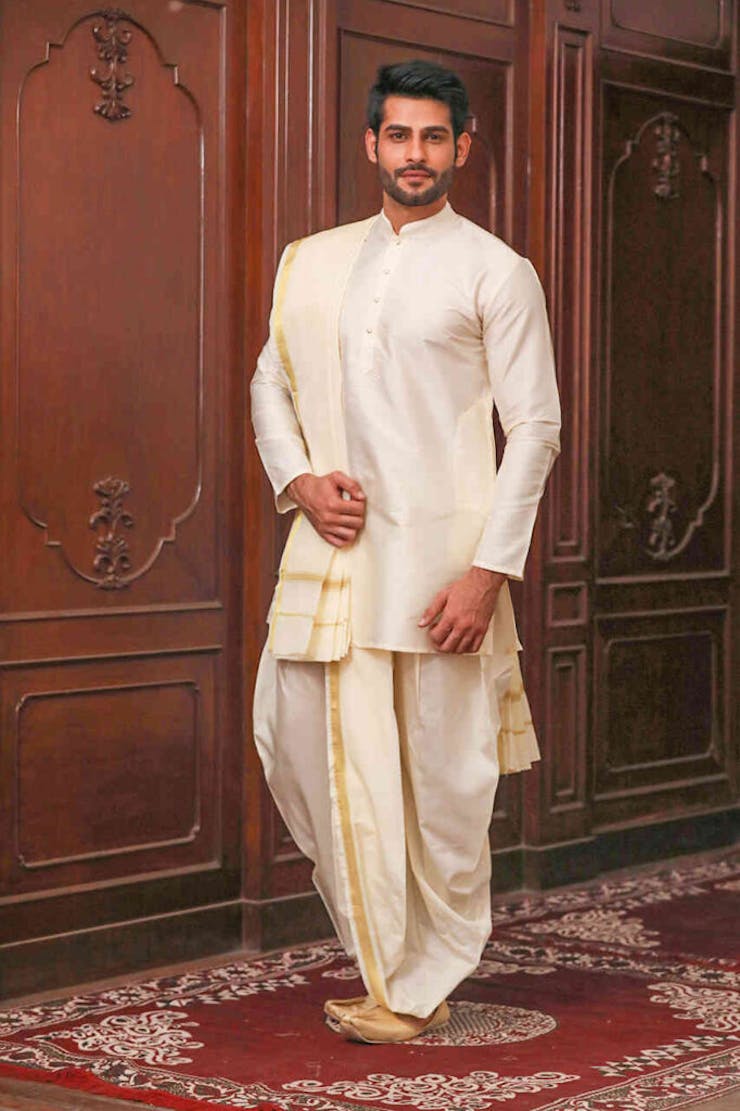 12. Take An Embroidered Shawl With Sherwani For A Classy Look
A sherwani with an embroidered shawl is the ideal combination for a classy groom's look. This combination will make you stand out from the crowd and create a lasting impression. You can pair this Bengali reception dress for groom with a pearl necklace to complete the look.