Indian weddings are full of culture and tradition. And the sangeet ceremony is an integral part of this celebration. A sangeet is a joyous event when family friends and relatives come together to sing and dance in celebration of the couple's blissful union. Hence, the stage decoration for sangeet plays an important role in conveying the joyful mood of the evening. A creative sangeet decor adds vibrancy and liveliness to the occasion. The decor elements can range from colorful drapes to fairy lights and flower garlands. Many couples hire the best wedding planner in Kolkata to make sure their sangeet stage is up to the mark. A professional wedding planner ensures that the event is memorable for the couple, family as well as guests. In this article, we will explore all the best sangeet decoration ideas that will make your function look good.
1. Bling Theme Decoration For Sangeet
A dreamy ceiling with golden strings can be the moment maker of your sangeet event. Shimmery decors are known for adding a glam effect to your wedding sangeet stage decoration. This can be one of the fanciest highlights of your sangeet night. Book a budget wedding planner in Kolkata and you wouldn't believe the classiness they can add to your wedding events.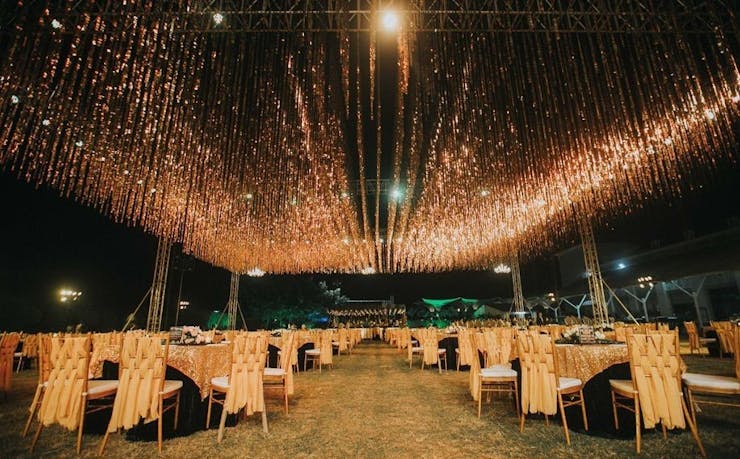 Recommended: Trending Bengali Wedding Card Ideas - Events Gyani
2. Neon Element Decoration For Sangeet Function
Adding neon lights to your sangeet décor is a fabulous option to brighten up your wedding festivities. Whether it's a wedding hashtag or a simple quote on the stage backdrop it makes your party pop. You can also make this wonderful backdrop in your sangeet photo booth. This is the best LED stage for sangeet that will surely add a dose of drama to the space.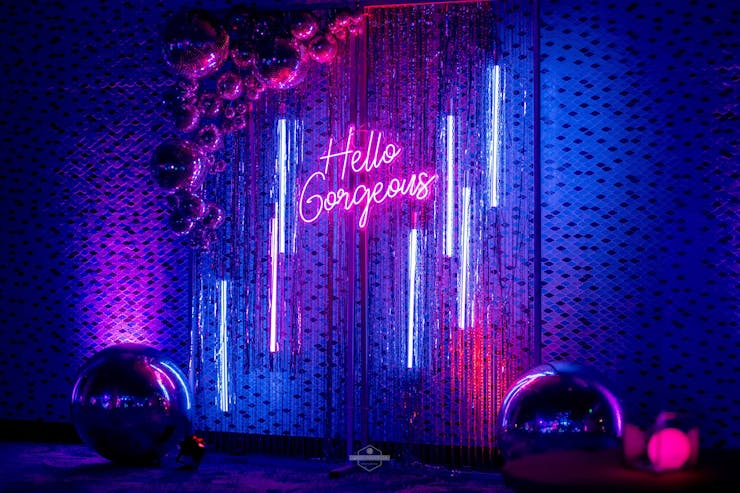 Must Read: The Best Caterers In Kolkata – Find The Perfect One For Your Event!
3. Candle Decor Sangeet Stage Setup
The grace factor heightens to the top level when you add romantic candles as a part of your sangeet décor. Imagine you are dancing with your partner and there are dreamy lights all around! These would be the most wonderful sangeet stage decoration ideas that every couple loves to try.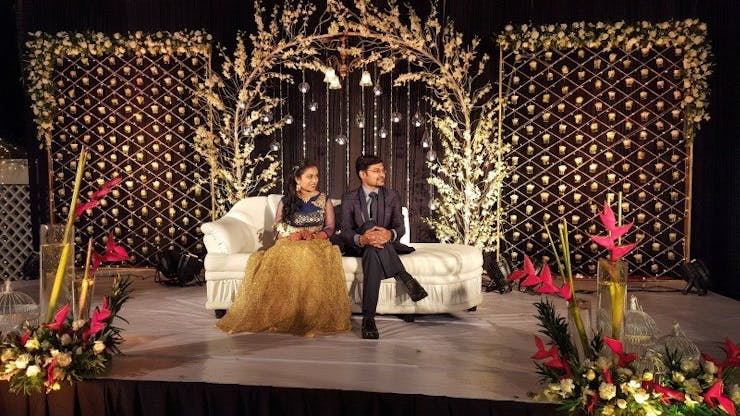 See More: Bengali Veg Dishes For Wedding You Must Serve
4. Lush Green Sangeet Decoration Themes
Are you looking for unconventional sangeet decoration ideas indoor? You must incorporate greenery into your special event. The presence of lush greenery in your sangeet event adds a fresh vibe to the atmosphere. This kind of stunning sangeet ceremony decoration ideas adds life to your wedding photos.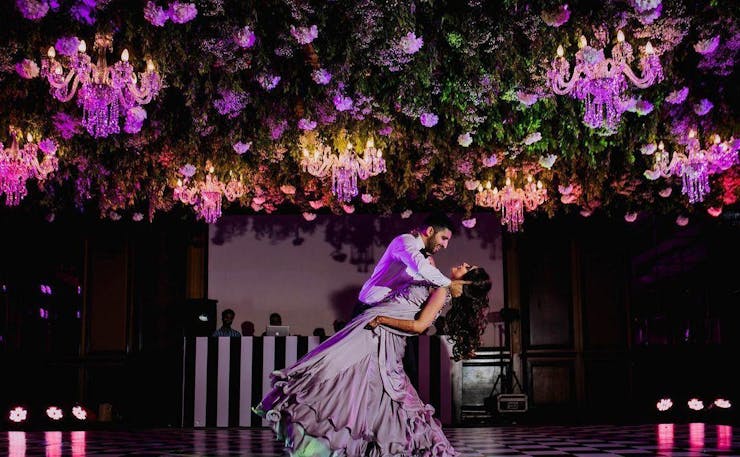 5. Sangeet Party Decoration Ideas Using Disco Balls
If you want to rock your sangeet party using disco balls in the décor will be the best option. Adding disco balls is a fun wedding trend that will let your stage shine like a supergalaxy. It is a perfect sangeet idea for couples who want to shake their legs at popular Bollywood songs.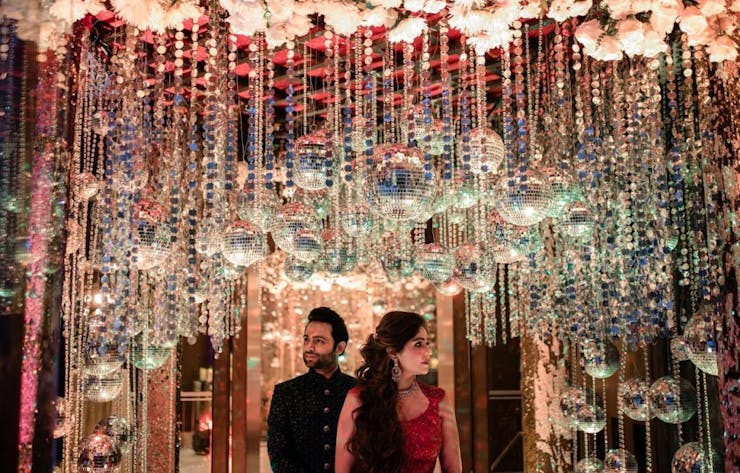 6. Fairy Light Sangeet Decorations Indian Wedding
Do you want to celebrate a fairy tale wedding event? Make your dream come true by using fairy lights in your sangeet decoration outdoor. You can design your garden trees or stage walls using dreamy fairy lights. Adding lanterns as a centerpiece on the guest's tables will brighten up your sangeet night.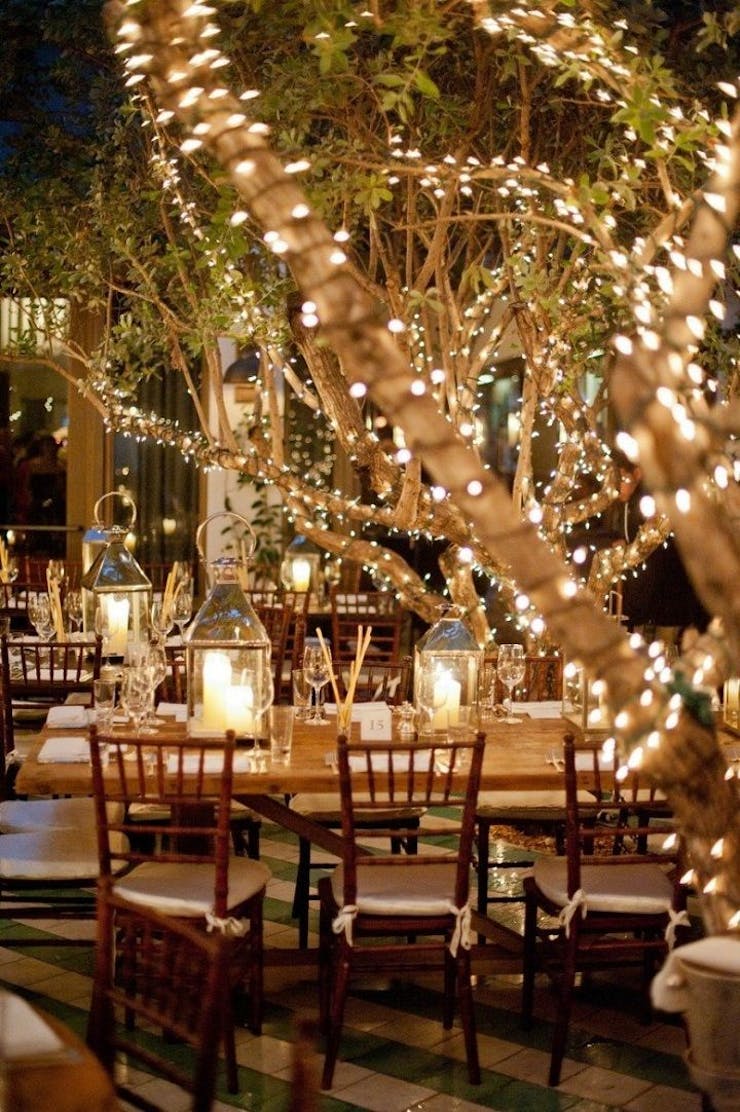 7. Unique Sangeet Ideas
Here is one of the breathtaking decoration ideas for the sangeet ceremony. The dainty mirror strings hanging from the ceiling of the stage will soon be your wedding guests. This sangeet stage décor provides the feeling of a starry night and makes everyone go gaga over its design.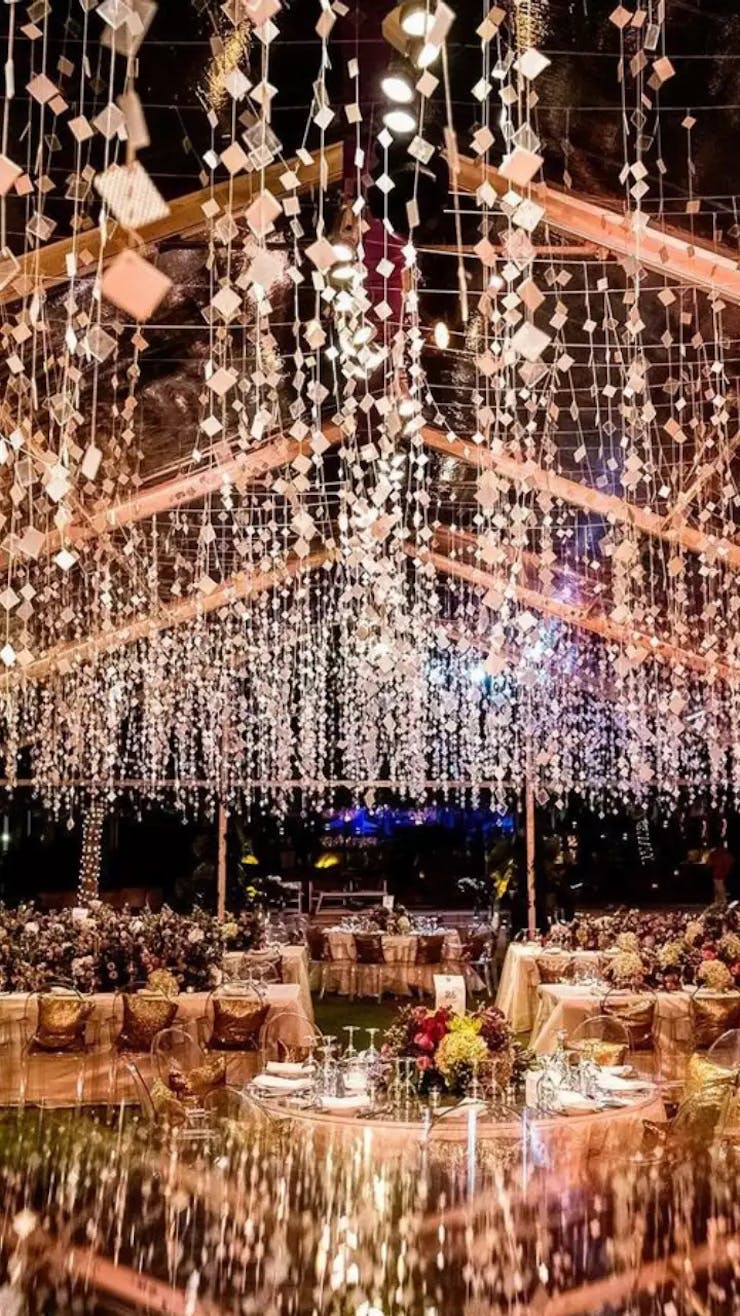 8. Chandeliers For Indoor Sangeet Decoration
Crystal chandeliers leaves a heavenly aura in your venue. Incorporating a chandelier in your sangeet décor can truly amp up the beauty of the stage. You can hang them on the ceiling which will make your entire venue look beautiful. It also adds a romantic vibe to the sangeet décor and leaves your guests to go wow over the dreamy décor.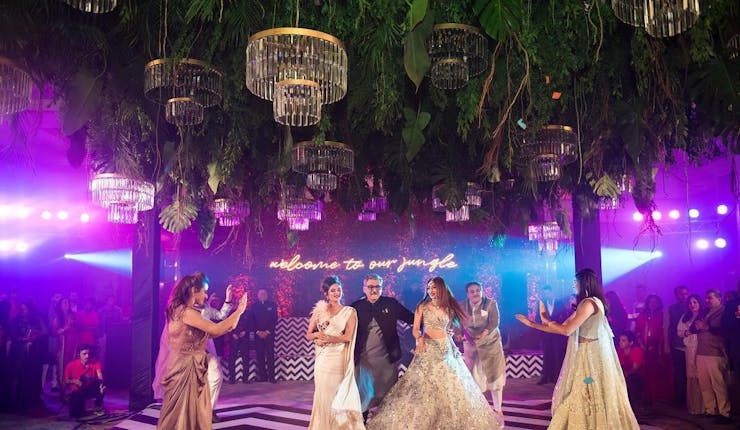 9. Simple Sangeet Decoration With Welcome Signboards
Are you planning an outdoor sangeet function? Take inspiration from this beautiful welcome board. This is one of the most simple sangeet decoration ideas that makes your guests feel welcome. You can customize your welcome board by adding personalized wedding hashtags and quotes to make it fun and creative.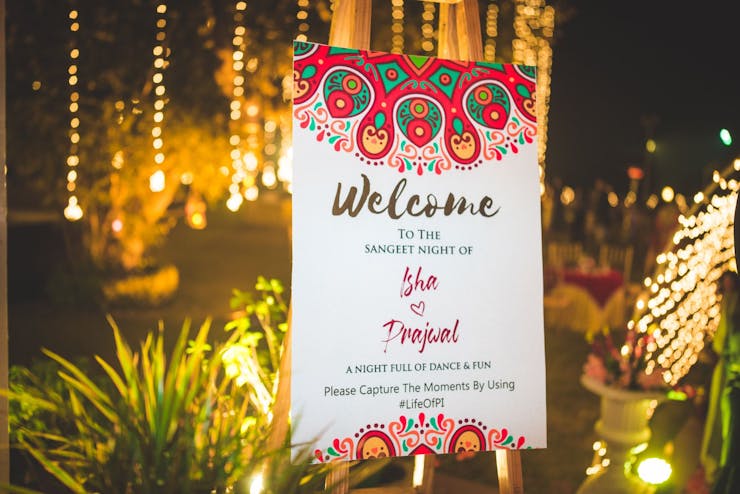 10. Floral Stage Decoration For Sangeet
Who does not loves flowers? The vibrant colors and fragrances of flower decoration can take your event up a notch. This is one of the most beautiful wedding sangeet decoration ideas that can never go wrong. You can decorate the flowers as the backdrop of your sangeet stage or even create cascading ceiling from it.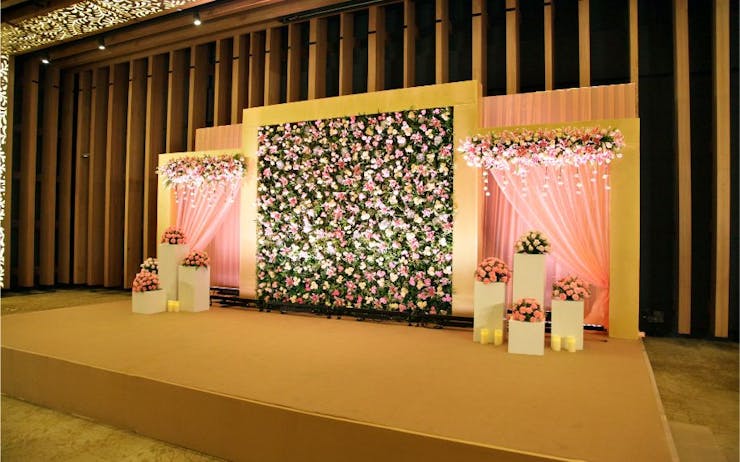 11. Colorful Sangeet Decoration Stage
How about adding a dose of vibrant colors to your sangeet function? Using colorful umbrellas or cushions is an all-time favorite for Indian wedding decoration. It can change the whole look of your sangeet stage. The vibrancy of the colorful umbrella will make your event more joyful and memorable.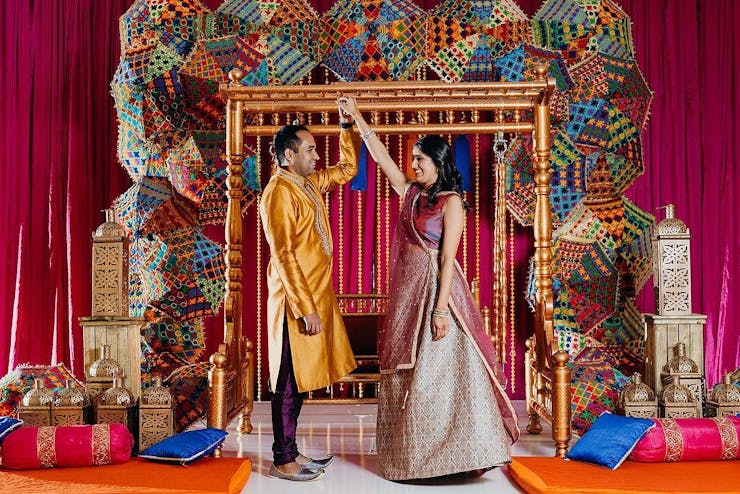 12. Traditional Decoration For Sangeet At Home
For all traditional soul out there this one is the best sangeet décor. The colorful drapes and comfortable beddings on the floor reminds us of the olden days when the sangeet ceremony was celebrated at home. This is one of the most popular sangeet decoration ideas at home which can make everyone feel connected.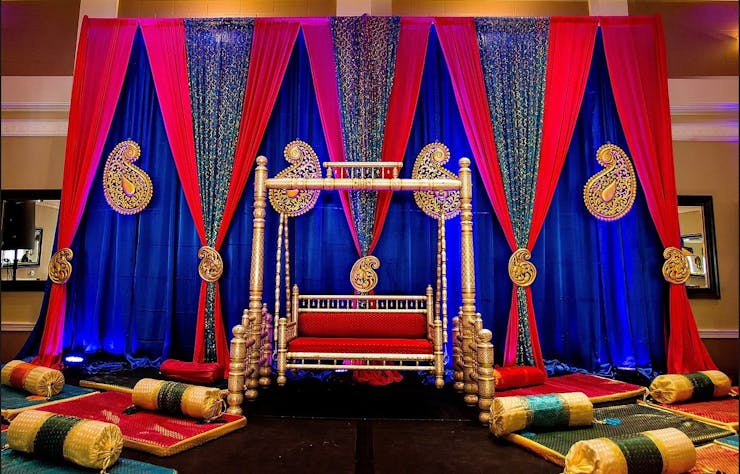 13. A Royal Stage For Sangeet
The next sangeet stage decoration will blow your mind with its luxury and beauty. The silky red drapes and the grand mirror at the center stage will be the main highlight of your grand sangeet event. This kind of OTT stage is a perfect choice for outstanding couple dance performances.
14. Bollywood Theme Decoration For Sangeet Function
Are you a great lover of Indian cinemas? Make your sangeet night an opportunity to revile your filmy side in front of your wedding guests. This Bollywood theme décor is sure to grab the attention of everyone and add dramatic vibes to your event.