Planning a wedding in the city of joy provides a unique and wonderful experience for couples. Bengali weddings are all about lavish wedding decorations, delightful cuisine. Your Bengali wedding planner Kolkata might help you plan a fairy tale wedding by working on unique wedding themes.
But when it comes to deciding on a gorgeous bridal look, you have to rely on the best lehenga shops in Kolkata.
Wearing a designer lehenga in Kolkata is the ultimate fantasy of every bride-to-be. And if you wish to wear the same outfit, then you must read this lehenga shopping guide. There is no doubt that Kolkata provides you with endless opportunities to select the best lehenga design for your special day.
These stores offer a variety of designer lehengas that are made with quality fabrics. Also, make sure to hire the best wedding planner in Kolkata who can design a wedding theme as per your taste.
So, let's explore the world of the Kolkata lehenga market to find the most stylish bridal attire.
Recommended: How To Narrow Down Your Wedding Guest List?
1. Sejal Kanoi
Sejal Kanoi is one of the top designer boutiques in Kolkata. This bridal wear store offers the most drool-worthy bridal lehengas in Kolkata. Their signature style of gotta patti embroidery is a popular choice among millennial brides. They also offer customization services at affordable prices.
Don't forget to contact a budget wedding planner in Kolkata to add a dreamy vibe to your wedding venue setup. Such a magical venue decoration is sure to complement your beautiful wedding attire.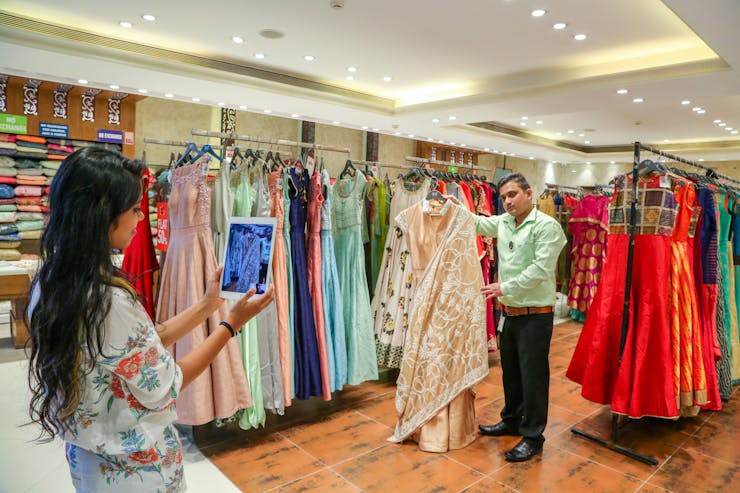 Must Read: Top 15 Trending Photobooth Ideas For Wedding
2. Palki Boutique
Palki Boutique is a leading brand that offers a premium variety of wedding lehengas for the beautiful brides of Kolkata. This lehenga showroom in Kolkata can let you choose from elegant pastel lehengas to traditional red ones.
Their zardosi work lehenga will surely make you the show-stopper bride on your D-day. This is one of the most affordable boutiques in Kolkata where the lehenga price starts from INR 15,000.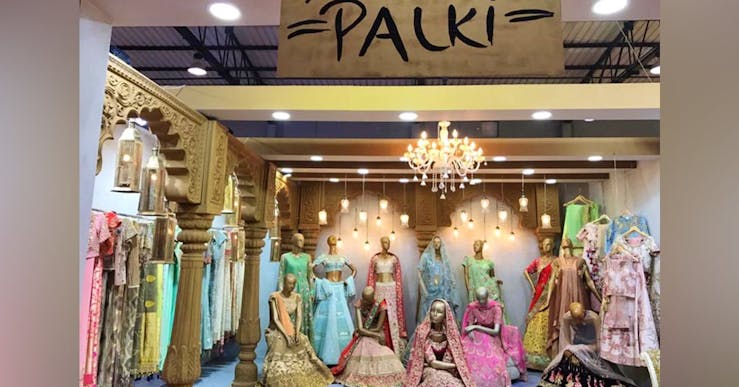 See More: Trending Bengali Wedding Card Ideas - Events Gyani
3. Simayaa
Always dreamt of wearing a designer lehenga at your wedding events? Make your dream come true by stepping inside Simayaa bridal wear store. They can provide you with the most stunning designer lehenga collection in Kolkata. They can accentuate your style quotient and make you look like a glamorous bride.
This lehenga boutique in Kolkata is known for its wide range of both conventional and contemporary lehenga designs. These lehenga designs are inspired by famous fashion designers like Harpreet Narula, Rohit Bahl, Anjali Arun, and many more.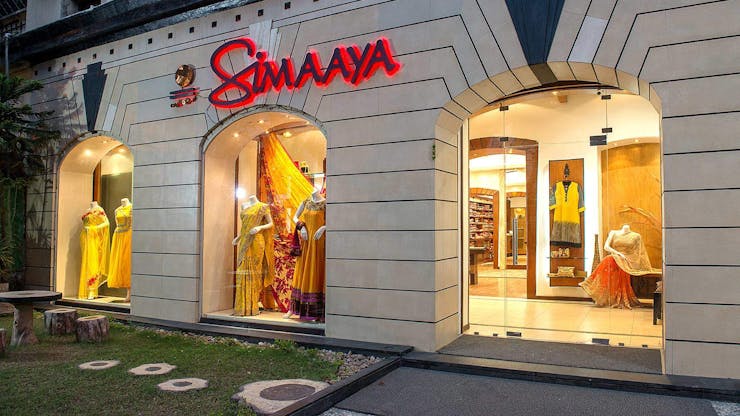 4. Vedam
Vedam is a fashion paradise for all brides-to-be. This boutique comes under the top lehenga shops in Kolkata that sells luxury lehengas for brides. Their bespoke bridal lehenga collection can make you look like a celebrity bride on your big day.
Their sophisticated lehenga designs are perfect for a gorgeous mehendi ceremony bridal look. You can even buy bridal accessories here that complement your beautiful wedding attire.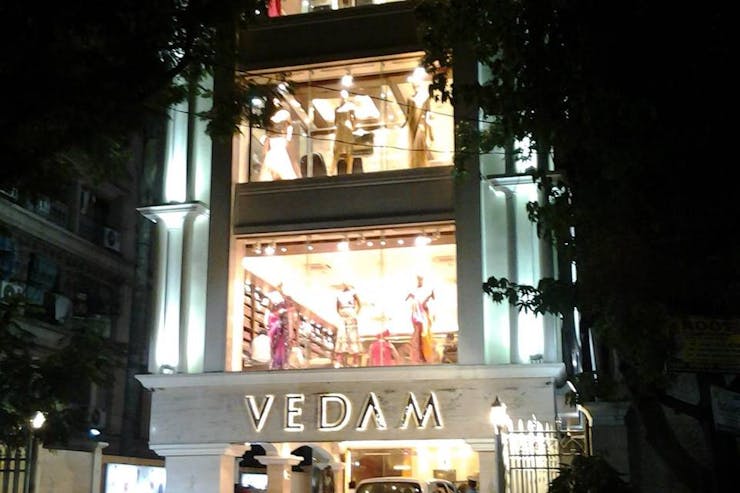 5. 85 Lansdowne Road
If you are one of those brides who want to add bling to their wedding attire then look no further. This lehenga boutique in Kolkata houses a collection of 45 popular fashion designers. Their signature gotta Anarkalis are very popular among Bengali brides for pre-wedding events.
There are high chances of ending up with more than one wedding attire. Their finest work and modern embroidery will leave you spellbound.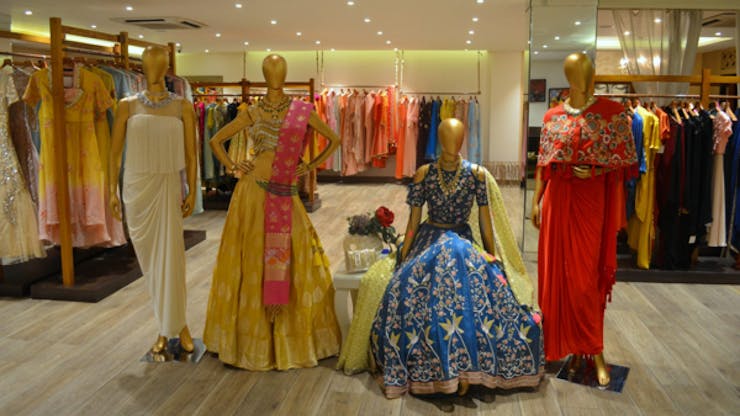 6. Panghat
There is a reason why Panghat is one of the best lehenga store in Kolkata. They offer a magnificent range of bridal lehengas, designer Anarkalis, and gowns.
Every piece of their wedding lehenga Kolkata is made of high-quality fabric. This bridal lehenga Kolkata shop was established in the year 2018. Since then it has transformed the look of endless brides through their fashionable lehengas.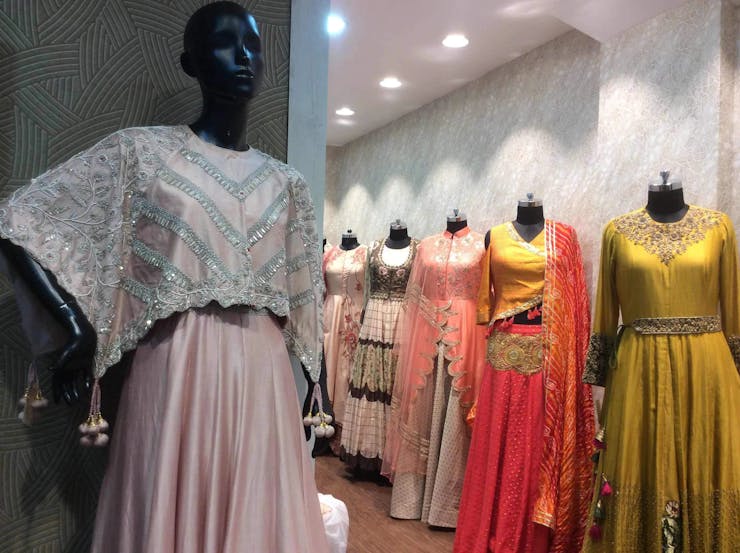 7. Rangoli
Rangoli is one of the famous lehenga shops in Park Street Kolkata offering gorgeous bridal wear since 1990. Their bridal lehenga collection is unique and perfect for millennial brides. You can choose from a variety of shades, patterns, fabrics, and cuts.
Each of their wedding lehengas has the finest work that can easily grab your eyeballs. Their gotta patti and zardosi lehenga can add a regal touch to your bridal look. Make sure to pait it with statement bridal jewelry.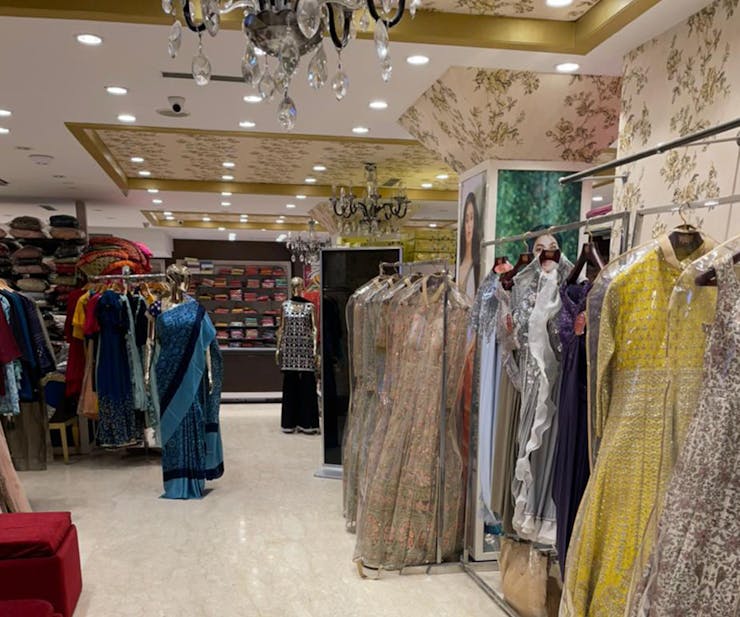 8. WNW
WNW has grown to become a well-known boutique in Kolkata for lehenga. Started by Mr. Harsh and Mr. Ankesh in 1999 this store has provided the best experience of lehenga shopping in Kolkata.
This is the best bridal lehenga shops in Kolkata that crafts spectacular bridal lehenga that starts from INR. 50,000. They also make light wedding lehengas that can be a perfect pick for a fairy tale wedding.
9. Sabyasachi
If you wish to get a classic bridal look on your wedding day, then head over to Sabyasachi Couture in Kolkata. This is the best place to buy lehenga in Kolkata if you are planning a grand wedding.
Sabyasachi's designer lehenga are known for their intricate work, regal designs. Although you have to spend over a lakh, their royal bridal wear collection is worth spending.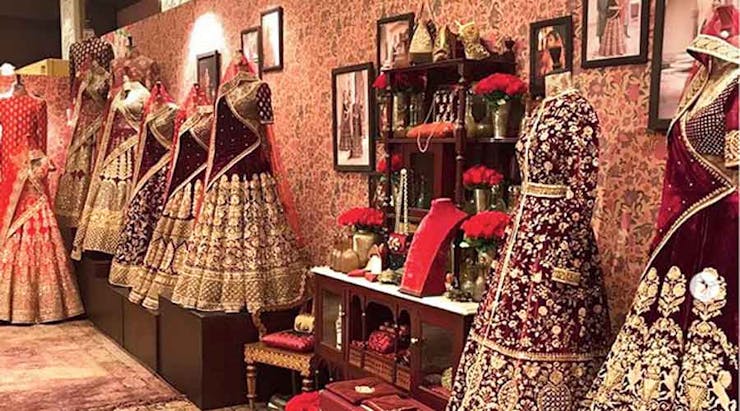 10. Sasya
Sasya has made its place in top designer boutiques in Kolkata. Located in Shakespeare Sarani, this bridal wear store can light up your big day with its elegant lehenga designs. Here you can find your dream wedding outfit that can transform you into the prettiest bride.
Sasya also offers the latest groom wear that your partner would love to wear. They are also ready to customize your wedding outfit as per your style and needs.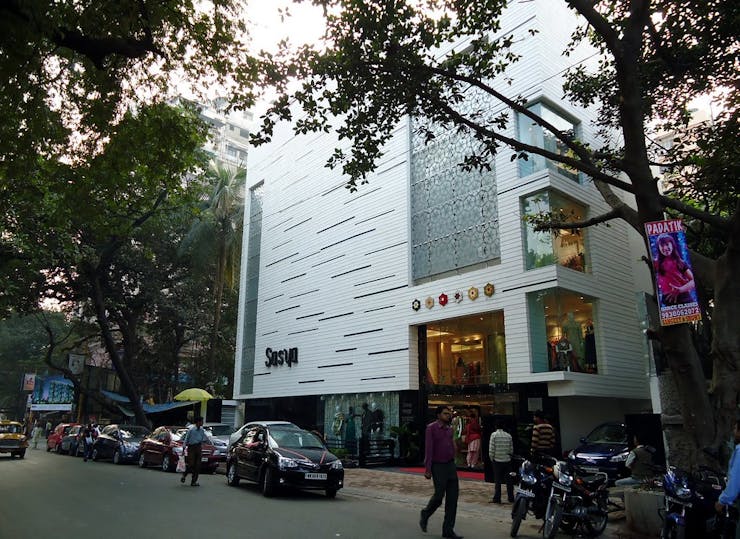 11. Moha Atelier
Moha Atelier is a big brand that has the best lehenga collection in Kolkata. They celebrate our Indian culture and its vibrancy through their outstanding lehenga designs. Their high-end bridal wear collections can turn you into a royal queen.
They give more priority to the comfort and style of Indian brides. Moha's lehenga designs are inspired by Indian mythology which turns out to be the most classy outfit for every occasion.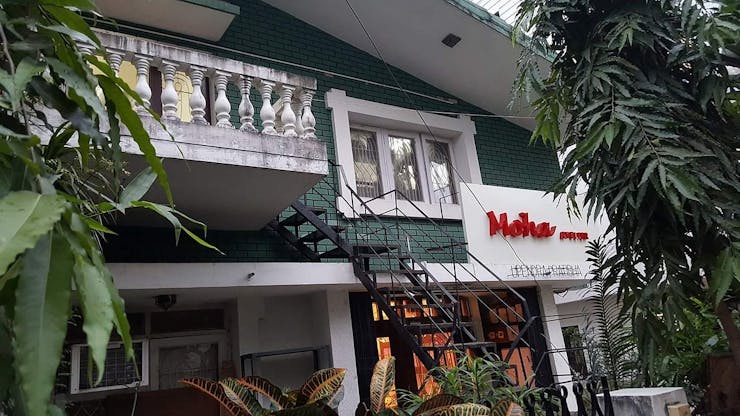 Frequently Asked Questions –
How Much Does A Bridal Lehenga Cost In Kolkata?
Most bridal lehenga shops in Kolkata offer lehengas usually around Rs.5000 which can go as high as INR 2 Lakhs.
Which Is The Best Place To Buy Bridal Lehengas In Kolkata?
You can visit Bara Bazar, Park street or Kankurgachi to buy the best designer lehenga in Kolkata.
What To Look When Buying A Lehenga?
You must do a deep research, decide a budget and visit to the best bridal lehenga stores in Kolkata. Also keep in mind to check the material and designs as per your style.
What Are The Latest Trends In Bridal Lehenga?
You can choose between off-whote lehenga, printed lehenga or technicolor lehenga as per the latest lehenga trends.
Do Bridal Boutiques In Kolkata Make Custom Lehengas?
Most of the bridal boutiques in Kolkata provide alteration services as per the requirements of brides.