Marriage is a beautiful event that needs to be celebrated in such a way that it gives you some joyful and wonderful memories for a lifetime. Most of the couples plan everything from designer clothes to luxurious jewelry and gorgeous make to look beautiful in their wedding pictures. But a stunning wedding look is worthless if you do not make an impactful entry in your wedding. An ultra-cool groom entry will provide you with the most anticipated moments of your special day. Being a renowned wedding event planner in kolkata, we have arranged many unconventional entries for the charming grooms. And hence we are sharing with you some amazing groom entry ideas to rock your wedding day.
1. A Colorful & Smoky Entry
 Make a stylish & majestic entry with the color smoke sticks. Let your loved ones hold the smoke sticks around you to add some fun element while your splendid entry. This kind of Holi-themed colorful entry is best for pool parties or pre-wedding ceremonies.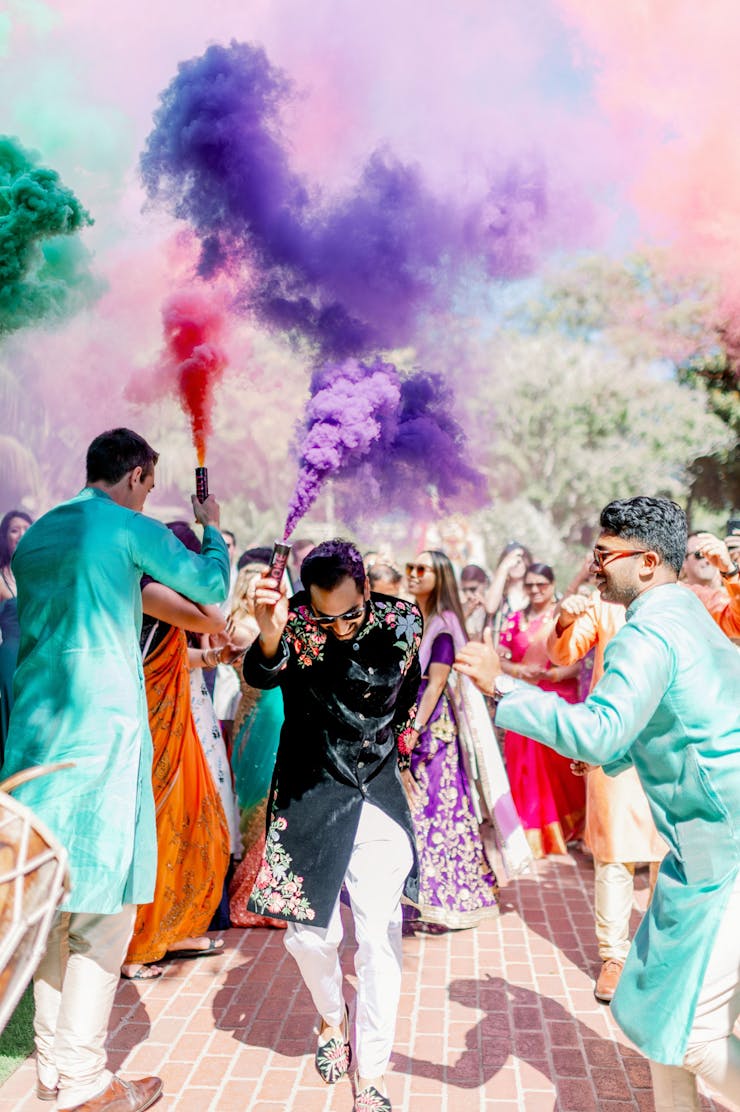 Recommended: Top 13 New & Unique Bridal Entry Ideas For 2022
2. A Grand Royal Entry On Elephant
 This kind of royal entry tells a splendid saga of your regal wedding. Coming to the wedding venue on an elephant makes you look like a royal groom in your wedding pictures. Hence this kind of royal groom wedding entry makes a classic statement in an Indian wedding. Always try to choose the best wedding planner in kolkata to make your event a grand celebration.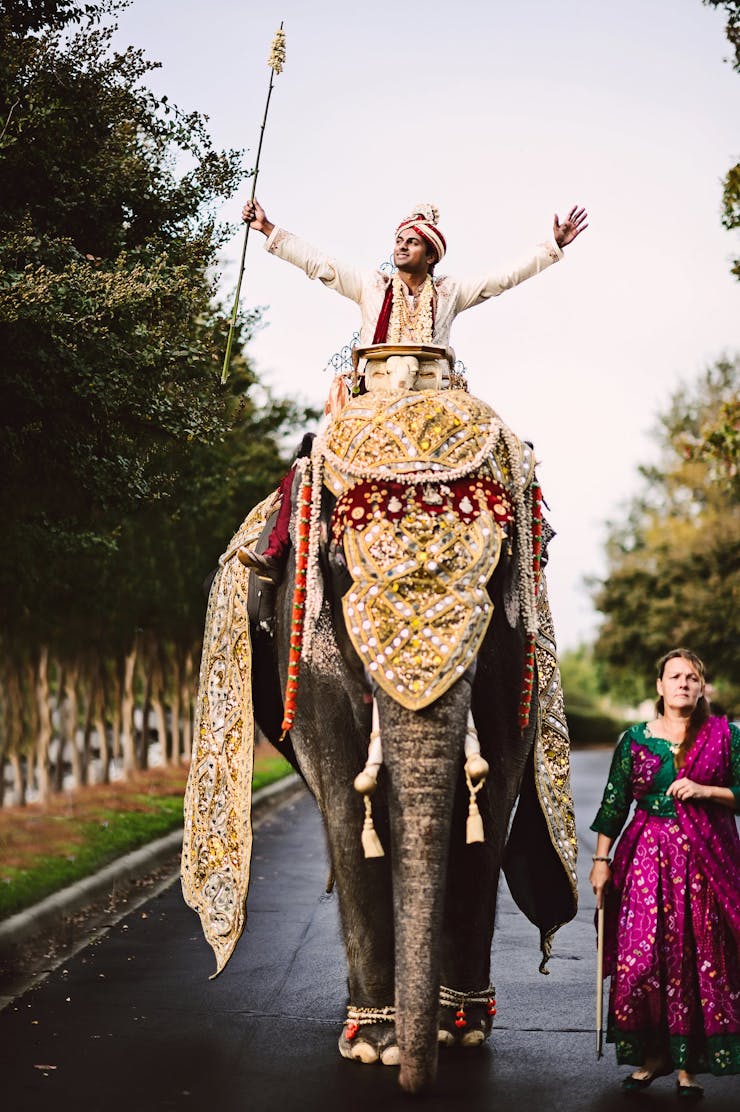 3. Entry With Dhol And Nagadas
Look at this cheerful groom who has made an entrance to his wedding with the beats of traditional dhols. This is a super simple and budget-friendly wedding entry ideas for groom that makes your event lively and memorable.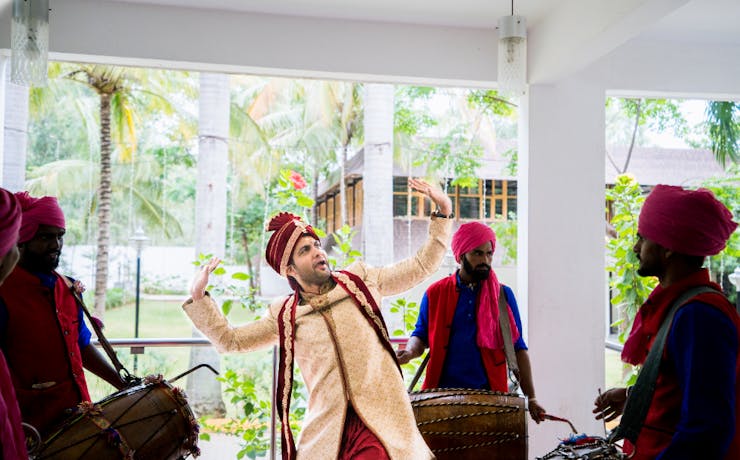 Also Read: 11+ Most Amazing Entrance Decor Ideas For Wedding – Events Gyani
4. An Emotional Entry With Parents
Another beautiful kind of groom entry in an Indian wedding is an emotional entry with your loving parents. Look at this adorable groom's incredible entry by holding his parents on his sides. Parents are more excited about your wedding. So, make them a memorable part of your wedding journey to create an everlasting memory.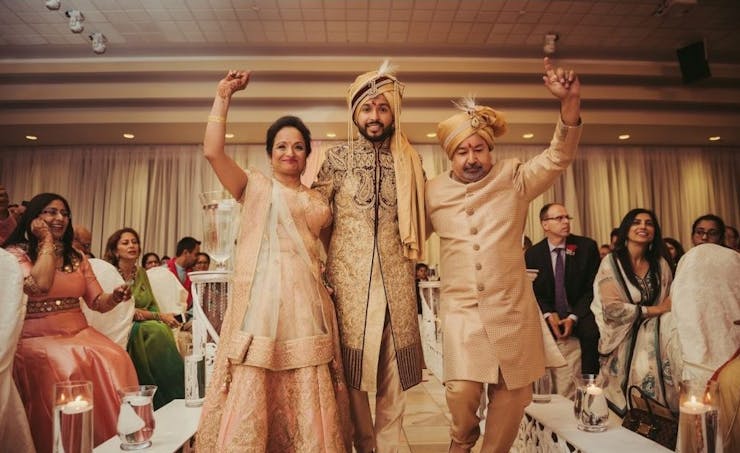 5. Let's Shake Legs Entry
Give a twist to your Indian wedding by making an entry with your Dulhania and baaratis on a rocking dance performance. This Bollywood movie-inspired groom entry in wedding is the most romantic and funfilled wedding entry that everyone will enjoy. You can play your favorite music and ask everyone to join you in your happiest moment.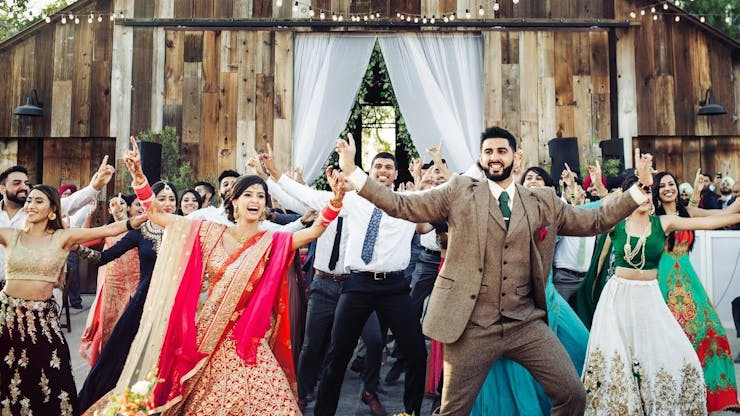 6. A Vintage Car Entry
One of the most popular groom entry ideas is entering a vintage car that will add classic vibes to your surroundings. This kind of vintage car entry made by the groom will leave everyone spellbound. This is the perfect kind of groom entry to show your class and status.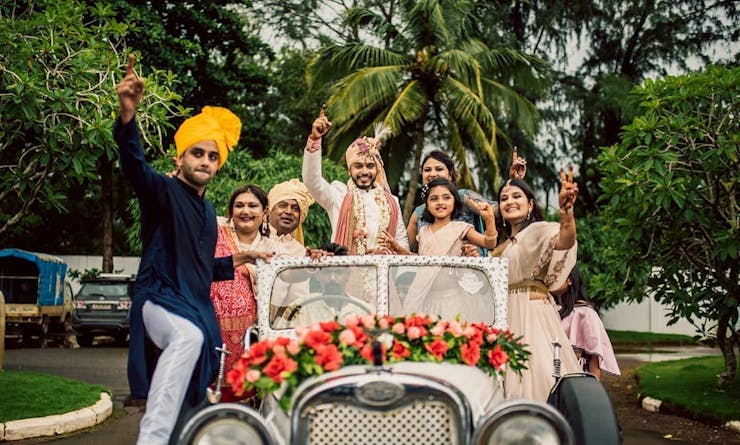 7. Make A Dramatic Entry On The Boat
This wedding season, ditch the road and take a boat ride to reveal your coolest groom personality. This kind of dramatic boat entry will surely surprise your guest and impress your bride too. We just can't stop drooling at the simplicity of this happy dancing groom making an entry on a flower-decorated boat.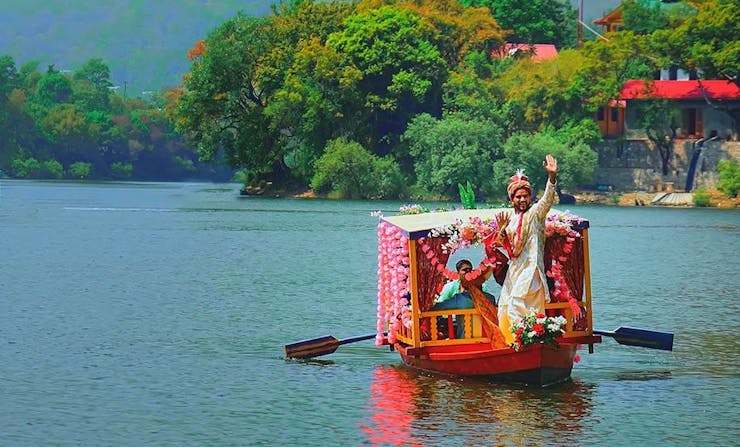 8. A Dhamakedar Entry On Bike
This is the most popular groom entry ideas Indian wedding that tells an epic tale. Make a grand entry with your gorgeous bride sitting behind you in the wedding venue. To make it more dramatic you can also make an entry with a biker gang. This kind of stunning entry will surely give your guests goosebumps.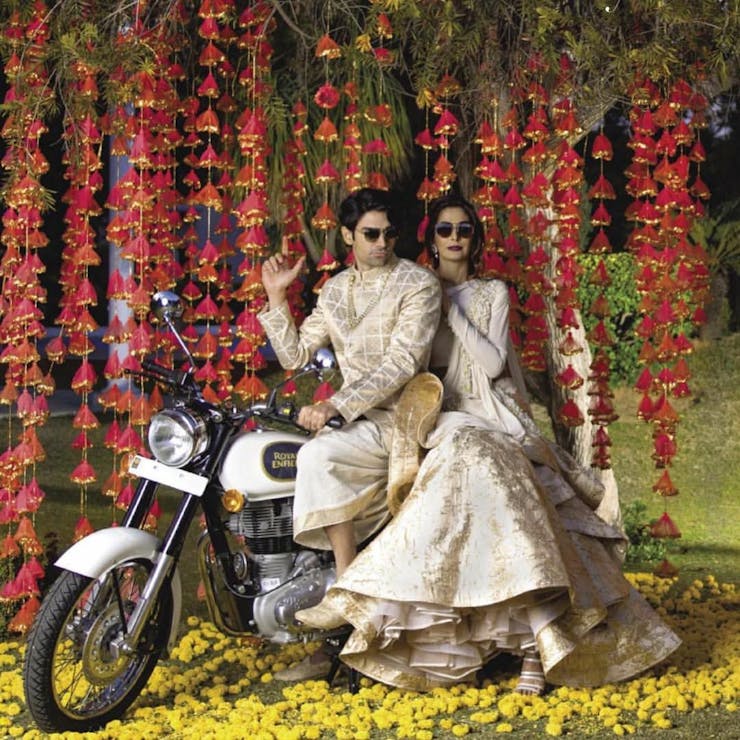 9. Trendy Segway Entry
If you are bored of playing the traditional entry games with elephants and horses then you must opt for this trendy and innovative Swgway entry. From popular Bollywood stars to charming grooms everyone has chosen this sporty way of making an entry at their wedding mandap.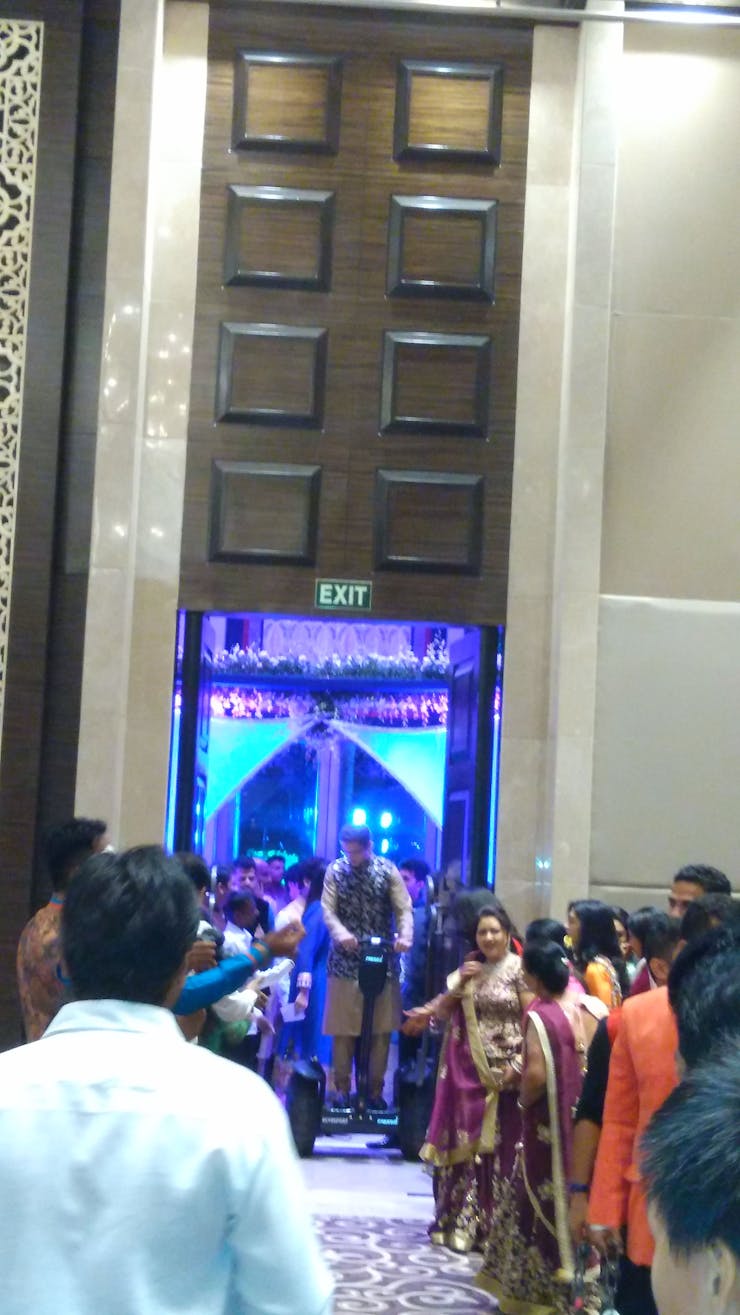 10. On A Royal Chariot
What can be a better way than a royal chariot entry to impress your gorgeous bride? A beautifully decorated chariot will provide you with a wedding picture of your grand entry just like a fairy tale. These unique groom entry ideas will make you feel like a king at your wedding. You can also include your beautiful bride in this splendid entry.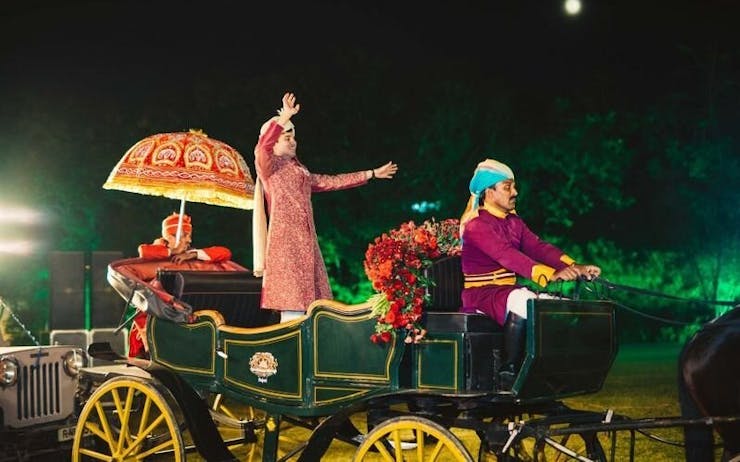 11. On A Stylish ATV
If riding a car or a bike is not your style then choose an impressive ATV to make an impactful entry in your pre-wedding ceremony. Check out this quirky and stylish groom who has made a stunning entry amidst Holi color to celebrate his Haldi ceremony.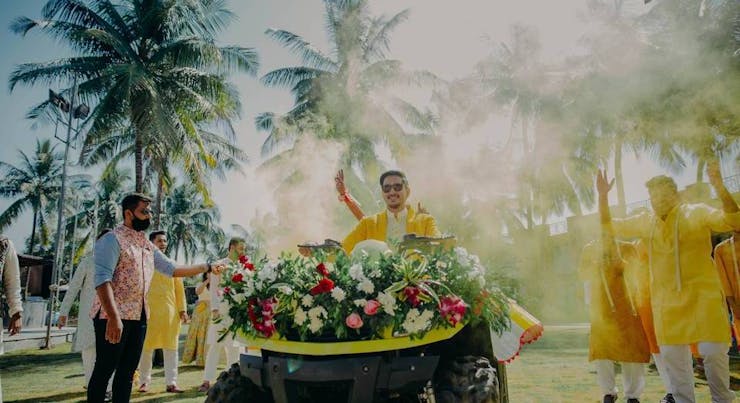 12. The Beautiful Flower Shower Entry
This is the most simplest and mesmerizing groom entry that will bring a smile to your face even after years of your marriage. Flowers add beauty and fun to the ceremony. Making an entry amidst the magical flower shower is a candid moment in your wedding. Ask your wedding planner to arrange a wedding planning that will offer a grand wedding theme.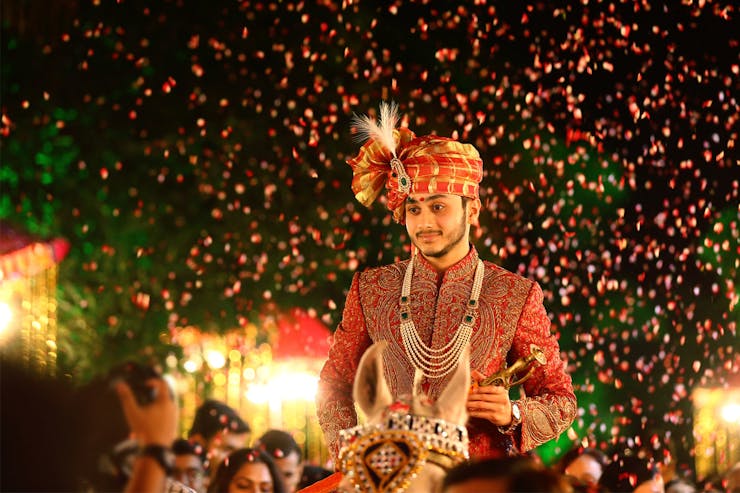 13. The Splendid Entry On Horse
Making a groom entry sitting on the back of a beautiful horse is an age-old custom that is prevalent in Indian marriages. This old-world charm is the best way to rock and roll with your Barat. This is surely the most preferred and special kind of Indian groom entry.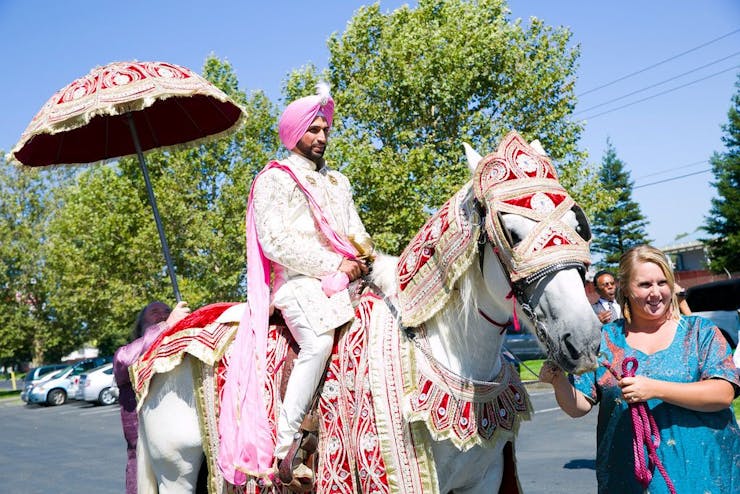 14. A Sparkling Entry With Fireworks
This conventional and sparkling entry on your reception night will surely offer you the most beautiful and enchanting wedding entry pictures. You can ask your loved one to hold the fire sticks standing on both sides to make a dreamy entry in your reception night.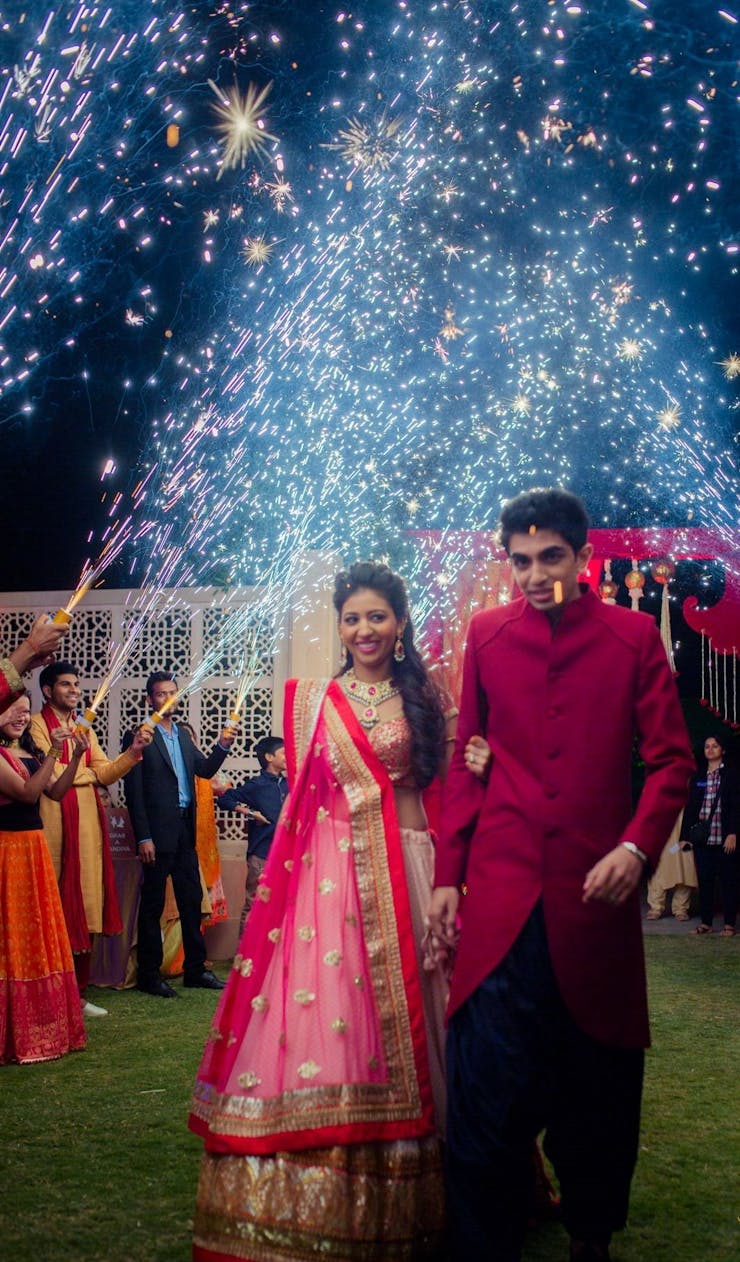 15. Funfilled Entry On Rickshaw
Make a funky and coolest entry on a rickshaw driven by you. If you are a drama lover then create a dramatic story of this funfilled entry by making your bride sit in the rickshaw. The best part of this funny entry is it will turn out to be the happiest memory at your wedding.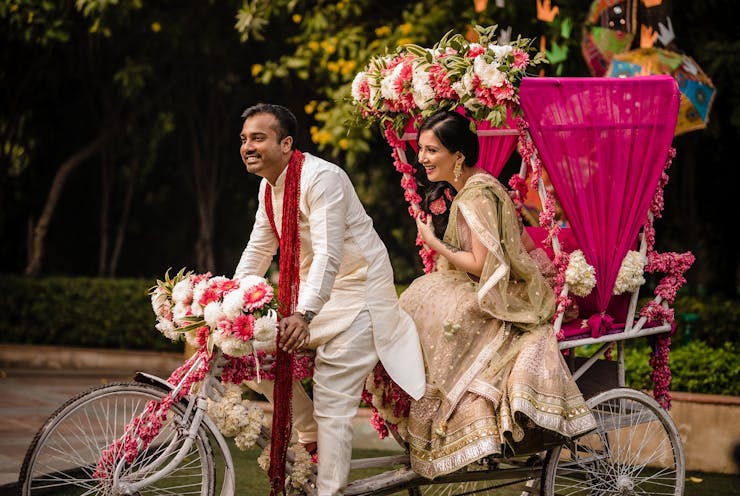 So, these are some coolest and most amazing groom entry ideas that you can try to make an impressive entry on your wedding day.