Engagement is a special moment that every couple looks forward to. An engagement ceremony is the first step to a lifelong commitment. And choosing the right engagement venue is one of the most important decisions you will make. Hosting an engagement ceremony in Kolkata needs lots of research and planning. Choosing the right engagement venue is an important part of the entire wedding planning process for couples. The engagement venue should represent the couple's values, personalities, and style. It should be a place that can provide the perfect backdrop for a memorable night, in a location that is both comfortable and enjoyable.
An engagement party hall should be able to accommodate the couple's estimated guest list. It should provide a range of services, such as catering, to make the event a success. Along with that, you must contact the best wedding planner in Kolkata who can make your event memorable with their skills and expertise. Choosing a good venue and a trusted wedding event planner in Kolkata, can ensure your engagement function success.
Here is a list of best engagement venues in Kolkata that can make your event a grand success.
1. Raajkutir Swabhumi
Let's begin the list from one of the best engagement venues to plan a traditional theme engagement. Whether you want to host the event on the lawn or inside the banquet hall, this venue has everything to make your guests comfortable. Its magnificent architecture and seating arrangements are perfect for a royal engagement event. Their caterers serve mouth-watering veg and non-veg cuisines that would be a real delight for your foodie guests.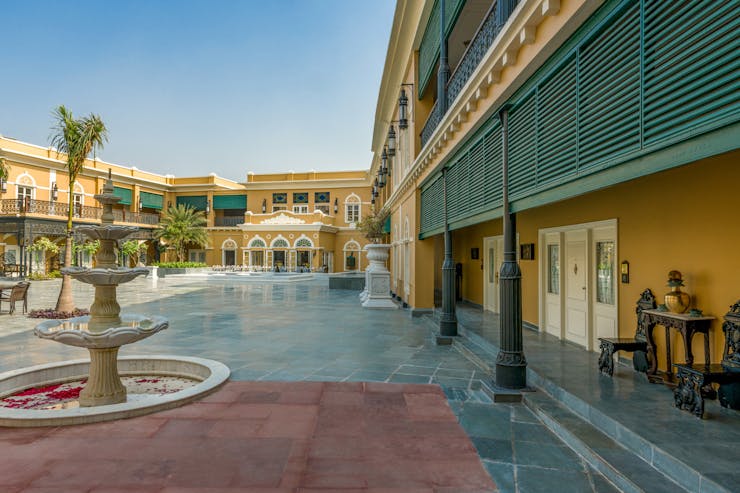 Recommended: Top 13 Trending Wedding Table Decoration Ideas
2. The Park Hotel
The Park Hotel is the most luxurious venue for engagement in Kolkata with all kinds of amenities. This highly extraordinary engagement hall in Kolkata easily accommodates 150 people at a time. This venue also provides 149 rooms well decorated and with all modern amenities. You can even book a budget wedding planner in Kolkata to celebrate your engagement in a grand manner.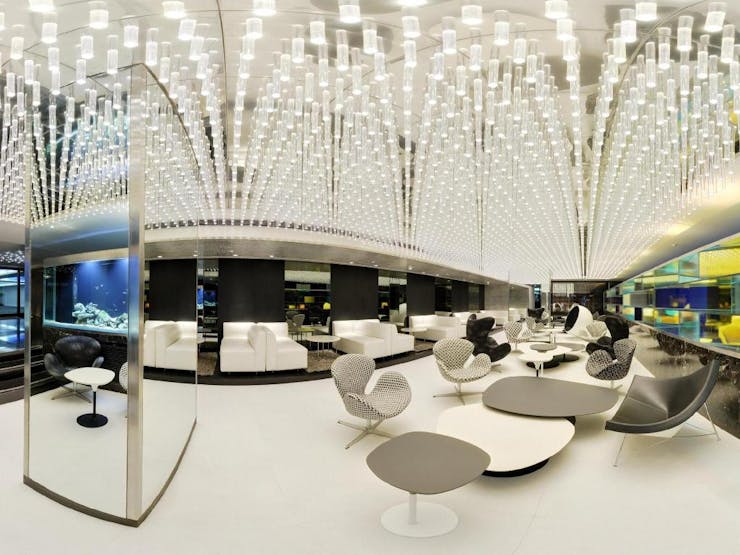 Must Read: 13 Latest Engagement Stage Decoration Ideas In 2022
3. Club Eco Vista
This is one of the great party venues in Kolkata to host small to large size family functions. The lush greenery and beautiful lawns of this place would surely refresh your senses. Their expert team of chefs is ready to delight your taste buds with their delicious food menu. You can even plan your pre-wedding events at this place. The cozy ambiance of this place is sure to make your guests happy.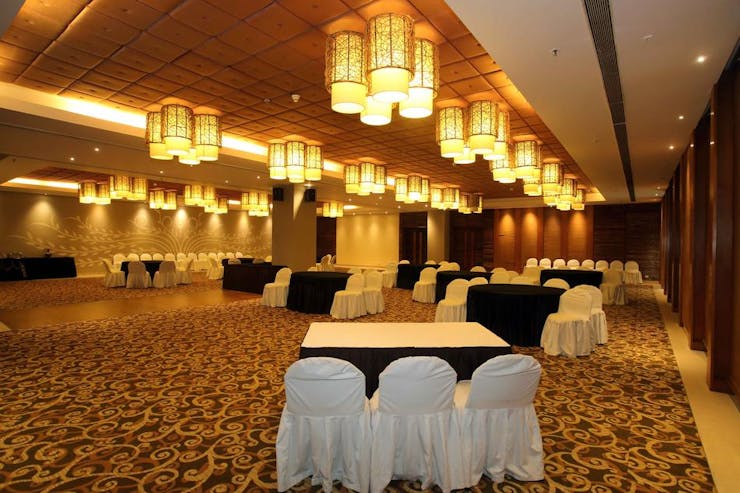 See More: Delicious Menu Ideas You Must Serve At a Bengali Wedding
4. Vivada Cruise
What a spectacular venue to host an engagement ceremony! Vivada Cruise located in B B D Bagh is one of the most sought-after engagement party venues. The backdrop of the Ganga River and the serene atmosphere make your event memorable. This is an ideal venue to host a fairy tale engagement ceremony. Situated on the outskirt, this place provides a heavenly feeling. This cruise looks more magical at night time. Their flexible catering policy and parking space make it the best engagement party venues.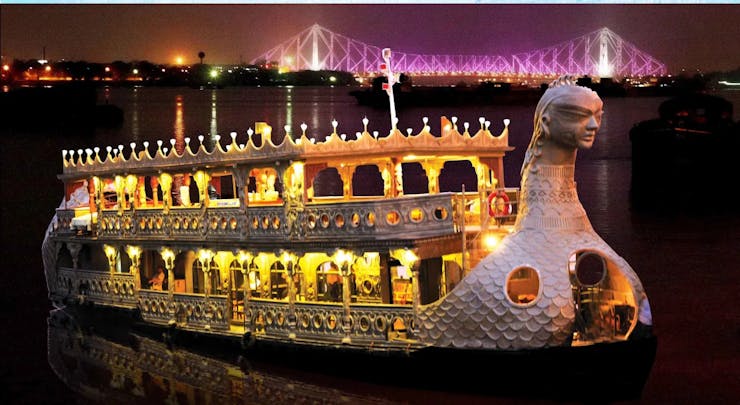 5. The Vedic Village
If you are a resident of Kolkata, you might have heard about this wonderful place. The Vedic village is the ultimate wedding destination for couples who loves nature. Located 20 minutes away from the Kolkata airport, this venue offers all that you desire. This is one of the most popular engagement function venues that can easily host 500-600 guests. The venue has a beautiful lake, lavish bungalows, and a well-decorated room. All these things make it a perfect place to host your Aashirbaad ceremony.

6. Mayfair Banquets
Mayfair Banquets is another luxurious banquet for engagement in Kolkata. It can accommodate 1500 people in floating. They provide a spacious parking area and changing room facility. It is a perfect place for couples looking to serve vegetarian foods to their guests.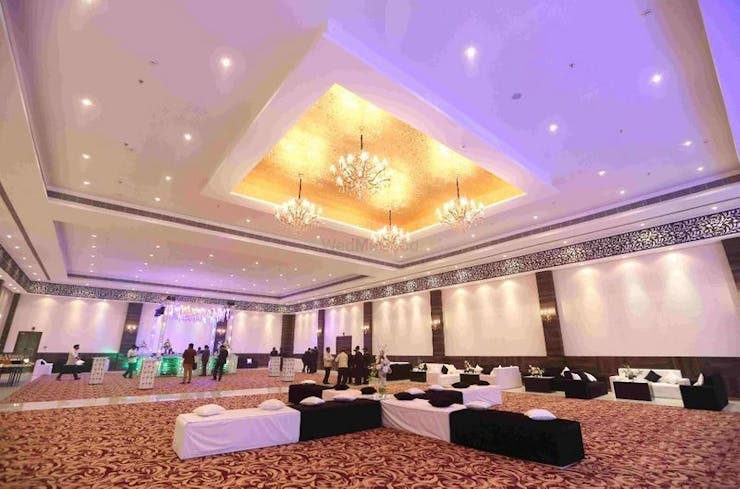 7.  Sapphire Banquet Hall
This banquet hall for engagement has made its reputation for providing world-class services. Their engagement function hall can accommodate 250 people and hence it's good for small to large gatherings. But you need to hire your caterer and decorators as they don't provide this facility.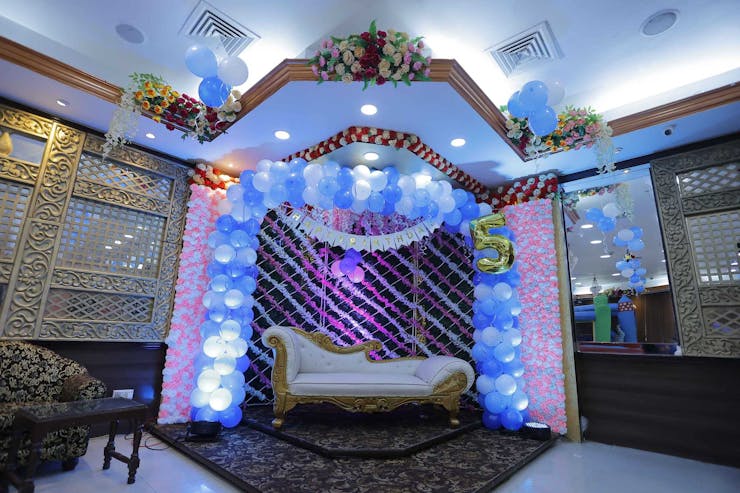 8. Swayamvar Banquet
The Swayamvar Banquet in Kolkata is one of the best engagement party venues that is known for its quality services. It is just 20 minutes away from the Kolkata airport which makes its location convenient to commute. Moreover, they offer both veg and non-vegetarian food menu for your guests.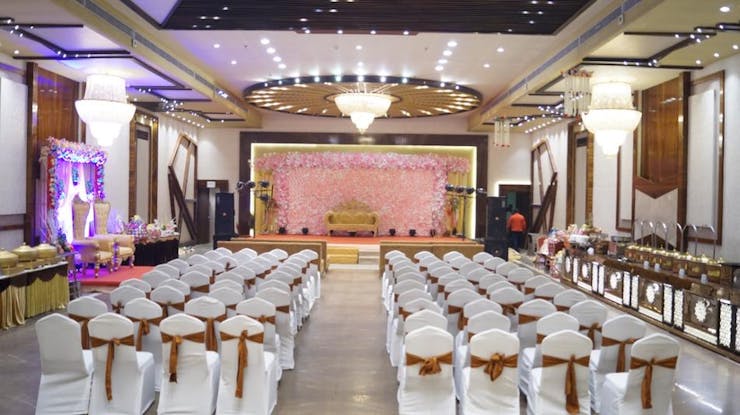 9. ITC Royal Bengal
ITC Royal Bengal is an exquisite wedding venue that also lets you hosts all your pre-wedding functions. Its luxurious banquet and spell-bounding architecture provide you with a feel of a royal palace. The warm welcoming nature of the staff is worth praising. Their engagement banquet can hold a crowd of 2100 people. Getting engaged in such a royal venue will surely add grandeur to your event.
Frequently Asked Questions
Which Are The Best Engagement Hall In Kolkata?
Rajkutir Swabhumi, Mayfair Banquets, and Royal Bengal are some of the best engagement venues in Kolkata. They can provide all amenities and make your event memorable.
What Is The Price Range Of An Engagement Venue In Kolkata?
The price of engagement venues in Kolkata can range from Rs.650 to Rs.2500.
Can I Hire An Outside Caterer In Small Wedding Functions?
If you want to hire an outside caterer for your event, look for party venues that allow you to do so.
What Things Should We Consider Before Booking An Engagement Banquet Hall?
Before booking an engagement hall you must check the following things-
Accessibility of the venue
Its seating capacity
Reviews of the venue
Venue price
Do Engagement Venues In Kolkata Provide Parking Facility?
Many banquet halls in Kolkata offer parking facilities. If you are hosting a grand event then make sure to book a venue that has a large parking facility.