In recent years, destination weddings have become an ideal way to celebrate a grand occasion. The main reason this wedding trend has taken hold may be the growing sense of luxury and extravagance among couples. Celebrating your wedding at a grand mansion provides a majestic feeling and makes your D-day epic. Today Bengali couples are planning a theme-based destination wedding that we only read about in fairy tales. When it comes to picking a stunning location for a wedding in Kolkata, Rajbari Bawali is on the top list.
Based in South 24 Parganas, The Rajbari Bawali is the most sought-after wedding location in the city. It offers a luxurious ambiance and excellent services to host a grand wedding. Having an experienced event management company kolkata for planning a wedding at this vintage venue provides you with a memorable wedding experience.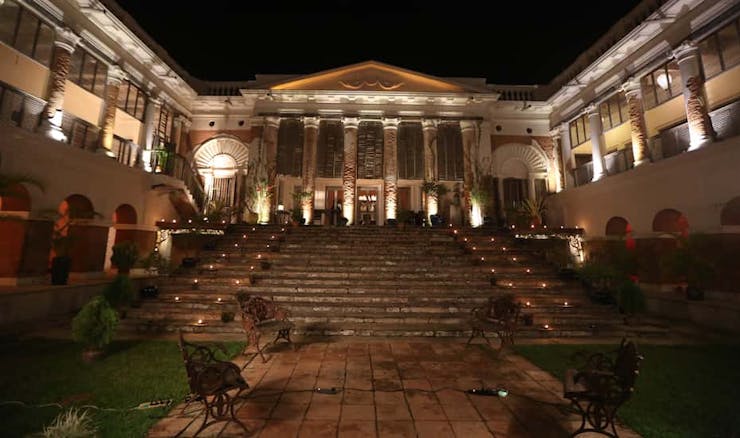 Recommended: Top 8 Bengali Wedding Flower Gate Decoration Ideas
Glorious History Of Rajbari Bawali
This grand mansion was built around 250 years ago during the zamindari Era in Bengal. The Mondal Dynasty of Rajbari Bawali acquired this land from the great Mughal Emperor, Akbar. This extraordinary architecture is a living witness of the grand living of Bengali Zamindars. After India's independence, the royal family of this Rajbari lost much of their wealth and glory. As a result, the grand mansion was turned into the oldest ruin.
But after a long decade, this architectural masterpiece got back its glory once again. Mr. Ajay Rawla restored this old mansion into a luxurious space in the year 2009. Today rajbari bawali Kolkata has become an impressive wedding venue that reflects the grace of Royal Bengal.
This wonderful mansion provides you with a wide range of wedding services. You can customized these services as per your wedding theme and necessities. Their hospitability and warm welcoming nature will make your wedding a memorable event. Its classic architecture is filled with magical vibes to host all kinds of the wedding event.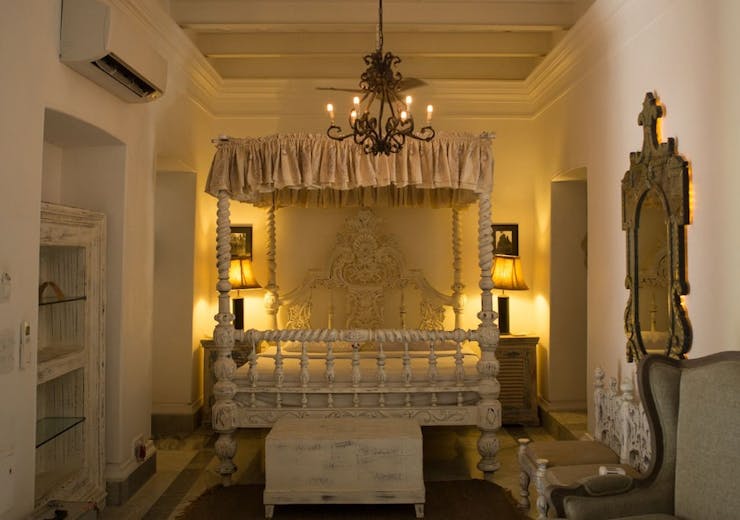 See More: Trending Open Mandap Decoration For Upcoming Weddings
FAQ
1. Does Rajbari Bawali Allow Small Size Gathering?
The Rajbari Bawali allows you a small size party gathering for not more than 50 persons. The traditional vibes of this classic heritage make it a popular choice for wedding among the best wedding planner in Kolkata.
2. What Is Rajbari Bawali's Policy On Catering?
The Rajbari Bawali offers both in-house and outside catering options for a wedding event. To talk about their catering services the wedding Rajbari Bawali offers both veg and non-veg plates of various cuisines. Their multi-cuisine includes Mughals, British, Portuguese, and Bengali taste. Their mouth-watering dishes tempered with perfection can elevate your wedding dining experience.
3. What Are The Different Indoor & Outdoor Space Available At Rajbari Bawali?
The Rajbari Bawali has an indoor space of 35 royal guest rooms complemented with royal comfort and luxury. All the rooms are laced with stunning interiors and modern amenities. Other than this they have royal suite, dak-bungalow, a spacious garden, poolside, and terrace to host wedding ceremonies.
4. What types of Event Spaces Does The Bawali Rajbari Have?
Rajbari Bawali has two event spaces including the lawn and the banquet hall. The lotus pavilion is the perfect place for your wedding celebration. The splendid beauty of its serene courtyard is perfect for your wedding nuptial.
5. Which Forms Of Payments Are Accepted By The Rajbari Bawali?
Rajbari Bawali accepts two forms of payment which are as follows –
1. Net Banking
2. Cash
You can choose the payment method at your convenience.
6. How Much Does It Cost To Stay At?
The Rajbari Bawali day package cost is around INR 7082.25 excluding services taxes and fees. During this one-night stay, you will get a WI-FI connected air-conditioned bedroom with 24-hour room services. You can also enjoy mouth-watering food, free parking service, and a poolside facility.
7. Can I Cancel My Reservation At The Rajbari Bawali And Get A Full Refund?
Yes, of course. The Rajbari Bawali does offer a full refund but only if you've booked a fully refundable room. You can cancel your reservation a few days before checking in. Make sure to read their property's cancellation policy.
8. What Time Is Check-In At The Rajbari Bawali?
The check-in time at the Rajbari Bawali is 2 P.M -11.30 PM.
9. What Time Is Check-Out At The Rajbari Bawali?
The check-out time at the Rajbari Bawali is 11.30 AM.
10. Is The Rajbari Bawali Pet Friendly?
Yes. They do allow pets at their venue but with an extra charge of INR 1000 per pet for each day.
11. How Many People Can The Rajbari Bawali Serve At A Wedding Event?
Having a large spacious banquet and garden area, they can serve 500-600 wedding guests in an event.
12. What Is The Cost Of Booking Rajbari Bawali For a Wedding?
The Bawali rajbari wedding cost is INR 5,00,000 for booking the entire venue. You need to spend INR 30,000 if you bring your caterer. It would cost around INR 2,00,000 for venue decoration and INR 10,000 for DJ Service separately.
13. What Is The Price Of Wedding Food In The Rajbari Bawali?
The bawali rajbari lunch cost for both veg and non veg plate is Rs. 2500 per plate.
14. What Is The Bawali Rajbari Distance From Kolkata?
The exact distance between Bawali rajbari from Kolkata is 1 hr 30 minutes.
15. How To Reach Bawali Rajbari From Kolkata?
There are three ways to reach bawali rajbari location which are as follows –
By Air – The Bawali Rajbari is 50 km. away from the Kolkata airport.
By Train – You can catch a train from Sealdah railway station to reach the rajbari which is only 35 km away.
By Road – You can get many transport facilities to reach the Bawali Rajbari.
16. How To Contact The Bawali Rajbari?
The bawali rajbari contact number is +91 9073312000 or +91 9830383008
You can also send a mail at stay@therajbari.com