The bride's mehendi ceremony is one of the most exciting and fun wedding rituals. It not only starts your wedding celebrations but also establishes the tone for all of your other events. Your wedding planner can create an attractive theme for your mehendi functions
When it comes to your mehendi theme and décor, a mehendi function is an ideal opportunity to explore and show off your personality and even your love story. The best wedding planner in Kolkata can create magic with amazing décor.
Read More: Wedding Color Trends That Will Rule 2022
Bengali wedding planner Kolkata has put together a list of simple and fun mehendi ritual themes. It makes it easier for you to decorate your home or venue for mehendi and adds a special touch to all your bridal photos.
Here are some suggestions for your mehndi themes decors-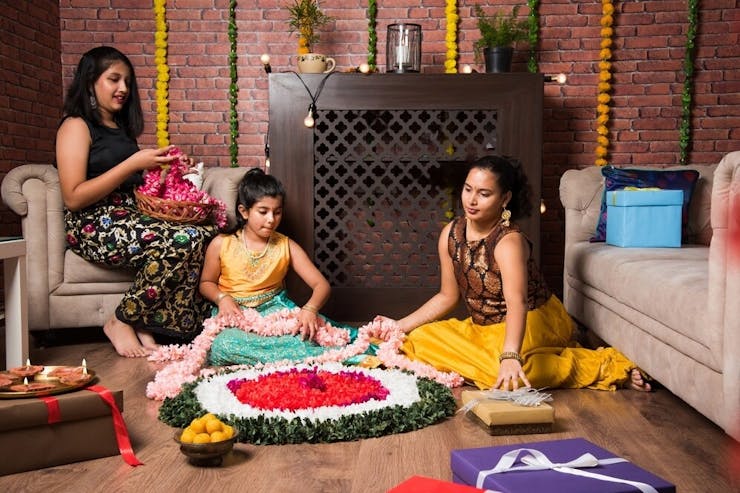 1. Floral backdrop for the princess
Who doesn't like flowers, right? So, for the theme mehndi design, decorate your place by having a throne decorated with flowers like mogra, marigolds, or roses. It is one of the best Mehndi decoration ideas. Not only they are simple to make but they also have a professional appearance. Budget wedding planner in Kolkata can create vibrant and beautiful mehndi theme ideas at home or outdoor décor with your favorite flowers that go with your wedding's theme.
Read More: Trending Bengali Bride Haldi Dress Ideas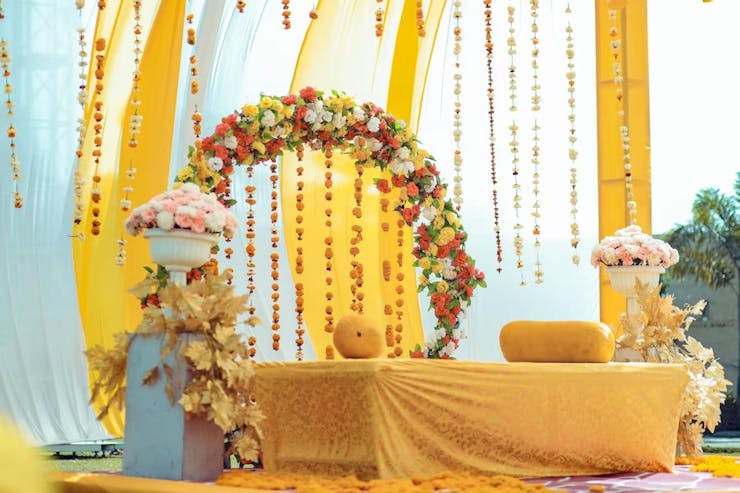 2. Cycle Décor with a Quirkiness
This Mehndi theme decoration is for one who loves to experiment with vintage items to create something beautiful. To make a colorful mehendi backdrop, dig out your old bicycle and decorate it yourself with bright ribbons, flowers, or fairy lights. Your old bi-cycles will also recall memories of your youth, providing a special moment for you and your guests to capture in photos. It is simple to embellish so that it matches the mood and subject of your themes for mehndi function.
Recommend: Amazing Red Rose Stage Decoration [2023]
3. Simple and Relaxed Garden Mehndi Ceremony
An outdoor mehendi ceremony can be useful in many ways in cozy cold weather. You may decorate the mehndi theme design your place with fresh flowers or even fresh seasonal fruits, depending on your mehndi's theme. Outdoor ceremonies can be held in your backyard or on your lawn with ease with comfort. You can wear a matching dress theme for mehndi function. You will also have that lovely golden hour glow for your bridal photos because of the natural light. Any color scheme can be used to design a garden mehndi theme design ceremony.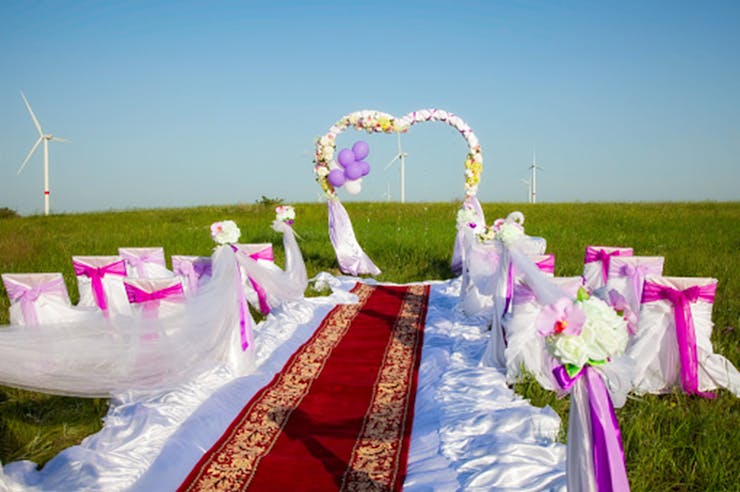 4. Swing Décor for Your Mehndi at Home
Use a swing as seating for your mehendi as another original and quirky idea of mehndi decoration theme at home. The swing may be decorated for an indoor mehndi event or moved outside for a fun evening. Swings are very easy to decorate to match your theme or preferred color scheme and are incredibly comfortable for those long hours of mehndi designing. When embellished, swings make a lovely mehndi backdrop for those adorable couple photos.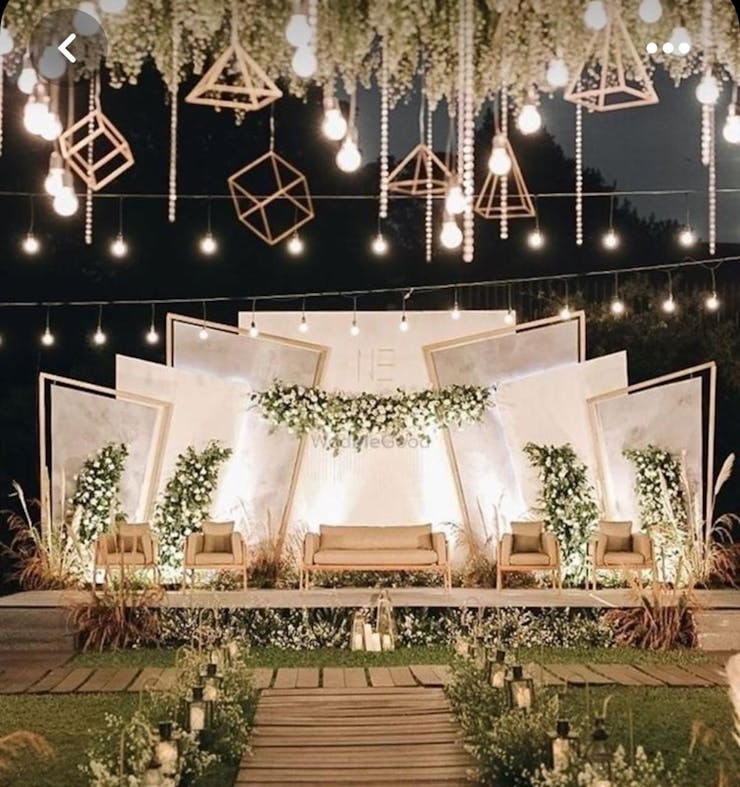 5. Pink and Gold for A Luxurious Feeling
The best approach to pull off an opulent design is with the traditional pairing of pink and gold with traces of crimson. This stage appears very regal with its large vintage flower vases, pink and olive draperies against a white backdrop, white seats with printed red cushions, and carpeted floor.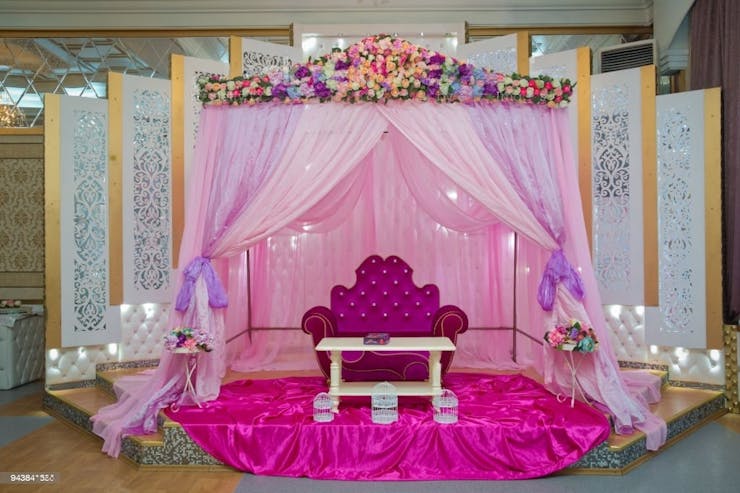 6. Boho Theme Décor For the Aesthetic Brides
These days, young brides also love the bohemian aesthetic. A vibrant bohemian mehendi theme design is not only enjoyable but also beautiful. Both within your home and outside, you can host a bohemian mehndi theme ideas ceremony. You may simply DIY colorful bohemian mehendi theme décor for a theme for mehndi function at home or purchase it online. You can create a bohemian vibe by using vivid fabrics, animal prints, and unconventional hairstyles.
7. Royal Backdrop Decoration
Who doesn't adore a wonderful setup filled with lovely flowers and enchanting fairy lights? Mehendi ceiling decorations accentuate the grandeur and splendor of your residence or venue. These lovely mehendi theme decoration idea will make you feel like a princess at your mehndi event. These mehndi theme for wedding ideas, whether it's a floral canopy, a rainbow of ribbons, or a canopy of fairy lights, will make you feel like a princess.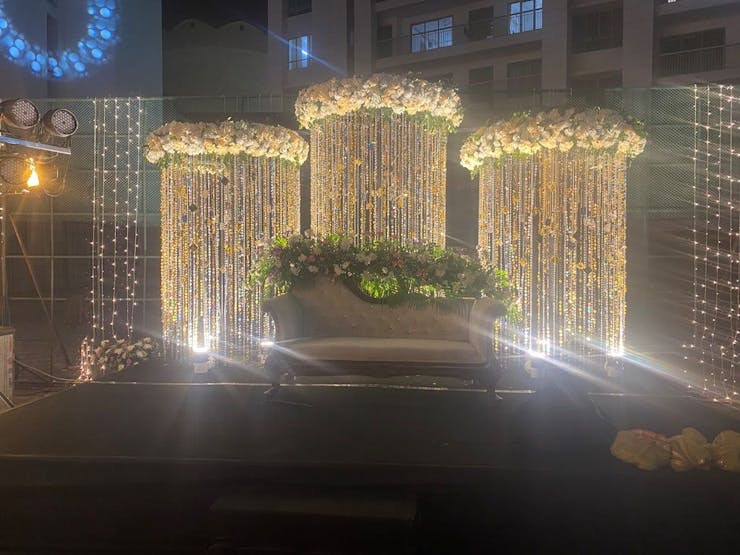 8. Create A Theme with Dreamy Canopy
For those of our ladies who love being outside, canopy mehendi décor is the ideal method to infuse your uniqueness into your wedding celebrations. Canopies are adaptable and really simple to decorate; simply add flowers or strings of fairy lights to create a stunning and one-of-a-kind seating arrangement for your theme for mehendi function. When you wish to break from convention, canopies are the ideal mehndi decoration theme.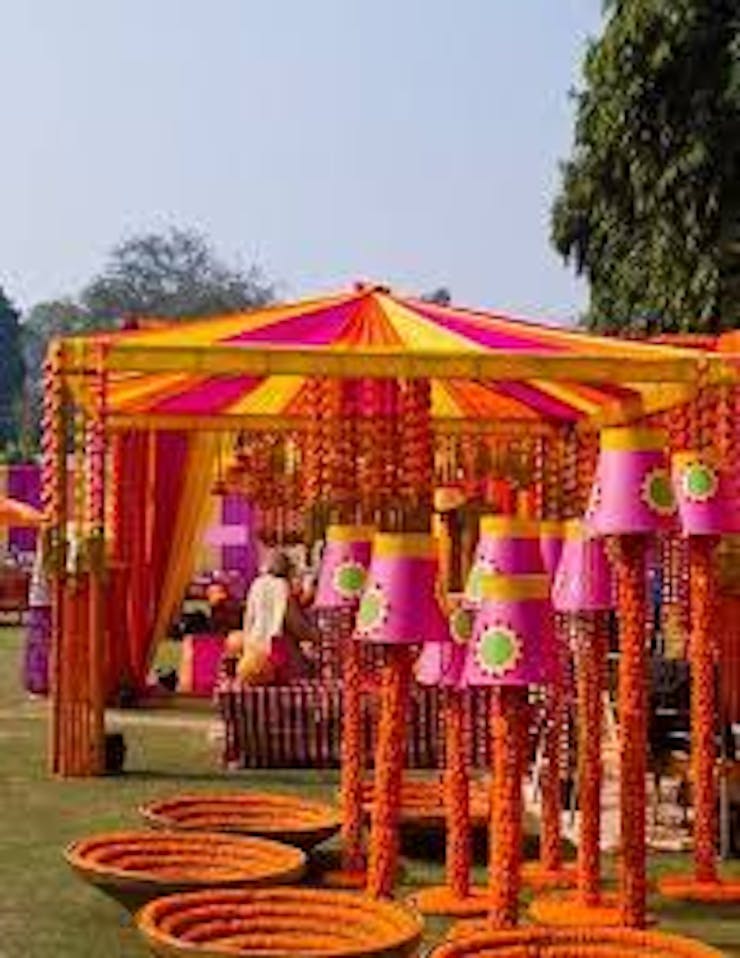 9. For a Regal Appearance Use Lavish Drape
You can turn your mehendi party into a royal or regal affair by using some drapes and flowers. Also, some LED lights will make the party bright as the bride.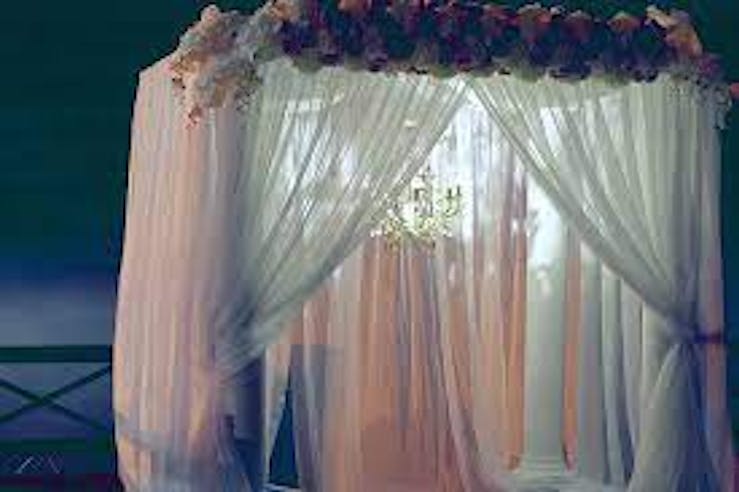 10. Floral Drapes for the Princess Bride
Why opt for a plain bridal sitting arrangement when a beautiful layout is so simple to create? Nothing is more enchanting than seeing the flowers drape themselves beautifully on the bride. The use of drapes as mehndi party theme ideas is a certain technique to make your venue appear even more ethereal and lovely. Use floral drapes in brilliant colors to shady up the bridal seats, and don't forget to take a tonne of photos of your lovely setting. You can also wear mehndi theme ideas dresses for your photos.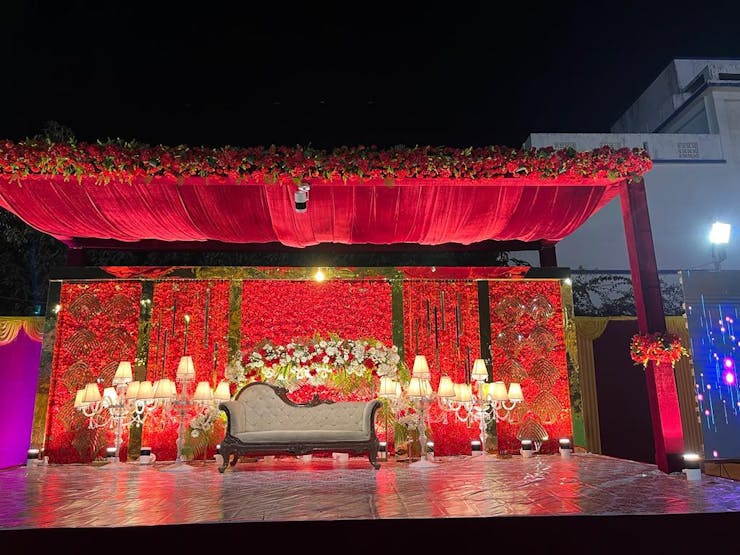 11. Indian Seating for the Traditional Bride
Indian mehndi theme party is the epitome of wealth and majesty. Traditional decor is always a good choice because of the vibrant colors, unique prints, and lovely patterns it features. Traditional khats can be used to spice up your seating arrangements, or you can make it feel royal by adding diwans and Masand pillows. The traditional Indian bride's bridal mehndi design is ready when you add brilliant tones of pink-orange or yellow to décor items like mirrors, umbrellas, and sofa coverings with traditional patterns.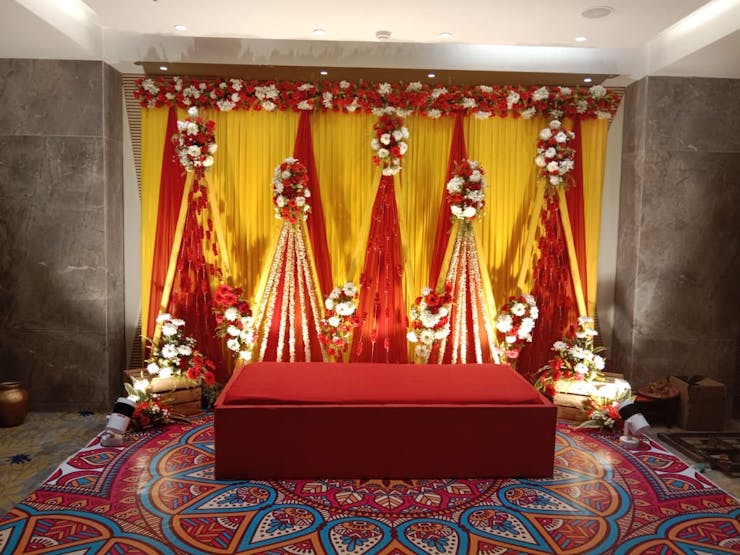 12. Tassel It Up
Tassels may not seem like they could possibly be a theme, but they actually make a lovely decorative motif for mehndi ceremonies. These are suitable for the appearance of a mehendi ceremony and can be used in a variety of ways. Tassels will therefore magically function whether you're thinking of the entrance or the backdrop!
13. The Classic Marigold Decoration
One of India's most beloved and revered flowers is the marigold, known as the flower of brightness and good energy. Marigold flowers make a gorgeous and stunning traditional décor for your mehndi function decoration. Marigolds not only add beauty to your site, but their vibrant colors also make for a wonderful Mehndi backdrop.
14. Bright Outdoor Mehndi Decoration
Lawns and the outdoors are your empty canvases that may be decorated with a wide variety of mehendi ceremony decoration ideas in accordance with your style, topic, and color scheme. Incorporate vibrant tablecloths and floral canopies to make the area livelier and cheerier. Don't forget to add fairy lights if the event is at night so your mehndi location will sparkle as brightly as you do.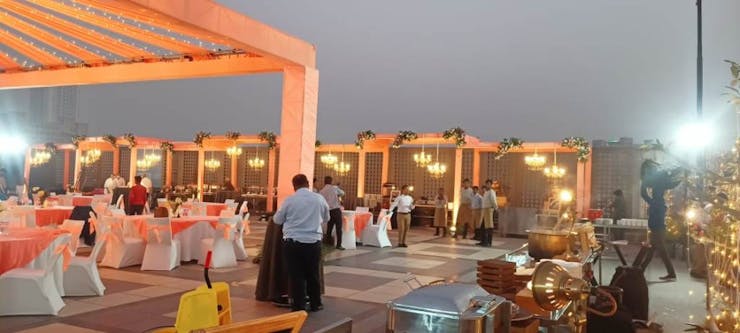 15. A Modern Bride, A Modern Theme
Are you the bride who adores all things contemporary? We've got you covered, so don't worry. You can choose vibrant colors like orange or green in place of lighter, more contemporary hues like peach, grey, teal, or lime. When you want to add a breath of fresh air to your venue and a distinctive touch to your mehendi function decoration that your visitors will remember for a long time, these new and modern shades make for the ideal mehendi decoration ideas.
16. Fairy Dreamy Night Décor
Do you think that everything seems more ethereal and enchanting at night? The best time to experiment with unique lighting and décor is in the evenings. Fairy lights and a tonne of flowers will give your location a princess feel. To add even more brightness, you can utilise unusual lightbulbs or fixtures. Alternately, go rustic with wooden chairs festooned with lights and organza ribbons. No matter what you decide, don't forget to take a tonne of photos.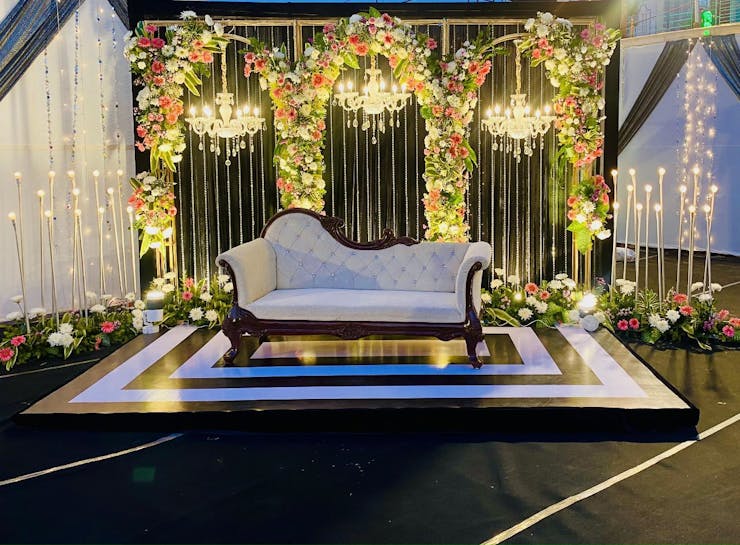 17. Summer Mehndi by the Pool
When you want a casual, chill atmosphere for your mehndi ceremony, the poolside is the ideal location. You can coordinate your mehndi decoration ideas with the pool's blue hue or go for eye-catching hues like yellow or red to liven up the area. Use roses and pink accessories to adorn the space and give it a more wedding and romantic feel for your mehndi ceremony decoration.
18. Fun & Colorful Umbrella Decoration
Don't like the old and monotonous mehendi ceremony decoration? To give your mehendi decor ideas a distinctive and enjoyable appeal, dig out your old umbrellas and paint them in vivid hues and lovely patterns. Ethnic-printed umbrellas can add a wonderful blend of traditional and modern styles to your event. These mehndi decoration ideas at home are a great approach to raising your venue's level of coolness.
The decor is an important part of any party, and you must choose the proper type of decorating based on your preferences and budget. You don't always have to follow trends; try setting some of your own instead. Select a mehndi theme or style of decoration that appeals to you and that you believe will look beautiful on your big day. Nothing is more crucial than your joy and happiness on your D-day.